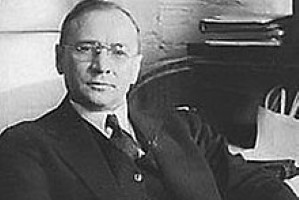 Vladimir Zworykin
Category : Engineer-Electrical
Type : MGP
Profile : 5/1 - Heretical / Investigator
Definition : Single
Incarnation Cross : LAX The Alpha 1
Biography
Russian-American inventor, engineer, and pioneer of television technology. Zworykin invented a television transmitting and receiving system employing cathode ray tubes. He played a role in the practical development of television from the early thirties, including charge storage-type tubes,infrared image tubes and the electron microscope.
He emigrated to the United States in 1919 and became a naturalized citizen in 1924. In 1920 he joined the Westinghouse Electric Corporation in Pittsburgh, and in 1923 he filed a patent application for the iconoscope, or television transmission tube, and in 1924 an application for the kinescope, or television receiver. These two inventions formed the first all-electronic television system, as all older systems had been electromechanical, involving a rapidly rotating perforated disk or some similar device.
Although Westinghouse officials expressed little enthusiasm at the first demonstration of Zworykin's television, an improved system demonstrated in 1929 impressed an official of Radio Corporation of America (RCA). Zworykin was offered a position as director of electronic research of RCA at Camden, N.J., and subsequently at Princeton, N.J., to continue the development of his invention.
Zworykin's television system provided the impetus for the development of modern television as an entertainment and education medium. Although ultimately replaced by the orthicon and image orthicon tubes, the iconoscope was the basis for further important developments in television cameras. The modern television picture tube is basically Zworykin's kinescope. He also developed a colour-television system, for which he received a patent in 1928. His other developments in electronics include an early form of the electric eye and innovations in the electron microscope. His electron image tube, sensitive to infrared light, was the basis for the sniperscope and the snooperscope, devices first used in World War II for seeing in the dark. His secondary-emission multiplier was used in the scintillation counter, one of the most sensitive of radiation detectors.
He died 29 July 1982.
Please register for a free Genetic Matrix account to access more information about this and all other celebrity pages