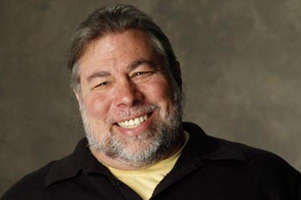 Steve Wozniak
Category : Business
Type : PM
Profile : 6/2 - Role Model / Hermit
Definition : Single
Incarnation Cross : LAX Masks 2
Biography
Stephen Gary "Steve" Wozniak (born August 11, 1950), known as Woz, is an American computer engineer and programmer who co-founded Apple Computer (now Apple Inc.) with Steve Jobs and Ronald Wayne.
Wozniak single-handedly invented the Apple I computer and the Apple II computer in the 1970s. These computers contributed significantly to the microcomputer revolution.[5]
Apple Computer
Origins of Apple
Wozniak met Steve Jobs when a fellow Homestead High School student, Bill Fernandez, introduced them to each other. In 1970, they became friends when Jobs worked for the summer at Hewlett-Packard (HP), where Wozniak was working on a mainframe computer.[7] In 1971, one year after enrolling, Wozniak withdrew from the University of California, Berkeley.
In 1976 Wozniak developed the computer that eventually made him famous. By himself he designed the hardware, circuit board designs, and operating system for the Apple I.[8] With the Apple I design, he and Jobs were largely working to impress other members of the Palo Alto-based Homebrew Computer Club, a local group of electronics hobbyists very interested in computing. The Club was one of several key centers which established the home hobbyist era, essentially creating the microcomputer industry over several years. Unlike other Homebrew designs, the Apple had an easy-to-achieve video capability that drew a crowd when it was unveiled.[8]
According to Wozniak's autobiography, iWoz, Jobs had the idea to sell the Apple I as a fully assembled printed circuit board. Wozniak, at first skeptical, was later convinced by Jobs that even if they were not successful they could at least say to their grandkids they had had their own company. Together they sold some of their possessions (such as Wozniak's HP scientific calculator and Jobs' Volkswagen van), raised USD $1,300, and assembled the first boards in Jobs' bedroom and later (when there was no space left) in Jobs' garage. Wozniak's apartment in San Jose was filled with monitors, electronic devices, and some computer games Wozniak had developed.
On April 1, 1976, Jobs and Wozniak formed Apple Computer. Wozniak quit his job at Hewlett-Packard and became the vice president in charge of research and development at Apple. Wozniak's first personal computer, the Apple I, was similar to the Altair 8800, the first commercially available microcomputer, except it had no provision for internal expansion cards. With the addition of expansion cards, the Altair could be attached to a computer terminal and could be programmed in BASIC. The Apple I was purely a hobbyist machine, a $25 microprocessor (MOS 6502) on a single-circuit board with 256 bytes of ROM, 4K or 8K bytes of RAM and a 40-character by 24-row display controller. It lacked a case, power supply, keyboard, or display, which had to be provided by the user.
The Apple I was priced at $666.66. (Wozniak later said he had no idea about the relation between the number and the mark of the beast, and "I came up with [it] because I like repeating digits.") Jobs and Wozniak sold their first 50 system boards to Paul Terrell, who was starting a new computer shop, called the Byte Shop, in Mountain View, California.
After the success of the Apple I, Wozniak single handedly designed the Apple II, which was the first personal computer that had the ability to display color graphics. During the designing stages, Steve Jobs argued that the Apple II should have two expansion slots, while Wozniak wanted eight of them. After a heated argument, during which Wozniak had threatened for Jobs to 'go get himself another computer', they decided to go with eight slots. The Apple II, or Apple ][, became one of the first highly successful mass-produced personal computers. It was the first computer with a color display and had the BASIC programming language built-in.
Airplane crash
On February 7, 1981, the Beechcraft Bonanza A36TC Wozniak was piloting crashed soon after takeoff from the Sky Park Airport in Scotts Valley, California.[9] The plane stalled while climbing, then bounced down the runway, went through two fences, and crashed into an embankment. Wozniak and his three passengers, then-fiance Candice Clark, her brother and his girlfriend, were injured. Wozniak sustained severe face and head injuries, including losing a tooth, and also suffered for five weeks after the crash from anterograde amnesia, the inability to create new memories. He had no memory of the crash, and did not remember his time in hospital or the things he did after he was released from the hospital.[10] The National Transportation Safety Board investigation report cited premature liftoff and pilot inexperience as probable causes of the crash.[11]
Employment with Apple
Wozniak did not immediately return to Apple after recovering from the crash. In May 1982 and 1983, Wozniak sponsored two US Festivals to celebrate evolving technologies; they ended up as a technology exposition and a rock festival as a combination of music, computers, television and people. In 1983 he returned to Apple product development, desiring no more of a role than that of an engineer and a motivational factor for the Apple workforce.[1]
He married Candice Clark and returned to UC Berkeley under the name "Rocky Clark" (Rocky Raccoon was his dog's name and Clark his wife's maiden name), finally earning his undergraduate degree in Electrical Engineering and Computer Sciences (EECS) in 1986.[12]
Wozniak permanently ended his full-time employment with Apple on February 6, 1987, 12 years after having created the company. He still remains an employee and receives a modest stipend, estimated to be USD$120k per year.[1][13][14] He is also an Apple shareholder.[15] He also maintained connections with Steve Jobs until Jobs' death in October 2011,[16] although, in 2006, Wozniak stated that he and Jobs were not close friends.[17]
Post-Apple career
Wozniak founded a new venture called CL 9, which developed and brought the first programmable universal remote control to market in 1987.[1] Wozniak also taught fifth-grade students.
In 2001, Wozniak founded Wheels of Zeus (WoZ), to create wireless GPS technology to "help everyday people find everyday things. much more easily" In 2002, he joined the Board of Directors of Ripcord Networks, Inc., joining Ellen Hancock, Gil Amelio, Mike Connor, and Wheels of Zeus co-founder Alex Fielding, all Apple alumni, in a new telecommunications venture. Later the same year he joined the Board of Directors of Danger, Inc., the maker of the Hip Top (a.k.a. Side Kick from T-Mobile).
In 2006, Wheels of Zeus was closed, and Wozniak founded Acquicor Technology, a holding company for acquiring technology companies and developing them, with Apple alumni Ellen Hancock and Gil Amelio.
In September 2006, Wozniak published his autobiography, iWoz: From Computer Geek to Cult Icon: How I Invented the Personal Computer, Co-Founded Apple, and Had Fun Doing It. It was co-authored by writer Gina Smith.
In March 2006, Wozniak attended the FIRST National Competition in Atlanta to show off Lego robots.[18] In 2010, he attended another FIRST event, a regional event in downtown Phoenix Arizona at the Arizona State Fairgrounds. In 2012, he attended and was a judge at another FIRST event, the FRC Las Vegas Regional.
In February 2009, Steve Wozniak joined Fusion-io, a data storage and server company, in Salt Lake City, Utah as their chief scientist.[19]
On November 18, 2010, Steve Wozniak gave a speech at the Science & Technology Summit at the World Forum Convention Center in The Hague in which he predicted that Android would be dominant over the iPhone market-wise but the iPhone would retain the quality edge.[20]
On June 9, 2011, Wozniak joined members of Fusion-io's management team to celebrate the company's first day of trading on the NYSE by ringing The Opening Bell.[21]
On October 20, 2011, Wozniak delivered a keynote presentation entitled "Today's Science Fiction, Tomorrow's Science Fact" at IP EXPO, a Computer expo which took place at Earls Court Exhibition Centre in London.[22]
On November 14, 2011, Steve Wozniak was the keynote speaker at "Rutgers Entrepreneurship Day" at Rutgers University in New Brunswick, New Jersey.[23]
On May 16, 2012, Steve Wozniak talked at the "WOZ Live" event at the Melbourne Exhibition and Convention Centre, Australia [24]
On October 20, 2012, Steve Wozniak talked at the "Tijuana Innovadora 2012" event at the Tijuana Cultural Center, in Tijuana, Mexico[25]
Woz on stage at the Melbourne Convention and Exhibition Centre, Australia, May 16, 2012
Philanthropy
Joey Slotnick, left, poses with Steve Wozniak. Slotnick portrayed Wozniak in the film Pirates of Silicon Valley.
Since leaving Apple, Wozniak has provided all the money, as well as a good amount of on-site technical support, for the technology program in his local school district.[1] Un.U.Son. (Unite Us In Song), an organization Wozniak formed to organize the two US Festivals, is now primarily tasked with supporting his educational and philanthropic projects.[1] In 1986, Wozniak lent his name to the Stephen G. Wozniak Achievement Awards (referred to as Wozzie Awards), which he presented to six Bay Area high school and college students for their innovative use of computers in the fields of business, art and music.
Honors and awards
In 1979, Wozniak was awarded the ACM Grace Murray Hopper Award. In 1985, Wozniak received the National Medal of Technology (with Steve Jobs) from US President Ronald Reagan.[1] In December 1989, he received an honorary Doctor of Engineering degree from the University of Colorado at Boulder, where he studied in the late sixties.[26] Later he donated funds to create the "Woz Lab" at the University of Colorado at Boulder. In 1997, he was named a Fellow of the Computer History Museum. Wozniak was a key contributor and benefactor to the Children's Discovery Museum of San Jose; the street in front of the museum has been renamed Woz Way in his honor.[27]
In September 2000, Wozniak was inducted into the National Inventors Hall of Fame,[28] and in 2001 he was awarded the 7th Annual Heinz Award for Technology, the Economy and Employment.[29] The American Humanist Association awarded him the Isaac Asimov Science Award in 2011.
In December 2005, Wozniak was awarded an honorary Doctor of Engineering degree from Kettering University.[30] He also received honorary degrees from North Carolina State University and Nova Southeastern University, and the Telluride Tech Festival Award of Technology. In May 2011, Wozniak received an honorary Doctor of Engineering degree from Michigan State University.[31] In June 2012, Wozniak was awarded an honorary Doctor of Engineering degree from Santa Clara University.
He was awarded the Global Award of the President of Armenia for Outstanding Contribution to Humanity Through IT in 2011.[32]
Steve Wozniak's Honorary Doctor of Engineering degrees
University of Colorado at Boulder — 1989
Kettering University — 2005
North Carolina State University — 2005
Nova Southeastern University — 2005
ESPOL University in Ecuador — 2008
Michigan State University — 2011
Concordia University in Montreal Canada — June 22, 2011
State Engineering University of Armenia — November 11, 2011
Santa Clara University — June 16, 2012
Patents
Wozniak is listed as the sole inventor on the following patents:
US Patent No. 4,136,359 — "Microcomputer for use with video display"[33] — for which he was inducted into the National Inventors Hall of Fame.
US Patent No. 4,210,959 — "Controller for magnetic disc, recorder, or the like"[34]
US Patent No. 4,217,604 — "Apparatus for digitally controlling PAL color display"[35]
US Patent No. 4,278,972 — "Digitally-controlled color signal generation means for use with display"[36]
Television appearances
After seeing her stand-up performance in Saratoga, California, Wozniak began dating comedian Kathy Griffin.[37] Together, they attended the 2007 Emmy Awards,[38] and he subsequently made many appearances on the fourth season of her show Kathy Griffin: My Life on the D-List. Woz is on the show as her date for the Producers Guild of America award show. However, on a June 19, 2008 appearance on The Howard Stern Show, Griffin confirmed that they were no longer dating and decided to remain friends.[39]
Wozniak portrays a parody of himself in the first episode of the television series Code Monkeys; he plays the owner of Gameavision before selling it to help fund Apple. He later appears again in the twelfth episode when he is in Las Vegas at the annual Video Game Convention and sees Dave and Jerry. He also appears in a parody of the "Get a Mac" ads featured in the final episode of Code Monkeys' second season. Wozniak is also interviewed and featured in the documentary Hackers Wanted and on BBC.
Wozniak competed on Season 8 of Dancing with the Stars in 2009[40][41] where he danced with Karina Smirnoff. Despite Wozniak and Smirnoff receiving 10 combined points from the three judges out of 30, the lowest score of the evening, he remained in the competition. He later posted on a social networking site that he felt that the vote count was not legitimate and suggested that the Dancing with the Stars judges had lied about the vote count to keep him on the show.[42] After being briefed on the method of judging and vote counting, he retracted and apologized for his statements.[43] Despite suffering a pulled hamstring and a fracture in his foot, Wozniak continued to compete,[44] but was eliminated from the competition on March 31, with a score of 12 out of 30 for an Argentine Tango.
On September 30, 2010, he appeared as himself on The Big Bang Theory season 4 episode "The Cruciferous Vegetable Amplification". While dining in The Cheesecake Factory where Penny works and is approached by a robot Sheldon, Leonard tries to explain to Penny who Steve is, but she says she knows him from Dancing with the Stars.
Steve Wozniak signs a Modbook for a fan during an appearance at the Axiotron booth during Macworld Expo 2009.
Personal life
Wozniak was born to Francis Jacob "Jerry" Wozniak and Margaret Louise Wozniak. Wozniak's ancestry is possibly Polish on one side and German on the other, though Wozniak has said that "Either family might have come from the other country, or near the border."[46] Now Wozniak lives in Los Gatos, California.
He is also a member of the Freemasons, despite not believing in a supreme being (which is required by mason rules). Wozniak describes his impetus for joining the Freemasons as being able to spend more time with his wife at the time, Alice. Alice belonged to the Order of the Eastern Star, associated with the Masons. Wozniak has said that he quickly rose to a third degree Freemason because, whatever he does, he tries to do well. He was initiated in 1979 at Charity Lodge No. 362 in Campbell, California, now part of Mt. Moriah Lodge No. 292 in Los Gatos, California.[47]
Wozniak is married to Janet Hill.[48] He has three children from a previous marriage.
He is a member of a Segway Polo team, the Silicon Valley Aftershocks.
His favorite video game is Tetris.[49] In the 1990s he submitted so many high scores for the game to Nintendo Power that they would no longer print his scores, so he started sending them in under the alphabetically reversed "Evets Kainzow".
Please register for a free Genetic Matrix account to access more information about this and all other celebrity pages