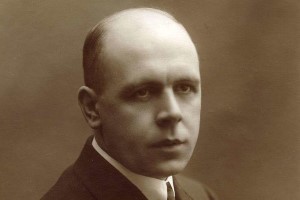 Dirk Witte
Category : 1885-births
Type : MGP
Profile : 5/1 - Heretical / Investigator
Definition : Split - Small (1,9,10,34,51,60)
Incarnation Cross : LAX Demands 1
Biography
Dutch businessman, comedian, song writer and composer, whose songs inspired generations of Dutch artists after him.
He was son of the the school head and teacher Jacob Witte (E: Jacob White, 9 September 1853 5 PM, Zaandam - 10 March 1942, Zaandam) and Trijntje Koning (E: Catherine King, 28 April 1855 9 AM, Abbekerk - 10 January 1939, Zaandam). The father was the dominating figure, his musical mother was also a school teacher. Her father Dirk Koning was an amateur song writer.
Teacher's child Dirk got a proper education. But he hated the for him "stupid" piano lessons, as he was born with an absolute pitch. His first song (1901) was made for the local entertainment club "Willem van Zuylen" (Zuil means column, pillar), named after the Dutch poet Willem van Zuylen van Nijevelt (? - 1543), the writer of the by the pope prohibited (Librorum Prohibitorum) poems "De fonteyne des levens" (The fountain of life, 1533) and Fons vitae (1533).
But his father, who held lectures on literature in Zaandam, did not believe in "kleinkunst" (cabaret) and sent Dirk to the wood trading firm William Pont, when Dirk left the French school at age 15. He stayed there till 1918. But without his parents knowing it, he took courses in German and Swedish trade correspondence, and made promotion. He also contacted his idol the singer Jean-Louis Pisuisse and together they erected in 1917 the "NV Intiem Theater Pisuisse' - Maatschappij tot Exploitatie van Kunstprogramma's", Dirk becoming the business director.
Dirk then also tried a career as a professional performer, but he needed cheat sheets to remember his own texts. Dirk, not a bohemian at all, had little affinity with the irregular life of artists and retuned to business and trade after a few years. He worked for the Holland-Zuid-Amerikaansche Handelsmaatschappij, and later became director of the in 1925 erected "NV De Nederlandsche Mijnhouthandel" in Amsterdam. His financial independence allowed his to write high quality songs in the evening hours at home. Many of them became classics: "M'n eerste" (Het meisje van de zangvereniging, 1914), "Aspirine" (1915), "De Peren" (1915), "'t Portretje" (1915), "Mens, durf te leven" (1917), "Het Wijnglas" (1918), and "Nocturne" (1919).
His most famous memento vivre song "Mensch, durf te leven" (human, dare to life, 1917) was recorded by major Dutch artists like Jean-Louis Pisuisse, Willy Alberti, Ramses Shaffy, The Amazing Stroopwafels and Wende Snijders.
Personal
On 16 July 1917 he married in Bussum Doralisa Johanna Hendrika Looman (1886, A'dam?). They had a daughter Doralize en and son Jacob.
On 15 November 1932 he died of an heart attack and drowning. The car he drove when he had an heart attack got of the road and sank in the Weespertrekvaart near Diemen.
In 2011 the Dirk Witte cabaret Prize was named after him. The first winner was the Dutch singer, comedian and songwriter Maarten van Roozendaal (2 May 1962 – 1 July 2013). Other winners were Daniël Lohues (2012), Brigitte Kaandorp (2013), Jeroen Zijlstra (204) and Kommil Foo (2015).
Please register for a free Genetic Matrix account to access more information about this and all other celebrity pages