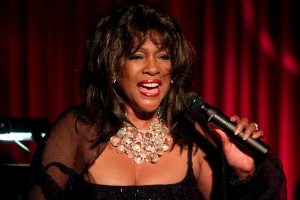 Mary Wilson
Category : Singer - Popular
Type : MGP
Profile : 5/2 - Heretical / Hermit
Definition : Triple Split
Incarnation Cross : LAX Dominion 1
Biography
Mary Wilson (born March 6, 1944) is an American vocalist, best known as a founding member of the popular sixties group The Supremes. Wilson remained as member of the group following the departures of group mates Diana Ross and Florence Ballard until the group disbanded in 1977. Wilson has since released two solo albums and released two autobiographies, Dreamgirl: My Life As a Supreme and Supreme Faith: Someday We'll Be Together, both books later released as an updated combination. Wilson has since carried on her career as a concert performer, musical activist and organizer of various museum displays of the Supremes' famed costumes. Wilson was inducted alongside Ross and Ballard as member of the Supremes to the Rock and Roll Hall of Fame in 1988.
Life and career
Early life
Wilson was born to Sam and Johnnie Mae Wilson in Greenville, Mississippi. Wilson was the eldest of Johnnie Mae's three children including a brother, Roosevelt, and a sister, Catherine. Wilson's parents divorced before she was one and she was shifted, first to St. Louis and then to Chicago before living with her aunt Ivory "I.V." and uncle John L. Pippin in Detroit. Wilson reunited with her mother and siblings soon afterwards. To make ends meet, Wilson's mother worked as a domestic worker. Before reaching her teenage years, Wilson and her family had settled at Detroit's upstart housing project, the Brewster-Douglass Housing Projects.
Wilson first met Florence Ballard at a junior high school in Detroit. The duo became friends after the youngsters performed at a singing competition. In 1959, Ballard asked Wilson to audition for Milton Jenkins, who was forming a sister group to his male vocal quartet, the Primes. Wilson was soon accepted in the group known as The Primettes, with Diana Ross and Betty McGlown later added to the lineup. Wilson has said that she was the one to help recruit Ross to the group despite some biographers crediting then Primes member Paul Williams for the move. Wilson eventually graduated from Detroit's Northeastern High School in 1962. Despite her mother's insistence she go to college, Wilson instead focused on her music career.
Music career
The Primettes signed to Motown Records in 1961, changing their name to The Supremes. In between that period, McGlown was replaced by Barbara Martin. In 1962, the group was reduced to a trio after Martin's departure. The Supremes scored their first hit in 1963 with the song, "When the Lovelight Starts Shining Through His Eyes", and reached number-one on the pop charts for the first time with the hit, "Where Did Our Love Go", becoming their first of ten number-one singles in which Wilson contributed as member of the group.
By 1967, the group had become international superstars. That year, Motown president Berry Gordy changed the name of the group to Diana Ross & The Supremes and, after a period of tension, Florence Ballard was removed from the Supremes that July. Cindy Birdsong was chosen to take her place. The Supremes under their new lineup continued to sporadically record hit singles until Ross' departure in early 1970. Following their final performance with Ross, Jean Terrell was introduced as the replacement for Ross. According to Wilson in her memoirs, Berry Gordy told Wilson that he thought of having Syreeta Wright join the group as lead singer to which Wilson refused. According to Wilson, Gordy told her that he would "wash his hands of the group".
With Terrell, the Supremes continued recording hits such as "Up the Ladder to the Roof", "Stoned Love", "Nathan Jones" and "Floy Joy" through 1972. Wilson contributed partial lead vocals to Supremes songs during that period including the hit "Floy Joy".
After 1972, the Supremes struggled with recordings and frequent lineup changes. By 1975, Jean Terrell had been replaced by Scherrie Payne while Lynda Laurence briefly replaced Cindy Birdsong, before Birdsong returned to the group in early 1974. In 1976, Birdsong left for good and was replaced by Susaye Greene. During a two-year interim in which they struggled to produce a new contract with Motown, the group kept on a stringent touring schedule. In 1976, the group scored their final hit single with "I'm Gonna Let My Heart Do the Walking". A year later, Wilson left The Supremes following a performance at London's Drury Lane Theatre in late 1977. After Payne and Greene unsuccessfully lobbied to get a replacement for Wilson, the Supremes officially disbanded.
Wilson got involved in a protracted legal battle with Motown over management of the Supremes. After an out-of-court settlement, Wilson signed with Motown for solo work, releasing a disco-heavy self-titled album in 1979. The album and its singles, "Red Hot" and "Pick Up the Pieces" failed to successfully chart and midway through production of a second solo album in 1980, Motown dropped her from their roster. Throughout the 1980s, Wilson had recording struggles while focusing on performances on musical theater productions including Beehive, Dancing in the Streets and Supreme Soul. Wilson nearly reunited with Scherrie Payne and Cindy Birdsong on a proposed Supremes reunion but was reportedly talked out of it by Berry Gordy, reminding her of the hasty reunion of The Temptations.
Wilson released her memoirs, Dreamgirl: My Life as a Supreme, in 1986, which focused on the early career of the Supremes and its success during the 1960s. Four years later, in 1990, Wilson released her second memoirs, Supreme Faith: Someday We'll Be Together, which focused on the Supremes' later years in the seventies and her personal struggles during that period. In between this period, Wilson became a guest on several TV shows and talk shows and began regularly performing in Las Vegas casinos and resorts. In 1987, Wilson almost signed a deal with Atlantic Records but the label eventually canceled on the deal. Wilson then recorded a cover version of "Ooh Child" for the Motorcity label in 1990. A year later, she signed with CEO Records and released the album, Walk the Line, in 1992. The label went into bankruptcy after its release. Wilson continued her success as a concert performer. By 1997, she was still fighting over usage of the Supremes name, initiating a court case against Kaaren Ragland to prevent Ragland from calling her group "The Sounds of the Supremes". The court found in favor of Ragland. In 1995, Wilson released a song, "U", for Contract Recording Company and the song charted in the UK. A year later, Wilson released the song, "Turn Around" for Da Bridge Records.
By late 1999, negotiations were started to reunite the 1967–1970 lineup of the Supremes of Ross, Wilson and Birdsong under their "Diana Ross & The Supremes" moniker with SFX. After rejecting the original $2 million contract offered to her, Wilson wanted to join for $5 million, eventually settling for a figure of $4 million. In May 2000, Wilson backed out of the concert as did Birdsong and SFX replaced them with Scherrie Payne and Lynda Laurence. The tour was later canceled in 2000 for low ticket sales in the tour's theater dates. That year, Wilson released an updated version of her autobiographies as a single combined book. That year, an album, I Am Changing, was released through Duryea Entertainment.
In 2001, Wilson starred in the national tour of Leader of the Pack – The Ellie Greenwich Story. A year later, Wilson was appointed by Secretary of State Colin Powell as a "culture-connect ambassador" for the U.S. State Department, appearing at international events arranged by that agency. In 2006, a live concert DVD, Mary Wilson Live at the Sands, was released. Four years later, another DVD, Mary Wilson: Live from San Francisco... Up Close, was released. During this period, Wilson became a musical activist having been part of the Truth in Music Bill, a law proposed to stop impostor groups performing under the names of the 1950s and 1960s rock and roll groups, including Motown groups The Marvelettes and The Supremes. The law was passed in 27 states. Wilson has also toured and lectured across the United States, speaking to various groups nationwide. Her lecture series, "Dare to Dream", focuses on reaching goals and triumph over adversity. Wilson's charity work includes the Susan G. Komen Race for the Cure, the American Cancer Society, St. Jude's Children's Research Hospital, the Easter Seals Foundation, UNICEF, The NAACP, the Cystic Fibrosis Foundation, the All-Star Network, and Figure Skaters of Harlem, a youth organization devoted to helping children towards entering the Olympics. Most recently, Wilson became the Mine Action spokesperson for the Humpty Dumpty Institute.
In April 2008, Wilson made a special appearance on 20/20 to participate in a social experiment involving pedestrians reacting to a young woman (Ambre Anderson) singing "Stop! In the Name of Love" with intentional amateurishness. Wilson approached the woman and gave her constructive criticism towards her style in contrast to the pedestrians whose reactions were positive yet dishonest. On March 5, 2009, she made a special appearance on The Paul O'Grady Show which ended in a special performance with her, Paul O'Grady and Graham Norton. Wilson has also been involved with a touring exhibition of the Supremes' former stage wear, which has been on exhibit at the Rock & Roll Hall of Fame in Cleveland, USA, and on May 12, 2008 commenced its European tour, starting at the Victoria and Albert Museum. Over 50 sets of gowns are shown in rotation, starting with early informal wear from the early 1960s, and including famous gowns worn on television specials and nightclub appearances by the group in the 1960s and 1970s.
Please register for a free Genetic Matrix account to access more information about this and all other celebrity pages