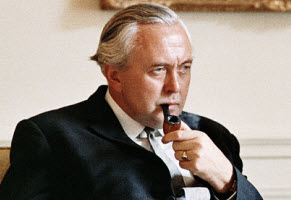 Harold Wilson
Category : Political
Type : PE
Profile : 4/6 - Opportunistic / Role Model
Definition : Split - Small (12)
Incarnation Cross : RAX Rulership 1
Biography
James Harold Wilson, Baron Wilson of Rievaulx, KG, OBE, FRS, FSS, PC (11 March 1916 – 24 May 1995) was a British Labour Party politician who served as the Prime Minister of the United Kingdom from 1964 to 1970 and 1974 to 1976, winning four general elections. He is the most recent British Prime Minister to have served non-consecutive terms.
First entering Parliament in 1945, Harold Wilson was immediately appointed the Parliamentary Secretary to the Ministry of Works and rose quickly through the ministerial ranks, becoming the Secretary for Overseas Trade in 1947 and being appointed to the Cabinet just months later as the President of the Board of Trade. In the Labour Shadow Cabinet he served first as Shadow Chancellor of the Exchequer from 1955 to 1961 and then as the Shadow Foreign Secretary from 1961 to 1963, when he was elected Leader of the Labour Party.
Wilson won the 1964 election and was appointed Prime Minister, going on to win an increased majority in 1966. Wilson's first period as Prime Minister coincided with a period of low unemployment and relative economic prosperity, though also of significant problems with the UK's external balance of payments. After losing the 1970 election, he spent four years as Leader of the Opposition before beginning his second period as Prime Minister in 1974, when a period of economic crisis was beginning to hit most Western countries. Throughout both of his terms, economic concerns were to prove a significant constraint on his governments' ambitions.
Wilson's own approach to socialism placed emphasis on efforts to increase opportunity within society, for example through change and expansion within the education system, allied to the technocratic aim of taking better advantage of rapid scientific progress, rather than on the left's traditional goal of promoting wider public ownership of industry. While he did not challenge the Party constitution's stated dedication to nationalisation head-on, he took little action to pursue it. A member of the Labour Party's "soft left", Wilson joked about leading a Cabinet that was made up mostly of social democrats, comparing himself to a Bolshevik revolutionary presiding over a Tsarist cabinet, but there was arguably little to divide him ideologically from the cabinet majority.
Though generally not at the top of Wilson's personal areas of priority, his first period in office in particular was notable for substantial legal changes in a number of social areas, including the liberalisation of laws on censorship, divorce, homosexuality, immigration, and abortion, as well as the abolition of capital punishment, due in part to the initiatives of backbench MPs who had the support of Roy Jenkins during his time as Home Secretary. Overall, Wilson is seen to have managed a number of difficult political issues with considerable tactical skill, including such potentially divisive issues for his party as the role of public ownership, British membership of the European Community, and the Vietnam War, in which he consistently resisted US pressure to involve Britain and send British troops, even "dissociating" his Government from the bombing of Hanoi. Nonetheless, his stated ambition of substantially improving Britain's long-term economic performance remained largely unfulfilled.
Early life
Wilson was born at 4 Warneford Road, Huddersfield, in the West Riding of Yorkshire, England on 11 March 1916, an almost exact contemporary of his rival, Edward Heath (9 July 1916 – 17 July 2005). He came from a political family: his father James Herbert Wilson (December 1882 – 1971) was a works chemist who had been active in the Liberal Party and then joined the Labour Party. His mother Ethel (née Seddon; 1882–1957) was a schoolteacher prior to her marriage. When Wilson was eight, he visited London and a later-to-be-famous photograph was taken of him standing on the doorstep of 10 Downing Street.
He was a supporter of his hometown football club, Huddersfield Town.[3]
Education
Wilson won a scholarship to attend Royds Hall Grammar School, his local grammar school (now a comprehensive school) in Huddersfield in Yorkshire. His education was disrupted in October 1930 when he contracted typhoid fever after drinking contaminated milk on a Scouts' outing. It took him three months to recover. In December 1930, his father, working as an industrial chemist, was made redundant and it took him nearly two years to find work. He moved to Spital on the Wirral, Cheshire in order to do so. Wilson was educated in the Sixth Form at the Wirral Grammar School for Boys, where he became Head Boy.
Wilson did well at school and, although he missed getting a scholarship, he obtained an exhibition; which, when topped up by a county grant, enabled him to study Modern History at Jesus College, Oxford, from 1934. At Oxford, Wilson was moderately active in politics as a member of the Liberal Party but was later influenced by G. D. H. Cole to join the Labour Party. After his first year, he changed his field of study to Philosophy, Politics and Economics. He graduated with "an outstanding first class Bachelor of Arts degree, with alphas on every paper" in the final examinations.[4] A popular urban myth at Oxford University states that Wilson's grade in his final examination was the highest ever recorded up to that date.
Although Wilson had two abortive attempts at an All Souls Fellowship, he continued in academia, becoming one of the youngest Oxford University dons of the century at the age of 21. He was a lecturer in Economic History at New College from 1937, and a Research Fellow at University College.
Marriage
On New Year's Day 1940, in the chapel of Mansfield College, Oxford, he married Mary Baldwin who remained his wife until his death. Mary Wilson became a published poet. They had two sons, Robin and Giles (named after Giles Alington); Robin became a Professor of Mathematics, and Giles became a teacher. Both his sons went to the same independent school, University College School, in Hampstead. In their twenties, his sons were under a kidnap threat from the IRA. After becoming a teacher at a comprehensive school for two years, Giles later returned to teaching, becoming a Maths master at Salisbury Cathedral School, and later, Northcliffe Preparatory School, Nursling, Southampton. In November 2006 it was reported that Giles had given up his teaching job and become a train driver for South West Trains.[5]
Wartime service
On the outbreak of the Second World War, Wilson volunteered for service but was classed as a specialist and moved into the civil service instead. For much of this time, he was a research assistant to William Beveridge, the Master of the College, working on the issues of unemployment and the trade cycle. He later became a statistician and economist for the coal industry. He was Director of Economics and Statistics at the Ministry of Fuel and Power 1943–44, and received an OBE for his services.[6]
He was to remain passionately interested in statistics. As President of the Board of Trade, he was the driving force behind the Statistics of Trade Act 1947, which is still the authority governing most economic statistics in Great Britain. He was instrumental as Prime Minister in appointing Claus Moser as head of the Central Statistical Office, and was president of the Royal Statistical Society in 1972–73.
Member of Parliament
As the war drew to an end, he searched for a seat to fight at the impending general election. He was selected for the constituency of Ormskirk, then held by Stephen King-Hall. Wilson agreed to be adopted as the candidate immediately rather than delay until the election was called, and was therefore compelled to resign from his position in the Civil Service. He served as Praelector in Economics at University College between his resignation and his election to the House of Commons. He also used this time to write A New Deal for Coal, which used his wartime experience to argue for nationalisation of the coal mines on the grounds of the improved efficiency he predicted would ensue.
In the 1945 general election, Wilson won his seat in the Labour landslide. To his surprise, he was immediately appointed to the government by Prime Minister Clement Attlee as Parliamentary Secretary to the Ministry of Works. Two years later, he became Secretary for Overseas Trade, in which capacity he made several official trips to the Soviet Union to negotiate supply contracts. Conspiracy-minded commentators would later seek to raise suspicions about these trips.
In Cabinet
On 29 September 1947 Wilson was appointed President of the Board of Trade, at 31 becoming the youngest member of a British Cabinet in the 20th century. He took a lead in abolishing some of the wartime rationing, which he referred to as a "bonfire of controls". His role in internal debates during the summer of 1949 over whether or not to devalue sterling, in which he was perceived to have played both sides of the issue, tarnished his reputation in both political and official circles.[7] In the general election of 1950, his Ormskirk constituency was significantly altered and he was narrowly elected for the new seat of Huyton near Liverpool.
Wilson was becoming known in the Labour Party as a left-winger and joined Aneurin Bevan and John Freeman in resigning from the government in April 1951 in protest at the introduction of National Health Service (NHS) medical charges to meet the financial demands imposed by the Korean War. After the Labour Party lost the election later that year, he became the Chairman of Keep Left, Bevan's political group, but shortly thereafter he began to distance himself from Bevan.
Shadow Cabinet
Wilson was appointed to the Shadow Cabinet by Labour Leader Hugh Gaitskell in 1955 as Shadow Chancellor of the Exchequer, and he proved to be very effective. One of his procedural moves caused a substantial delay to the progress of the Government's Finance Bill in 1955, and his speeches as Shadow Chancellor from 1956 were widely praised for their clarity and wit.[8] He coined the term "Gnomes of Zurich" to describe Swiss bankers whom he accused of pushing the pound down by speculation. As well as his role as Shadow Chancellor, he conducted an inquiry into the Labour Party's organisation following its defeat in the 1955 general election, which compared Labour's organisation to an antiquated "penny farthing" bicycle, and made various recommendations for improvements. Unusually, Wilson combined the job of Chairman of the House of Commons' Public Accounts Committee with that of Shadow Chancellor from 1959, holding that position until 1963.
Wilson steered a course in intra-party matters in the 1950s and early 1960s which left him neither fully accepted and trusted by either the left or the right within the Labour Party. Despite his earlier association with the left-wing Aneurin Bevan, in 1955 he backed Hugh Gaitskell, considered the right-of-centre candidate in internal Labour Party terms, against Bevan for the party leadership.[9] He then launched an opportunistic but unsuccessful challenge to Gaitskell's leadership in November 1960 in the wake of the Labour Party's 1959 defeat, Gaitskell's controversial attempt to ditch Labour's commitment to nationalisation by scrapping Clause Four, and Gaitskell's defeat at the 1960 Party Conference over a motion supporting unilateral nuclear disarmament. Wilson would later be moved to the position of Shadow Foreign Secretary in 1961, before he challenged for the deputy leadership in 1962 but was defeated by George Brown.
Hugh Gaitskell died in January 1963 aged 56, after a sudden flare of Lupus erythematosus, just as the Labour Party had begun to unite and appeared to have a very good chance of winning the next election, with the Macmillan Government running into trouble. Wilson was adopted as the left-wing candidate for the leadership, defeating George Brown and James Callaghan to become the Leader of the Labour Party and the Leader of the Opposition.
At the Labour Party's 1963 Annual Conference, Wilson made both his first speech as Leader and possibly his best-remembered speech overall, on the implications of scientific and technological change, in which he argued that "the Britain that is going to be forged in the white heat of this revolution will be no place for restrictive practices or for outdated measures on either side of industry". This speech did much to set Wilson's reputation as a technocrat not tied to the prevailing class system.[10]
Labour's 1964 election campaign was aided by the Profumo Affair, a ministerial sex scandal that had mortally wounded Harold Macmillan and was to taint his successor Sir Alec Douglas-Home, even though Home had not been involved in the scandal. Wilson made capital without getting involved in the less salubrious aspects. (Asked for a statement on the scandal, he reportedly said "No comment... in glorious Technicolor!"). Home was an aristocrat who had given up his title as Lord Home to sit in the House of Commons and become Prime Minister upon Macmillan's resignation. To Wilson's comment that he was the 14th Earl of Home, Home retorted, "I suppose Mr. Wilson is the fourteenth Mr. Wilson".
First term as Prime Minister (1964–70)
Labour won the 1964 general election with a narrow majority of four seats, and Wilson became Prime Minister. During 1965, this was reduced to a single seat as a result of by-election defeats, but in May 1966 Wilson called another general election and this time won it by a 96-seat majority.[11]
Domestic affairs
Economic policies
In economic terms, Wilson's first three years in office were dominated by an ultimately doomed effort to stave off the devaluation of the pound. He inherited an unusually large external deficit on the balance of trade. This partly reflected the preceding government's expansive fiscal policy in the run-up to the 1964 election, and the incoming Wilson team tightened the fiscal stance in response. Many British economists advocated devaluation, but Wilson resisted, reportedly in part out of concern that Labour, which had previously devalued sterling in 1949, would become tagged as "the party of devaluation".[12] In the latter half of 1967, however, an attempt was made to prevent the recession in activity from going too far in the form of a stimulus to consumer durable spending through an easing of credit, which in turn prevented a winter rise in unemployment.[13]
After a costly battle, market pressures forced the government into devaluation in 1967. Wilson was much criticised for a broadcast in which he assured listeners that the "pound in your pocket" had not lost its value. It was widely forgotten that his next sentence had been "prices will rise". Economic performance did show some improvement after the devaluation, as economists had predicted. The devaluation, with accompanying austerity measures, successfully restored the balance of payments to surplus by 1969. This unexpectedly turned into a small deficit again in 1970. The bad figures were announced just before polling in the 1970 general election, and are often cited as one of the reasons for Labour's defeat.[12]
A main theme of Wilson's economic approach was to place enhanced emphasis on "indicative economic planning". He created a new Department of Economic Affairs to generate ambitious targets that were in themselves supposed to help stimulate investment and growth (the government also created a Ministry of Technology (shortened to Mintech) to support the modernisation of industry). The DEA itself was in part intended to serve as an expansionary counter-weight to what Labour saw as the conservative influence of the Treasury, though the appointment of Wilson's deputy, George Brown, as the Minister in charge of the DEA was something of a two-edged sword, in view of Brown's reputation for erratic conduct; in any case the government's decision over its first three years to defend sterling's parity with traditional deflationary measures ran counter to hopes for an expansionist push for growth. Though now out of fashion, the faith in indicative planning as a pathway to growth,[14] embodied in the DEA and Mintech, was at the time by no means confined to the Labour Party – Wilson built on foundations that had been laid by his Conservative predecessors, in the shape, for example, of the National Economic Development Council (known as "Neddy") and its regional counterparts (the "little Neddies").[12] Government intervention in industry was greatly enhanced, with the National Economic Development Office greatly strengthened, with the number of "little Neddies" was increased, from eight in 1964 to twenty-one in 1970. The government's policy of selective economic intervention was later characterised by the establishment of a new super-ministry of technology, under Tony Benn.[15]
The continued relevance of industrial nationalisation (a centrepiece of the post-War Labour government's programme) had been a key point of contention in Labour's internal struggles of the 1950s and early 1960s. Wilson's predecessor as leader, Hugh Gaitskell, had tried in 1960 to tackle the controversy head-on, with a proposal to expunge Clause Four (the public ownership clause) from the party's constitution, but had been forced to climb down. Wilson took a characteristically more subtle approach. He threw the party's left wing a symbolic bone with the renationalisation of the steel industry, but otherwise left Clause Four formally in the constitution but in practice on the shelf.[12]
Wilson made periodic attempts to mitigate inflation through wage-price controls, better known in the UK as "prices and incomes policy"[12] (as with indicative planning, such controls—though now generally out of favour – were widely adopted at that time by governments of different ideological complexions, including the Nixon administration in the United States). Partly as a result of this reliance, the government tended to find itself repeatedly injected into major industrial disputes, with late-night "beer and sandwiches at Number Ten" an almost routine culmination to such episodes. Among the most damaging of the numerous strikes during Wilson's periods in office was a six-week stoppage by the National Union of Seamen, beginning shortly after Wilson's re-election in 1966, and conducted, he claimed, by "politically motivated men".
With public frustration over strikes mounting, Wilson's government in 1969 proposed a series of changes to the legal basis for industrial relations (labour law) in the UK, which were outlined in a White Paper "In Place of Strife" put forward by the Employment Secretary Barbara Castle. Following a confrontation with the Trades Union Congress, which strongly opposed the proposals, and internal dissent from Home Secretary James Callaghan, the government substantially backed-down from its intentions. Some elements of these changes were subsequently to be enacted (in modified form) during the premiership of Margaret Thatcher.[12]
Wilson's government made a variety of changes to the tax system. Largely under the influence of the Hungarian-born economists Nicholas Kaldor and Thomas Balogh, an idiosyncratic "Selective Employment Tax" (SET) was introduced that was designed to tax employment in the service sectors while subsidising employment in manufacturing (the rationale proposed by its economist authors derived largely from claims about potential economies of scale and technological progress, but Wilson in his memoirs stressed the tax's revenue-raising potential). The SET did not long survive the return of a Conservative government. Of longer term significance, Capital Gains Tax (CGT) was introduced in the UK on 6 April 1965.[16] Across his two periods in office, Wilson presided over significant increases in the overall tax burden in the UK. In 1974, three weeks after forming a new government, Wilson's new chancellor Denis Healey partially reversed the 1971 reduction in the top rate of tax from 90% to 75%, increasing it to 83% in his first budget, which came into law in April 1974. This applied to incomes over £20,000 (£155,247 as of 2013),[17], and combined with a 15% surcharge on 'un-earned' income (investments and dividends) could add to a 98% marginal rate of personal income tax. In 1974, as many as 750,000 people were liable to pay the top-rate of income tax.[18] Labour's identification with high tax rates was to prove one of the issues that helped the Conservative Party under Margaret Thatcher and John Major dominate British politics during the 1980s and early-to-mid-1990s.
Wilson had entered power at a time when unemployment stood at around 400,000. It still stood 371,000 by early 1966 after a steady fall during 1965, but by March 1967 it stood at 631,000. It fell again towards the end of the decade, standing at 582,000 by the time of the general election in June 1970.[19]
Social issues
A number of liberalising social reforms were passed through parliament during Wilson's first period in government. These included the abolition of capital punishment, decriminalisation of sex between men in private, liberalisation of abortion law and the abolition of theatre censorship. The Divorce Reform Act was passed by parliament in 1969 (and came into effect in 1971). Such reforms were mostly via private member's bills on 'free votes' in line with established convention, but the large Labour majority after 1966 was undoubtedly more open to such changes than previous parliaments had been.
Wilson personally, coming culturally from a provincial non-conformist background, showed no particular enthusiasm for much of this agenda (which some linked to the "permissive society"),[20] but the reforming climate was especially encouraged by Roy Jenkins during his period at the Home Office. The franchise was also extended with the reduction of the voting age from twenty-one to eighteen in 1969.[21]
Wilson's 1966–70 term witnessed growing public concern over the level of immigration to the United Kingdom. The issue was dramatised at the political level by the famous "Rivers of Blood speech" by the Conservative politician Enoch Powell, warning against the dangers of immigration, which led to Powell's dismissal from the Shadow Cabinet. Wilson's government adopted a two-track approach. While condemning racial discrimination (and adopting legislation to make it a legal offence), Wilson's Home Secretary James Callaghan introduced significant new restrictions on the right of immigration to the United Kingdom.
Education
Education held special significance for a socialist of Wilson's generation, in view of its role in both opening up opportunities for children from working-class backgrounds and enabling the UK to seize the potential benefits of scientific advances. Under the first Wilson government, for the first time in British history, more money was allocated to education than to defence.[22] Wilson continued the rapid creation of new universities, in line with the recommendations of the Robbins Report, a bipartisan policy already in train when Labour took power. The economic difficulties of the period deprived the tertiary system of the resources it needed. Nevertheless, university expansion remained a core policy. One notable effect was the first entry of women into university education in significant numbers. More broadly, higher education overall was significantly expanded, with a distinct bias towards the non-university sector.[23] Some 29 polytechnics were established, whilst student participation rates were increased from 5% to 10%.[24]
Wilson also deserves credit for grasping the concept of an Open University, to give adults who had missed out on tertiary education a second chance through part-time study and distance learning. His political commitment included assigning implementation responsibility to Baroness Lee, the widow of Aneurin Bevan, the charismatic leader of Labour's left wing whom Wilson had joined in resigning from the Attlee cabinet. The Open University worked through summer schools, postal tuition and television programmes.[25] By 1981, 45,000 students had received degrees through the Open University.[25] Money was also channelled into local-authority run colleges of education.[15]
Wilson's record on secondary education is, by contrast, highly controversial. A fuller description is in the article Education in England. Two factors played a role. Following the Education Act 1944 there was disaffection with the tripartite system of academically-oriented Grammar schools for a small proportion of "gifted" children, and Technical and Secondary Modern schools for the majority of children. Pressure grew for the abolition of the selective principle underlying the "eleven plus", and replacement with Comprehensive schools which would serve the full range of children (see the article Debates on the grammar school). Comprehensive education became Labour Party policy. From 1966 to 1970, the proportion of children in comprehensive schools increased from about 10% to over 30%.[26] There was also a move in primary schools towards "child-centred" or individual learning, in keeping with the recommendations of the 1967 Plowden Report on improving the education system.[27] Polytechnics were established in 1965 through the amalgamation of existing institutions such as colleges of technology, art, and commerce. A new external examination, designed for children of middling intellectual ability and leading to a Certificate of Secondary Education (CSE), was also introduced that same year.[28] Advanced level courses in further education were also expanded by the government much faster than under the previous Conservative government.[13]
Labour pressed local authorities to convert grammar schools into comprehensives. Conversion continued on a large scale during the subsequent Conservative Heath administration, although the Secretary of State, Margaret Thatcher, ended the compulsion of local governments to convert.
A major controversy that arose during Wilson's first government was the decision that the government could not fulfil its long-held promise to raise the school leaving age to 16, because of the investment required in infrastructure, such as extra classrooms and teachers. Baroness Lee considered resigning in protest, but narrowly decided against this in the interests of party unity. It was left to Thatcher to carry out the change, during the Heath government.
Attempts were also made to improve the provision of nursery education. In 1960, as a means of saving money, the Conservative government issued a circular which forbade the expansion of nursery education. This restriction was slightly relaxed just before the July 1964 election, when authorities were allowed to provide places "where this would enable married women to return to teaching." In 1965, the Labour government provided a further relaxation which allowed authorities to expand "so long as they provided some extra places for teachers to whom priority was to be given." Nevertheless, the number of children under five in maintained nursery, primary, and special schools increased only slightly, from 222,000 in 1965 to 239,000 in 1969.[13]
Overall, public expenditure on education rose as a proportion of GNP from 4.8% in 1964 to 5.9% in 1968, and the number of teachers in training increased by more than a third between 1964 and 1967. The percentage of students staying on at school after the age of sixteen increased similarly, and the student population increased by over 10% each year. Pupil-teacher ratios were also steadily reduced. As a result of the First Wilson government's educational policies, opportunities for working-class children were improved, while overall access to education in 1970 was broader than in 1964.[23] As summarised by Brian Lapping,
"The years 1964–70 were largely taken up with creating extra places in universities, polytechnics, technical colleges, colleges of education: preparing for the day when a new Act would make it the right of a student, on leaving school, to have a place in an institution of further education."[15]
In 1966, Wilson was created the first Chancellor of the newly created University of Bradford, a position he held until 1985.
Housing
Housing was a major policy area under the First Wilson Government. During Wilson's time in office from 1964 to 1970, more new houses were built than in the last six years of the previous Conservative government. The proportion of council housing rose from 42% to 50% of the total,[29] while the number of council homes built increased steadily, from 119,000 in 1964 to 133,000 in 1965 and to 142,000 in 1966. Allowing for demolitions, 1.3 million new homes were built between 1965 and 1970,[25] To encourage home ownership, the government introduced the Option Mortgage Scheme (1968), which made low-income housebuyers eligible for subsidies (equivalent to tax relief on mortgage interest payments).[30] This scheme had the effect of reducing housing costs for buyers on low incomes.[31] The government also accepted most of the recommendations of the 1961 Parker Morris Report for significantly improved standards of space and amenities new local authority dwellings.[13]
Significant emphasis was also placed on town planning, with new conservation areas introduced and a new generation of new towns built, notably Milton Keynes – this trend itself a continuation of efforts initiated in the latter years of the preceding Conservative administration. The New Towns Acts of 1965 and 1968 together gave the government the authority (through its ministries) to designate any area of land as a site for a New Town.[28] The government also combined its push for the construction of more new housing with encouragement and subsidisation of the renovation of old houses (as an alternative to their destruction and replacement).[32] The Housing Improvement Act of 1969, for example, made it easier to turn old houses into new homes by encouraging rehabilitation and modernisation through increased grants to property owners.[28] The legislation also introduced special grants for installing amenities in houses in multi-occupation and government grants towards environmental improvement up to an expenditure of £100 per dwelling, while approved works of repair and replacement became eligible for grant aid for the first time ever.[33] Altogether, between 1965 and 1970, over 2 million homes had been constructed (almost half of which were council properties), more than in any other five-year period since 1918.[12]
The Protection from Eviction Act (1964) outlawed the eviction of tenants without a court order,[34] and according to Colin Crouch and Martin Wolf, did much "to stem the rising tide of homelessness," especially in London.[13] The Rent Act (1965) extended security of tenure, introduced registration of rents, and protection from eviction for private tenants.[34] This legislation was attributed to fall in number of homeless families taken into welfare accommodation each year in the LCC area, from 2,000 in 1962-64 to 1,300 in 1965 and 1,500 in 1966.[13] The Leasehold Reform Act (1967) was passed in order to enable holders of long leases to purchase the freehold of their homes.[29] This legislation provided about one million leaseholders with the right to purchase the freehold of their homes. Controls were introduced over increases in the rents of council accommodation, a new Rent Act (introduced in 1965) froze the rent for most unfurnished accommodation in the private sector while providing tenants with greater security of tenure and protection against harassment, and a system was introduced whereby independent arbitrators had the power to fix fair rents.[35] In addition, the First Wilson Government also encouraged the introduction of discretionary local authority rent rebates to assist with housing costs.[36]
Generous new subsides were introduced by the government to encourage authorities to construct many more houses and to build them to Parker Morris standards. In 1967, the government issued a circular which urged authorities to adopt and publicise rent rebate schemes. As a result of this circular, the number of authorities adopting such schemes rose from 40% before the circular to 53% by March 1968. About 70% of tenants were covered, though not necessarily in receipt of rebates:
"... 495 authorities operated rent rebate schemes, and the £9.5 million total rebate went to over a quarter of a million tenants, representing nearly 12 per cent of the total housing stock. The average rebate, 13s 9d, amounted to one third of the average rent."[13]
Legislation was introduced which regulated tenancies for properties with a rateable value of up to £200 per year (£400 in London), which meant that tenants were not only to be protected from intimidation, but that evictions would now require court orders. It also restructured the housing subsidy system such that the borrowing charges of local authorities of individual local authorities would be pegged to 4% interest.[28] The 1966 Rating Act introduced the rating of empty properties and provided for the payment of rates in instalments. The Local Government Act introduced that same year introduced a "domestic" element in the new Rate Support Grant, by providing relief to domestic ratepayers on a rising scale, so that as local expenditure rose, government grant was geared to outpace it. As noted by one historian,
"The amount of grant in the domestic element would be calculated as sufficient to subsidise domestic ratepayers to the extent of a fivepenny rate in the first year, tenpence in the second, and so on."[37]
The 1965 Housing (Slum Clearance Compensation) Act continued a provision for home owners of unfit dwellings purchased between 1939 and 1955 to be compensated at market values. The Building Control Act of 1966 introduced building licensing to give priority to housing construction. Under the Supplementary Benefit Act of 1966, an owner occupier on benefits was entitled to an allowance for repairs, insurance, rates, and "reasonable" interest charges on a mortgage.[33] A Land Commission was also established to purchase land for building and therefore prevent profiteering in land values, although it only had limited success.[29] The aim of the Land Commission was to purchase land for public goods such as housing or shopping redevelopment (compulsorily, if the need arose), and investigated the planning needs of a particular area in conjunction with the Ministry of Housing and some planning authorities to see if any land in any particular area would be needed for such developmental schemes. Although the Land Commission purchased substantial quantities of land, it did not become the dominant influence in the land market that the government had hoped for.[15]
The Housing Subsidies Act (1967) fixed interest rates at 4% for councils borrowing to build homes.[15] It also provided financial assistance to local authorities for conversions and improvements, while also reforming the standard of fitness for human habitation.[34] The 1967 Act increased subsides on new houses to such an extent that it became the largest individual source of subsidy after a previous housing subsidy act of 1946. For a period, as part of the prices and incomes standstill introduced by the government, local authorities were not permitted to raise rents. Thereafter, a limit was set on the extent of increases that were permitted.[13]
A Town and Country Planning Act introduced in 1968 provided more local autonomy in town planning.[15] This piece of legislation aimed for greater flexibility and speed in the planning of land use,[38] and made public participation a statutory requirement in the preparation of development plans.[39] The Act also introduced a new system of process planning under which the spatial distribution of social and economic trends superseded physical standards as the principal concern of planners. According to Maureen Rhoden, this effectively meant that the development control system operated by local authorities 'policed' new housing demand. This allowed for new development on infill sites or on the edge of larger towns and villages, "but preventing development in the open countryside and in designated areas such as green belts and Areas of Outstanding Natural Beauty."[40] In addition, opportunities for public participation in the planning process were also increased by the Act, partly in response to opposition to some features of urban housing and planning policies.[31] By September 1970, general improvement areas covering 23,254 dwellings had been declared, with work having been completed on 683 dwellings. In addition, the Labour government went further than previous administrations in aiming to safeguard the housing programme from wider economic problems.[13]
Social Services and Welfare
According to A.B. Atkinson, social security received much more attention from the First Wilson Government than it did during the previous thirteen years of Conservative government.[13] Following its victory in the 1964 general election, Wilson's government began to increase social benefits. Prescription charges for medicines were abolished immediately, while pensions were raised to a record 21% of average male industrial wages. In 1966, the system of national assistance (a social assistance scheme for the poor) was overhauled and renamed Supplementary Benefit. The means test was replaced with a statement of income, and benefit rates for pensioners (the great majority of claimants) were increased, granting them a real gain in income. Before the 1966 election, the widow's pension was tripled and redundancy payments for laid-off workers were introduced. Due to austerity measures following an economic crisis, prescription charges were re-introduced in 1968 as an alternative to cutting the hospital building programme, although those sections of the population who were most in need (including supplementary benefit claimants, the long-term sick, children, and pensioners) were exempted from charges.[32] The widow's earning rule was also abolished.[25] Altogether, the increases made in pensions and other benefits during Wilson's first year in office were the largest ever real term increases carried out up until that point.[41] Social security benefits were markedly increased during Wilson's first two years in office, as characterised by a budget passed in the final quarter of 1964 which raised the standard benefit rates for old age, sickness and invalidity by 18.5%.[42] In 1965, the government increased the national assistance rate to a higher level relative to earnings, and via annual adjustments, broadly maintained the rate at between 19% and 20% of gross industrial earnings until the start of 1970.[13]
Increased funds were allocated to social services during the First Wilson Government's time in office. Between 1963 and 1968, spending on housing increased by 9.6%, social security by 6.6%, health by 6%, and education by 6.9%,[26] while from 1964 to 1967 social spending increased by 45%.[43] During the six years of the First Wilson Government, spending on social services rose much faster than real personal incomes, and from 1964 to 1969, spending on social services rose from 14.6% to 17.6% of GNP, an increase of nearly 20%.[13] Altogether, from 1964 to 1970, spending on the social services rose from 16% to 23% of national wealth between 1964 and 1970.[2] As noted by the historian Richard Whiting, spending on social services under Wilson rose faster than the growth in GNP, by 65% (excluding housing) as against 37% for GNP, "a substantially better record than that achieved by the preceding Conservative governments."[44]
In terms of social security, the welfare state was significantly expanded through substantial increases in national insurance benefits (which rose in real terms by 20% from 1964 to 1970)[45] and the creation of new social welfare benefits. A variety of measures was introduced under Wilson which improved the living standards of many people with low incomes.
Short-term unemployment benefits were increased,[46] while the National Assistance Board was merged with the Ministry of Pensions and National Insurance to become the new Ministry of Social Security,[29] which replaced national assistance with supplementary benefit, improved benefit scale rates, and provided a statutory right to benefit for the out-of-work needy.[47] Although people were kept above a new unofficial poverty line, however, many thousands lived only just above it.[48]
The government also succeeded in persuading people to draw assistance to which they were entitled to but hadn't claimed before.[49] The number of elderly Britons receiving home helps rose by over 15% from 1964 to 1969, while nearly three times as many meals on wheels were served in 1968 as in 1964.[50] In 1968, the Ministry of Health and the Ministry of Social Security were amalgamated into the Department of Health and Social Security, the purpose of which was to coordinate benefits in cash with benefits in kind since "the services needed to deal with social insecurity are not cash benefits only, but health and welfare as well."[28] An Act was passed which replaced National Assistance with Supplementary Benefits. The new Act laid down that people who satisfied its conditions were entitled to these noncontributory benefits. Unlike the National Assistance scheme, which operated like state charity for the worst-off, the new Supplementary Benefits scheme was a right of every citizen who found himself or herself in severe difficulties. Those persons over the retirement age with no means who were considered to be unable to live on the basic pension (which provided less than what the government deemed as necessary for subsistence) became entitled to a "long term" allowance of an extra few shillings a week. Some simplification of the procedure for claiming benefits was also introduced.[15] The new Supplementary Benefit scheme included a fixed basic weekly rate that those with an income below this level would now have a right to claim, while extra payments were made available on a discretionary basis for additional needs.[51] In 1966, the period for which flat rate unemployment was payable was extended to twelve months, while the earnings limit for pensioners was extended. A long term addition of 9 shillings (which was subsequently increased to 10 shillings) a week was provided for the allowances of all pensioners and for the long term sick, while the real value of most existing benefits was increased,[35] (such as family allowances, which were substantially raised in 1967 and 1968[52]) with benefits rising at roughly the same rate as salaries over the course of the First Wilson Government, while family allowances were significantly increased.[49] By 1969, family allowances were worth 72% more in real terms to a low income family with three children than in 1964.[50] The single pension was raised by 12s 6d in March 1965, b y10s in 1967 and by a further 10s in 1969. From April 1964 to April 1970, family allowances for four children increased as a percentage of male manual workers aged 21 and above from 8% to 11.3%.[13]
The First Wilson Government kept the old age pension rising roughly as fast as average earnings during its time in office, while campaigns were launched by the government to encourage people to take up means-tested benefits to which they were entitled to.[15] For instance, a publicity campaign launched by the government increased the fraction of children eligible to get free school meals.[13]
Under the 1966 Social Security Act, newly unemployed individuals were no longer denied assistance during their first month of unemployment, while men who had had their unemployment benefit disallowed for six weeks (on the grounds that they had been at fault for losing their job) were no longer subjected to a harsh rule applied by the National Assistance confining their payments to below "benefit rate." Instead, a policy was adopted of paying these individuals their full entitlement less 15 shillings.T he Act also introduced a long term addition of 9 shillings for all pensioners receiving supplementary benefit and for others (with the exception of those required register for employment) receiving supplementary benefits for two years. In 1967, the earnings limits for retirement pensioners were raised, while other changes were made in the administration of the earnings rule.[13]
Redundancy payments were introduced in 1965 to lessen the impact of unemployment, earnings-related benefits for unemployment, sickness, industrial injuries and widowhood were introduced in 1966, followed by the replacement of flat-rate family allowances with an earnings-related scheme in 1968.[53] In 1968, the universal family allowance was raised for the first time in a decade. This measure was considered to be redistributive to some degree,
"from richer to poorer and from mainly male taxpayers to mothers who received family allowances, a tentative move towards what Roy Jenkins called 'civilised selectivity'".[32]
The National Insurance Act of 1966, which introduced supplementary earnings-related benefits for short-term sickness and unemployment, had far-reaching distributional consequences by "guaranteeing that insurance benefits rose at the same rate as wages in the late 1960s." Trade unions were supportive of the advances made in social protection by the Wilson government, which had a considerable impact on the living standards of the lowest quintile of the population. A statement by the TUC argued that the unions' acquiescence to the government's incomes policy was justified given that "the government had deliberately refrained from attacking the social services."[42]
The introduction of earnings-related unemployment and sickness benefits significantly reduced inequalities between those in work and those who were unemployed. In 1964, the net income received by the average wage earner, when on unemployment or sickness benefit, was only 45% of what he received at work, whereas by 1968 the figure had increased to 75%.[49] The earnings-related supplement for unemployment benefits was made available to those who had earned at least £450 in the previous financial year. The supplement was paid after a twelve-day waiting period, and the rate was one-third the amount by which the average weekly earnings (up to £30) exceeded £9. The earnings-related supplement was based on the assertion that a person's commitments for mortgages, rents, and hire purchase agreements were related to their normal earnings and could not be adjusted quickly when experiencing a loss of normal income. As a result of this supplement, the total benefit of a married man with two children went up by 52%, and that of a single man by 117.% The duration was limited to 26 weeks, while the total benefit was restricted to 85% of average weekly earnings in the preceding financial year.[13]
As a result of the introduction of earnings related supplements to sickness and unemployment benefits and widows' allowances, the total benefit for a man earning £30 a week now represented 50% of his earnings rather than 27% with just the flat rate (for a married couple).
Personal social services were integrated, expenditure increased and their responsibilities broadened following the enactment of the Children and Young Persons' Act (1969) and the Local Authority Social Services Act (1970).[54] The Children and Young Persons Act of 1969 reformed the juvenile court system and extended local authority duties to provide community homes for juvenile offenders.[34] The legislation provided that "remand homes," "approved schools," and local authority and voluntary children's homes became part of a comprehensive system of community homes for all children in care.[28] This provided that children who got into trouble with the police should more certainly and quickly than ever before receive special educational assistance, social work help or any other form of assistance (financial or otherwise) that the community could provide.[15] In addition, subsidies for farmers were increased,[55][56] while under the Health Services and Public Health Act of 1968, largely as a result of their insistence, local authorities were granted powers to "promote the welfare" of elderly people in order to allow them greater flexibility in the provision of services.[13]
Health
The proportion of GNP spent on the NHS rose from 4.2% in 1964 to about 5% in 1969. This additional expenditure provided for an energetic revival of a policy of building health centres for GPs, extra pay for doctors who served in areas particularly short of them, a significant growth in hospital staffing, and a significant increase in a hospital building programme. Far more money was spent each year on the NHS than under the 1951–64 Conservative governments, while much more effort was put into modernising and reorganising the health service.[15] Stronger central and regional organisations were established for bulk purchase of hospital supplies, while some efforts were made to reduce inequalities in standards of care. In addition, the government increased the intake to medical schools.[13]
The Doctor's Charter of 1966 introduced allowances for rent and ancillary staff, significantly increased the pay scales, and changed the structure of payments to reflect "both qualifications of doctors and the form of their practices, i.e. group practice." These changes not only led to higher morale, but also resulted in the increased use of ancillary staff and nursing attachments, a growth in the number of health centres and group practices, and a boost in the modernisation of practices in terms of equipment, appointment systems, and buildings.[28] The charter introduced a new system of payment for GPs, with refunds for surgery, rents, ands rates, to ensure that the costs of improving his surgery did not diminish the doctor's income, together with allowances for the greater part of ancillary staff costs. In addition, a Royal Commission on medical education was set up, partly to draw up ideas for training GPS (since these doctors, the largest group of all doctors in the country, had previously not received any special training, "merely being those who, at the end of their pre-doctoral courses, did not go on for further training in any speciality).[15]
In 1967, local authorities were empowered to provide family planning advice to any who requested it and to provide supplies free of charge.[32] In addition, medical training was expanded following the Todd Report on medical education in 1968.[28][57] In addition, National Health expenditure rose from 4.2% of GNP in 1964 to 5% in 1969 and spending on hospital construction doubled.[29] The Health Services and Public Health Act 1968 empowered local authorities to maintain workshops for the elderly either directly or via the agency of a voluntary body. A Health Advisory Service was later established to investigate and confront the problems of long-term psychiatric and mentally subnormal hospitals in the wave of numerous scandals.[28] The Family Planning Act (1967) empowered local authorities to set up a family planning service with free advice and means-tested provision of contraceptive devices while the Clean Air Act (1968) extended powers to combat air pollution.[34] More money was also allocated to hospitals treating the mentally ill.[15]
Workers
The Industrial Training Act of 1964 set up an Industrial Training Board to encourage training for people in work.[34] The Docks and Harbours Act (1966) and the Dock Labour Scheme (1967) reorganised the system of employment in the docks in order to put an end to casual employment.[29] Trade unions also benefited from the passage of the Trade Dispute Act in 1965. This restored the legal immunity of trade union officials, thus ensuring that they could no longer be sued for threatening to strike.[27] According to one MP, nurses also benefited from the largest pay rise they had received in a generation.[58] In May 1966, Wilson announced 30% pay rises for doctors and dentists - a move which did not prove popular with unions, as the national pay policy at the time was for rises of between 3% and 3.5%.[59]
Much needed improvements were made in junior hospital doctors' salaries. From 1959 to 1970, while the earnings of manual workers increased by 75%, the salaries of registrars more than doubled while those of house officers more than trebled. Most of these improvements, such as for nurses, came in the pay settlements of 1970. On a limited scale, reports by the National Board for Prices and Incomes encouraged incentive payments schemes to be development in local government and elsewhere. In February 1969, the government accepted an "above the ceiling" increase for farmworkers, a low-paid group. Some groups of professional workers, such as nurses, teachers, and doctors, gained substantial awards.[13]
Improvements were also made in conditions for nursing staff following the publication of a report by the NBPI in 1968 on the pay of nurses. This led to the introduction of a far more substantial pay lead for nurses in geriatric and psychiatric hospitals, together with (for the first time) premium rates for weekend and night work. Some progress was also made increasing the pay of NHS manual workers through incentive schemes. Despite these improvements, however, the NHS retained a reputation of being a low-wage employer by the end of the First Wilson Government's time in office.[13]
The National Insurance Act of 1966 introduced more generous provisions for the assessment of certain types of serious disablement caused by industrial injury.[60] That same year, a Pneumoconiosis, Byssinosis and Miscellaneous Diseases Benefit Scheme was introduced.[61] In 1969, the Employers' Liability (Compulsory Insurance) Act was passed, requiring employers to insure their liability to their employees for personal injury, disease or death sustained in their place of work.[62] The Employer's Liability (Defective Equipment) Act introduced that same year made employers liable for injuries caused to employees by defective equipment.[63]
Wilson's government also ensured that low-income earners improved their position relative to that of average-income earners during its time in office. One of the principles of the government's prices and incomes policy was that low-paid workers would be given special consideration, and between 1965 and 1969 the earnings of the lowest paid workers increased slightly faster than the average (the increase in inflation in 1969–70 caused by devaluation, however, led to a deterioration in the position of low-paid workers). The Prices and Incomes Board was successful in directing some "above the norm" pay rises to low-paid groups such as local government employees and agricultural workers. However, the large increases in pay given to manual workers in local government in September 1969 (such as street sweepers and dustmen) subsequently set off a spiral of wage demands in industry, which meant that the improvement in the relative position of the local government manual worker was not sustained.[15]
In 1966, extensions and improvements were made in the allowances payable out of the Industrial Injuries Fund to people who had been injured before 5 July 1948 and who were entitled to weekly payments of worker's compensation.[64] In 1968, various steps were taken to reduce the severity with which the "wage-stop" operated,[49] a regressive mechanism which restricted the amount of assistance payable to an unemployed person.[65]
Transport
The 1968 Transport Act established the principle of government grants for transport authorities if uneconomic passenger services were justified on social grounds. A National Freight Corporation was also established to provide integrated rail freight and road services. Public expenditure on roads steadily increased and stricter safety precautions were introduced, such as the breathalyser test for drunken driving,[22] under the 1967 Road Traffic Act.[15] The Transport Act gave a much needed financial boost to British Rail, treating them like they were a company which had become bankrupt but could now, under new management, carry on debt-free. The act also established a national freight corporation and introduced government subsidy for passenger transport on the same basis as existing subsidies for roads to enable local authorities to improve public transport in their areas.[15] The road building programme was also expanded, with capital expenditure increased to 8% of GDP, "the highest level achieved by any post-war government".[24]
Regional development
Encouragement of regional development was given increased attention under the First Wilson Government, with the aim of narrowing economic dispratiies between the various regions. A policy was introduced in 1965 whereby any new government organisation should be established outside London and in 1967 the government decided to give preference to development areas. A few government departments were also moved out of London, with the Royal Mint moved to South Wales, the Giro and Inland Revenue to Bootle, and the Motor Tax Office to Swansea.[49] A new Special Development Status was also introduced in 1967 to provide even higher levels of assistance.[25] In 1966, five development areas (covering half the population in the UK) were established, while subsidies were provided for employers recruiting new employees in the Development Areas.[12]
The Industrial Development Act of 1966 changed the name of Development Districts (parts of the country with higher levels of unemployment than the national average and which governments sought to encourage greater investment in) to Development Areas and increased the percentage of the workforce covered by development schemes from 15% to 20%, which mainly affected rural areas in Scotland and Wales. Tax allowances were replaced by grants in order to extend coverage to include firms which were not making a profit, and in 1967 a Regional Employment Premium was introduced. Whereas the existing schemes tended to favour capital-intensive projects, this aimed for the first time at increasing employment in depressed areas. Set at £1.50 a man per week and guaranteed for seven years, the Regional Employment Premium subsidised all manufacturing industry (though not services) in Development Areas.[25]
Regional unemployment differentials were narrowed, and spending on regional infrastructure was significantly increased. Between 1965–66 and 1969–70, yearly expenditure on new construction (including power stations, roads, schools, hospitals and housing) rose by 41% in the United Kingdom as a whole. Subsidies were also provided for various industries (such as shipbuilding in Clydeside), which helped to prevent a number of job losses. It is estimated that, between 1964 and 1970, 45,000 government jobs were created outside London, 21,000 of which were located in the Development Areas.[49]
Funds allocated to regional assistance more than doubled, from £40 million in 1964/65 to £82 million in 1969/70, and from 1964 to 1970, the number of factories completed was 50% higher than from 1960 to 1964, which helped to reduce unemployment in development areas. In 1970, the unemployment rate in development areas was 1.67 times the national average, compared to 2.21 times in 1964. Although national rates of unemployment were higher in 1970 than in the early 1960s, unemployment rates in the development areas were lower and had not increased for three years.[25] Altogether, the impact of the First Wilson government's regional development policies was such that, according to one historian, the period 1963 to 1970 represented "the most prolonged, most intensive, and most successful attack ever launched on regional problems in Britain."[12]
Urban renewal
A number of subsidies were allocated to local authorities faced with acute areas of severe poverty (or other social problems).[15] The 1969 Housing Act provided local authorities with the duty of working out what to do about 'unsatisfactory areas'. Local authorities could declare 'general improvement areas' in which they would be able to buy up land and houses, and spend environmental improvement grants. On the same basis, taking geographical areas of need, a package was developed by the government which resembled a miniature poverty programme.[53] In July 1967, the government decided to pour money into what the Plowden Committee defined as Educational Priority Areas, poverty-stricken areas where children were environmentally deprived. A number of poor inner-city areas were subsequently granted EPA status (despite concerns that Local Education Authorities would be unable to finance Educational Priority Areas).[27] From 1968 to 1970, 150 new schools were built under the educational priority programme.[13]
Section 11 of the 1966 Local Government Act enabled local authorities to claim grants to recruit additional staff to meet special needs of Commonwealth immigrants.[34] According to Brian Lapping, this was the first step ever taken towards directing help to areas with special needs, "the reversal of the former position under which ministers had passed the burden of social help measures in housing, education and health to local authorities without passing them any money."[15]
In 1967, Wilson's government decided to spend £16 million, mainly in "Educational Priority Areas", over the next two years. Over a two-year period, £16 million was allocated by the government for construction of schools in EPAs, while teachers in 572 primary schools "of exceptional difficulty" were selected for additional increments.[66] After negotiations with teachers' unions, £400,000 of this money was set aide to pay teachers an additional £75 per annum for working in "schools of exceptional difficulty", of which 570 schools were designated. The government also sponsored an action research project, an experiment in five of the EPAs to try to devise the most effective ways of involving communities, according to Brian Lapping,
"in the work of their schools, compensating the children for the deprivation of their background, seeing whether, in one area pre-school play groups, in another intensive language tuition, in another emphasis on home-school relations, would be most effective."[15]
The First Wilson Government made assistance to deprived urban communities a specific policy of national government in 1969 with the passage of the Local Government Grants (Social Need) Act, which empowered the Home Secretary to dispense grants to assist local authorities in providing extra help to areas "of special social need." The Urban Aid Programme was subsequently launched to provide community and family advice centres, centres for the elderly, money for schools and other services,[53] thereby alleviating urban deprivation. In introducing the Urban Aid Programme, the then Home Secretary James Callaghan stated that the goal of the legislation was to
"provide for the care of our citizens who live in the poorest overcrowded parts of our cities and towns. It is intended to arrest ... and reverse the downward spiral which afflicts so many of these areas. There is a deadly quagmire of need and poverty."[28]
Under the Urban Aid Programme, funds were provided for centres for unattached youngsters, family advice centres, community centres, centres for the elderly, and in one case for an experimental scheme for rehabilitating methylated spirit drinkers.[15] Central government paid 75% of the costs of these schemes, which were nominated by local authorities in areas of 'acute social need'.[53] As a result of this legislation, many ideas were put into practice
Please register for a free Genetic Matrix account to access more information about this and all other celebrity pages