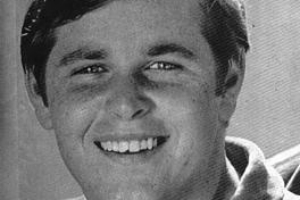 Carl Wilson
Category : Musician - Popular
Type : GP
Profile : 2/4 - Hermit / Opportunist
Definition : Single
Incarnation Cross : RAX The Vessel of Love 4
Biography
Carl Dean Wilson (December 21, 1946 – February 6, 1998) was an American rock and roll singer, guitarist and composer, best known as a founding member, lead guitarist and occasional lead vocalist of The Beach Boys. Wilson performed lead vocals on a number of notable songs by the Beach Boys, including "Good Vibrations" and "God Only Knows".
Carl Wilson was the youngest brother of fellow Beach Boys Dennis and Brian Wilson and cousin of Beach Boy Mike Love. He was inducted into the Rock and Roll Hall of Fame in 1988. Wilson died of cancer in 1998 while still actively touring and recording with the Beach Boys and on varied solo projects.
Beach Boys career
Carl Dean Wilson was born in Hawthorne, California, the youngest son of Audree Neva (née Korthof) and Murry Gage Wilson. From his pre-teens he practiced harmony vocals under the guidance of his brother Brian, who often sang in the family music room with his mother and brothers. Wilson's interest in the guitar derived from his admiration for Chuck Berry and, early on, he learned guitar alongside neighbor David Marks, who would also join the emerging garage band that would become the Beach Boys. While Brian's perfected the band's vocal style and keyboard base, Wilson's Chuck Berry-esque guitar became an early Beach Boys' trademark. Turning 15 as the group's first hit, "Surfin'", broke locally in Los Angeles, his father and manager, Murry Wilson (who had sold his business to support his sons' band), bought him a Fender Jaguar guitar. Wilson markedly developed as a musician and singer through the band's early recordings and the early, evocative "surf lick" sound quickly evolved into the rock sophistication of "Fun, Fun, Fun", recording in 1964 when Wilson was 17. By the end of 1964 he was diversifying, favoring the 12-string Rickenbacker that was also notably used by Roger McGuinn in establishing the sound of the Byrds and by George Harrison of The Beatles during this era. Dave Marsh, in The Rolling Stone Illustrated History of Rock & Roll (1976), stated that Pete Townshend of The Who expanded on both R&B and white rock "influenced heavily by Beach Boy Carl Wilson...".
Wilson's lead vocals in the band's first three years included "Summertime Blues" (duet with David Marks), "Louie, Louie" (splitting lead with Mike Love), "Pom Pom Play Girl", "All Dressed Up for School", and "Girl Don't Tell Me". Although all members of the band played on their early recordings, Brian Wilson began to engage experienced session musicians to play on Beach Boys backing tracks by 1965. Unlike the other members of the band, Wilson often played alongside with session musicians. He also recorded his individual guitar leads during the Beach Boys' vocal sessions, with his guitar plugged directly into the soundboard. His playing can be heard distinctly on tracks like 1965's "Girl Don't Tell Me" and 1966's "That's Not Me".
Following his dynamic lead vocal performance on "God Only Knows" in 1966, Wilson was increasingly lead vocalist for the band, a role previously dominated by Mike Love and Brian Wilson. He sang many leads on the Smiley Smile and Wild Honey albums, and on the hit singles "Good Vibrations", "Darlin'", and "Wild Honey". His 1969 rendition of "I Can Hear Music" was the first Beach Boys track produced solely by him.
After Brian's retirement from touring in 1965, Wilson became the leader of the band onstage: contracts at that time stipulated that promoters hired "Carl Wilson plus four other musicians". By 1969, Wilson had effectively become the band's in-studio leader, producing the bulk of the albums 20/20, Sunflower, Surf's Up, Carl and the Passions – "So Tough" (named in honor of his effective leadership of the band at this point) and Holland.
Though Wilson had written surf instrumentals for the band in the early days, he did not get into his stride as a songwriter until the 1971 album Surf's Up, for which he composed "Long Promised Road" and "Feel Flows", with lyrics by the band's then manager Jack Rieley. Wilson considered "Long Promised Road" his first real song. Wilson's leadership role in the band diminished somewhat in the late 1970s, due to Brian's brief reemergence as the band's producer and on account of his own substance abuse problems. He nonetheless remained a prominent and recognizable voice in the band, serving as "mixdown producer" on the Brian-produced Love You album.
For 1979's L.A. (Light Album), Wilson contributed three songs, among them "Good Timin", co-written with Brian in 1974, which became a Top 40 American hit. Wilson's main writing partner in the late 1970s was Geoffrey Cushing-Murray but for 1980's Keepin' the Summer Alive he wrote with Randy Bachman of the band Bachman-Turner Overdrive. Wilson told Michael Feeney Callan, writer-director of the RTÉ 1993 documentary The Beach Boys Today (a celebration of the Beach Boys' thirtieth anniversary), that Bachman was his favorite writing partner, "basically because he rocked, and I love to rock".
As a producer and vocalist, Wilson's work was not confined to the Beach Boys. During the 1970s, he also produced records for other artists, notably Ricci Martin (son of Dean Martin) and South African group The Flame, two members of which later temporarily joined the Beach Boys' line-up. He lent backing vocals to many works, including Chicago's hits "Baby, What a Big Surprise" and "Wishing You Were Here" (with Al Jardine and brother Dennis Wilson), Elton John's "Don't Let the Sun Go Down on Me" (with Bruce Johnston), David Lee Roth's hit cover of "California Girls", Warren Zevon's "Desperados Under the Eaves", and the Carnie/Wendy Wilson holiday track "Hey Santa!" Wilson also recorded a duet with Olivia Newton-John, entitled "You Were Great, How Was I?", for her 1985 studio album, "Soul Kiss". It was not released as a single.
Wilson is widely recognized as an important and influential singer in popular music. The renowned countertenor, Iestyn Davies, interviewed by Mark Lawson on BBC Radio 4's Front Row on 16 December 2009, referred to Wilson's lead on "Good Vibrations" as "that wonderful male alto solo; exactly the same sound you'd hear from a good singer in a cathedral or on a Baroque opera stage. It's a wonderful sound."
Solo records
By the early 1980s the Beach Boys were in disarray; the band had split into several camps. Frustrated with the band's sluggishness to record new material and reluctance to rehearse, Wilson took a leave of absence in 1981.
He quickly recorded and released a well-received solo album, Carl Wilson, composed largely of rock n' roll songs co-written with Myrna Smith-Schilling, a former backing vocalist for Elvis Presley and Aretha Franklin and wife of Wilson's then-manager Jerry Schilling. The album briefly charted, and its second single, "Heaven", reached the top 20 on Billboard's Adult Contemporary chart. Wilson also undertook a solo tour to promote the album, becoming the first member of the Beach Boys to break ranks. Initially, Wilson and his band played clubs like The Bottom Line in New York City and the Roxy in Los Angeles. Thereafter he joined the Doobie Brothers as opening act for their 1981 summer tour.
Wilson recorded a second solo album, Youngblood, in a similar vein, but by the time of its release in 1983 he had rejoined the Beach Boys. Although Youngblood did not chart, a single, the John Hall-penned "What You Do To Me", peaked at number 72, making Wilson the second Beach Boy to land a solo single on the Billboard Hot 100. Additionally, the song cracked the top 20 on Billboard's Adult Contemporary chart. Wilson frequently performed that song and "Rockin' All Over the World" (from the same album), as well as "Heaven" from the 1981 album at Beach Boys' concerts in the 1980s. "Heaven" was always announced as a tribute to brother Dennis, who drowned in December 1983. The Beach Boys' 1985 eponymous album prominently featured Wilson's lead vocals and songwriting, highlighted by his "It's Gettin' Late" (another top 20 Adult Contemporary hit) and the "Heaven"-like "Where I Belong".
In 1988, the Beach Boys scored their biggest chart success in more than twenty years with the US Number 1 song "Kokomo", co-written by Mike Love, on which Wilson sang lead in the chorus. After this, Love increasingly dominated the band's recorded output and became the driving force behind the 1993 album Summer in Paradise, the first and only Beach Boys album with no input from Brian Wilson in any form. In 1992, Wilson told Michael Feeney Callan his hope was to record new Brian Wilson material. "Speaking for myself", he told Callan, "I only want to record inspired music".
Wilson continued recording through the 1990s and enthusiastically participated in the Don Was-led recordings of Brian's "Soul Searchin'" and "You're Still a Mystery", songs conceived as the basis of an aborted Brian Wilson/Beach Boys album. He also recorded the album Like a Brother with Robert Lamm and Gerry Beckley, while continuing to tour with the Beach Boys until the last months of his life.
Personal life and death
Wilson was a significantly spiritual person and frequently spoke of what he called his "connection with Spirit". Prayer ritual was an important part of his life and, according to Brian, "prayer sessions" were conducted before recordings on Pet Sounds in order to invoke higher guidance in the music. Wilson declared himself a conscientious objector and refused the draft to join the American military during the Vietnam War. By 1988, Wilson had become an ordained minister in the Movement of Spiritual Inner Awareness.
Wilson was married twice - first to Annie Hinsche, sister of frequent Beach Boys sideman Billy Hinsche, then to Dean Martin's daughter, Gina (born December 20, 1956). With Annie, Wilson had two sons, Justyn (born 1971) and Jonah (born 1969). It was during the breakup of his marriage to Annie that he wrote "Angel Come Home" which, according to co-writer Geoffrey Cushing-Murray, was about Wilson's grief over separation from his wife during the incessant touring with the Beach Boys. His marriage to Gina lasted until his death, and she accompanied him on all of his touring duties.
Wilson had an Irish setter named Shannon whose passing inspired the emotional 1975 hit song of the same name by Henry Gross.
Wilson was diagnosed with lung cancer after becoming ill at his vacation home in Hawaii in early 1997. Despite his illness, Wilson continued to perform during chemotherapy treatment. He played and sang throughout the Beach Boys' entire summer tour which ended in the fall of 1997. During performance he sat on a stool. His unique, compelling voice, however, never deserted him and he always respectfully stood while singing "God Only Knows".
Wilson died of his cancer in Los Angeles surrounded by his family, on February 6, 1998, just two months after the death of his mother, Audree Wilson. He was interred at Westwood Village Memorial Park Cemetery in Los Angeles.
Apart from the Beckley-Lamm-Wilson album Like a Brother, which was finally released in 2000, Wilson's late recordings continue to appear. Brian's 2004 album Gettin' in Over My Head features Wilson's vocal from the unreleased Beach Boys song "Soul Searchin'" over a new backing track (the Don Was-recorded elements and the other Beach Boys' voices are absent), and in 2010 bandmate Al Jardine's first solo album, A Postcard From California, features a similarly reconstructed track, "Don't Fight The Sea". Wilson can also be heard on the continual stream of Beach Boys archival releases, most notably as a central voice in the November 2011 release of The Smile Sessions.
It was announced that Wilson's voice would be heard on a track from the reunited Beach Boys, on the 2012 album That's Why God Made the Radio, but this never materialised. Instead, the scheduled song, "Waves of Love", featured on the 2012 re-release of Jardine's "A Postcard From California".
During the 50th anniversary tour, a segment of the show was dedicated to Dennis and Carl Wilson. The band harmonized with isolated vocal tracks of Carl performing "God Only Knows" and Dennis singing "Forever" while large-screen projections of the individual Wilson brothers appeared behind the band.
Please register for a free Genetic Matrix account to access more information about this and all other celebrity pages