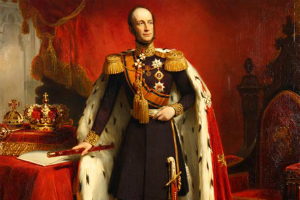 Willem II, Prince Netherlands
Category : Royalty
Type : MGE
Profile : 6/2 - Role Model / Hermit
Definition : Split - Small (6,22)
Incarnation Cross : LAX Duality 1
Biography
William II (Willem Frederik George Lodewijk van Oranje-Nassau) (6 December 1792 – 17 March 1849) was King of the Netherlands, Grand Duke of Luxembourg, and Duke of Limburg from 7 October 1840 until his death in 1849.
Early life and education
Willem Frederik George Lodewijk was born on 6 December 1792 in The Hague. He was the eldest son of King William I of the Netherlands and Wilhelmine of Prussia. His maternal grandparents were King Frederick William II of Prussia and his second wife Frederika Louisa of Hesse-Darmstadt.
When William was two, he and his family fled to England after allied British-Hanoverian troops left the Republic and entering French troops joined the anti-orangist Patriots. William spent his youth in Berlin at the Prussian court. There he followed a military education and served in the Prussian army. Afterwards, he studied at the University of Oxford.
William II had a string of relationships with both men and women. The homosexual relationships that William II had as crown prince and as king were reported by journalist Eillert Meeter. The king surrounded himself with male servants whom he could not dismiss because of his 'abominable motive' for hiring them in the first place.
Military service
He entered the British Army, and in 1811, as aide-de-camp to Arthur Wellesley, 1st Duke of Wellington, took part in several campaigns of the Peninsular War. He was made Lieutenant-Colonel in the British Army on 11 June 1811 and Colonel on 21 October that year. On 8 September 1812 he was made an Aide-de-Camp to the Prince Regent and on 14 December 1813 promoted to Major-General. His courage and good nature made him very popular with the British, who nicknamed him "Slender Billy." He returned to the Netherlands in 1813 when his father became sovereign prince.
In 1815, he took service in the army when Napoleon I of France escaped from Elba. He fought as commander of I Allied Corps at the Battle of Quatre Bras (16 June 1815) and the Battle of Waterloo (18 June 1815), where he was wounded.
Marriage
In 1814, William became briefly engaged with Princess Charlotte of Wales, only daughter of the Prince Regent, later George IV of the United Kingdom and his estranged wife Caroline of Brunswick. The engagement was arranged by the Prince Regent, but it was broken because Charlotte's mother was against the marriage and because Charlotte did not want to move to the Netherlands. On 21 February 1816 at the Chapel of the Winter Palace in St. Petersburg, William married Grand Duchess Anna Pavlovna of Russia, youngest sister to Czar Alexander I of Russia, who arranged the marriage to seal the good relations between Imperial Russia and the Netherlands.
On 17 February 1817 in Brussels, his first son Willem Alexander was born, the future King William III. Because he lived in Brussels, he became affiliated with the Southern industrials.
In 1819, he was blackmailed over what Minister of Justice Van Maanen termed in a letter his "shameful and unnatural lusts": presumably bisexuality. He may also have had a relationship with a dandy by the name of Pereira.
Belgian revolution activities
William II enjoyed considerable popularity in what is now Belgium (then the Southern Netherlands), as well as in the Netherlands for his affability and moderation, and in 1830, on the outbreak of the Belgian revolution, he did his utmost in Brussels as a peace broker, to bring about a settlement based on administrative autonomy for the southern provinces, under the House of Orange-Nassau. His father then rejected the terms of accommodation that he had proposed; afterwards, relations with his father were tense.
In April 1831, William II was military leader of the Ten days campaign in Belgium which was driven back to the North by French intervention. European intervention established Leopold of Saxe-Gotha on the new throne of Belgium. Peace was finally established between Belgium and the Netherlands in 1839.
King of the Netherlands
On 7 October 1840, on his father's abdication, he acceded to the throne as William II. Like his father he was conservative and less likely to initiate changes. He intervened less in policies than his father did. There was increased agitation for broad constitutional reform and a wider electoral franchise. And though he was personally conservative and no democrat, he acted with sense and moderation.
The Revolutions of 1848 broke out all over Europe. In Paris the Bourbon-Orléans monarchy fell. William became afraid of revolution in Amsterdam. One morning he woke up and said: "I changed from conservative to liberal in one night". He gave orders to Johan Rudolf Thorbecke to create a new constitution which included that the Eerste Kamer (Senate) would be elected indirectly by the Provincial States and that the Tweede Kamer (House of Representatives) would be elected directly. The electoral system changed into census suffrage in electoral districts (in 1917 census suffrage was replaced by common suffrage for all men, and districts were replaced by party lists of different political parties), whereby royal power decreased sharply. That constitution is still in effect today.
He swore in the first parliamentary cabinet a few months before his sudden death in Tilburg, North Brabant (1849).
He was the 869th Knight of the Order of the Golden Fleece in Spain.
Children
William II and queen Anna Pavlovna had five children:
William Alexander Paul Frederick Louis (1817–1890) King of the Netherlands from 1849–1890.
William Alexander Frederick Constantine Nicolas Michael (1818–1848). Nicknamed Sascha.
William Frederick Henry "the Navigator" (1820–1879). Married firstly Princess Amalia of Saxe-Weimar-Eisenach and secondly Princess Marie of Prussia, but had no issue.
Prince William Alexander Ernst Frederick Casimir (Dutch: Willem Alexander Ernst Frederik Casimir') (21 May – 22 October 1822).
Wilhelmina Marie Sophie Louise (1824–1897). Married Karl Alexander, Grand Duke of Saxe-Weimar-Eisenach.
Please register for a free Genetic Matrix account to access more information about this and all other celebrity pages