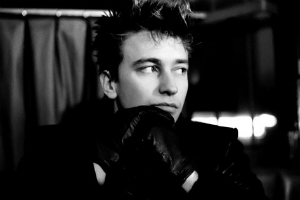 Alan Wilder
Category : Musician - Popular
Type : PSP
Profile : 5/1 - Heretical / Investigator
Definition : Single
Incarnation Cross : LAX Identification 1
Biography
Alan Charles Wilder (born 1 June 1959) is a British musician, formerly of Depeche Mode, in which his role as a musician and producer was pivotal. His current musical project is called Recoil, started as a side project to Depeche Mode. When he left the latter in 1995, it became Wilder's primary project. Wilder has also provided production and remixing services to the bands Nitzer Ebb and Curve. He is a classically trained musician and renowned contemporary music producer.
Early years
Wilder was born into a "neither rich nor poor" family and was raised in Acton, west London. He began piano at the age of eight, through the encouragement of his parents. Later on, he learned the flute at St Clement Danes Grammar school and became a leading musician in his school bands. He was influenced musically at school by Ted Ing, a percussionist. Alan and Ted formed Cloaca, (which also had Stefan Heller on bass guitar, Simon Thomas on vocals and guitar and eventually were joined by Mike Christer on guitar), a band which played many gigs in the west London area supporting the likes of Gary Numan's 'Tubeway army' and 'Henry Strand and the Westway Band' featuring The Clash's Mick Jones and Joe Strummer. After school, Alan worked as a studio assistant at DJM Studios. This led to him ending up working for bands such as The Dragons, Dafne and the Tenderspots (as Alan Normal), Real to Real (featuring Adrian Chilvers on Bass, Pete Fresh on guitar, Wolfgang Marlander on Drums and Paul St. James Vocals), The Hitmen, and The Korgis, appearing on the UK No. 13 single "If I Had You" (1979).
Depeche Mode
Following the departure of Vince Clarke, Depeche Mode placed an advertisement in the music magazine Melody Maker: "Keyboard player needed for established band – no timewasters." Even though the ad was looking for someone under 21 (Wilder was 22) he lied about his age to get the job, and got away with it. He joined Depeche Mode in January 1982, initially as a tour keyboardist, and soon thereafter as a full member of the recording band.
Wilder wrote a handful of songs for Depeche Mode, including "The Great Outdoors" (the B-Side to "Get the Balance Right"), "Two Minute Warning" and "The Landscape Is Changing" (and a B-Side, "Fools") from the album Construction Time Again, and "If You Want" (and a B-Side, "In Your Memory") from the album Some Great Reward. However, Wilder's more notable contributions to Depeche Mode were as a musician, arranger, and producer.
In addition to playing synthesiser throughout his time with Depeche Mode, Wilder also played piano on the band's signature ballad "Somebody," and oboe on the band's hit anthem, "Everything Counts." In the documentary film 101, Wilder demonstrates how different synthesiser parts of a song are split and arranged across a sampling keyboard for playing them live during the concert, just one small example of Wilder's ongoing contributions to Depeche Mode during his time as a member of the group. For the recording of the album Songs of Faith and Devotion and its corresponding Devotional Tour Wilder learned to play live drums.
For "Enjoy the Silence" from the album Violator, Wilder is credited with taking Martin Gore's melancholy ballad-esque demo and re-envisioning the song as a percolating, melodic dance track. The resulting single went on to become one of the most commercially successful songs in Depeche Mode's history.
Departure
On 1 June 1995 (his 36th birthday), Alan announced his departure from Depeche Mode:
"Due to increasing dissatisfaction with the internal relations and working practices of the group, it is with some sadness that I have decided to part company from Depeche Mode. My decision to leave the group was not an easy one particularly as our last few albums were an indication of the full potential that Depeche Mode was realising.
Since joining in 1982, I have continually striven to give total energy, enthusiasm and commitment to the furthering of the group's success and in spite of a consistent imbalance in the distribution of the workload, willingly offered this. Unfortunately, within the group, this level of input never received the respect and acknowledgement that it warrants.
Whilst I believe that the calibre of our musical output has improved, the quality of our association has deteriorated to the point where I no longer feel that the end justifies the means. I have no wish to cast aspersions on any individual; suffice to say that relations have become seriously strained, increasingly frustrating and, ultimately, in certain situations, intolerable.
Given these circumstances, I have no option but to leave the group. It seems preferable therefore, to leave on a relative high, and as I still retain a great enthusiasm and passion for music, I am excited by the prospect of pursuing new projects. The remaining band members have my support and best wishes for anything they may pursue in the future, be it collectively or individually."
After his split from Depeche Mode, Wilder was approached by Robert Smith with an offer to join The Cure. Wilder respectfully declined. According to Wilder himself, the possibility was offered on behalf of The Cure by Daryl Bamonte (tour manager for both Depeche Mode and The Cure, and brother of The Cure member Perry Bamonte), and he declined as joining another band was the last thing on his mind.
He briefly reunited with Depeche Mode during the Teenage Cancer Trust concert at the Royal Albert Hall in London on 17 February 2010, and enjoyed a rapturous reception. During the encore, Wilder accompanied Martin Gore on piano for "Somebody". Gore returned the favour and played a DJ set on one of Recoil's Selected Events.
In 2011, Wilder provided two mixes for the Depeche Mode track "In Chains".
Recoil
Recoil began in 1986 as a two-track experimental EP. Simply entitled 1 + 2, this collection of primitive demos caught the attention of Mute Records label boss Daniel Miller and was inconspicuously released as a mini-album on 12" vinyl. An album, Hydrology, soon followed in 1988 and both were eventually re-issued by Mute on CD as Hydrology plus 1 + 2. These early Recoil recordings revealed Alan's position as a pioneer in the newly emerging world of sampling technology and demonstrated how he could turn the Depeche Mode sound around to create something entirely new. Wilder described the project at the time as "an antidote to Depeche Mode; a way to alleviate the frustrations of always working within a pop format".
Almost immediately, Wilder found himself back in the studio to record what would become the most successful Depeche Mode album to date, Violator. It wasn't until the band finally allowed themselves an extended break after the enormously successful World Violation Tour that Alan could return to Recoil—not, however, before agreeing to produce Ebbhead, another album for label-mates Nitzer Ebb.
It was during this time that he cemented a working relationship with lead singer Douglas McCarthy who would return the favour by singing on Recoil's next album, Bloodline. For the Bloodline LP, released in 1991, Wilder recruited guest vocalists for the first time, with further contributions from Toni Halliday and Moby helping to produce an album that demonstrated his ability to concoct slow-burning soundscapes drenched in drowsy paranoia.
Electro Blues for Bukka White featured long-gone disembodied blues-man Bukka White muttering and wailing underneath an eastern drone that both eulogised and ignored him. Like the rest of Bloodline, the effect is disconcerting but ultimately very moving. The recordings also marked the first Recoil single, a cover of Alex Harvey's song "Faith Healer".
Between 1992–93 Wilder resumed his Depeche Mode duties as the band recorded the album Songs of Faith and Devotion. Released to universal acclaim, it topped the charts in the UK, US, Germany and a host of other countries. Enjoying hits with "I Feel You", "Walking in My Shoes", "In Your Room" and "Condemnation", Depeche Mode embarked on their most adventurous tour to date, enduring a gruelling fifteen months on the road. Although the group had reached the pinnacle of success, aspects of the lifestyle had taken their toll on everyone and things eventually came to a head. In June 1995, having spent fourteen years as an integral part of one of the most popular and influential bands the UK has ever produced, Alan Wilder made the decision to leave Depeche Mode.
Free from his group commitments, Wilder could now focus solely on Recoil. In September 1996, he began work in his own studio, The Thin Line, gradually piecing together the unnerving scores that would become Recoil's next album Unsound Methods. The final results were more impressive than ever—what emerged appeared to take up where Songs of Faith and Devotion had left off. Guest vocalists this time played a more up-front role than ever and featured Maggie Estep, Siobhan Lynch, the reappearance of Douglas McCarthy, and Hildia Campbell. The styles of each could not be more removed from one another helping to create a startlingly original and diverse collection. The more organic style of Unsound Methods incorporated every imaginable musical genre from trip hop to gospel, with a recurring theme of obsession in all its manifestations, taking one to the edge of unease, through dark, dub-infected landscapes, reverberating with shivering piano, seductive strings and a deep electronic pulse.
In the spring of 2000, Recoil released Liquid which this time utilised the unique qualities of internationally acclaimed fellow Mute artist Diamanda Galás, 1940s gospel crooners the Golden Gate Jubilee Quartet, along with New York spoken-word performers Nicole Blackman and Samantha Coerbell. The worldwide music press received the Liquid album with a host of glowing reviews and Wilder was awarded a Grand Prix du Disque from the Académie Charles Cros in 2000. Strangely enthralling and genuinely unhinging, Liquid masquerades as the aural equivalent of a disturbing movie. Wilder's intoxicating soundscapes kick up clouds of the same dark dust that falls on David Lynch or Nine Inch Nails, but where others may hammer out their message with histrionic force, his touch is lighter and characteristically more subtle.
Following a five-year break from recording, Alan Wilder returned with Recoil's fifth studio album, entitled subHuman released in July 2007, and recorded using Apple Inc Macintosh computers, Logic Pro software, and a Pro Tools system. Wilder's skill at blending diverse and eclectic musical styles with often controversial subjects has produced an album of complex sonic imagery and expansive dynamic range. Collaborating this time is blues-man Joe Richardson, whose evocative vocal style is complemented by accomplished guitar and harmonica performances. Born in southern Louisiana, Richardson spent years immersed in the murkier side of New Orleans life and offers a unique commentary on conflict, religion, incarceration and personal struggle. English singer Carla Trevaskis, a songwriter in her own right, brings an expressive range and control to subHuman and has worked with artists as diverse as Fred de Faye (Eurythmics), Cliff Hewitt (Apollo 440) and Dave McDonald (Portishead). Says Wilder: "We seem to have learnt nothing from past experiences and our so called 'civilised' world is still awash with personal and global atrocities. From suicide bombings in the Middle East, to ethnic cleansing in the Balkans; from the homophobic rhetoric of the Christian fundamentalist preacher, to the activities of Western governments engaged in their 'war on terror'". SubHuman asks us to reach within ourselves and extract the very essence of what makes us human—and more importantly what allows us to subordinate others, sometimes with the most brutal consequences. "We are all 'subhuman' in somebody's eyes".
In February 2008, Wilder released an open letter on the Side-Line Magazine website, titled "Music For The Masses – I think not". In the article he handles his vision on today's shifting music market and the position of the artist in this. Wilder resides near Horsham, West Sussex, in southeastern England.
Please register for a free Genetic Matrix account to access more information about this and all other celebrity pages