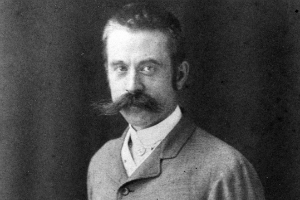 Stanford White
Category : Architect
Type : GP
Profile : 5/1 - Heretical / Investigator
Definition : Triple Split
Incarnation Cross : LAX Defiance 2
Biography
Stanford White (November 9, 1853 – June 25, 1906) was an American architect and partner in the architectural firm of McKim, Mead & White, the frontrunner among Beaux-Arts firms. He designed a long series of houses for the rich and the very rich, and various public, institutional, and religious buildings. His design principles embodied the "American Renaissance".
In 1906, White was murdered by millionaire Harry Kendall Thaw over White's affair with Thaw's wife, actress Evelyn Nesbit, leading to a court case which was dubbed "The Trial of the Century" by contemporary reporters.
Early life and training
Stanford White was the son of Shakespearean scholar Richard Grant White and Alexina Black Mease (1830–1921). He began his architectural career as the principal assistant to Henry Hobson Richardson, the greatest American architect of the day, creator of a style recognized today as "Richardsonian Romanesque". In 1878, White embarked for a year and a half in Europe, and when he returned to New York in September 1879, he joined Charles Follen McKim and William Rutherford Mead to form McKim, Mead and White.
In 1884, White married twenty-two-year-old Bessie Springs Smith. His new wife hailed from a socially prominent Long Island family; her ancestors were early settlers of the area, and Smithtown, New York was named for them. Their estate, Box Hill was not only a home, but also a showplace illustrating the luxe design aesthetic White offered prospective wealthy clients. A son, Lawrence Grant White was born in 1887.
Commercial and civic projects
White designed the second Madison Square Garden (1890; demolished in 1925), The Cable Building—the Broadway cable car power station (611 Broadway, 1892), Madison Square Presbyterian Church, the New York Herald Building (1894; demolished), the First Bowery Savings Bank, at the Bowery and Grand Street, 1894, Washington Square Arch (1889), Judson Memorial Church on Washington Square, and the Century Club, all in New York City. He helped develop Tesla's Wardenclyffe Tower (his last design). White designed the First Methodist Episcopal Church in Baltimore, Maryland (1887), now Lovely Lane United Methodist Church. He also designed the Cosmopolitan Building, a three-story Neo-classical Revival building topped by three small domes, in Irvington, New York, built in 1895 as the headquarters of Cosmopolitan Magazine. He built Cocke, Rouss, and Old Cabell halls at the University of Virginia and rebuilt The Rotunda (University of Virginia) in 1898 after it burned down three years earlier (his re-creation was later reverted back to Thomas Jefferson's original design for the United States Bicentennial in 1976). He also designed the Blair Mansion at 7711 Eastern Ave. in Silver Spring, Maryland (1880), now being used as a restaurant. He was also responsible for designing the Boston Public Library and the Boston Hotel Buckminster, both still standing today. In 1902, he designed the Benjamin Walworth Arnold House and Carriage House in Albany, New York.
Residential properties
In the division of projects within the firm, the sociable and gregarious White landed the majority of commissions for private houses. His fluent draftsmanship was highly convincing to clients who might not get much visceral understanding from a floorplan, and his intuition and facility caught the mood. White's Long Island houses have survived well, despite the loss of Harbor Hill in 1947, originally set on 688 acres (2.78 km2) in Roslyn. White's Long Island houses are of three types, depending on their locations: Gold Coast chateaux, neo-Colonial structures, especially those in the neighborhood of his own house at "Box Hill" in Smithtown, New York (White's wife was a Smith), and the South Fork houses from Southampton to Montauk Point. He also designed the Kate Annette Wetherill Estate in 1895. White designed a number of other New York mansions as well, including the Iselin estate All View in New Rochelle, New York.
Among his Newport, Rhode Island, "cottages", Rosecliff (for Mrs. Hermann Oelrichs, 1898–1902) adapted Mansart's Grand Trianon, but provided this house built for receptions, dinners and dances with fluent spatial planning and well-contrived dramatic internal views en filade.
In his "informal" shingled cottages, there were usually double corridors for separate circulation, (illustration, right) so that a guest never bumped into a laundress with a basket of bed linens. Bedrooms were characteristically separated from hallways by a dressing-room foyer lined with closets, so that an inner door and an outer door give superb privacy (still the mark of a really good hotel). White lived the same life as his clients, not quite so lavishly perhaps, and he knew how the house had to perform: like a first-rate hotel, theater foyer, or a theater set with appropriate historical references. White was an apt designer, who was ready to do a cover for Scribner's Magazine or design a pedestal for his friend Augustus Saint-Gaudens' sculpture. He extended the limits of architectural services to include interior decoration, dealing in art and antiques, and even planning and designing parties. He collected paintings, pottery, and tapestries. If White could not procure the right antiques for his interiors, he would sketch neo-Georgian standing electroliers or a Renaissance library table. Outgoing and social, he possessed a large circle of friends and acquaintances, many of whom became clients. White had a major influence in the "Shingle Style" of the 1880s, on Neo-Colonial style, and the Newport cottages for which he is celebrated.
He designed and decorated Fifth Avenue mansions for the Astors, the Vanderbilts (in 1905), and other high society families. His Washington Square Arch still stands in Washington Square Park, and so do many of his clubs, which were focal points of New York society: the Century, Metropolitan, Players, Lambs, Colony and Harmonie clubs. His clubhouse for the Atlantic Yacht Club, built in 1894 overlooking Gravesend Bay, burned down in 1934. Sons of society families also resided in White's St. Anthony Hall Chapter House at Williams College, now occupied by college offices.
Personal life
White impressed others as a witty, kind, and generous man. The newspapers frequently described him as "masterful," "intense," "burly yet boyish." A sophisticated collector of all things rare and costly, artwork, and antiquities —White was also a dedicated connoisseur of teen-age girls. A practiced voluptuary, he was a calculating seducer who used intermediaries to disarm the girl he had marked as his new conquest. He maintained a multi-story apartment on 24th street in Manhattan with a rear entranceway, its interior design intended to fulfill one primary purpose— function as an opulent, seductive lair where White and his female conquests could "wine and dine" in seclusion. One green hued room was outfitted with a red velvet swing, which hung from the ceiling suspended by ivy-twined ropes. This is where Evelyn Nesbit, a popular chorus girl and model, and other young women "in varying degrees of undress" would provide the entertainment. There are conflicting accounts of whether this swing was in the "Giralda" tower at the old Madison Square Garden, or in the nearby building on 24th street. Most sources seem to concur that the notorious swing was a feature of the 24th Street location.
Murder
White's presence at the roof garden theatre of Madison Square Garden on the night of June 25, 1906 had been an impromptu decision. White had originally planned to be in Philadelphia on business; he postponed the trip when his son, Lawrence, made an unexpected visit to New York. They dined at Martin's, nearby the theatre, where Harry Kendall Thaw and his wife Evelyn Nesbit also dined; Thaw apparently saw White there.
That evening's theatrical presentation was the premiere performance of Mam'zelle Champagne. During the show's finale, "I Could Love A Million Girls", Thaw approached White, produced a pistol, and standing some two feet from his target, said "You've ruined my wife", and fired three shots at White, killing him instantly. Part of White's face was torn away and the rest of his features were unrecognizable, blackened by gunpowder. The initial reaction of the crowd was one of good cheer, as elaborate party tricks among the upper echelon of New York society were common at the time. However, when it became apparent that White was dead, hysteria ensued.
Thaw, a Pittsburgh millionaire, and a man with a history of severe mental instability, was a jealous husband who saw White as his rival. White had seduced Nesbit when she was sixteen and he was forty-seven years old, and in the years following had remained a potent presence in Nesbit's life. However, by the time he was murdered, White had long since moved on to other lovers, and it is conjectured that Stanford White himself was unaware of Thaw's long-standing vendetta against him. White considered Thaw a poseur of little consequence, categorized him as a clown—and most tellingly, called him the "Pennsylvania pug" – a reference to Thaw's baby-faced features. The reality was that Thaw both admired and resented White's social stature. More significantly, he recognized that he and White shared a passion for similar lifestyles. However, unlike Thaw, who had to operate in the shadows, White could carry on without censure, and seemingly, with impunity.
The nineteen-year old Lawrence Grant White was guilt ridden after his father was slain, blaming himself for his death. "If only he had gone to Philadelphia!" Years later, he would write bitterly, "On the night of June 25th, 1906, while attending a performance at Madison Square Garden, Stanford White was shot from behind by a crazed profligate whose great wealth was used to besmirch his victim's memory during the series of notorious trials that ensued." White was buried in St. James, New York.
News coverage
As early as the morning following the murder, news coverage became both chaotic and single-minded, and ground forward with unrelenting momentum. The newspapers of William Randolph Hearst played up the murder, and it became known as the "Trial of the Century". The rampant interest in the White murder and its key players was used by both the defense and prosecution in Thaw's murder trial to feed malleable reporters any "scoops" that would give their respective sides an advantage in the public forum.
Any person, place or event, no matter how peripheral to White's murder was seized on by reporters and hyped as newsworthy copy. Facts were thin but sensationalist reportage was plentiful in this, the heyday of tabloid journalism. The hard-boiled male reporters were bolstered by a contingent of female counterparts, christened "Sob Sisters", also known as the "Pity Patrol". Their stock and trade was the human-interest piece, heavy on sentimental tropes and melodrama, crafted to pull on the emotions and punch them up to fever pitch.
Stanford White, in death, was not spared the frenzy of printed invective, which not only excoriated him as a man, but also questioned his professional achievements as architect. The Evening Standard concluded he was "more of an artist than architect," his work spoke of his "social dissolution." The Nation was also critical: "…He adorned many an American mansion with irrelevant plunder." The yellow press used lurid language to demonize White as "a sybarite of debauchery, a man who abandoned lofty enterprises for vicious revels."
Defenses
Few friends or associates came forward to publicly defend White. His close friend, sculptor, Augustus Saint-Gaudens, was gravely ill and unable to speak out.
Richard Harding Davis, a war correspondent and reputedly the model for the "Gibson Man," was angered by the tabloid press, who he was adamant, had distorted the facts. An editorial, which appeared in Vanity Fair, lambasting White and shredding his reputation, prompted Davis to pen his own rebuttal. The article appeared on August 8, 1906 in Collier's magazine:
Since his death White has been described as a satyr. To answer this by saying that he was a great architect is not to answer at all…what is more important is that he was a most kindhearted, most considerate, gentle and manly man, who could no more have done the things attributed to him than he could have roasted a baby on a spit. Big in mind and in body, he was incapable of little meanness. He admired a beautiful woman as he admired every other beautiful thing God has given us; and his delight over one was as keen, as boyish, as grateful over any others.
Autopsy
The autopsy report made public by the coroner's testimony at the Thaw trial revealed that White was seriously ill at the time of his murder. He in fact would have succumbed shortly to any of the diseases he suffered from: Bright's disease, incipient tuberculosis, and severe liver deterioration.
Please register for a free Genetic Matrix account to access more information about this and all other celebrity pages