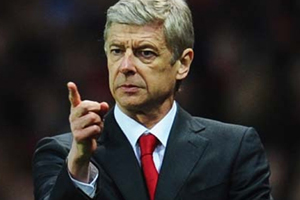 Arsene Wenger
Category : Football Manager
Type : GP
Profile : 3/5 - Martyr / Heretic
Definition : Single
Incarnation Cross : RAX Laws 3
Biography
Arsène Wenger, OBE (born 22 October 1949), is the manager of English Premier League side Arsenal.
He is the club's longest-serving manager and most successful, having led Arsenal to 11 trophies since 1996. Football pundits give Wenger credit for his contribution to the revolutionising of football in England in the late 1990s, through the introduction of changes in the training and diet of players.
Wenger was born in Strasbourg, France and raised in Duttlenheim. He was introduced to football by his father, the manager of the local village team. After a modest playing career, in which he made appearances for several amateur clubs, Wenger obtained a manager's diploma in 1981. Following an unsuccessful period at Nancy which culminated in his dismissal in 1987, Wenger joined Monaco; the club won the league championship in 1988. In 1991, Wenger guided Monaco to victory in the Coupe de France, but their failure to regain the league title in later seasons led to his departure from the club by mutual consent in 1994. He briefly coached Japanese J. League side Nagoya Grampus Eight, which won the Emperor's Cup and Japanese Super Cup during his stint.
In 1996, Wenger was named manager of Arsenal and two years later the club completed a league and FA Cup double. He led Arsenal to appearances in the 2000 UEFA Cup Final and 2001 FA Cup Final, and a second league and cup double in 2002. Arsenal retained the FA Cup in 2003 and a year later regained the league title, becoming the first club to go through an entire league season undefeated since Preston North End, 115 years previously. The team later eclipsed Nottingham Forest's record of 42 league matches unbeaten and went seven more matches before losing in October 2004. Arsenal made their first appearance in a Champions League final in 2006, though they lost to Barcelona. In 2012, the club qualified for a fifteenth successive season in the Champions League, despite their worst start to a season for 58 years. During his tenure, Arsenal moved to a new training centre and relocated to the Emirates Stadium in August 2006, after 93 years at Highbury.
The nickname "Le Professeur" is used by fans and the British media to reflect Wenger's studious demeanour. His approach to the game emphasises an attacking mentality, with the aim that football ought to be entertaining on the pitch. Wenger's Arsenal teams are often criticised for their indiscipline; his players received 80 red cards between September 1996 and October 2010, though the team has won awards for sporting fair play. At Monaco, Wenger earned a reputation for spotting young talent, and he has remained focused on developing a youth system; his clubs develop young players instead of buying expensive, experienced ones. He has faced criticism for sticking closely to his principles, and football pundits have questioned his ambition to win trophies.
Early life and playing career
Wenger was born on 22 October 1949 in Strasbourg, Alsace, to Alphonse and Louise Wenger. He was raised in the village of Duttlenheim, 13 miles south-west of his birthplace, along with his older sister and brother.[2] Alphonse, like many Alsatians, was conscripted into the German army by incorpore de force (recruitment by force) following the annexation of Alsace-Lorraine during the Second World War.[3] He was sent to fight on the Eastern Front in October 1944, at the age of 24.[3]
In spite of his nationality, Wenger did not speak French until the age of seven, instead expressing himself in the local Alsatian dialect of Low Alemannic German.[4] The family owned an automobile spare-parts business and a bistro titled La Croix d'Or.[2] Wenger regarded his childhood as "like being brought up in a kibbutz" because everyone looked after the children in the village.[4] Reflecting on his upbringing in an address to the League Managers Association in 2009, Wenger said:
There is no better psychological education than growing up in a pub because when you are five or six years old, you meet all different people and hear how cruel they can be to each other. From an early age you get a practical, psychological education to get into the minds of people. It is not often that a boy of five or six is always living with adults in a little village. I learned about tactics and selection from the people talking about football in the pub – who plays on the left wing and who should be in the team.
According to his father, the manager of the village team, Wenger was introduced to football "at about the age of six."[6] He was taken to games in Germany, where he held an affection for Borussia Mönchengladbach.[7] Alsace was an area steeped in religion, so Wenger and the village boys often needed to seek permission from the Catholic priest to miss vespers (evening prayers), in order to play football.[8] Because the population of Duttlenheim was short in numbers, it proved difficult to field a team of 11 players of equal ages; Wenger did not play for FC Duttlenheim until the age of 12.
Wenger was recruited to nearby third division club Mutzig at the age of 18.[9] The club was famed for playing the "best amateur football" in Alsace, managed by Max Hild, who would later go on to become Wenger's mentor.[2] Wenger's playing career was modest. It is unclear which position he played[a] but he was described by Marcel Brandner, president of FC Duttlenheim as having "an ability to guard the ball ... he seemed to have a complete vision of the pitch and he certainly had an influence among his team-mates."[3] He joined Mulhouse in 1973, where he spent time balancing studies at the Faculté des sciences économiques et de gestion (Faculty of Economic and Management Sciences) at the University of Strasbourg; he completed an economics degree[b] in 1974.[17] Wenger became aware of the importance and usefulness of speaking English in his studies and enrolled on a three-week language course at Cambridge.[18] After two seasons at Mulhouse, during which time he made 56 league appearances,[19] he rejoined Hild and signed for amateur club ASPV Strasbourg in 1975.[9]
In 1978, Wenger joined RC Strasbourg and made his top-flight debut against Monaco.[20] He made 12 appearances for the team, three in Strasbourg's championship-winning Ligue 1 (then called Division 1) season;[20] Wenger also played once in the UEFA Cup.[19] In 1981, he obtained a manager's diploma and was appointed the coach of RC Strasbourg's youth team.[21]
Managerial career
Nancy and Monaco: 1984–1994
Wenger joined Ligue 2 (then called Division 2) club AS Cannes as assistant manager in 1983.[22] A year later, through the recommendation by Aldo Platini (father of Michel Platini) he became manager of Nancy, who participated in Ligue 1.[22] At the end of the 1984–85 season, his first as a manager, Nancy finished 12th in the league, three places higher than in the previous campaign.[23] However, the club ended the 1985–86 season in 18th position, which meant they had to win a play-off match to avoid relegation.[22] In Wenger's final season in charge, Nancy finished 19th and were relegated to Ligue 2.[22] Aldo defended the appointment of Wenger and stated, "It wasn't [his] fault. He had no money to spend".
During his stay at Nancy, Wenger attracted the interest of fellow Ligue 1 club Monaco.[22] In favour of taking up a challenge in the south, he offered his resignation prior to the start of the 1986–87 season, only to be turned down by Nancy president Jacques Rousselot.[24] Following Nancy's relegation in 1987, Wenger was permitted to leave the club by mutual consent and join Monaco.[22]
Wenger identified several players to build his desired team.[24] Tottenham Hotspur midfielder Glenn Hoddle, granted a free transfer, and Patrick Battiston, out of contract at Bordeaux were signed.[24] Striker Mark Hateley left Milan to join Monaco and was "encouraged to learn" his fellow Englishman Hoddle would play in the same side as him.[25] Monaco won the league in Wenger's debut season, six points ahead of runners-up Bordeaux.[26] Although the team scored more goals in 1988–89 due to the purchase of Liberian striker George Weah, Monaco failed to retain the league and finished third behind Olympique de Marseille and Paris Saint-Germain.[27] The club reached the final of the Coupe de France, the national knockout cup competition in the same season, but lost 4–3 to Marseille.[28]
Monaco again finished third in 1989–90; striker Ramón Díaz scored 15 goals in his first season at the club.[29][30] The club beat league winners Marseille in the Coupe de France final through a last minute goal from substitute Gérald Passi.[28] In 1991–92, Monaco finished in second place and lost the 1992 European Cup Winners' Cup Final 2–0 to Werder Bremen.[31] Although Monaco acquired the services of German striker Jürgen Klinsmann, the club could not retain the championship and concluded the subsequent seasons in third and ninth positions.[32][33] Monaco did reach the semi-finals of the Champions League in April 1994, but lost to eventual winners Milan.[34] As a result of his work at Monaco, Wenger was sought after by German club Bayern Munich, who wanted him to be their next manager.[35] Monaco refused to let him leave and Wenger chose to stay, but a poor start to the 1994–95 season meant he was dismissed on 17 September 1994, with the team in 17th spot in the table.[36] In 2001, Wenger said that the impact of bribery and corruption had influenced his decision to leave France, as Marseille were found guilty of match fixing in 1994.[37]
Nagoya Grampus Eight: 1995–1996
In January 1995, Wenger joined Japanese J. League team Nagoya Grampus Eight.[38] He hired former Valenciennes manager Boro Primorac, whom he had befriended in 1993, as his assistant.[39] Wenger fully supported the Bosnian manager when he gave evidence against Marseille over match fixing.[39] Primorac remained Wenger's right-hand man in later years and, as of 2012, still holds the position.
Wenger enjoyed a successful 18-month stint with the club, as Nagoya Grampus won the national cup competition, the Emperor's Cup, in his first season and he received the J. League Manager of the Year award in 1995.[40] In his final season, Nagoya Grampus finished runners-up in the league. This was the team's best position until 2010, when Wenger's former protégé Dragan Stojkovi? led the club to its first title.[34]
Arsenal
1996–2003
In August 1996, Arsenal dismissed manager Bruce Rioch.[41] Although bookmakers made former Barcelona player and manager Johan Cruyff the favourite to take over, Arsenal appointed Wenger on 30 September 1996.[42] He officially assumed the position the following day.[43] Wenger was a close friend of club vice-chairman David Dein, whom he first met during a match between Arsenal and Queens Park Rangers in 1988.[44] Although previously touted as a technical director of The Football Association,[45] Wenger was a relative unknown in English football; the Evening Standard greeted his appointment with the headline "Arsène Who?".
At first, I thought: What does this Frenchman know about football? He wears glasses and looks more like a schoolteacher. He's not going to be as good as George [Graham]. Does he even speak English properly?
Arsenal captain Tony Adams.
A month before formally taking charge of the team, Wenger advised the club to sign French midfielders Patrick Vieira and Rémi Garde.[48] His first match was a 2–0 away victory over Blackburn Rovers on 12 October 1996,[49] but he did suggest "one or two changes" to caretaker manager and later assistant Pat Rice in team's defeat to Borussia Mönchengladbach, in the UEFA Cup on 25 September 1996.[50] Arsenal finished third in Wenger's first season and missed out on Champions League qualification (occupied by Newcastle United, in second) by goal difference – the tiebreaker used to determine the difference between the number of goals both clubs scored and conceded.[51]
In his second season, Arsenal won the Premier League and FA Cup to complete the second league and cup double in the club's history.[52] The team made up a 12-point deficit on league leaders Manchester United in the final few weeks of the season.[53] Arsenal's success was built on an already stalwart defence, assembled by former manager George Graham and consisted of Tony Adams, Steve Bould, Nigel Winterburn, Lee Dixon and Martin Keown. The defenders contributed to a run of eight consecutive clean sheets between January and March 1998.[54] Wenger regarded striker Dennis Bergkamp as the "catalyst" for the team's good form towards the end of the season.[55] New signings, Petit as a partner for Vieira, winger Marc Overmars and striker Nicolas Anelka also profited from the manager's attack-minded principles.[56]
The following seasons were comparatively barren with a series of near misses. In 1998–99 the club failed to retain the league title as they finished second behind Manchester United.[57] United also eliminated Arsenal in a FA Cup semi-final replay, with the winning goal scored by Ryan Giggs; Wenger rued after the match that "it was not our night and we were unlucky".[58] A year later, Arsenal lost the 2000 UEFA Cup Final to Galatasaray on penalties[59] and in 2001, were beaten by Liverpool in the 2001 FA Cup Final, even though they dominated the majority of the match.[60] During the trophy drought, Overmars and Petit left to join Barcelona and Wenger was linked to a coaching move there.[61] Instead, he agreed a new four-year contract in July 2001 and gave the Arsenal board assurances over his commitment to the club.[62] Arsenal made several signings in the summer, notably the controversial arrival of defender Sol Campbell, on a free transfer, from local rivals Tottenham Hotspur[63] and midfielder Giovanni van Bronckhorst from Rangers.[64] Fredrik Ljungberg, Thierry Henry and Robert Pirès – brought in during preceding transfer windows, had now established themselves into the first team.
Arsenal achieved the double once more in the 2001–02 season.[67] The crowning moment was the win against Manchester United at Old Trafford in the penultimate game of the season.[67] Striker Sylvain Wiltord scored the winning goal to secure the club's 12th league championship and third double; four days earlier, Arsenal beat Chelsea 2–0 in the 2002 FA Cup Final.[68] The team scored in every single league fixture and were unbeaten away from home.[68]
Arsenal extended their good form into the 2002–03 season; the team overhauled Nottingham Forest's top-flight record of 22 away league matches without defeat and surpassed Manchester United's Premier League total of 29 matches unbeaten.[69] Arsenal's impressive run led to Wenger declaring that it was possible for his team to go the entire season unbeaten.[c] Arsenal lost to Everton on 19 October 2002 – their first league defeat in over 10 months,[71] but built an eight-point lead over challengers Manchester United by March 2003.[72] In the final weeks of the season, Manchester United overhauled Arsenal, as the team drew against Bolton Wanderers, having led 2–0 and lost at home to Leeds United.[72] Arsenal was compensated with a 1–0 win over Southampton in the 2003 FA Cup Final.[73] Wenger refuted suggestions that the season was a failure and said:
"Of course we want to win the league, but I think the most difficult thing for the club is to be consistent and we have been remarkably consistent. We lose the league to a team [Manchester United] who spends 50% more money every year – last year they bought a player for £30m pounds when they lost the championship. They will do the same next year and we [have] done miracles just to fight with them."[74]
2003–present
In the 2003–04 season, Arsenal made history by winning the Premier League without a single defeat – an accomplishment last achieved by Preston North End 115 years ago, in the Football League.[75] Wenger, who was derided for his suggestions that Arsenal could go unbeaten a year earlier, reflected that his prediction was "a season too early".[76] Arsenal's run of 49 league games unbeaten came to an end with a 2–0 defeat at Manchester United on 24 October 2004.[77] The team enjoyed another relatively strong league campaign in 2004–05, but finished second to Chelsea, who ended the season 12 points in front.[78] Consolation again came in the FA Cup; Arsenal defeated Manchester United on penalties, after a goalless final.[79]
Arsenal endured two comparatively less successful seasons in 2005–06 and 2006–07. The team finished fourth in the Premier League on both occasions and outside of the top two for the first time under Wenger's tenure.[80][81] The club reached their first Champions League final in May 2006, but ended the competition as runners-up to Barcelona.[82] In the summer of 2006, Arsenal relocated to the Emirates Stadium; Wenger believed the increased capacity was "vital" to the club's financial future.[83] The club contested the 2007 Football League Cup Final in February 2007; throughout the competition Wenger fielded a young team, who ultimately came up short against Chelsea.[84]
The departure of Dein in April 2007 and club captain Henry two months after, led to uncertainty over Wenger's position as manager, prior to the 2007–08 season.[85] In September 2007, Wenger signed a new three-year extension at Arsenal and insisted that he remained committed to "the club of my life".[86] Arsenal made an good start in the league and became the first team to reach 60 points in February 2008.[87] A career threatening injury to striker Eduardo against Birmingham City on 23 February 2008 prompted Wenger to call for a ban on tackler Martin Taylor; he later retracted the comment.[88] A run of three consecutive draws in March allowed first Manchester United and subsequently Chelsea to overhaul Arsenal, who finished the season in third position.[89]
Arsenal made a troubled start to Wenger's twelfth season. The club relinquished William Gallas of his captaincy, after he openly questioned his team-mates; Wenger appointed midfielder Cesc Fàbregas as the successor.[90] Arsenal secured fourth position in the league and reached the semi-finals of the Champions League and FA Cup but Wenger was subject to criticism from Arsenal fans. He praised the travelling fans, though alluded to a section of the home crowd of making him feel like a murderer.[91] Arsenal finished third in the league in 2009–10[92] and the team were eliminated in the quarter-finals of the Champions League by Barcelona.[93] The performance of striker Lionel Messi in particular prompted Wenger to name him "the best player in world"; he likened the footballer to a PlayStation creation.[93]
In August 2010, Wenger signed a further three-year contract to continue his managerial career at Arsenal.[94] The club were on course for a quadruple trophy haul in 2010–11 before defeat to Birmingham City in the 2011 Football League Cup Final, when a mix-up between goalkeeper Wojciech Szcz?sny and defender Laurent Koscielny allowed striker Obafemi Martins to score the winning goal.[95] This was followed by a run of just two wins in 11 Premier League games, to take them from title contenders to a fourth place finish;[96] they made exits in the FA Cup and the Champions League to Manchester United[97] and Barcelona respectively.[98] At the start of the 2011–12 season, Arsenal sold first team players Cesc Fàbregas and Samir Nasri.[99] Suspensions and injuries left an understrength team to face Manchester United at Old Trafford on 29 August 2011, with the result ending 8–2, Arsenal's worst defeat for 115 years.[100] Sir Alex Ferguson in his post-match comments defended Wenger from criticism, as many lambasted the Frenchman's transfer policy.[101] Defeat against Tottenham Hotspur in October meant Arsenal made worst start to a season in 58 years, with four defeats in their opening seven matches.[102] However, the team, on the final day of the season secured third position in the Premier League, thus qualifying for the Champions League for a fifteenth successive campaign.[103] Striker Robin van Persie, who was appointed by Wenger as captain, scored 37 goals, in his first injury-free season for the club.[104] He joined Manchester United in August 2012 and Wenger admitted the club purchased strikers Olivier Giroud and Lukas Podolski earlier to replace Van Persie.[105]
Approach and philosophy
Wenger has been described by BBC Sport as a coach who "has spent his career building teams that combine the accumulation of silverware with a desire to entertain and attack",[106] and by the Daily Mail as "a purist, dedicated to individual and collective technical quality".[107] The Times notes that since the 2003–04 season, Wenger's approach to the game has placed an emphasis on attack.[108] His style of play has been contrasted with the pragmatic approach of his rivals, but he has assembled teams to produce disciplined performances, markedly the 2005 FA Cup Final against Manchester United.[109] Although Wenger for a number of years employed a 4–4–2 formation, he used 4–5–1 for Champions League matches in the 2005–06 season, often with a lone striker and packed midfield for security.[110] From the 2009–10 season, Wenger instituted a fluid 4–3–3 formation at Arsenal, which benefited midfielder Fàbregas.[111] The team have been criticised by journalist Jeff Powell for lacking a "killer touch",[112] footballer Michael Ballack for being one-dimensional[113] and former manager David Pleat for "want[ing] to score a 'nice' goal" as opposed to shooting.[114]
Since Wenger rarely gives interviews unrelated to football, little is known of his personal feelings. Living in Japan helped him control his emotions and define his behaviour whilst managing: "Everybody there is controlled. They laugh at you if you show emotion."[115] His demeanour, once mild-mannered and reflective of his nickname "Le Professeur",[116] has altered in recent seasons, with frequent touchline antics that have drawn comparison to Fawlty Towers character Basil Fawlty.[117]
Psychometric tests are used by Wenger, once every two years, to examine whether a player is mentally right for his squad.[118] He encourages sportsmen to solve their own problems; when asked by a player with the ball for guidance on what he should do next, Wenger shouted at him "Decide for yourself! Why don't you think it out?"[119] Several players have rejuvenated their careers, under his guidance. Henry, his former protégé at Monaco, was developed from a winger into a striker to subsequently become Arsenal's all-time top goalscorer.[120] He stood by captain Tony Adams, who publicly admitted to alcoholism in 1996.[121] Van Persie, considered a "troublesome" footballer before he moved to Arsenal, had matured under Wenger – "the player's staunchest backer".[122] Bergkamp, who became a peripheral player in his final years at Arsenal, praised Wenger for getting the best out of him.[123]
Wenger has a penchant for "spotting and nurturing young talent".[124] At Monaco, he signed Liberian George Weah, who was later judged FIFA World Player of the Year, and Nigerian Victor Ikpeba, a future African Player of the Year.[125] Weah, while receiving his award from FIFA president João Havelange and vice-president Lennart Johansson invited Wenger up to the stage, spontaneously giving his medal to the manager, as a token of his appreciation.[126] Throughout his managerial career at Arsenal, Wenger has signed relatively unknown and inexperienced players such as Vieira, Fàbregas, Alex Song and Kolo Touré to help them to become familiar names in European football.[127][128] He continues to trust youth instead of purchasing experienced players, as a means of creating an "identity" with Arsenal: "I felt it would be an interesting experiment to see players grow together with these qualities, and with a love for the club. It was an idealistic vision of the world of football."[129] UEFA president Michel Platini and Bayern Munich chairman Karl-Heinz Rummenigge have openly criticised the policy, with the latter disputing it was tantamount to child trafficking.[130][131] Wenger refuted the analogy and said: "Look at Santa Cruz at Blackburn. Ask him what age he came to Bayern Munich. Then you have an answer for Rummenigge".[131]
In England, Wenger is known for stressing the importance of diet and nutrition in football.[132] When arriving at Arsenal, he cited the culture of the country at the root of the problem and said: "It's silly to work hard the whole week and then spoil it by not preparing properly before the game. As a coach you can influence the diet of your players. You can point out what is wrong."[133] Dieticians were brought in at Arsenal to explain the benefits of a healthy lifestyle and Wenger acquired the help of Philippe Boixel, an osteopath for the France national team to realign the players' bodies each month.[134] Training sessions, "timed scientifically", lasted no more than 45 minutes.[135] The innovations had a desirable effect on the team as it prolonged the careers of his defence.[132]
The day I do not want to do it at the top level, I may become a director but even more I feel attracted by coaching the youth – in Africa or India or somewhere like that where nothing has happened until now.
On his desire to return to grassroots football[136]
Although Wenger has made big-money signings for Arsenal, his net spend record on transfers is far superior to other leading Premier League clubs. A survey in 2007 found he was the only Premier League manager to have made a profit on transfers,[137] and between 2004 and 2009, Wenger made an average profit of £4.4 million per season on transfers, far more than any other club.[138] A notable example of his shrewdness in the transfer market was the purchase of Anelka from Paris Saint-Germain in 1997, for only £500,000[139] and the player's subsequent sale to Real Madrid just two years later for £23.5 million.[140] The transfer helped the club fund its new training centre at London Colney,[141] which Wenger campaigned for.[142] The Arsenal defence, which set a new record in 2006 by going 10 consecutive games without conceding a goal in the Champions League, cost the club approximately £6 million to assemble.[143] Wenger's reluctance to spend more money on transfers is often cited as the principal reason for Arsenal's failure to win trophies, since moving to the Emirates Stadium.[144] The current youth system has not had its desired effects although Wenger has argued that trophies are "one way to judge a club," – regular Champions League participation was itself worthy of praise.[145] Sports columnist Martin Samuel suggested that the departures of players such as Ashley Cole in 2006 were a sign that Arsenal was a "feeder club" to bigger teams.[146]
Wenger is an advocate of financial fair play in football.[147] He has criticised the approach of Chelsea, Manchester City and Real Madrid for spending more than they take from revenue, something he refers to as "financial doping".[148] Wenger predicts the ongoing European sovereign debt crisis will put football into "perspective", comments supported by the Financial Times writer Gideon Rachman.[149]
Influx of foreigners
Several English players have started their careers at Arsenal under Wenger, such as Cole, David Bentley, Steve Sidwell, Jermaine Pennant and Matthew Upson, while young English talent such as Theo Walcott, Kieran Gibbs and Jack Wilshere are still building careers at the club.[150][151] However, Wenger has been criticised for fielding many foreign players. In a league match against Crystal Palace on 14 February 2005, Arsenal fielded a 16-man squad, that featured no British players for the first time in the club's history. This prompted PFA chief executive Gordon Taylor to express it would begin "a worrying pattern for English football".[152] In March 2006, manager Alan Pardew commented that Arsenal's Champions League success was "not necessarily a triumph for British football".[153] Wenger saw the issue of nationality as irrelevant and said, "When you represent a club, it's about values and qualities, not about passports".[154]
Other pundits including Trevor Brooking, the director of football development at The Football Association, have defended Wenger. Brooking has stated that a lack of English players in "one of England's most successful clubs" was more of a reflection on England's limited talent pool rather than on Wenger, an opinion shared by youth team coach and ex-Liverpool player Craig Johnston.[155][156]
Team indiscipline and fair play
Wenger's Arsenal sides are criticised for their indiscipline; between September 1996 and October 2010, the team received 80 red cards.[157] He has often tried to defend his players, involved in controversial incidents on the field, by saying that he has not seen the incident; this is an option Wenger says he resorts to when there is no "rational explanation" to defend him, and that he has the player's best interests in mind.[158][159] However, in both 2004 and 2005, Arsenal topped the Premier League's Fair Play League tables for sporting behaviour and finished second in 2006.[160][161][162] Their record as one of the most sporting clubs in the division continued up to 2009, where the team featured in the top four of the Fair Play table.[163][164] Wenger's team again topped the fair play table for the 2009–10 season.[165]
In February 1999, Wenger offered Sheffield United a replay of their FA Cup fifth round match immediately after the match had finished, due to the controversial circumstances in which it was won.[166] The decisive goal was scored by Overmars after Kanu failed to return the ball to the opposition; it was kicked into touch to allow Sheffield United's Lee Morris to receive treatment for an injury.[167] Arsenal went on to win the replayed match 2–1.[168]
Relations with others
Wenger's relations with his fellow football managers and officials have not always been genial. In a joint-interview with The Times and Daily Mail in 2009, he explained that his discourtesy is mistaken for mistrust: "There are managers I respect, and I respect what they do, but you cannot be completely friendly and open up".[169] He is well known for his rivalry with Manchester United manager Sir Alex Ferguson.[170] Beginning in 1997, the dispute reached its culmination in the "Pizzagate" incident at Old Trafford in October 2004.[171] After Manchester United ended Arsenal's 49 game unbeaten Premier League run, in acrimonious circumstances, a member of the Arsenal squad allegedly threw a pizza at the opposition in the tunnel.[172] Wenger was fined £15,000, for calling United striker Ruud van Nistelrooy "a cheat" in a post-match television interview.[173] Both managers have since agreed to tone down their words, in an attempt to defuse the rivalry.[174]
During October and November 2005, Wenger became embroiled in a war of words with then Chelsea manager José Mourinho. Mourinho accused Wenger of having an "unprofessional obsession" with Chelsea and labelled him a "voyeur".[175][176] Mourinho was quoted as saying, "He's worried about us, he's always talking about us – it's Chelsea, Chelsea, Chelsea, Chelsea".[176] Wenger responded by pointing out he was only answering journalists' questions about Chelsea, and described Mourinho's attitude as "disrespectful".[177] Mourinho later apologised and clarified that he regretted the "voyeur" comment; Wenger accepted the apology.[178]
Wenger has directed his anger towards referees when decisions have not gone his team's way. In August 2000, he was charged with "alleged threatening behaviour and physical intimidation" towards fourth official Paul Taylor, after Arsenal's 1–0 defeat at Sunderland on the opening day of the 2000–01 season.[179] A FA disciplinary commission found Wenger guilty; he received a 12-match touchline ban and a fine of four weeks' salary.[180] He successfully appealed the ban, but was reprimanded and fined £10,000 for his actions.[181] Following the 2007 Football League Cup Final, he called a linesman a liar, for stating Emmanuel Adebayor aimed a punch at Chelsea's Frank Lampard.[182] This led to an investigation by The FA, a fine of £2,500 and a warning.[183] In March 2011, Wenger was charged with improper conduct by UEFA, over comments made to referee Massimo Busacca, after his team's defeat to Barcelona.[184] He was fined €10,000 and suspended for one UEFA club competition match – the ban was later extended to a further two games, after Wenger was found guilty of communicating with Arsenal's bench, while serving a touchline ban against Udinese.[185][186] A year later, Wenger was charged for post-match comments made about referee Damir Skomina, in Arsenal's defeat to Milan in the Champions League.[187] He was fined £33,000 and handed a three-match touchline ban in the competition.[187]
Plaudits and awards
At Arsenal, Wenger has enjoyed a great deal of support and backing from the club board of directors, who have demonstrated exceptional faith in the manager and his long-term vision.[188] His arrival at the club prompted a change in the style of football – once derided as "Boring, boring Arsenal", for a lack of creativity, Arsenal are considered the "great entertainers" of English football;[189] pundit Alan Hansen described the 2004 team as "quite simply the most fluid, devastating team the British Isles has seen."[190] Wenger himself reflected that his "greatest legacy" at Arsenal would be the attacking football played.[191] In spite of failing to win a trophy at the club since 2005, supporters regularly display banners such as "Arsène knows" and "In Arsène we trust" during home matches.[192][193] At the Arsenal valedictory campaign at Highbury throughout the 2005–06 season, supporters showed appreciation by holding a "Wenger Day" as one of various themed matchdays. It was held on his 56th birthday, on 22 October 2005, in a league match against Manchester City.[194]
Dein described Wenger as the most important manager in the club's history: "Arsène's a miracle worker. He's revolutionised the club. He's turned players into world-class players. Since he has been here, we have seen football from another planet."[195] Similar sentiments have been expressed by his fellow peers and former players, most notably from Alex Ferguson,[196] Pep Guardiola,[197] Patrick Vieira[198] and Brian Clough, who described Wenger as a "top, top manager" after surpassing his Nottingham Forest side's record of 42 matches unbeaten.[199] Former Watford manager Graham Taylor praised Wenger's contribution in English football: "It is that change of culture, the change of philosophy which I think was the most important ... I believe his biggest contribution to football is getting across the idea that players have to prepare right and look after themselves".[200] American baseball general manager Billy Beane considers Wenger to be an "idol" of his and has lauded his transfer strategy.[201]
Wenger was awarded France's highest decoration, the Légion d'Honneur, in 2002[202] and in the Queen's Birthday Honours List of 2003, he along with fellow Frenchman Gérard Houllier were awarded honorary OBEs for their services to football.[203] He was inducted into the English Football Hall of Fame in 2006, along with former England manager Ron Greenwood.[204] Furthermore, a commissioned bronze bust of Wenger, similar to the earlier version of Herbert Chapman was unveiled as a tribute to him by the board of directors of Arsenal, at the club's annual general meeting on 18 October 2007.[205] Wenger had an asteroid, 33179 Arsènewenger, named after him[206] by the astronomer Ian P. Griffin, who states Arsenal as his favourite football club.[207]
In January 2011, it was announced that Wenger was voted "World Coach of the Decade" by the International Federation of Football History & Statistics.[208] The organisation aggregated the results from each year of the decade, and Wenger had narrowly beaten Ferguson and Mourinho for the honour.[209]
Personal life
Wenger is married to former basketball player Annie Brosterhous, with whom he has one daughter, Léa (born 1997),[210] and lives in Totteridge, London.[2] He spends his leisure time predominantly studying football matches: "I watch games on most days," and holds an interest in politics.[211] Away from managerial duties, he is a football consultant for French television station TF1, a position he has held since 2004.[212] Wenger is a world brand ambassador for FIFA World Cup sponsor Castrol.[213] As part of the arrangement, he has conducted several training camps for international youth teams worldwide to provide input to the Castrol Performance Index, FIFA's official ratings system.[214] Wenger is fluent in French, German and English and speaks Italian, Spanish and Japanese.
Please register for a free Genetic Matrix account to access more information about this and all other celebrity pages