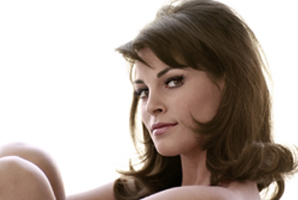 Raquel Welch
Category : Actress
Type : GP
Profile : 2/4 - Hermit / Opportunist
Definition : Single
Incarnation Cross : RAX Consciousness 3
Biography
Raquel Welch (born Jo Raquel Tejada; September 5, 1940) is an American actress and sex symbol. She first won attention for her role in Fantastic Voyage (1966), after which she won a contract with 20th Century Fox. They loaned her to a British studio where she made One Million Years B.C. (1966). Although she had only three lines in the film, the doe-skin bikini she wore became a best-selling poster that turned her into an iconic sex symbol and catapulted her to stardom. She later starred in notable films like Bedazzled (1967), Bandolero! (1968), 100 Rifles (1969) and Myra Breckinridge (1970). She made several television variety specials. Welch is, as of 2013, a spokesperson for Foster Grant.
Early life
Welch was born Jo Raquel Tejada in Chicago, Illinois. Her father, Armando Carlos Tejada Urquizo (1911–1976), was an aeronautical engineer from La Paz, Bolivia. Her mother, Josephine Sarah (née Hall; 1909–2000), was American-born, the daughter of architect Emery Stanford Hall and wife Clara Louise Adams.
As a young girl Raquel wanted to perform. She studied ballet from age seven to seventeen but gave it up after her instructor told her that she didn't have the right figure. Her parents divorced after moving to California. At age 14, she won a beauty title as Miss Photogenic, Miss Contour, While attending La Jolla High School she won the title of Miss Fairest of the Fair at the San Diego County Fair.
Welch graduated from high school in 1958 and a year later, after becoming pregnant, married her high school sweetheart, James Welch on May 8, 1959. They had two children, Damon (born November 6, 1959) and Latanne Welch (born December 26, 1961), but they separated in 1962 and divorced in 1964. She married producer Patrick Curtis in 1966 and divorced him in 1972. In 1980, she began a 10-year marriage to André Weinfeld. Welch wed Richard Palmer in 1999 but then separated from him in 2008. Welch has stated that she doesn't intend to marry again.
Professional career
Seeking an acting career, Welch won a scholarship in drama, took classes at San Diego State College and won several parts in local theater productions. In 1959, she played the title role in The Ramona Pageant, a yearly outdoor play at Hemet, California, which is based on the novel Ramona by Helen Hunt Jackson and Bob Biloe.
She got a job as a weather forecaster at KFMB, a local San Diego television station. Due to her demanding work schedule, she quit school. After her separation from James Welch, she moved with her two children to Dallas, Texas, where she made a "precarious living" as a model for Neiman Marcus and a cocktail waitress.
She initially intended to move to New York City from there, but moved back to Los Angeles in 1963 and started applying for roles with the movie studios. During this period of time, she met former child star and Hollywood agent Patrick Curtis who became her personal and business manager. They developed a plan to turn Welch into a sex symbol. To avoid typecasting as a Latino, he convinced her to use her husband's last name. He also persuaded her to get plastic surgery to reduce the profile of her nose.
She was cast in small parts in two films and landed small roles in the television series Bewitched, McHale's Navy and The Virginian. She also got work on the weekly variety series The Hollywood Palace as a billboard girl and presenter. She was one of many women who auditioned for the role of Mary Ann Summers on the television series Gilligan's Island.
Welch's first featured role was in beach film A Swingin' Summer (1965). That same year, she won the Deb Star and was noticed by the wife of producer Saul David, who recommended her to 20th Century Fox, where with the help of Curtis she landed a contract. She agreed to seven-year nonexclusive contract, five pictures over the next five years and two floater. She was cast in a leading role in the sci-fi film Fantastic Voyage (1966), in which she portrayed a member of a medical team that is miniaturized and injected into the body of an injured diplomat with the mission to save his life. The film was a hit and made her a star. She was the last star to be created under the studio system.
One Million Years B.C.
Fox Studio loaned Welch to Hammer Studios in Britain where she starred in a remake of One Million Years B.C. (1966). Her only costume was a two-piece deer skin bikini. She was described as "wearing mankind's first bikini" and the fur bikini was described as a "definitive look of the 1960s". One author said, "although she had only three lines in the film, her luscious figure in a fur bikini made her a star and the dream girl of millions of young moviegoers". A publicity still of her in the bikini became a best-selling poster and turned her into an instant pin-up girl. The film raised Welch's stature as a leading sex symbol of the era. In 2011, Time listed Welch's B.C. bikini in the "Top Ten Bikinis in Pop Culture".
Later roles
After her appearance as lust incarnate in the hit Bedazzled, she returned to the United States and appeared in the Western film Bandolero!, with James Stewart and Dean Martin, which was followed by the private-eye drama Lady in Cement with Frank Sinatra. Her looks and fame led Playboy to dub her the "Most Desired Woman" of the 1970s. Welch presented at the Academy Award ceremony several times during the 1970s due to her popularity. She accepted the Best Supporting Actress Oscar on behalf of fellow actress Goldie Hawn when she could not be there to accept it.
Welch's most controversial role came in the notorious Myra Breckinridge. She took the part as the film's transsexual heroine in an attempt to be taken seriously as an actress, but the movie was a failure. Welch starred in the movie, 100 Rifles, a 1969 western directed by Tom Gries. The film also starred Jim Brown, Burt Reynolds, and Fernando Lamas.
Television special
In 1970, Welch teamed up with Tom Jones and producer/choreographer David Winters of Winters-Rosen Productions for the television special Raquel!, considered by some viewers to be a classic pairing together of 1970s popular culture icons in their prime. The multi million-dollar television song-and-dance extravaganza was filmed around the world, from Paris to Mexico. The show featured lavish production numbers of classic songs from the era, extravagant costumes, and notable guest performances, including John Wayne and Bob Hope in the Wild West. She also appeared in a season three episode of The Muppet Show (1978).
In addition to her television special, Raquel!, her television appearances include the movies The Legend of Walks Far Woman and Right to Die in which she turned in a stirring performance as a woman stricken with Lou Gehrig's disease, and in the PBS series American Family, about a Mexican American family in East Los Angeles. She has appeared in the night-time soap opera Central Park West and made infomercials and exercise videos.
Additional film roles
She followed that with a series of films that included The Three Musketeers and The Wild Party. The actress was due to star in an 1982 adaptation of John Steinbeck's Cannery Row, but was fired by the producers a few days into production. The producers said that at 40 years old she was too old to play the character. She was replaced with Debra Winger. Welch sued and collected a $10.8 million settlement.
Singing career
In 1987, she flirted with a pop singing career, thus releasing the dance single "This Girl's Back In Town". She has performed in a one-woman nightclub musical act in Las Vegas and has starred on Broadway in Woman of the Year, receiving praise for following Lauren Bacall in the title role. She also starred in Victor/Victoria, having less success following Julie Andrews and Liza Minnelli in the title roles.
Guest television appearances
In a 1997 episode of the comedy series Seinfeld, entitled "The Summer of George", Welch played a highly temperamental version of herself, assaulting series characters Kramer and Elaine, the former because he fired her from an acting job and the latter because Welch mistakenly thought that Elaine was mocking her. She also appeared as a guest on the American comedy series Sabrina, the Teenage Witch, as Sabrina's flamboyant Aunt Vesta.
In 2001, she had a supporting role in the hit comedy film Legally Blonde opposite Reese Witherspoon. She also appeared in Welcome to the Captain, which premiered on CBS television on February 4, 2008.
Achievements and awards
In 1974, Welch won a Golden Globe Award for Best Motion Picture Actress in a Musical or Comedy for The Three Musketeers. She was also nominated for a Golden Globe Award for her performance in the television drama Right to Die (1987).
Beauty and business career
The Raquel Welch Total Beauty and Fitness Program book and videos were first released in 1984. The book, written by Welch with photographs by André Weinfeld, includes a hatha yoga fitness program, her views on healthy living and nutrition, as well as beauty and personal style. The Multi-Platinum collection of Fitness and Yoga videos were produced and directed by André Weinfeld. As a businesswoman, Welch succeeded with her signature line of wigs. She also began a jewelry and skincare line, although neither of those ventures compared to the success of her wig collection HAIRuWEAR.
In January 2007, Welch was selected as the newest face of MAC Cosmetics Beauty Icon series. Her line features several limited-edition makeup shades in glossy black and tiger-print packaging.
Personal life
Welch has been married to:
James Welch (1959–64), publicist and agent; divorced
Patrick Curtis (1967–72), director and producer; divorced
André Weinfeld (1980–90), producer, director and journalist; divorced
Richard Palmer (1999–2008), divorced.
Welch is the mother of Damon Welch (born November 6, 1959) and actress Tahnee Welch (born Latanne Rene Welch, December 26, 1961). Tahnee followed her mother's December 1979 example and appeared on the cover of Playboy in the November 1995 issue and in a nude pictorial inside it.
Please register for a free Genetic Matrix account to access more information about this and all other celebrity pages