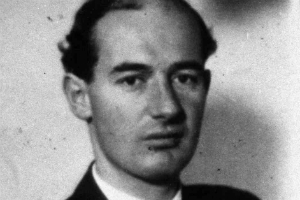 Raoul Wallenberg
Category : War Hero
Type : MGP
Profile : 4/1 - Opportunistic / Investigator
Definition : Single
Incarnation Cross : JX Retreat
Biography
Swedish businessman and diplomat from a wealthy family who effectively pulled off the rescue of more than 12,000 Hungarian Jews as WW II was drawing to a close. Escorted out of Budapest in 1945 by Russian troops, he has been missing ever since. He was reported to be dead at two different times between 1945 and 1947 by Soviet sources. Since his disappearance, he has been recommended for a Nobel Prize for Peace and made an honorary citizen of three countries. The search for information about his whereabouts continues.
Raoul was born to one of the most famous families in Sweden, the large Wallenberg family. His father, Raoul Oscar Wallenberg, was an officer in the navy who died of cancer three months before the boy was born. His mother, Maj Wising Wallenberg was remarried to Fredrik von Dardel in 1918. Raoul's grandfather, Gustav Wallenberg, took care of his education, planning for him to continue the family tradition in banking. Raoul was more interested in architecture and trade. He graduated with top grades in Russian and drawing in 1930. After serving in the army he traveled to the U.S. in 1931 to study architecture at the University of Michigan. He graduated with honors in three and a half years. In 1935, he received his Bachelor Degree of Science in Architecture and returned to Sweden.
The market for architects in Sweden was small so his grandfather sent him to Cape Town, South Africa and then six months later to a Dutch bank office in Haifa, Palestine (now Israel). There he first met Jews who had escaped Hitler's Germany. Their stories of Nazi persecution affected him deeply. He became a business partner of Koloman Lauer, a Hungarian Jew and a director of a Swedish-based import and export company. On his many trips through Nazi-occupied France and Germany he quickly learned how the bureaucracy worked. In 1944 the world learned about the extermination camp at Auschwitz and began to understand what Hitler meant by his "final solution to the Jewish problem."
In June 1944 Wallenberg was appointed first secretary at the Swedish legation in Budapest. His diplomatic title was a cover for his role as President Roosevelt's secret representative in Hungary. His real mission was to start a rescue operation to save the remaining Jews in the country from the notorious Adolf Eichmann. Wallenberg did not use traditional diplomacy; everything covert from bribes to extortion threats were used with success. He managed to issue thousands of protective passes for Jews and created neutral Swedish "safe houses" for their protection. He personally gave out food, passes and other assistance to thousands of Jews being marched and transported out of Budapest.
According to Per Anger, Wallenberg's friend and colleague, he must be credited with saving at least 100,000 Jews, though the figures vary.
In January 1945 the Russians arrived in Hungary. On 1/13/1945 Wallenberg stopped a Soviet soldier and spoke to him in fluent Russian, requesting that he be given permission to visit the Soviet military headquarters in Debrecen, east of Budapest. As he and his driver stopped at some of the "safe houses" to say goodbye, Wallenberg is reported to have said that he didn't know if he was the Russians' guest or their prisoner. He was escorted out of Budapest on 1/17/1945 by the Russian soldiers and has been missing since then.
On 03/08/1945 a radio report on the Soviet-controlled Hungarian radio announced that Wallenberg had been murdered on his way to Debrecen, probably by Hungarian Nazis or Gestapo agents. In most places this announcement wasn't taken seriously. The Swedes made only a low-keyed, intermittent effort after World War II to get Russians to tell what had become of him. Albert Einstein recommended Wallenberg for the Nobel Peace Prize in 1949. Several attempts to find out what happened to him from Russian authorities have been met with the state answer that he died in his cell on 7/17/1947. Since then, numerous reports have been received that Wallenberg was still alive. During the 1980s interest in Wallenberg grew around the world. In 1981 he became an honorary citizen of the U.S., in 1985 an honorary citizen of Canada and in 1986, an honorary citizen of Israel. In spite of the fall of the Soviet Union in 1991, his fate remains a mystery. Oleg Gordievsky, a former KGB official, wrote in his 1990 biography that he saw the Wallenberg file in the Soviet archives and that he was executed by firing squad at least 33 years ago.
Wallenberg did not look like a hero, his manner was subdued and business-like, his face sensitive, his voice usually soft. He was of medium height, dark-eyed and had dark, thinning hair.
Please register for a free Genetic Matrix account to access more information about this and all other celebrity pages