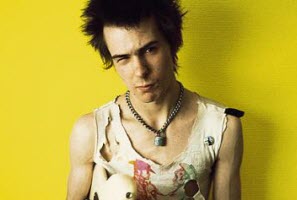 Sid Vicious
Category : Singer - Popular
Type : GP
Profile : 1/4 - Investigating / Opportunist
Definition : Split - Small (1,7)
Incarnation Cross : RAX Explanation 2
Biography
Sid Vicious, born John Simon Ritchie (10 May 1957 – 2 February 1979), was an English musician who was the bassist of the punk group Sex Pistols.
Vicious joined the Sex Pistols in early 1977 to replace Glen Matlock. Since his skills on bass guitar were highly questionable, Vicious only performed on one song on the band's sole studio album Never Mind the Bollocks.
During the brief drug-filled ascendancy of the Sex Pistols, Vicious met Nancy Spungen, who became his girlfriend and manager and later died. Vicious continued his drug habit. Jailed for another offence, he emerged detoxed, but was given heroin by his mother at a party celebrating his release and died that night.
Early life
Sid Vicious was born John Simon Ritchie in Lewisham, South East London, to John and Anne Ritchie (née McDonald). His mother dropped out of school early due to a lack of academic success and went on to join the RAF, where she met her husband-to-be, Ritchie's father. He was a guardsman at Buckingham Palace and a semi-professional trombone player on the London Jazz scene.[3] Shortly after Ritchie's birth, he and his mother moved to Ibiza, where they expected to be joined by his father who, it was planned, would support them financially in the meantime. However, after the first few pay checks failed to arrive, Anne realised that he would not be coming. Anne later married Christopher Beverley, a middle class man in 1965, before setting up a family home back in Kent. Ritchie took his stepfather's surname and was known as John Beverley.[4]
Ritchie's stepfather died six months later from cancer,[4] and by 1968 he and his mother were living in a rented flat in Tunbridge Wells, where he attended Sandown Court School. In 1971, the pair moved to Hackney in east London. He also spent some time living in Somerset.
Ritchie first met John Lydon in 1973, when they were both students at Hackney Technical College. Lydon describes Ritchie at this time as a David Bowie fan, and a "clothes hound".[5]
By age 17, Ritchie had begun to hang around London. One favourite spot was Malcolm McLaren and Vivienne Westwood's then-little-known clothing store, SEX. There he met American expatriate Chrissie Hynde before she formed the Pretenders. Though at least five years older, she tried (but failed) to convince Ritchie to join her in a mariage blanc so she could get a work permit.
Ritchie was given the nickname "Sid Vicious" by John Lydon, after Lydon's pet hamster, Sid. The hamster had bitten Ritchie, who said that "Sid is really vicious!"[6] The animal was described by Lydon as "the softest, furriest, weediest thing on earth."[7] At the time, Ritchie was squatting with Lydon, John Joseph Wardle (Jah Wobble), and John Gray, and the four were colloquially known as "The Four Johns".
According to Lydon, the two of them would often busk for money with Vicious playing the tambourine. They would play Alice Cooper covers, and people gave them money to be quiet. Once a man gave them "three bob" (three shillings, i.e. 15p in decimal currency) and they all danced.[8]
According to the band's photographer, Dennis Morris, Ritchie was "deep down, a shy person."[9] However, he did assault NME journalist Nick Kent with a motorbike chain with help from Jah Wobble.[10] On another occasion, at the Speakeasy (a London nightclub popular with rock stars of the day) he threatened BBC DJ and Old Grey Whistle Test presenter Bob Harris.
Music career
Vicious began his musical career in 1976 as a member of The Flowers of Romance along with former co-founding member of The Clash, Keith Levene (who later co-founded John Lydon's post-Pistols project Public Image Limited) and Palmolive and Viv Albertine, who would later form The Slits.[4] He appeared with Siouxsie and the Banshees, playing drums at their notorious first gig at the 100 Club Punk Festival in London's Oxford Street.[11] According to members of The Damned, Vicious was considered, along with Dave Vanian, for the position of lead singer for the Damned, but Sid failed to show up for the audition.[12]
Sex Pistols
According to various publications (such as the biography England's Dreaming by Jon Savage) and films (namely The Filth and the Fury) Vicious was asked to join the group after Glen Matlock's departure in February 1977 due to his being present at every gig. Manager Malcolm McLaren once claimed "if Johnny Rotten is the voice of punk, then Vicious is the attitude."
McLaren also said in person and in a documentary that if he'd met Vicious before he had hired Rotten to be the singer, Vicious would have been the Sex Pistols' front man, because he had the most charisma of anyone on that stage. Alan Jones described Vicious as "[having] the iconic punk look (...) Sid, on image alone, is what all punk rests on."[13] His nails would be painted in a sloppy manner with purple nail polish.[14] Vicious played his first gig with the Pistols on 3 April 1977 at The Screen On The Green in London. His debut was filmed by Don Letts and appears in Punk Rock Movie. What Vicious had lacked in musicianship he made up with unmatched punk charisma, as he hurled insults at the crowd and slashed himself. On the group's U.S. tour in January 1978, although not during a show, he carved the words "Gimme a fix" into his chest. In the Longhorn Ballroom concert, he spat into the crowd and mocked and taunted the "Cowboys" in the audience.
In March 1977, Vicious had met American Nancy Spungen; they began to date. They, and with them the group, deteriorated visibly during the American tour. The Pistols broke up in San Francisco after their concert at the Winterland Ballroom on 14 January 1978.
Solo career
With Spungen acting as his "manager", Vicious embarked on a solo career during which he performed with musicians including Mick Jones of The Clash, Sex Pistols bassist Glen Matlock, Rat Scabies of The Damned and the New York Dolls' Arthur Kane, Jerry Nolan, and Johnny Thunders. Vicious performed the majority of his performances at Max's Kansas City and drew large crowds. His final performances as a solo musician took place at Max's.[15]
Musicianship
Vicious's abilities as a bass player were debated. During an interview for Guitar Hero III, when Sex Pistols guitarist Steve Jones was asked why he, instead of Vicious, recorded the bass parts of Never Mind the Bollocks, Jones responded, "Sid was in a hospital with yellow jaundice and he couldn't really play, not that he could play anyway."[16] The only song that he played on in the studio was "Bodies". Vicious asked Lemmy, the bassist of Motörhead, to teach him how to play bass with the words, "I can't play bass," to which Lemmy replied "I know." In another interview Lemmy stated, "Yeah. It was all uphill. And he still couldn't play bass when he died."[17]
According to Paul Cook, in the few months between joining the band and meeting Spungen, Vicious was a dedicated worker and tried his hardest to learn to play; indeed, this period was Cook's favourite in the band.[18] Viv Albertine went further in defence of his ability, saying that one night she "went to bed, and Sid stayed up with a Ramones album and a bass guitar, and when I got up in the morning, he could play. He'd taken a load of speed and taught himself. He was so quick."[19] Keith Levene, a member of The Flowers of Romance with Vicious and later a member of The Clash and then Public Image Ltd, also recounts a similar story: "Could Sid play bass? I don't know, but one thing I do know was that Sid did things quickly. One night, he played the first Ramones album nonstop, all night, then next morning, Sid could play the bass. That was it; he was ready! I told you Sid did things quickly!"[20] However near the end of the Sex Pistol's existence Sid was generally acknowledged as a "competent Bass player".
Nancy Spungen's death
On the morning of 12 October 1978, Vicious claimed to have awoken from a drugged stupor to find Nancy Spungen dead on the bathroom floor of their room in the Hotel Chelsea in Manhattan, New York. She had suffered a single stab wound to her abdomen and appeared to have bled to death. The knife used had been bought by Vicious on 42nd Street and was identical to a collector's knife given to punk rock vocalist Stiv Bators of the Dead Boys by Dee Dee Ramone. According to Dee Dee's wife at the time,[21] Vera King Ramone, Vicious had bought the knife after seeing Stiv's. Vicious was arrested and charged with her murder.[22] He said they had fought that night but gave conflicting versions of what happened next, saying, "I never stabbed her. I loved her, but she treated me like shit", then saying that he did not remember and at one point during the argument Spungen had fallen onto the knife.
On the night of Spungen's death, there was a party going on in their hotel room. She was rumoured to have been showing a lot of money. When they found her dead the next day, the money had gone, as had Vicious's knife. None of the party guests have given evidence about what had happened.
On October 22, ten days after Spungen's death, Vicious attempted suicide by slitting his wrist with a smashed light bulb and was subsequently hospitalized at Bellevue Hospital. He was charged with assault after an altercation with Todd Smith (singer Patti Smith's brother) at a Skafish concert. [23] Vicious was arrested December 9, 1978 and sent to Rikers Island metro jail for 55 days. He was released on bail on February 1, 1979.
Bail was originally set at $50,000.[24] However, after court hearings and work from his lawyer, it was lowered. Malcolm McLaren, the Sex Pistols' manager, worked to raise money, and the bond was eventually covered by Virgin Records.[24]
Death
On the evening of February 2, 1979, a small gathering to celebrate Vicious having made bail was held at the 63 Bank Street, New York apartment of his new girlfriend, Michele Robinson, whom he had started dating the day he got out of Bellevue Hospital the previous October. Vicious was clean, having been on a detoxification methadone programme; he detoxed from heroin during his time at Rikers Island.[25] However, at the dinner gathering, his mother (who was once a registered addict herself[25]) had some heroin delivered, against the wishes of Sid's girlfriend. The person who delivered it, Peter Kodick, came and stayed for a while. Vicious overdosed at midnight but everyone who was there that night worked together to get him up and walking around in order to revive him.[26] At 3:00 am, Vicious and Michele Robinson went to bed together. He was discovered dead late the next morning.
A few days after Vicious's cremation, his mother found an alleged suicide note in the pocket of his jacket:
We had a death pact, and I have to keep my half of the bargain. Please bury me next to my baby in my leather jacket, jeans and motorcycle boots. Goodbye.
Since Spungen was Jewish she was buried in a Jewish cemetery. However, Vicious was not Jewish so he could not be buried with her. According to the book Please Kill Me: The Uncensored Oral History of Punk by Legs McNeil and Gillian McCain, Vicious's mother and Jerry Only of Misfits scattered his ashes over Spungen's grave.
Please register for a free Genetic Matrix account to access more information about this and all other celebrity pages