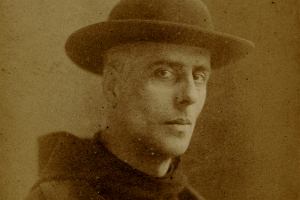 Jan Verkade
Category : Art-Fine-art-artist
Type : MGP
Profile : 4/6 - Opportunistic / Role Model
Definition : Single
Incarnation Cross : RAX Eden 3
Biography
Dutch post impressionistic painter, member of Les Nabis, religious painter and monk.
Jan Verkade was the son of the Dutch businessman Ericus Gerhardus Verkade (20 November 1835 8am, Vlaardingen – 8 February 1907, Hilversum) and Eduarda Thalia Koning (14 Aug 1841 9am, Wedde - 8 March 1917, Zaandam), his second wife with whom he got seven children. His twin brother Ericus Gerhardus (1868 - 29 augustus 1927, 21h00, Den Haag) would take over his fathers successful Verkade manufacturing company, founded in 1886, that still exists today as a famous brand name for Dutch rusk, cookies and snacks. Jan would become a bohemian artist and later after his conversion to Catholicism a monk ("Father Willibrord") that made religious paintings.
Both sons grew up in Zaandam, famous for its industrial mills of which there were more than a thousand during the first industrial revolution. Jan showed only interest in drawing and was permitted to visit the "Academie voor Beeldende Kunsten" in Amsterdam (Jan 1887 - 1889) by his father. Here he became befriended with the painter Richard Roland Holst and the "Ijssel painter" Jan Voerman, who took him often to Hattem, where Voerman lived after his marriage (1 October 1889) with his two years elder sister Anna Verkade.
Jan Verkade decided to go to Paris to finish his study (1891). Here he became via Meijer Isaac de Haan (14 April 1852, A'dam – 24 October 1895, A'dam) into contact with Paul Gauguin en Paul Sérusier. He became friend with Sérusier and became "member" of the Les Nabis. He was called "Nabi obéliscal" because of his size.
After Gauguin's departure to Tahiti, Verkade travelled with the Danish painter Mogens Ballin (20 March 1871, Copenhagen – 27 January 1914, Hellerup) to Pont-Aven in Brittany (April 1891). Later Sérusier would join them. That year he got into a spiritual crisis, being troubled with religious and theosophical matters after reading the work of St Augustine. He returned to the Netherlands, came back to Paris in March 1892 and returned to Brittany in Saint-Nolff, where he lived with Mogens Ballin. Both painters were spiritual seekers. Ballins proposed him go together to the monastery of Fiesole in Florence to follow Francis of Assisi. At that time Verkade had many conversations with the Jesuit priest Mathurin Le Texier. On 26 Augustus 1892 he was baptised Catholic, but kept it secret for his Protestant and Mennonite family.
In 1893 he went to the monastery of Beuron in Germany. Here the Benedictine monk and painter Peter "Desiderius" Lenz (12 May 1832 – 31 Jan 1928) had established the Beuron School of Art with Gabriel Wuger (1829–1892). Members were Carl Gresnicht and Paul Krebs. Inspired by Gregorian Church songs and mathematical principles Lenz tried to to make religious art. Verkade was impressed by it, returned home, then went to Denmark to visit his friend Ballin and to watch his first solo exhibition in Copenhagen (early 1894). Spring 1894 he went back to Beuron, became a novice in 1897 and changed his name to Willibrord Verkade. In 1902 he was consecrated into the Benedict order. But his restless mind did not fit with the strict rules of the Benedict monks.
In 1903 he was sent to Monte Cassino monastery to paint Lenz ideas/models for painting the anniversary of the 1400 birthday of St Benedict. But he disliked Lenz sacred but "cold" style and painted more in the colourful Nablis style of Paul Gauguin. His drawings were presented 1905/1906 in Amsterdam. He also met the expressionistic avant garde painters in München, which was not appreciated by Lenz. For this "sin" he was from 1909 to 1913 sent to Jerusalem as a repentance. But his fresco paintings in Jerusalem were again whitened.
After 1914 Verkade painted less. He concentrated on writing and his work in the monastery.
In 1919 he published in 's-Hertogenbosch his in 1917 started autobiography: "Van ongebondenheid en heilige banden : herinneringen van een schilder-monnik" (of unboundedness and wholly bonds: remembrances of a painter-monk) by Dom Willibrord Verkade.
Verkade died 19 July 1946 at old age in the monastery of Beuron.
Please register for a free Genetic Matrix account to access more information about this and all other celebrity pages