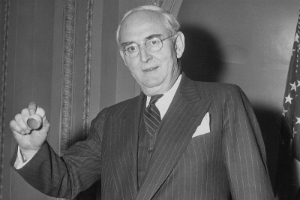 Arthur H. Vandenberg
Category : Political
Type : GP
Profile : 5/1 - Heretical / Investigator
Definition : Single
Incarnation Cross : LAX Healing 1
Biography
Arthur Hendrick Vandenberg (March 22, 1884 – April 18, 1951) was a Republican Senator from the U.S. state of Michigan who participated in the creation of the United Nations.
Early life and family
Arthur Vandenberg was born to Aaron and Alpha Hendrick Vandenberg and raised in Grand Rapids, Michigan.
Vandenberg attended public schools there and studied law at the University of Michigan (1900–1901), where he was a member of Delta Upsilon.
After a brief stint working in New York at Collier's magazine, he returned home in 1906 to marry his childhood sweetheart, Elizabeth Watson. They had three children. She died in 1917, and in 1918 Vandenberg married Hazel Whittaker. They had no children.
From 1906 to 1928, he worked as a newspaper reporter, editor, and publisher at the Grand Rapids Herald, which was owned by William Alden Smith, who served as a Republican in the U.S. Senate from 1907 to 1919."Vandenberg was . . . best known for [authoring] his Alexander Hamilton: The Greatest American.
Vandenberg was a Mason, Shriner, Elk and Woodman.
Senate career 1928-1935
On March 31, 1928, Governor Fred Green appointed 44-year-old Vandenberg, a Republican, to fill the vacancy caused by the death of Senator Woodbridge Nathan Ferris, a Democrat, from pneumonia. Green made the appointment reluctantly under considerable political pressure. Vandenberg immediately declared his intention to stand for election to both the short, unexpired term and the full six-year term. Though once a friend and admirer of President Woodrow Wilson, his ties to the Republican Party were well established.
He became the fifth journalist in the U.S. Senate. Governor Green "stressed the advantage of youth as a qualification for the rough-and-tumble of life in Washington committee rooms" which was deemed an explanation for appointing Vandenberg over the aged Joseph Warren Fordney for the position. "Fellow Republican publishers to whom he can look from behind his horn-rimmed glasses for encouragement in his maiden speech are Cutting of New Mexico, Capper of Kansas, La Follette of Wisconsin. Senator-publisher Carter Glass of Virginia sits across the aisle among the Democrats."
In November 1928, Vandenberg was handily elected for a full term. In the Senate, he piloted into law the Reapportionment Act of 1929, which provided for the automatic redistricting of the House of Representatives after each national census. He was at first an ardent supporter of President Herbert Hoover but he became discouraged by Hoover's intransigence and failures in dealing with the Great Depression.
After the election of Franklin D. Roosevelt in 1932, Vandenberg went along with most of the early New Deal measures, except for the NIRA and AAA. With the exception of his amendment to the 1933 Glass–Steagall Banking Act, which created the Federal Deposit Insurance Corporation, Vandenberg failed to secure enactment of any significant legislative proposals. By the 1934 election, his own political position was precarious and lost his home district; he was still reelected by 52,443 votes.
Opposing the New Deal 1935-1939
When the new Congress convened in 1935, there were only twenty-five Republican senators, and Vandenberg was one of the most effective opponents of the second New Deal. He voted against most Roosevelt-sponsored measures, notable exceptions being the Banking Act of 1935 and the Social Security Act. He pursued a policy of what he called fiscal responsibility, a balanced budget, states' rights, and reduced taxation. He felt that Roosevelt had usurped the powers of Congress, and he spoke of the dictatorship of Franklin Roosevelt. But at the 1936 Republican National Convention, Vandenberg refused to permit the party to nominate him for Vice President, anticipating Roosevelt's victory that year.
As part of the conservative coalition of Republicans and Democrats in the Senate, Vandenberg helped defeat Roosevelt's plan to pack the Supreme Court. He helped defeat the Passamaquoddy Bay and Florida Canal projects, voted against the National Labor Relations Act, various New Deal tax measures, and the Hours and Wages Act.
American foreign policy
Vandenberg became a member of the United States Senate Foreign Relations Committee in 1929. A modified internationalist, he voted in favor of United States membership on the World Court, but the situation in Europe moved him towards isolationism. Also his experiences during the Nye Committee hearings on the munitions industry, of which he was the Senate co-sponsor, convinced him that entry into World War I had been a disastrous error.
He supported the isolationist Neutrality Acts of the 1930s but wanted and sponsored more severe bills designed to renounce all traditional neutral "rights" and restrict and prevent any action by the President that might cause the United States to be drawn into war. He was one of the most effective of the diehard isolationists in the Senate. Except for advocating aid to Finland after the Soviet invasion of that country and urging a quid pro quo in the Far East to prevent a war with Japan over the Manchuria-China question, his position was consistently isolationist.
In mid-1939 he introduced legislation nullifying the 1911 Treaty of Navigation and Commerce with Japan and urged that the administration to negotiate a new treaty with Japan recognizing the status quo with regard to Japan's occupation of Chinese territory. Instead, Roosevelt and Secretary of State Cordell Hull used the resolution as a pretext for giving Japan the required six months' notice of intent to cancel the treaty, beginning the policy of putting pressure on Japan that led to the Attack on Pearl Harbor. On the day of the Pearl Harbour attack however his position changed radically. In his private papers he wrote that at Pearl Harbour isolationism died for any realist.
United Nations and internationalism 1940-1950
During World War II, Vandenberg's position on American foreign policy changed radically. Although he continued to vote with the conservative coalition against Roosevelt's domestic proposals, Vandenberg gradually abandoned his isolationism to become an architect of a bipartisan foreign policy, which he defined as a consensus developed by consultation between the President, the State Department, and congressional leaders from both parties, especially those in the Senate. On January 10, 1945, he delivered a celebrated "speech heard round the world" in the Senate Chamber, publicly announcing his conversion from "isolationism" to "internationalism." In 1947, at the start of the Cold War, Vandenberg became chairman of the Senate Foreign Relations Committee. In that position, he cooperated with the Truman administration in forging bipartisan support for the Truman Doctrine, the Marshall Plan, and NATO, including presenting the critical Vandenberg resolution.
As chairman of the Senate Foreign Relations Committee, he asserted that "politics stops at the water's edge," and cooperated with the Truman administration in forging bipartisan support. Francis O. Wilcox, first chief of staff of the Foreign Relations Committee, recalls that Vandenberg's Senate career stands as a monument to bipartisanship in American foreign policy. "His legacy continues. Recently, "the Senate bestowed a unique honor on the Michigan senator," voting to add his portrait to a "very select collection" in the United States Senate Reception Room.
Last years
In 1940 and 1948 Vandenberg was a "favorite son" candidate for the Republican presidential nomination. In 1950 Vandenberg announced that he had developed cancer. He died on April 18, 1951, and is buried in Oak Hill Cemetery in Grand Rapids.
Legacy
On September 14, 2004, a portrait of Vandenberg, along with one of Senator Robert F. Wagner, was unveiled in the Senate Reception room. The new portraits joined a group of distinguished former Senators, including Henry Clay, Daniel Webster, John C. Calhoun, Robert M. La Follette, Sr., and Robert A. Taft. Portraits of this group of Senators, known as the "Famous Five", were unveiled on March 12, 1959. A statue dedicated to Vandenberg was unveiled in May 2005 in downtown Grand Rapids on Monroe Street north of Rosa Parks Circle.
Senator Vandenberg is memorialized in a Michigan historical marker for the Arthur Hendrick Vandenberg / Vandenberg Center in Grand Rapids
Vandenberg Hall at Oakland University is named in his honor.
Arthur H. Vandenberg Elementary is named after him in Redford Mi.
Noteworthy family members
Arthur H. Vandenberg, Jr. (1907—1968), the Senator's son, worked for the Senator for more than a decade. In 1952 President Eisenhower appointed him Appointments Secretary, but he took a leave of absence for health reasons before Eisenhower was inaugurated. In 1964, first press reports and then President Lyndon Johnson revealed that Vandenberg Jr. had been unable to pass a security test because of his homosexuality.
Senator Vandenberg's nephew, U.S. Air Force General Hoyt S. Vandenberg, served as Air Force Chief of Staff and Director of Central Intelligence. Vandenberg Air Force Base was named in his honor.
Senator Vandenberg's great nephew, Hoyt S. Vandenberg, Jr., served as a Major General in the Air Force.
Please register for a free Genetic Matrix account to access more information about this and all other celebrity pages