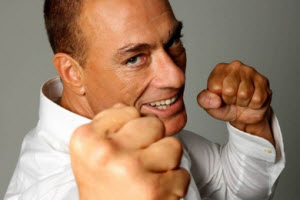 Jean Claude Van Damme
Category : Actor
Type : GE
Profile : 5/1 - Heretical / Investigator
Definition : Triple Split
Incarnation Cross : LAX Limitation 2
Biography
Jean-Claude Camille François Van Varenberg (born 18 October 1960), professionally known as Jean-Claude Van Damme and abbreviated as JCVD', is a Belgian martial artist, actor, and director best known for his martial arts action films. The most successful of these films include Bloodsport (1988), Kickboxer (1989), Universal Soldier (1992), Hard Target (1993), Street Fighter (1994), Timecop (1994), Sudden Death (1995), JCVD (2008) and The Expendables 2 (2012).
Early life
Van Damme was born Jean-Claude Camille François Van Varenberg, on 18 October 1960, in Berchem-Sainte-Agathe, Brussels, Belgium, the son of Eliana and Eugène Van Varenberg, who was an accountant.
At the age of 16, he took up ballet, which he studied for five years. According to Van Damme, ballet "is an art, but it's also one of the most difficult sports. If you can survive a ballet workout, you can survive a workout in any other sport." He began martial arts at the age of ten, enrolled by his father in a Shotokan karate school. His styles consist of Shotokan Karate and Kickboxing. He eventually earned his black belt in karate. He started lifting weights to improve his physique, which eventually led to a Mr. Belgium bodybuilding title.
Martial arts career
At the age of 11, Van Damme joined the Centre National De Karaté (National Center of Karate) under the guidance of Claude Goetz in Belgium. Van Damme trained for four years and he earned a spot on the Belgian Karate Team; later training in full-contact karate and kickboxing by Dominique Valera.
Semi-contact karate career
At the age of 15, Van Damme started his competitive karate career in Belgium. From 1976-1980, Van Damme compiled a record of 44 victories and 4 defeats in tournament and non-tournament semi-contact matches.
Van Damme was a member of the Belgium Karate Team when it won the European Karate Championship on 26 December 1979 at La Coupe Francois Persoons Karate Tournament in Brussels.
Van Damme placed second at the Challenge Coupe des Espoirs Karate Tournament (1st Trials). At the 3-day tournament, Van Damme defeated 25 opponents before losing in the finals to fellow team-mate Angelo Spataro.
1980 Forest National match
On 8 March 1980, in Brussels, Belgium, Van Damme competed against his former teammate Patrick Teugels at the Forest National Arena on the undercard of the Dan Macaruso-Dominique Valera PKA Light-Heavyweight World Championship bout. Prior to this match, Teugels had defeated Van Damme twice by decision, including a match for the Belgium Lightweight Championship. Van Damme had a 1977 victory over Teugels. Teugels was coming off an impressive showing at the WAKO World Championships four months earlier, and was favored by some to win this match. According to reports, and Patrick Teugels' own interview (with photos), Teugels lost to Van Damme by TKO in the 1st round. Teugels was kicked in the nose and was unable to continue as a result. In a 2013 interview, Van Damme called this fight his most memorable match.
Kickboxing and full-contact karate career
Van Damme began his full-contact career in 1977, when Claude Goetz promoted the first ever full-contact karate tournament in Belgium.
From 1977 to 1982, Van Damme compiled a record of 18 victories (18 knockouts) and 1 defeat.
During his 5-year full-contact career, Van Damme was only knocked down once, in a match with Sherman Bergman. Van Damme went on to knock out Bergman in 56 seconds of the first round. In 1980, Van Damme caught the attention of Professional Karate Magazine publisher and editor Mike Anderson, and multiple European champion Geet Lemmens. Both men tabbed Van Damme as an upcoming prospect. Van Damme retired from competition in 1982.
Since 2009, Van Damme has been planning to make a comeback to fight former boxing Olympic gold-medalist Somluck Kamsing. The fight was a focal point in his ITV reality show Jean Claude Van Damme: Behind Closed Doors. The fight has been repeatedly postponed with many critics doubting it would ever happen, especially since booking the venue has even been a problem. Van Damme remains determined to fight Kam Sing.
December 2012, Van Damme was seen as part of Kamsing's ring crew, when he fought against Jomhod Kiatadisak. After the fight Kam Sing was interviewed and Van Damme joined him to compliment his "beautiful hollywood face despite taking so many kicks". Van Damme was interviewed after the fight where he reaffirmed his commitment in fighting Kam Sing stating that the match has been postponed due to Expendables 2 and may be further postponed if he is involved in Expendables 3.
Film career
In 1982, Van Damme and childhood friend, Michel Qissi, moved to America in the hope of becoming action stars. They both were cast as extras in the film, Breakin'. Van Damme also had a non-speaking part as a Secret Service agent who carries a polio-crippled President Franklin Roosevelt (Ralph Bellamy) out of a pool in the 1988 TV miniseries War and Remembrance. After a small part in Missing In Action, Van Damme was next cast in the film No Retreat, No Surrender, as the role of the villain, Ivan the Russian. Van Damme worked for director John McTiernan for the 1987 film Predator as an early (eventually abandoned) version of the titular alien, before being removed and replaced by Kevin Peter Hall. His breakout film was Bloodsport, based on the alleged true story of Frank Dux. Shot on a 1.5 million dollar budget, it became a U.S. box-office hit in the spring of 1988. He then starred in the smaller budgeted film Cyborg. His last role for 1989 was Kurt Sloane in the successful Kickboxer. In this film, his character fights to avenge his brother who has been paralyzed by a Thai kickboxing champion (Qissi).
Double Impact featured Van Damme in the dual role of Alex and Chad Wagner, estranged twin brothers fighting to avenge the deaths of their parents. This film reunited him with his former Bloodsport co-star, Bolo Yeung. He then starred opposite Dolph Lundgren in the action film Universal Soldier. While it grossed $36,299,898 in the U.S., it was an even bigger success overseas, making over $65 million, well over its modest $23 million budget, making it Van Damme's highest grossing film at the time. Van Damme followed Nowhere To Run and Hard Target with Timecop in 1994. The film was a huge success, grossing over $100 million worldwide. In the film, Van Damme played a time traveling cop, who tries to prevent the death of his wife. It remains his highest grossing film in a lead role to date.
After his role in the poorly received Street Fighter, his projects started to fail at the box office. Sudden Death (1995); The Quest (1996), which he directed; Maximum Risk (1996), Double Team (1997) and Knock Off (1998) were box-office flops. The 1999 film Universal Soldier: The Return, also a box-office flop, was Van Damme's last theatrically released film until 2008. In 2003, Van Damme employed his dancing training in the music video for Bob Sinclar's "Kiss My Eyes."
Van Damme returned to the mainstream with the limited theatrical release of the 2008 film JCVD, which received positive reviews. Time Magazine named Van Damme's performance in the film the second best of the year (after Heath Ledger's The Joker in The Dark Knight), having previously stated that Van Damme "deserves not a black belt, but an Oscar." Van Damme indicated while promoting the film, he experienced a period of homelessness "sleeping on the street and starving in L.A."
Van Damme reprised his role as Luc Deveraux in the 2009 film Universal Soldier: Regeneration. Subsequently he voiced "Master Croc" in the 2011 animated film Kung Fu Panda 2. Also in 2011, Van Damme participated in various commercials for Coors Light beer, in which he is located on a snow-covered mountain wearing a sleeveless denim jacket, and for washing powder "Dash".
He was offered a lead role in Sylvester Stallone's film The Expendables (2010). Stallone called Van Damme personally to offer him the role, but Van Damme turned it down. He scheduled a series of film projects for 2011, including another Universal Soldier movie. On 30 June 2011, Van Damme confirmed his participation in The Expendables 2, which was released on 17 August 2012.
One of Van Damme's latest projects is an upcoming (2013) comedy Welcome To The Jungle directed by Rob Meltzer, in a role as a workplace team building trainer opposite Adam Brody, Rob Huebel, Kristen Schaal, Megan Boone, and Dennis Haysbert. He is also preparing to star in the thriller Enemies Closer which would re-unite him with Timecop and Sudden Death director Peter Hyams.
In August 2012 Van Damme confirmed that Universal Soldier: Day of Reckoning would be released on 30 November 2012 to theaters. The film would also again co-star Dolph Lundgren. Van Damme also said that he would love to make a sequel to what he considers his best film, Double Impact, and that a script, which he co-wrote for the sequel, has been written, and that he is hoping to find a producer that will get behind the project.
Van Damme indicated that Stallone might include him in The Expendables 3, in which Van Damme would play Claude Villain, the brother to his Expendables 2 character Jean Villain. The casting of Mel Gibson as the film's villain, however, has made this less than likely.
Controversies
Lawsuit and fight record controversy
In 1997, Frank Dux, the martial artist whom Van Damme portrayed in Bloodsport, filed a lawsuit against Van Damme for $50,000 for co-writing and consultation work Dux did on the 1996 film The Quest. According to the lawsuit, Dux also accused Van Damme of lying to the public about his martial arts fight record, stating that when Dux tutored Van Damme while Van Damme was laying carpet for a living, Van Damme exhibited a lack of martial arts skills. Van Damme's lawyer, Martin Singer, responded, "There are records to document his martial arts acclaim. Why, just look at his movies; he didn't get those roles on his acting ability! He's the one who does those splits on chairs. He doesn't have a stuntman to do that."
Kadyrov event
In October 2011, Van Damme, along with other celebrities including Hilary Swank, Vanessa-Mae and Seal attracted criticism from human rights groups for attending an event in Russian federal subject Chechnya's capital Grozny on the 35th birthday of Chechen president Ramzan Kadyrov on 5 October. Human rights groups, who had urged the celebrities to cancel their appearances because of abuses carried out under Kadyrov, criticised the celebrities for attending the event. Human Rights Watch released a statement which said, "Ramzan Kadyrov is linked to a litany of horrific human rights abuses. It's inappropriate for stars to get paid to party with him. It bolsters his image and legitimizes a brutal leader and his regime. And getting paid to be part of such a lavish show in Chechnya trivializes the suffering of countless victims of human rights abuses there."
Public image and influence
In the French-speaking world, Van Damme is well known for the picturesque aphorisms that he delivers on a wide range of topics (personal well-being, the environment, etc.) in a sort of Zen franglais.
The original video game Mortal Kombat was conceived as a fighting game based on Van Damme. Creators Ed Boon and John Tobias originally had desired to author the game starring Van Damme himself. That fell through as Van Damme had a prior deal for another game under the auspices of the Sega Genesis platform. Ed Boon and John Tobias eventually decided to create a different character for the game named Johnny Cage, who is modeled after Jean-Claude Van Damme, primarily from Van Damme's appearance and outfit in the martial arts film Bloodsport.
On 21 October 2012, Van Damme was honored with a life-size statue of himself in his hometown of Brussels. He told reporters during the unveiling, "Belgium is paying me back something, but really it's to pay back to the dream. So when people come by here, it is not Jean-Claude Van Damme but it's a guy from the street who believed in something. I want the statue to represent that".
Personal life
Van Damme suffered from substance abuse beginning in 1995. He entered a month-long rehabilitation program in 1996 but left it after only one week. In 1996, he spent up to $10,000 a week on cocaine. After the filming of the 1998 film Knock Off, Van Damme was diagnosed with rapid cycling bipolar disorder after becoming suicidal and started treatment on the mood stabilizer, sodium valproate. A turning point toward improvement of his health came from late 1997 onwards, after having finished divorce procedures.
Please register for a free Genetic Matrix account to access more information about this and all other celebrity pages