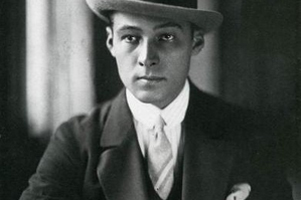 Rudolph Valentino
Category : Actor
Type : ME
Profile : 3/5 - Martyr / Heretic
Definition : Single
Incarnation Cross : RAX The Sphinx 2
Biography
Rudolph Valentino was born on May 6, 1895 in Castellaneta, a small backward village in southern Italy. The family was middle class by local standards. Young Rudolph's ambition from an early age was to get out of Castellaneta. When his father died in 1906, Rudolph and his brother were sent to study at the nearest town Taranto. But this was not enough for Rudolph. After causing trouble in his school and much pleading with his mother, eighteen year old Rudolph was finally given the money his father had put way for his education and he set sail for the United States.
He arrived in New York on December 23, 1913. He stayed with family friends in the Italian Quarter and worked at menial jobs while he tried to improve his English. After six months he got a job as an under-gardener on the estate of Millionaire Cornelius Bliss. Here he studied the manners and tastes of the rich, cultivating ambition for such a lifestyle himself. He neglected his work, however and was soon fired.
Rudolph became the star attraction at Maxim's – a high class dance club in New York. He became involved in a year long passionate affair with a married woman that ended in scandal when the woman shot her husband. Valentino decided to get away and headed for San Francisco. From there he set his sights on Hollywood. His first role was a bit part as a dancer in the film Alimony. Before long the dashing Italian had caught the eye of movie star Mae Murray who insisted that he play the lead in her next feature, The Big Little Person. Another leading role with Murray came in The Delicious Little Devil. The love scenes were, however, too hot for Murray's director husband Bob Leonard and the association ended.A string of jobs followed. For a time he was homeless and at one point contemplated suicide. A job as a busboy in an Italian restaurant changed his fortunes, however. It was here that he was introduced to the world of Dance Halls and Cabarets. An older waiter took Rudolph under his wing and taught him to dance. He was soon working as a full-time dancer at the Restaurant. The tango became his specialty. Before long he was supplementing his income by working as a gigolo. This afforded him invaluable opportunity to study the desires and fantasies of women and perfect the art of seduction.


Valentino had, however, been given the boost he needed. To capitalise on his pending stardom he decided to cultivate an image as a mysterious loner. The image worked well and his next two films, A Society Sensation and All Night, were successes. Valentino was now a rich young man, darting around Hollywood in fast cars with beautiful women.
Valentino's fortunes took a dive however and he was unsuccessful in some important auditions. It was at this time that he received a very public snub from Russian film star Alla Nazimova. One of Nazimova's lesbian companions, Jean Acker became involved with Valentino and the two were soon married. On the wedding night, however, his lesbian wife refused to consummate the marriage.
In 1921 Valentinos's star was again on the rise. He was cast in the coveted role of Julio in The Four Horsemen of the Apocalypse. His graceful dance moves and sexual allure lit the screen and cemented the Great Italian Lover as a star. This image was enlarged upon with The Sheik.
Meanwhile Valentino and his estranged wife Jean Acker were divorced. He became involved with a strong willed, ambitious woman by the name of Natacha Rambova. She would act as an adviser and manipulator of Valentino for the rest of his life. She would cause major interruptions on the sets of his movies. Despite this Rudolph passionately loved her and the two were married on 13 May, 1922. However, Valentino had not waited the prescribed period since his divorce and he was jailed for bigamy. After testifying that the couple had not consummated the wedding the charges were dropped.
The couple were remarried in 1923 and set off for a European honeymoon. Before long, however, Natacha had stormed out on him, going to live with her mother. With the marriage collapsing, Valentino threw himself into his work. 1925's The Eagle was perhaps his best film yet, putting him firmly at the top of the Hollywood ladder. The Son of the Sheik was also a huge hit.
A single man again Rudolph set off on a lifestyle of wild partying. On 14 August, 1926 he attended an all-night party in his honour. The next morning he was found writhing on the floor in agony. He was rushed to hospital and operated on for acute appendicitis. However, complications set in, including poisoning of the wall of the heart. Rudolph Valentino, the Great Italian Lover, died on 23 August, 1926. He was just 31 years of age.
Please register for a free Genetic Matrix account to access more information about this and all other celebrity pages