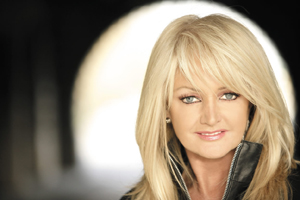 Bonnie Tyler
Category : Singer - Popular
Type : PM
Profile : 6/2 - Role Model / Hermit
Definition : Single
Incarnation Cross : LAX Separation 1
Biography
Bonnie Tyler (born Gaynor Hopkins; 8 June 1951) is a Welsh singer, songwriter, businesswoman and active philanthropist.
Beginning as a local singer in Swansea, Tyler came to prominence with the release of her 1977 album The World Starts Tonight and its singles "Lost in France" and "More Than a Lover". Her 1978 single "It's a Heartache" was a hit on both sides of the Atlantic, reaching number one in several European countries and breaking the American charts. After winning the 10th World Popular Song Festival with 1979 single "Sitting On the Edge of the Ocean", Tyler converted from country music to rock music. Her career peaked in the 1980s with her Jim Steinman collaboration, releasing international hits "Total Eclipse of the Heart", "Holding Out for a Hero", "If You Were a Woman and I Was a Man", "Here She Comes" and "Loving You's a Dirty Job but Somebody's Gotta Do It".
Tyler's shift from rock to pop and soft rock in the 1990s led to further success in continental Europe with singles "Bitterblue" and "Fools Lullaby". With German producer Dieter Bohlen, Tyler had continued success with three albums before releasing in the UK and America again, and her 1995 single "Making Love Out of Nothing at All" narrowly missed the UK Top 40.
Making a comeback in late 2003 in France, Tyler released "Si demain... (Turn Around)" with Kareen Antonn, which was a number one in France for ten weeks, selling over 700,000 copies. In recent years Tyler has appeared on several UK TV shows, making a cameo appearance on Hollyoaks Later, toured with Robin Gibb in 2010 and Status Quo in 2012. Her latest album Rocks and Honey (released by her own record label, Celtic Swan Recordings) has had moderate success in Europe, with her single "Believe in Me" being used as the UK's entry for the Eurovision Song Contest 2013. Following the contest, Tyler received two Eurovision Song Contest Radio Awards for Best Song and Best Singer, marking her as the first UK representative to receive the reward. Her recent singles, "This Is Gonna Hurt" and "Love Is the Knife" have just been released in August and September 2013 respectively, and she has just completed her South Africa Tour 2013.
With a career spanning nearly four decades, she has won three Goldene Europa awards, an Echo Award, and has been nominated for three Brit Awards and three Grammy Awards. Her distinctive husky voice as a result of an operation to remove vocal nodules has had her compared her to artists such as Rod Stewart and Kim Carnes, and in combination with her career success, has led to her being recognised as the "International First Lady of Rock", with two of her songs on the list of best-selling singles of all time.
Early life & forming Imagination
Gaynor Hopkins was born in Skewen, into a family that included three sisters and two brothers. Her father, Glin Hopkins, worked in a coal mine and her mother, Elsie Hopkins (an opera lover), shared her love for music with her children, and was part of the local church choir. Hopkins grew up listening to Motown music and female artists such as Janis Joplin and Tina Turner. She concluded her education in the 1960s, leaving school with no qualifications and began working in the local grocery shop, then as a supermarket cashier.
In early 1969, aged 17, she entered a talent contest, singing the Mary Hopkin hit "Those Were the Days" and the Ray Charles song "I Can't Stop Loving You", finishing in second place (losing to an accordionist), and won £1. She later successfully auditioned to join Bobby Wayne & The Dixies as a backing singer after finding an advert in a local newspaper. Two years later, she formed her own band called Imagination (not related to the 1980s British dance band of the same name) and performed with them in pubs and clubs all over southern Wales. It was then that she decided to adopt the stage name of "Sherene Davis", taking the names from her niece's forename and favourite aunt's surname. Despite the two name changes, her family and friends still know her as Gaynor.
On 14 July 1973, she married Robert Sullivan, an estate agent, Swansea night club manager and UK representative at the 1972 Munich Olympics as a judoka. In the following year, Davis & Imagination performed "Armed and Extremely Dangerous" on the British talent show New Faces, coming fourth out of seven studio contestants. She quoted Mickie Most as saying "The girl has got something but the boys are just playing away." Embarrassed to speak between songs when performing in South Wales, Davis began attending elocution lessons to suppress her Welsh accent, but gave up after six weeks. In 1975, Roger Bell, working for Chapel Music at the time, visited a music club in South Wales to see some record contract hopefuls, but came in on the wrong floor to find Davis singing "Nutbush City Limits" with Imagination. She was invited to London to record a handful of demos, and months later she received a phone call from RCA Records wishing to sign her up to a record contract. Before signing, she was recommended a name change. She compiled a list of surnames and Christian names and settled on "Bonnie Tyler".
Career
1976–81: Early Success
In 1976, Tyler was spotted singing the Ike & Tina Turner song "Nutbush City Limits" in The Townsman Club in Swansea by the songwriting and producing team of Ronnie Scott and Steve Wolfe, who became her managers, songwriters and producers. Tyler first began by recording a track entitled "My! My! Honeycomb", which did not garner any chart success, but did gain local airplay in Swansea. RCA Records increased the promotional backing of her second single, "Lost in France", with a party of journalists being flown over to meet Tyler at a chateau in France. The single did not, however, find immediate chart success, but instead grew slowly. After six weeks, "Lost in France" finally entered the UK Top 50 and peaked at number 9, remaining a chart-topper for ten weeks. Amidst the promotional effort accompanying the new single, Tyler found her vocals adopting a raspy quality and was diagnosed with large vocal nodules that needed to be urgently treated. After failing to observe the six weeks of vocal rest advised by her doctor, her voice was left with a permanent husky sound which became her career trademark. Tyler's career continued however, and she was announced as the support act during Gene Pitney's tour in February 1977.
The success of the single had Tyler voted sixth in Record Mirror's "Brightest Hope for '77'" category and led to the release of her debut album, The World Starts Tonight, in 1977. With the lead single also achieving chart success in Europe, a second single was released in the UK. "More Than a Lover" was banned from being shown on TV by ITV due to "unsuitable lyrical content," hampering chart success, though the single did make the UK Top 30. The World Starts Tonight was viewed as being "filled with promise and indications of great things to come," though during press interviews in 1976, Tyler admitted that the lead single of the album wasn't her preferred style, and that funkier music was where her interest was.
In the summer of 1977, a new single entitled "Heaven" was released, met with mixed reviews from music critics and failed to chart well in the UK, though the song did reach the Top 30 in Germany, but promotion for the single was hindered due to the untimely death of Elvis Presley, which had diverted RCA's promotion capabilities. The next single to be released by Tyler was "It's a Heartache", which made Bonnie Tyler an international star. Her vocals were instantly compared to Rod Stewart's due to the distinct raspy quality that she had developed from her operation in the previous year. The song reached No. 4 in the UK, No. 3 in the US, No. 2 in Germany, and also achieved chart success in France and Australia. The single went on to be certified Gold in the US, Canada and the UK, and Platinum in France, had Tyler coming tenth place in Record Mirror's "Best Female Singer" of 1977 and she was also given a Bravo Otto award in Germany for her success in Europe. The third single, "Here Am I", followed in spring 1978, failing to follow the success of "It's a Heartache" but did make the German Top 20. The success of Natural Force led to RCA Records releasing Tyler's first (of many) compilation albums. "The Hits of Bonnie Tyler", which contained a handful of A-Sides and B-Sides fleshed out with several tracks from The World Starts Tonight, made the top ten in several European countries and reached number one in the Norwegian Albums Chart.
Tyler's next album, Diamond Cut, was released in 1979. The single "My Guns Are Loaded" peaked at number 3 in France and 10 in Canada. In the same year, Tyler recorded "(The World Is Full of) Married Men", the theme to the film of the same name. It became a minor UK Top 40 hit in the summer. Of all four of Tyler's albums with Scott and Wolfe's involvement, this album received the most positive review. Tomas Mureika (of Allmusic) reviewed all four of Tyler's 1977-80 albums, often stating that they simply "paved the way" for her teaming with Jim Steinman, though declared Diamond Cut to be the high point of her early career, "and a dynamite showcase for Tyler's inimitable voice."
Tyler's final album with RCA was Goodbye to the Island in 1981. The track "Sitting on the Edge of the Ocean" was the Grand Prix winner of the 1979 Yamaha World Song Festival held in Tokyo. The track was also recorded in Spanish and entitled "Sola A La Orilla Del Mar", released in Argentina and Spain in the same year. The album received the lowest rating of Tyler's four Scott & Wolfe albums, receiving 3 out of 5 stars from Allmusic. By this point, it was viewed by other music critics that Tyler was "doomed to be a one-hit wonder", though Tyler continued to have success in the next decade.
Before travelling to New York to begin the peak of her career with Jim Steinman, Tyler recorded one more single called "Sayonara Tokyo", which was released in Japan.
1982–86: The Jim Steinman collaboration and Hide Your Heart
Tyler released four albums for RCA Records from 1977 to 1981, but she became increasingly dissatisfied with Scott and Wolfe's management as they were trying to market her as a pop-country music artist. When her contract with RCA expired, she signed with David Aspden Management and after seeing Meat Loaf's performance of "Bat Out of Hell" on The Old Grey Whistle Test, approached Jim Steinman to be her new producer. She signed with Columbia Records in 1982. Tyler visited Steinman in his apartment in New York in April 1982 with her manager, where she was presented with two tracks - "Have You Ever Seen the Rain?" and "Goin' Through the Motions". When being interviewed for a Newspaper in 1983, Tyler recalled:
He didn't tell me until later that if I hadn't liked those songs, he wouldn't have entertained producing me because he'd have realized we weren't thinking on the same terms.
She returned to his apartment weeks later, where Steinman and Rory Dodd presented "Total Eclipse of the Heart" to her. Dodd would later sing the "turn around"'s on the single. Meat Loaf later claimed that the song was originally written for him, but that Epic Records refused to pay Steinman's copyright fee. Tyler has denied this claim to be true. The single became the most successful in Tyler's career, reaching No. 1 in the UK, Ireland, France, Australia and the United States, with its sales now exceeding 9 million. Reviews of the single were overwhelmingly positive, described as a "carefully crafted pop song." An entire album was put together for a spring release in the following year.
Faster Than the Speed of Night was released in Europe in spring and in America in autumn 1983. The album has been considered Tyler's "finest and most consistent achievement on record", reaching No. 1 in the UK and Norway. Her comeback on the US chart was at a time when almost one third of the Billboard Hot 100 was filled by songs from UK based acts – a situation not seen since the 1960s British Invasion and Beatlemania. Reviews for the album were also positive, with the singles "Total Eclipse of the Heart" and "Have You Ever Seen the Rain?" being listed as the highlights. A recent review by F Newsmagazine described a number of the tracks simply as "filler material", but drew out similarities between many of the tracks to other 1970s and 1980s hit singles for other artists. Both "Total Eclipse of the Heart" and the album were nominated at the 1984 Grammy Awards; the single for Best Female Pop Vocal Performance and the album for Best Female Rock Vocal Performance. She performed the single live at the Grammy Awards. The success of the album led to her being offered to sing the title song for the James Bond film, Never Say Never Again. However, she disliked the song and so it was passed on to American singer Lani Hall. In addition, the BBC requested that Tyler represent the United Kingdom at the 1983 Eurovision Song Contest, though she turned this down also.
In the following year, Tyler recorded "Here She Comes", written by Giorgio Moroder, for the 1984 restoration version of the science fiction film Metropolis. The song was nominated at the 1985 Grammy Awards for Best Female Rock Vocal Performance.
Tyler continued to work with Steinman after the success of Faster Than the Speed of Night, and in 1986 she released her second album with him, entitled Secret Dreams and Forbidden Fire. The most successful single from this album was "Holding Out for a Hero", used for the soundtrack of Footloose and was also the main theme for the 1984 US television series Cover Up, though the version heard on the TV series was not Tyler's original but performed by the singer E.G. Daily. The album was successful in Europe, though only reached No. 24 in the UK charts and did not make any impact in the American charts like its predecessor. The second single from the album, "If You Were a Woman and I Was a Man", became another Top 10 hit in France in 1986 and was certified Silver. The song also reached number one in Venezuela. "Loving You's a Dirty Job but Somebody's Gotta Do It", a duet with Todd Rundgren, became the third single from the album, reaching number 6 in Spain. The fourth and final single from the album was a cover of the Freda Payne song, "Band of Gold", which reached number 6 on the Billboard Hot Dance Breakouts Singles Sales and number 81 in the UK singles chart. Despite its success, the album was not received positively by music critics. Doug Stone (of Allmusic) gave the album two stars. Beginning with " not totally unique," he said the album was substandard compared with Faster Than the Speed of Night.
Tyler released one more album with Columbia Records in 1988. It was released under the name Hide Your Heart in Europe, and Notes From America in the United States. Prolific songwriters for the album included Michael Bolton, Albert Hammond and Desmond Child. The album reached number 6 in Norway, 13 in Switzerland, 24 in Sweden, 64 in Germany and 78 in the UK, and featured songs that were hits for other artists. "Hide Your Heart" was a hit for Kiss in 1989 and "Save Up All Your Tears" became a hit for Robin Beck, Cher and Freda Payne. The single "The Best" reached number 10 in Norway and Portugal, and was a minor hit in Spain and the UK as well, though became a major international hit for Tina Turner in 1989.
As part of the UK Hide Your Heart Tour in 1988, Tyler performed at the Reading Festival, accompanying performers such as Meat Loaf and Jefferson Starship. Tyler was victim to violent abuse from an aggressive crowd hurling bottles at her on stage after the organiser's failed attempt to introduce pop music to the annual event. Tyler continued and completed her set despite the ruckus. She even managed to get the audience to join in with "It's a Heartache" at the end of her set performance.
1990–2003: European success with Hansa Records and subsequent releases
In 1990, Tyler recorded "Breakout", the theme song for German sports film Fire, Ice and Dynamite. She also recorded the single "Merry Christmas" for the 1989 French film 3615 code Père Noël. The single reached #100 on the French singles chart in January 1990.
Throughout the 1990s, Tyler's success was limited to continental Europe. In the early 1990s, she switched to the German label Hansa and found a new producer in Dieter Bohlen, who also wrote the majority of songs on her following three albums. Her first album for the label was Bitterblue in 1991, which saw her leaving the rock genre of the 1980s and establishing a more soft-pop sound. The album went quadruple-platinum in Norway, platinum in Austria, and gold in Germany, Switzerland and Sweden. The album was accompanied by three singles; "Bitterblue", which became a major hit in Norway, "Against the Wind", which had minor success in Norway, Austria and Germany, and "Where Were You", which did not chart.
Tyler followed this up with the album Angel Heart in 1992, and was nominated for a Bravo Otto award in Germany. Tyler was also nominated at the 1993 Echo Awards for best pop/rock singer. The album spawned two singles, the most successful being "Fools Lullaby", which reached #6 in Norway and also charted in Austria and Germany. The second single, "Call Me", only reached #86 in Germany.
The third and final album, Silhouette in Red, was released in 1993. The album was a hit in Norway, Switzerland, Austria, Germany and Sweden, "Sally Comes Around" hit only in German charts at #76. Tyler's Silhouette in Red Tour began in Europe the following year.
In light of her success in Germany, Tyler won Best International Female Vocalist at the RSH Gold Award, the Goldene Europa Award and the Echo Award in 1994.
In 1993, the first volume of a compilation, The Very Best of Bonnie Tyler was released, with selections from the 1970s to 1991. In 1994, Columbia Records released Heaven & Hell, a Bonnie Tyler and Meat Loaf compilation album with tracks from both artists. The compilation became a Gold record in the UK.
After her three albums with producer Dieter Bohlen, Tyler wanted to have a more international sound on her next record. She switched labels to Warner Music in 1995 and recorded soft rock and pop album Free Spirit, her first US release since Hide Your Heart and an album on which she worked again with Jim Steinman as well as other prolific producers such as David Foster and Humberto Gatica. However, the album was only a minor success in continental Europe, though the single "Making Love Out of Nothing at All" (previously a hit for Air Supply in 1983) narrowly missed the UK Top 40. The single featured Tyler's mother's operatic vocals on the intro to the song. The album was re-released in 1996, now including the track "Limelight", which was used as the official song of the German Olympic Team. The album received a three star review from Allmusic. Her vocals were compared to Kim Carnes or Rod Stewart, and the lead single was received positively.
Tyler continued to record, releasing the folk influenced All in One Voice in 1999, though this was even less successful - her worst charting album to date; one single from the album ("He's The King") reached number 95 in Germany. Also in 1999, Tyler was part of an ensemble vocal unit for Rick Wakeman's Return to the Centre of the Earth CD. Tyler also recorded the track "Tyre Tracks and Broken Hearts" on the Jim Steinman and Andrew Lloyd Webber composed album Whistle Down the Wind. She also recorded the theme music for a drama TV show called "Jack of Hearts".
In 2001, Tyler co-wrote four songs with Gary Pickford-Hopkins on his "GPH" album, and duetted with him on the track "Loving You Means Leaving You". In the same year, Tyler released "Greatest Hits" in conjunction with her 50th birthday. The compilation charted well in Europe, reaching #2 in Norway, #5 in Denmark, #9 in Sweden and #18 in the United Kingdom, to name a few. The compilation was certified silver in the UK, Gold in Spain and Sweden, and platinum in Norway. The success of the compilation allowed Tyler to tour Europe before beginning plans on her thirteenth studio album.
2003–05: Covers album, French version of "Total Eclipse of the Heart" and Wings
In 2002, EMI Music suggested Tyler create an album consisting of covers that she would select, accompanied by an orchestra. She had recently worked with Karl Jenkins at Night of the Proms 2002, and asked him to make arrangement for 13 tracks that she selected for the album. All the tracks were originally recorded by the City of Prague Philharmonic Orchestra (conducted by Jenkins) at Smecky Music Studios in Prague, and Tyler and her band then added their layers at The Engine Room in London between June and September 2002. First released that year, Heart & Soul was later released internationally under the name Heart Strings in March of the following year. The lead single, "Against All Odds (Take a Look at Me Now)" (originally by Phil Collins), was followed by a promotional single, "Amazed" (originally by Lonestar), and two more singles (Tom Petty and the Heartbreakers' "Learning to Fly" and "Amazed" again). Heart Strings charted reasonably well in Europe, charting highest in Norway (No. 29), and was met with positive reviews. A Cardiff newspaper gave the album three stars, highlighting her rendition of The Beatles' song "In My Life" as being interpreted "with all her husky passion." Reviewers from the Sunday Mercury stated that hit had "few surprises, it's very listenable," and French company Rainbow Booking AS described how the album "place Bonnie into a new sound universe," with reference to the combination of traditional rock instruments and the orchestra. The success followed with the Heart Strings Tour in Germany between April and May 2003, and she headlined in the 2003 Donauinselfest.
It was around this time that Tyler re-approached her live concert format, and began touring Europe with her lead guitarist Matt Prior. They appeared at the Rock for Asia concert in 2005.
Also in 2003, French vocalist Kareen Antonn sent Tyler a demo recording of Antonn singing a French arrangement of "Total Eclipse of the Heart", entitled "Si demain... (Turn Around)", requesting to duet with her. Tyler accepted and the track was released in December 2003. It went to number 1 in France, holding the top position for ten weeks, as well as Belgium and Poland, selling over 500,000 copies in France. The success of the single was considered to be Tyler's comeback in France, and received overwhelmingly positive reviews from music critics. The follow-up, "Si tout s'arrête (It's A Heartache)", another French language remake with Antonn, also made the French Top 20. Both tracks were included on Tyler's 2004 album, Simply Believe. Stuart Emerson also worked on the album, composing six of the tracks, two of which were re-recordings from Tyler's Free Spirit album from 1995.
"For the first time in my whole career, I'm more involved than ever before," Tyler said when interviewed about her fifteenth studio album, Wings. Marking the first time she became actively involved in the songwriting process of one of her albums, Wings marked a shift in Tyler's career, focusing on mainstream pop music. With her main songwriting team consisting of herself, Paul D. Fitzgerald and Karen Drotar, they crafted two singles, "Louise" and "Celebrate", neither of which were commercially successful when the album was released in mid-2005. For her birthday in 2005, Tyler and her French band performed in La Cigale, Paris, and in Zaragosa, Spain, before an audience of 100,000 people. The concerts were filmed and brought together to be released on a CD (Bonnie Tyler Live) and DVD (Bonnie on Tour) in 2006 and 2007 respectively. Wings was re-released in the United Kingdom in 2006 under the title Celebrate, though the album again failed to chart. Reviews of the album reflected the success of the album, regarding it as a herald that Tyler "should be re-teaming with a producer of Jim Steinman's caliber to bring out the best in her inimitable voice," and that the album content falls short of her previous work in the 1980s.
Tyler was awarded with a Steiger Award in Dortmund, Germany in 2005 - a lifetime achievement award for her success in the music business.
2006–2011: Television appearances and Best of 3 CD
Between the release of her fifteenth and sixteenth studio albums, Tyler's work consisted of one-off studio recordings, releasing a handful of compilation albums and appearing on television. In September 2006, Tyler made her first appearance on U.S. television in years, as she sang a duet of "Total Eclipse of the Heart" with actress Lucy Lawless on the American show Celebrity Duets. Around the same time she collaborated with the punk group BabyPinkStar to record a new version of the same song. In the following year, a new Greatest Hits collection, From the Heart: Greatest Hits, was released. The compilation reached No. 2 in the Irish album charts and No. 31 in the UK. She also appeared in an episode of the British TV game show, Never Mind the Buzzcocks.
In 2009, it was announced by Mal Pope that he had recruited Tyler to perform the title track to his self-written musical, Cappuccino Girls, which would tour in Wales in the following months. She performed the title song on the opening night in the Grand Theatre, Swansea. Soon after, she made a guest appearance in Hollyoaks Later (the late night edition of the British Channel 4 teen soap Hollyoaks), in which she sang her hit "Holding out for a Hero" with one of the characters. She also recorded another new version of "Total Eclipse of the Heart" with the Welsh male voice choir Only Men Aloud! for their second album Band of Brothers, which was released in October 2009. In the following year, Tyler appeared in a television advertisement for MasterCard singing a parody of "Total Eclipse of the Heart". Tyler performed in Australia for the first time in her career in the end of October, first as a supporting guest for Robin Gibb and then performing her own shows in Australia and New Zealand. Both Gibb and Tyler received negative reviews after their concerts, with Tyler being criticized for her lack of command and a voice that "failed her". Her concert in Wellington was similarly critical, "the guitars were dialed back to 1983 - and stayed there for the entire evening," and the new tracks Tyler performed were described as sub-standard.
In 2011, Tyler appeared on Swedish TV show Kvällen är din ("The Evening Is Yours" in English), singing "Total Eclipse of the Heart" with Swedish singer Niklas Paulström. Tyler also performed "It's a Heartache". She also made a guest appearance in the music video "Newport State of Mind", a parody of the Jay-Z and Alicia Keys song "Empire State of Mind" for the BBC's Comic Relief charity. Also in 2011, Tyler won an award at the BMI London Awards for "It's a Heartache" gaining over 3 million airplays on US television and radio since it was first recorded in 1977. She also appeared on the Ukrainian version of X Factor as one of the three British guests, alongside Kylie Minogue and Cher Lloyd. She performed "It's a Heartache", "Total Eclipse of the Heart" and "Holding Out for a Hero". In December 2011, a portrait of Tyler by Rolf Harris, owned by Cathy Sims, was appraised for £50,000 on BBC's Antiques Roadshow.
On September 26, 2011, Sony Music released a compilation entitled Best of 3 CD, which featured two new tracks; a duet with French singer Laura Zen entitled "Amour Éternel (Eternal Flame)", and "Under One Sky", a song written by Paul D. Fitzgerald, the main songwriter on Tyler's 2005 album Wings. The compilation reached #36 in France and #48 in Belgium. It was first released to French radio stations on 29 August 2011.
2012–present: Rocks and Honey, the Eurovision Song Contest and touring South Africa
Tyler travelled to Nashville, Tennessee with her manager in early 2012 to scout for new material to record. 13 tracks were recorded in the Blackbird Studios in Nashville in the following months, which were later mixed in studios in Los Angeles. The album title Rocks and Honey was announced in an interview with Tyler in Norway in July of the same year, and was declared complete in December 2012 during an interview on an Australian TV show.
Amidst the news of the upcoming album, Tyler also recorded a duet with Rolf Harris at Dean Street Studios in August 2012. Their track, "Loch Lomond", is expected to be released on his upcoming album, His Favourite Folk Songs. A previously unreleased recording from the 1990s appeared on SoundCloud in March 2012, entitled "Never Gonna Take No For An Answer", written by British songwriter Martin Brown and Tyler's bassist and member of Romeo's Daughter, Ed Poole. She also appeared on three of Status Quo's UK tour dates in December 2012 as a guest performer. The tour received positive reviews. Tyler's performance of the Janis Joplin track "Turtle Blues" was one of the highlighted moments of her set.
Following this, Tyler's career then completely focused on the release of her sixteenth studio album, and while appearing on a New Year's Eve broadcast concert in Germany, she performed the track "All I Ever Wanted" for the first time. While on stage, she announced that Rocks and Honey would be released in February 2013, though around the same time she was approached by the BBC to represent the United Kingdom at the Eurovision Song Contest 2013 in Malmö, Sweden, which delayed the album's release by a month. The official announcement was made on 7 March 2013, and that she would perform "Believe in Me" at the Grand Final on 18 May. A total of 39 countries competed in the contest, with the United Kingdom finishing 19th out of 26. During an interview weeks after the contest Tyler spoke out against the incidents at the contest that year, and after being asked if she believes the contest is rigged, she replied, "I think so." Despite extensive promotional support, the single failed to significantly impact the UK charts, only reaching number 93.
Rocks and Honey was well received by music critics and received two 5 star ratings. All thirteen tracks were brand new and selected by Tyler when she visited several Nashville-based music publishers in the previous year. Notable songwriters include Frank J. Myers, Desmond Child, Brett James and Beth Hart. The album charted reasonably well in Europe, reaching number 28 in Denmark, number 52 in the United Kingdom and number 59 in both Germany and Switzerland. After the Eurovision Song Contest finished, Tyler moved on to other projects, continuing promotion of the new album in France and released a new compilation, All The Hits. She has also shown interest in touring with Rocks and Honey in the UK and France, though nothing has yet been confirmed. In August 2013, the second single from the album, "This Is Gonna Hurt", was released, and was 'B' listed on BBC Radio 2's airplay playlist. She has since performed the track in concerts including the NDR Summer Tour in Germany on July 27, 2013. A positive review was written after the concert, though it has been noted that Tyler has not performed "Believe in Me" since the Eurovision Song Contest. "This Is Gonna Hurt" failed to chart worldwide. On 16 September, however, it was announced by Labrador Music that "Love is the Knife" would be the third single, and would be performed on the Danish TV show, "Charlies Hjertegalla" broadcast on Danish TV2, along with another one of her hit singles.
Tyler has just completed her South Africa Tour 2013 with her band, including two sell-out shows in Johannesburg at the Emperors Palace Hotel & Casino. She performed four new tracks from her latest album Rocks and Honey and also visited several tourist sites around Cape Town towards the end of the tour, which marked 20 years since her last concert in the country. The tour was widely reported by South African media. Upon her return to the United Kingdom, Tyler visited the BBC Radio 2 studios in London to record for the "Tracks of My Years" segments on Ken Bruce's morning show, which lasted for five days beginning on the week commencing September 9, 2013.
Faster Than the Speed of Night, Tyler's most successful album, has been retitled "Faster Than the Speed of Night (Alben für die Ewigkeit)" under a re-release for 13 September 2013, marking the 30th anniversary of its debut in the United States in 1983. In other news, it was announced that Meat Loaf has been working with Jim Steinman again to create a new studio album. The duo recruited Ellen Foley and Karla DeVito for duets, and Meat Loaf said, "I am going to talk to Jimmy and see whether he wants to use Bonnie Tyler or the girl who did "Anything For Love", Lorraine ".
Bonnie Tyler won a lifetime award "The 40th Anniversary Gold Badge Awards ", by her contribution to music industry. After her successful "South Africa Tour" her album "14 Greatest Hits", hits at #66 on iTunes in South Africa.
Discography
Studio Albums
The World Starts Tonight (1977)
Natural Force (1978)
Diamond Cut (1979)
Goodbye to the Island (1981)
Faster Than the Speed of Night (1983)
Secret Dreams and Forbidden Fire (1986)
Hide Your Heart (1988) also known as Notes From America (1988)
Bitterblue (1991)
Angel Heart (1992)
Silhouette in Red (1993)
Free Spirit (1995)
All in One Voice (1999)
Heart Strings (2003) also known as Heart & Soul (2002)
Simply Believe (2004)
Wings (2005) also known as Celebrate (2006)
Rocks and Honey (2013)
Collaborations
Throughout her career, Bonnie Tyler has collaborated with artists on a number tracks between 1983 and 2013. Her first duet was with American guitarist Rick Derringer on his 1983 rock album Good Dirty Fun. They recorded "When Love Attacks", which has not featured on any of Tyler's compilation albums since. A more notable duet was released the following year on Shakin' Stevens's The Bop Won't Stop album. The single "A Rockin' Good Way" reached number 5 in the UK singles chart. In 1987, Tyler had a one-off collaboration with Mike Oldfield on the track "Islands" for his album of the same name. She accompanied him performing at the 1987 Goldene Europa Awards.
Tyler has also recorded several bilingual duets, the first of which being "Sem Limited Pra Sonhar" with Brazilian singer Fabio Jr in 1986, which was a hit single in South America. Then in 1992, she recorded with Greek singer Sofia Arvaniti on her album Parafora. "Pethaino Stin Erimia" (written in English as The Desert Is In Your Heart) featured both English and Greek lyrics. Eleven years later, Tyler was approached by French singer Kareen Antonn to record a bilingual version of "Total Eclipse of the Heart". The track was titled "Si demain... (Turn Around)" and reached the top of the French charts for ten weeks. On Tyler's 2011 compilation Best Of 3 CD, Antonn's vocals were replaced by backing singer, Fanny Llado, who had contributed to several of Tyler's previous albums. Tyler and Antonn's follow-up single "Si Tout S'Arrete (It's A Heartache)" (again in French and English) was also a hit in France and Belgium. German singer Matthias Reim also recorded two tracks with Tyler; "Vergiss Es (Forget It)" in 2004 and "Die Wilden Tränen (Salty Rain)" in 2010. Her most recent bilingual track was with Laura Zen. They recorded a French/English version of The Bangles' hit "Eternal Flame" on her Best Of 3 CD compilation.
For the soundtrack of the animated TV show The Dreamstone, Tyler recorded "Into The Sunset" with songwriter Mike Batt in 1990. She also collaborated with Jim Steinman again in the late 1990s, recording "Tyre Tracks and Broken Hearts" for the concept album of Steinman and Andrew Lloyd Webber's musical Whistle Down The Wind. She also provided vocals at the end of Meat Loaf's "A Kiss Is a Terrible Thing to Waste" track.
On her own albums, Tyler has recorded duets with Frankie Miller ("Tears" from Faster Than the Speed of Night, "Save Your Love" on Angel Heart and a new track on Miller's upcoming album), Giorgio Moroder ("Heaven Is Here" from Bitterblue), Dan Hartman ("Till the End of Time" from Bitterblue) and Vince Gill ("What You Need From Me" from Rocks and Honey). In addition to this, Tyler has recorded duets on several other artists' albums in recent years; "Tables Turn" on Mal Pope's 2000 album, The Ring, "Nothing's Gonna Stop Us Now" on Albert Hammond's 2010 album Legend and "Something Going On" (recorded in 2010) on Wayne Warner's 2013 What Lines? album. Tyler also re-recorded a hip hop version of "Making Love Out of Nothing At All" with Canadian singer Matt Pétrin, released as a single in 2010.
As a backing vocalist, Tyler appeared on two of Cher's albums. In 1987, she recorded the track "Perfection" with Darlene Love also appearing as a backing vocalist. Then in 1989, Tyler recorded backing vocals for Cher's track "Emotional Fire" with Michael Bolton on her album Heart of Stone.
During her late 1990s session recordings for her album All in One Voice, Tyler recorded English vocals on Italian tenor Andrea Bocelli's hit song "Vivo per lei". The song charted as duets between Bocelli and Giorgia, Marta Sanchez, Judy Weiss and Hélène Ségara, though the version (titled "Live for Love") with Tyler was never released due to "disagreements" between record companies.
Songwriting
Though songwriting has never been a significant part of Tyler's career, she has co-written a handful of B-Sides and other tracks. "Gonna Get Better", a B-Side to the 1980 Japanese single "Sayonara Tokyo", was written with her brother, Paul Hopkins.
Tyler was involved in writing several tracks for her 2005 album Wings, including its singles "Louise" and "Celebrate".
Tours
1988: Hide Your Heart Tour
1994: Silhouette in Red Tour
1996: Free Spirit Tour
2003: Heart Strings Tour
2013: South Africa Tour 2013
Participation in other artists' tours
2010: Australian tour with Robin Gibb
2012: "Quofestive" with Status Quo and Eddie and the Hot Rods
2013: "Rock Meets Classic" with the Bohemian Symphony Orchestra Prague
Band
Tyler's live band currently consists of:
Keith Atack – guitar
Matt Prior – guitar
Ed Poole – bass guitar
John Young – keyboard
Grahame Rolfe – drums
Philanthropy
Bonnie Tyler featured on a 2007 charity album called Over the Rainbow. The event was filmed and shown on the British TV series Challenge Anneka, in which presenter Anneka Rice was set the challenge of putting together a thirteen-track compilation album made up of songs from musicals in five days and organise a promotional concert for the release of the CD. The proceeds went to the Chase Trust disabled children's charity. Tyler selected "I Don't Know How to Love Him" from one of her favourite musicals, Jesus Christ Superstar.
On 1 November 2009, Tyler joined artists such as Escala (group), Joss Stone and Bananarama in a charity concert in support of breast cancer research. It was held at the Royal Albert Hall as a fundraiser for Pinktober. The following year, Tyler headlined in a New Zealand charity variety show alongside Leo Sayer.
As well as concerts, Tyler has been involved in several other charities both at home and abroad. In Portugal, she was named as the patron of the Guia-based AAG (Animal Charity Association), which helps injured, hungry and distressed street animals through the likes of feeding programmes and veterinary care. On 11 June 2013, she nominated Bobath Children's Therapy Centre Wales for the Pride of Britain Awards.
In November 2012, Tyler donated a diamante-studded denim jacket to help raise funds for the at-the-time missing five-year-old April Jones.
Personal life
After global success in the 1980s, Tyler and her husband Robert Sullivan decided to try to have a baby when she was aged 39. Tyler miscarried and did not conceive again.
Since 1988 Tyler and her husband have owned a villa in Mumbles in Wales. They owned a five-bedroom home in the Algarve (in Albufeira, south Portugal), after Tyler recorded one of her albums there in the late 1970s and where the couple spent the better part of the year. In 2005, Tyler was filmed for a short Polish entertainment TV show called Zacisze gwiazd, which explores the houses of actors and musicians. As of 2009, that house has been knocked down and replaced with a house 10,000 square feet (930 m2) larger house overlooking the Santa Eulália beach in Albufeira.
Tyler and her property-development husband have invested in real estate—as of a 1999 interview, they owned farmland in Portugal and New Zealand, 22 houses in Royal Berkshire and London, and 65 stables offering horse boarding services. In a 2013 interview, Tyler stated that the farm in New Zealand had been converted to a dairy farm 12 years after they originally purchased the land. In the same interview she also stated that she owns a quarry with her husband.
Some of Tyler's siblings have also had some success in the music business. Her brother, Paul Hopkins, is lead singer of local Swansea band, Sunshine Cab Co. He co-wrote most of Tyler's 1980s B-sides, including "Time" and "Gonna Get Better" as well as composing some tracks for her albums, such as "The Reason Why" from All in One Voice. Tyler's sister, Avis Hopkins, featured on Mal Pope's musical soundtrack of Cappuccino Girls, singing the track, "Today's My Birthday". Avis Hopkins changed her name in the 1980s to Amanda Scott and released the track, "Lies" in 1988.
Through her husband, Tyler is related to actress Catherine Zeta-Jones and attended her wedding to Michael Douglas, performing "Total Eclipse of the Heart".
In John Cale's autobiography What's Welsh for Zen: Autobiography of John Cale (1999), Cale claimed that after returning to his apartment in London after a European tour in the 1970s he found a group of women in his apartment. He wrote, "Tempers flared and I threw them all out, except one who simply would not go but returned to kick in the door." He mentioned that the woman was in a band called "Bunny", and believed that she was Bonnie Tyler, based solely on the fact that she was Welsh. However, at the time Tyler had already signed with RCA Records and was due to be releasing her second single "Lost in France" a few weeks later. Her manager also denied the claim, stating that she had never met Cale, and that she had never been in a group called "Bunny".
Legacy
Achievements and musical career
Both "Total Eclipse of the Heart" and "It's a Heartache" have estimated sales of over 6 million units, and have been added to the list of best-selling singles of all time.
Tyler's previous manager David Aspden aimed to target the UK and US music markets in the 1980s, though success there fluctuated. He decided to base Tyler in Germany, where at the time the Berlin Wall was in place. "We used to go through Checkpoint Charlie in East Germany. We must have gone through Checkpoint Charlie at least 20 times. The people weren't allowed to listen to normal radio, they weren't allowed to look at any European television and they weren't allowed to buy records. But when the wall came down, Bonnie's sales absolutely doubled overnight, it was incredible. They had access to the music, and they never forgot how she sacrificed going to East Germany, where nobody else would go," Tyler's husband stated.
Awards, nominations and accolades
Tyler's first prolific award was received at the 10th World Popular Song Festival in Tokyo in 1979, where Tyler represented the United Kingdom with her single "Sitting On the Edge of the Ocean". her success continued after she won three Goldene Europa awards, one Echo Award (in 1994, and a nomination in 1993) and a Steiger Award for lifetime achievement. In addition, she received three Grammy nominations in the 1980s and three Brit Award nominations.
Following the aftermath of the Eurovision Song Contest 2013, the Eurovision Song Contest Radio hosted their annual awards, where Tyler was named the first United Kingdom representative to receive an award. She won Best Song (with "Believe In Me") and Best Female Singer.
As well as music awards, Tyler has received local honors in Wales, and became freeman of Neath Port Talbot in 2011 for her "lifelong worldwide contribution in the field of entertainment." Swansea University presented Tyler with an honorary degree in July 2013 and was made a doctor of literature.
Please register for a free Genetic Matrix account to access more information about this and all other celebrity pages