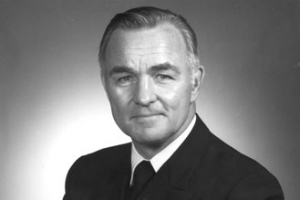 Stansfield Turner
Category : Law-CIA
Type : GE
Profile : 4/6 - Opportunistic / Role Model
Definition : Triple Split
Incarnation Cross : RAX Planning 4
Biography
American Navy Admiral and tenth director of the Central Intelligence Agency from 1977-1981. A former Rhodes scholar, systems analyst, president of the Naval War College and fleet and area commander of the North Atlantic Treaty Organization, he has authored four books focusing on terrorism and nuclear arms. He taught at Yale, West Point, and the University of Maryland. He stands 5'9", is a trim nonsmoker and nondrinker and plays tennis and squash.
Turner was one of two children of a British father who came to the United States, entered the real estate business and by 1929 had risen to the vice-presidency of a Chicago real estate firm. The family lived in a well-to-do suburb outside of Chicago where Turner attended high school. He enrolled at Amherst College in 1941, and took part in student politics, serving as his class president, playing football, and becoming a member of the Naval Reserve. After a two-year stint at Amherst, Turner transferred to the United States Naval Academy, where he distinguished himself admirably. He graduated in 1946, finishing 25th in his class of 820; Jimmy Carter, who, as US president would later appoint Turner to the CIA, graduated in the same class, ranking 59th.
After a year on a cruiser, Turner went to Oxford University as a Rhodes scholar, where he studied philosophy, politics and economics. He obtained his M.A. degree in 1950, then returned to sea, serving on destroyers and earning a Bronze Star and other service decorations in the Korean War.
Turner advanced through the various naval grades in increasingly sensitive assignments. In 1967, he commanded the USS Horne, a guided missile frigate, off the coast of Vietnam. Moving up to captain, he was executive assistant and military aide to the Secretary of the Navy for two years. He was awarded his two stars as rear admiral in 1970. The following year he headed the systems analyst division in the office of the chief of naval operations, and in 1972, received the third star of a vice-admiral and presided over the Naval War College in Newport, Rhode Island. His independent mindedness surfaced as he dispensed with uniforms at the college, increased the reading requirements, and called for more exams in strategy and tactics, among other areas.
Soon after he began his two-year tenure at the Naval War College, a paper he authored, "The United States at Strategic Crossroads," appeared in the "Naval Institute Proceedings" on 10/20/1972. In December 1974, he wrote "Missions of the U. S. Navy" for the same publication. In August 1974, he was serving as commander of the United States Second Fleet and NATO Striking Fleet Atlantic. In September 1975, he became commander in chief of the Allied Forces Southern Europe, with headquarters in Naples, Italy and was promoted to four-star or full admiral.
On 2/02/1977, Turner flew to Washington to meet with President Jimmy Carter who, on 2/07/1977, named him to the dual post of primary adviser on foreign intelligence and head of the CIA. A Senate committee recommended his confirmation on 2/23/1977 and on 2/24/1977, the Senate unanimously confirmed his appointment. He was sworn in on 3/09/1977.
Turner holds honorary degrees from Amherst, Roger Williams, Bryant and Salve Regina colleges. He has also received the Legions of Merit decoration. In 1995, he was awarded a Senior Research Fellowship at the Norwegian Nobel Peace Institute in Oslo. He taught a seminar on combating terrorism at Yale University in 1987, and from 1989-1990 he was the John M. Olin Distinguished Professor of National Security at the U.S. Military Academy at West Point, New York. In 1991, he joined the faculty of the Graduate School of Public Affairs, University of Maryland at College Park.
He has authored four books: "Secrecy and Democracy," "Terrorism and Democracy," "Caging the Nuclear Genie - an American Challenge for Global Security," and "Caging the Genies: A Workable Solution for Chemical, Biological and Nuclear Weapons." In November 1998, for his book on nuclear weapons, he was awarded the foreign Policy Association Medal for demonstrated commitment to peace.
On 1/15/2000 a tourist plane in which he and his wife, Eli Karen, were flying, crashed into a house minutes after taking off from Tobias Bolanos Airport in San Jose. His wife was killed, and Turner was seriously injured.
His first wife was Patricia Busby Whitney whom he married on 12/23/1953: They have a daughter, Laurel, and a son, Geoffrey.
Please register for a free Genetic Matrix account to access more information about this and all other celebrity pages