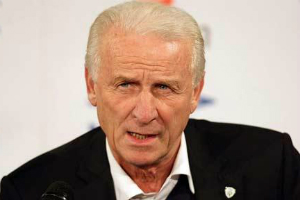 Giovanni Trapattoni
Category : Football Manager
Type : ME
Profile : 4/6 - Opportunistic / Role Model
Definition : Single
Incarnation Cross : RAX Eden 1
Biography
Giovanni Trapattoni (born 17 March 1939), sometimes known as "Trap" or "Il Trap", is an Italian football manager and former footballer, considered the most successful club coach in the history of Serie A. As a player he was part of Italy's squad at the 1962 FIFA World Cup.
Trapattoni is currently the manager of the Republic of Ireland national team. He led them through a successful UEFA Euro 2012 qualifying campaign after narrowly missing out on the 2010 FIFA World Cup (that his team were controversially knocked out of by France as a result of a handball incident). Then at UEFA Euro 2012, his team flopped leading to the retirement of star players Damien Duff and Shay Given. Trapattoni coached his native Italian national team to the 2002 FIFA World Cup and UEFA Euro 2004.
One of the most celebrated managers in football history, Trapattoni is one of only four coaches, alongside Ernst Happel, José Mourinho, and Tomislav Ivi to have won league titles (10) in four different countries. Alongside Udo Lattek, he is the only coach to have won all three major European club titles. Also, he is the only one to have won all official continental club competitions and the world title, achieving this with Juventus during his first spell with the club. Also he has the record of UEFA Cup titles won (three).
Playing career
Born in Cusano Milanino near Milan, Trapattoni had a successful career as a player with Milan in the 1960s and early 1970s. Playing primarily as a defender and defensive midfielder with the main task of passing the ball to more creative players such as Giovanni Lodetti and Gianni Rivera, he also played for the Italian national team, mostly as centre back with notable marking skills, appearing at the 1962 FIFA World Cup in Chile.
After taking a break from the national team, Trapattoni thought he could settle with a mid-table team for one last season instead of being at one club all his life, subsequently moving to Varese and, after a successful season with them, retired from professional football and embarked on a highly successful managerial career two years later.
Coaching career
Milan
Trapattoni began coaching at Milan as a youth team coach, before becoming caretaker coach. Trapattoni was caretaker coach from 9 April 1974 to 30 June 1974. He was appointed first team coach in 1975.
Juventus and return
Trapattoni was head coach for Juventus from 1 July 1976 to 30 June 1986. Trapattoni won all UEFA club competitions (European record).
Internazionale
Trapattoni coached Internazionale was coach from 1 July 1986 to 30 June 1991.
Bayern Munich and return
Bayern Munich in 1994. Trapattoni left at the end of the season. Trapattoni returned to the club in July 1996. He is well remembered by German fans for an emotional outburst in broken German during a press conference on 10 March 1998 ("Was erlauben Strunz?" ... Ich habe fertig![Germans use the verb bin(am) instead of habe(have) when having finished]" − How dare Strunz? ... I have finished) where he criticized the attitude of Mehmet Scholl and Mario Basler ("Diese Spieler waren schwach wie eine Flasche leer!" − These players were weak like a bottle empty). He left the Bayern at the end of the 1997–98 season and was replaced by Ottmar Hitzfeld, who guided Bayern to the Champions League Final the following season.
Cagliari
Trapattoni coached Cagliari in the 1994–95 season.
Fiorentina
Trapattoni coached Fiorentina from 1998 to 2000. He qualified leading them to a UEFA Champions League place.
Italy
In July 2000, Trapattoni took charge of the Italian national team after the resignation of Dino Zoff. He led the team to the 2002 FIFA World Cup. In that tournament, after winning its first match against Ecuador, Italy's form dropped and they controversially lost to Croatia. They drew with Mexico, with Alessandro Del Piero scoring a late equalizer. In the second round, Italy were eliminated by South Korea, in a controversial match. They conceded an equalizer two minutes from full time and lost in extra-time with Ahn Jung-Hwan scoring the golden goal after Francesco Totti was controversially sent off. Their exit sparked Trapattoni to accuse FIFA of fixing the tournament so the host nation would make the semi-finals.
At the 2004 European Championship, Italy once again failed to impress. They drew with both Denmark and Sweden, leading to an unexpected early exit despite being undefeated in the group stage with two ties and a win. Denmark and Sweden drew in the group's final match, eliminating Italy who finished in third place in their group. Trapattoni later said: "Sweden against Denmark, I remember the game. Do you know what Johansson (the then UEFA president Lennart Johannsson) said? 'If this game finishes in a draw, we will open an investigation' Do you know if he made the investigation? I'm still waiting for the investigation." These comments came eight years later, in 2012.
Marcello Lippi replaced Trapattoni on 15 July 2004.
Benfica
On 5 July 2004, Trapattoni was named as new coach of Portuguese League club Sport Lisboa e Benfica, which he led to win the 2005 league, the first in 11 years, and also to the Portuguese Cup final (which Benfica lost to Vitória de Setúbal). He resigned after the 2005 season, saying he wanted to be closer to his family (in the north of Italy).
VfB Stuttgart
Trapattoni returned to management in the German Bundesliga in June 2005, by signing at VfB Stuttgart. However, during his 20 games at the helm, Stuttgart produced poor results. Denmark internationals Jon Dahl Tomasson and Jesper Grønkjær openly criticized their coach, claiming he was afraid to attack. Trapattoni responded by dropping both players to the bench. With the atmosphere in the team worsening, he was sacked after just seven months, on 9 February 2006, reportedly for "not fulfilling the ambitions of the club". He was replaced as manager by Armin Veh.
Red Bull Salzburg
In May 2006, Red Bull Salzburg announced it had signed Trapattoni as its new director of football, along with one of his former players, Lothar Matthäus, as coach. Trapattoni initially cast doubt on this report, claiming he had not signed any contract. But three days later, both he and Matthäus signed and made their hirings official. After their successful season of 2006–07, the club's board of directors unanimously decided to dismiss Matthäus, making Thorsten Fink Trapattoni's new assistant.
Republic of Ireland
On 11 February 2008, Trapattoni "agreed in principle" to take over the Republic of Ireland manager's job, but finished the season with Red Bull before taking up the Irish position on 1 May. Former Ireland midfielder Liam Brady was expected to be part of the Italian's backroom staff, while Marco Tardelli was confirmed as Trapattoni's assistant manager. Trapattoni signed Brady back in 1980 for Juventus from Arsenal for just over £500,000. Red Bull Salzburg confirmed, on 13 February 2008, that at the end of the 2007–08 season, Trapattoni would be leaving the club to take over as the Republic of Ireland manager. Manuela Spinelli became Trapattoni's interpreter. Because of her ability to speak both Italian and English, she became a familiar sight alongside him during most interviews. She has also appeared on The Late Late Show without Trapattoni.
Trapattoni's first game in charge, a friendly against Serbia on 24 May 2008, ended in a 1–1 draw. His second, another friendly, against Colombia five days later, meant his first victory with the national side, 1–0. This was followed by a 1–1 draw with Norway, his first competitive win against Georgia and a draw with Montengro in 2010 FIFA World Cup qualification.
Trapattoni's first defeat came in a friendly against Poland on 19 November 2008, a 3–2 loss at Croke Park. He also managed to claim a 1–1 away draw against 2006 FIFA World Cup champions Italy, that he had managed himself from 2000 to 2004, thanks to a late equaliser from Robbie Keane. He finished the qualifying campaign unbeaten, becoming only the third Irish manager to do so, qualifying for a playoff place for the 2010 World Cup.
In September 2009, he signed a new contract with Ireland that would have seen him continue as manager until UEFA Euro 2012. In the first leg of the World Cup playoff in Croke Park on 14 November 2009, France won 1–0 with a goal by Nicolas Anelka. In the second leg in Paris, on 18 November 2009, a goal from Robbie Keane levelled the aggregate scores at 1–1 in the first half. In extra time, however, a William Gallas equaliser put France through 2–1 on aggregate. Replays of the French goal showed that Thierry Henry had twice used his hand to control the ball and was in an offside position before crossing for Gallas to head home. In May 2011, he managed Ireland as they won the first ever Nations Cup, after a 1–0 win against Scotland. Later that year he managed the Irish national team to UEFA Euro 2012 qualification, following an unprecedented 5–1 aggregate play-off win over their opponents.
Trapattoni was rewarded with a new two-year contract by the Football Association of Ireland (FAI). His success was praised by, among others, Dietmar Hamann. Ireland exited UEFA Euro 2012 at the group stage, after losing to eventual finalists Spain and Italy. Since then, Ireland have lost just two games of 9 played, including a heavy defeat to Germany at home in a 2014 FIFA World Cup qualifier, with a severely depleted team available. Ireland remain in contention for a place at the 2014 FIFA World Cup. On 29 May 2013, Trapattoni's Ireland side faced off against England for the first time in eighteen years at the Wembley Stadium in a match which ended 1–1.
Personal life
Trapattoni is a cooperator of Opus Dei. He is married to Paola and has several grandchildren.
Health
In August 2010, Trapattoni was admitted to hospital in Dublin, one-day before Ireland's friendly with Argentina. It was initially believed that shellfish he ate before arriving in the country was to blame for him feeling unwell. He underwent surgery in the Mater Misericordiae University Hospital, Dublin on 11 August. He missed the Argentina game due to his surgery. In January 2011, reports in the Italian media, claimed that he was at home recovering from a mild stroke he suffered during surgery on 28 December 2010. The reports claimed that the stroke had caused partial paralysis down the right side of his body. In a statement released through the FAI, Trapattoni said that while he did have scheduled surgery in Italy over Christmas, he had not suffered a stroke.
Style
Trapattoni is very popular in Italy also due to his peculiar style, including original press conference speeches often featuring language mistakes and trademark quotes, one of the most famous being "non-dire gatto se non-l'hai nel sacco ("don't say cat until you've got it in the bag"). Such approach, coupled with his difficulties with the local language, won him a significant amount of popularity also in Germany during his spell at FC Bayern Munich. His most famous press conference while at the helm of the Bavarians, during which he soundly attacked many of his players, including Thomas Strunz (whose last name incidentally resembles an Italian swear word) in a speech full of mistakes and neologisms, most famously using "Ich habe fertig" (roughly translatable as "I have finished", in place of "I am finished") and "Schwach wie eine Flasche leer" ("weak like a bottle empty").
He is also known for a two-fingered whistle he uses to capture the attention of his players during games. He also brought a bottle of holy water during 2002 FIFA World Cup games when he was in charge of the Italian national team.
Please register for a free Genetic Matrix account to access more information about this and all other celebrity pages