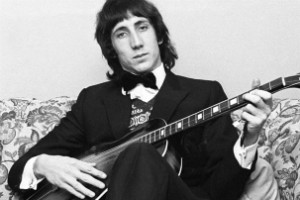 Pete Townshend
Category : Entertain-Music-Composer/Arranger
Type : GE
Profile : 4/1 - Opportunistic / Investigator
Definition : Single
Incarnation Cross : JX Contribution
Biography
British musician, founding member of "The Who" rock band, composer of "Tommy," a 1969 rock opera that went on to win five Tony awards for its 1993 Broadway adaptation. In 1969, he wrote the bulk of "Tommy," the rock opera. In 1993, "Tommy" opened on Broadway and became a Tony winner. The same year, Townshend toured America as a solo performer. He also reunited with Daltrey and Entwistle on the summer amphitheater circuit as recently as 1997. Touring with the band for over 15 years, Townshend has seen one band member, Keith Moon, die of booze and downers at the age of 31 and a gig at the Cincinnati Riverfront Coliseum crush 11 fans to death in a rush for seats.
Born to Clifford and Betty Townsend and raised in the London suburbs of Ealing and Acton, Townsend had something of a musical heritage. His parents had been in a World War II-era big band, with his father playing alto saxophone and his mother a singer. Townshend was an only child into his teens, when his family expanded to include two brothers.
His parents' marriage was stormy, and he frequently lived with his grandmother, who gave him a guitar when he was 12. He later took up the banjo, then met John Entwistle in 1959, and the two began playing together in various country and western bands. When Entwistle joined Roger Daltrey's band, the Detours, Townshend came along too, on rhythm guitar.
In the fall of 1961, Townsend enrolled in Ealing Art College where he became a member of the Young Communist League and the Committee for Nuclear Disarmament. Meanwhile, the Detours began opening acts with other, more famous bands, and in December 1963 for the Rolling Stones. In February 1964, the Detours changed their name to The Who. The Who signed a record deal and in December 1965 they released their "My Generation" album which featured eight Townshend songs. In the winter of 1966, The Who released an album, "A Quick One," that contained Townsend's first narrative song which ran ten minutes long. It would be the precursor of some of his other compositions.
At the end of 1966, Townshend admitted to an extensive drug addiction.
In 1972, Townshend released his first solo album, "Who Came First." In the fall of 1973, The Who released the double album, "Quadrophenia," entirely composed by Townsend and featuring "I'm One."
In 1974, Townshend did his first solo concert. In 1983, he became an editor at Faber & Faber publishing house, the company where T.S. Eliot was an editor for 30 years. There he commissioned about eight titles a year on music, modern playwrights, and primitive poetry.
His novel, "Horse's Neck," a compendium of short stories about alienation from nature and love, was published by Houghton Mifflin in 1985. The Who reunited briefly that year to perform at the LIVE AID concert in London.
Townshend, who is now hearing impaired, supports a number of charities, including a refuge for battered women in London. He also filmed a concert in London to raise money for a drug rehab clinic.
He is openly bi-sexual along with his marriage to Karen Astley in 1966; three children, Emma, Arminta, and Joseph.
On 1/13/2003, legendary Who guildarist Pete Townshend was arrested by Scotland Yard in a Porn Probe, on the
suspicion of making and possessing indecent images of children and of incitement to distribute indecent images of children. Townshend admitted in a statement on Saturday to using his credit card to view an American subscriber-only network that provided a gateway to international child pornography sites. But he denied being a pedophile, saying he had been researching a book that would refer to his experiences of sexual abuse as a child. He was never formally charged of a crime but in May 2003 received an official caution or warning.
Please register for a free Genetic Matrix account to access more information about this and all other celebrity pages