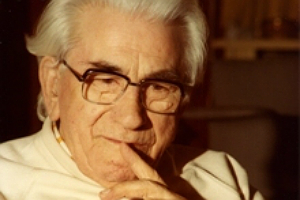 Martinus Thomsen
Category : Philosopher
Type : GE
Profile : 1/3 - Investigating / Martyr
Definition : Split - Small (10,22,34,36)
Incarnation Cross : RAX Explanation 3
Biography
Martinus Thomsen, referred to as Martinus, (Danish: Martinus Thomsen) (August 11, 1890 – March 8, 1981) was a Danish author, philosopher and mystic. Born into a poor family and with a limited education, Martinus claimed to have had a profound spiritual experience in March 1921. This experience which he called "cosmic consciousness", would be the inspiration for the books he wrote later on and are collectively entitled The Third Testament. Some of his works have been translated into twenty languages and while he is not well known internationally, his work remains popular in Scandinavia.
Early life
Martinus' childhood home in Sindal, Denmark, today a museum
Born on 11 August 1890 near Sindal, a small town in northern Jutland, Denmark, Thomsen grew up in a house called "Moskildvad". This house, now open to the public, is testimony to the poverty he experienced during childhood. An illegitimate child, Thomsen never knew his father. His mother never married and worked on a farm called Kristiansminde. There, a stableman by the name of Thomsen was named his father and therefore he was named Martinus Thomsen. He did state that he suspected the proprietor of the farm to be his real father.
His mother was unable to care for him as a young child and as a result, he was taken in by her brother and his wife. They were an elderly couple who had already raised eleven children of their own but despite this, Thomsen always referred to them fondly. He mentioned that despite their meager circumstances, they always made him feel secure. His mother died when he was just eleven and for the most part, his contact with her was very limited.
His education at the local village school was very basic, focusing mainly on verses of hymns, geography, Danish and natural history, arithmetic and the catechism. He spent six hours per week in class in the summer and thirty hours per week in the winter. His foster family could not afford books and Thomsen has stated he inherited old copies of Familie Journalen (The Family Journal), which became the basis of his reading material.
Enlightenment at the age of 30
According to Martinus, during March 1921 a decisive transformation took place in his life, in that he had strong spiritual experiences that led to a profound expansion of his consciousness. His books On the Birth of My Mission and Intellectualized Christianity provide a description of these, for him. Martinus called this new state of consciousness, which he attained at the age of 30, "cosmic consciousness". The prerequisite for cosmic consciousness is a highly developed faculty of intuition, which all human beings will develop sooner or later.
"The cosmic baptism of fire through which I had passed – the closer analysis of which I cannot specify here – had thus left the fact that entirely new sensory abilities had been released in me, abilities that enabled me – not in glimpses – but on the contrary in a permanent state of awake day consciousness – to apprehend all the main spiritual forces, invisible causes, eternal world laws, basic energies and basic principles behind the physical world. The mystery of existence was therefore no longer a mystery to me. I had become conscious in the life of the whole universe, and had been initiated into 'the divine principle of creation"
—(Livets Bog 1, sect. 21)
Ideas and works
Martinus' works are collectively entitled The Third Testament. His 7-volume main work is Livets Bog (The Book of Life). The Eternal World Picture, vols. 1–5, in which he explains the main principles in his world picture with the aid of coloured symbols and explanatory texts, supplement his main work. His other books include Logic, Bisættelse (On Funerals), Intellectualised Christianity and 28 shorter works; he has also written a substantial number of articles.
At present 19 of Martinus' books have been translated into English and some of Martinus' books have been translated into 20 other languages. See an overview of his complete works below.
Symbols
Martinus drew and painted a large number of symbols, figures, colours and lines, each illustrating specific areas of the cosmic analyses which he claimed are important elements in his overall description of the eternal world picture. In his opinion these symbols provide an accessible overview of the principles and laws that characterize life and the universe as a whole.
Forty-four symbols with associated symbol explanations are published in his books The Eternal World Picture 1–5; a supplement to his main work, Livets Bog (The Book of Life). Martinus left a number of additional symbols, which the Martinus Institute expects to publish in later volumes of The Eternal World Picture.
Death
Martinus lived in a small apartment on the first floor of the Martinus Institute until he died on 8 March 1981 at the age of 90.
Please register for a free Genetic Matrix account to access more information about this and all other celebrity pages