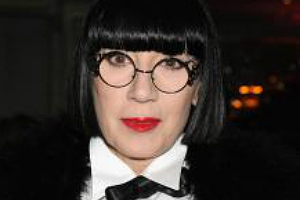 Chantal Thomass
Category : Fashion Designer
Type : MGP
Profile : 1/3 - Investigating / Martyr
Definition : Single
Incarnation Cross : RAX Consciousness 3
Biography
Chantal Thomass , born5 September 1947 (66) , is a fashion designer , founder of the lingerie brand of the same name, recognizable in his eternal fringe hair up this logo. She made ??her debut in 1967 with various experiences in the ready-to-wear , but since 1975 she draws lingerie collections very sexy and feminine. After increasing difficulties from 1985 to 1999 for the creative, the brand through various owners eventually leading the group Chantelle in 2011. Today, Chantal Thomass is a lingerie brand luxury forefront.
History
Origins
Chantal Thomass (born Chantal Genty), the only daughter of a seamstress mother N 1 and an engineer father, soon to be noticed: enrolled in a religious school, the young schoolgirl uniform immediately amend its regulatory ... But his career really started in the late 1960s. At age 20, after the " Palace generation ", it start at Dorothée Bis N 2 then starts with her ??husband N 3 mark his first ready-to-wear , and Ter Bantine (1967-1975) 1 . Brigitte Bardot n ' not hesitate to time to support the designer who then uses amazing materials such as waxed canvas, flannel or knit lurex .
Creation of his company in 1975, to which it gives its name, and its first parade in his signature the following year. She introduced her first collection of underwear in his collection of ready-to-wear and is the first to scroll the woman in lingerie 2 . An evolution marked by feminist movements decade. At that time, adopt the following functional sections, with basic materials. Chantal Thomass will divert traditionally masculine fabrics, using silk and she loves frills (nodes, lace, patterns, ...). It successively restores the bra , the corset , the garters , the corset , the low and later invented the sticking of Lace . "I played below as above unveiling and veiling with lace and sensual transparency " explains the designer.
In 1980, Chantal Thomass works in parallel to brand jackets Moncler , marking the beginning of the orientation thereof to the user 3 .
Brand
Logo Chantal Thomass
Claw Chantal Thomass is launched this year 1975. In 1981, the advertising Devarrieux Benedict creates the cut in silhouette profile, which will become the logo 4 . This logo will be changed after 17 years 5 .
In 1985, the bankruptcy filing , the brand is bailed out by Japanese capital group World which takes a large majority of the shares.
Loss of brand
In 1995, Chantal Thomass is dismissed for "gross negligence" by the Japanese main shareholder has the right to use the brand until 2035, and lost the use of that mark 6 . In 1996, the company was put into voluntary liquidation 7 .
It retrieves the brand after a trial, 3 years later N 4 . She joined the Group Sara Lee , the owner at the time of the brand DIM N 5 and creates a scandal in 1999 featuring live models in lingerie 8 in the windows of Galeries Lafayette 9 . In the end, it retains 34% stake in the brand and position as Artistic Director 2 .
Chantelle
Dim (Dim Brand Apparel) decided in May 2011 to separate brand for resale group Chantelle 10 , already owns many lines of lingerie, and lingerie stores network Orcanta N 6 since 2006 (formerly PPR ).
Diversification
In 2001, Chantal Thomass traces for the first time in his career his book "Pleasures of a Woman." Chantal Thomass expand as and when its product range by launching its first fragrance "Chantal Thomass" in 2002 (more to come), a fragrance N 7 whose bottle is dressed in a low seam and lace of garter , sunglasses with opticians in 2008 REV 11 , then a line of furniture for Taillardat manufacturer or a makeup line in 2009.
His shop and international expansion
In September 2004, she opened in Paris a "spirit boutique boudoir " 12 -fronted Napoleon III ranked located rue Saint-Honoré N 8 near the store colette . Designed as an apartment with alcoves , the place is padded silk rose with mirrors all over the walls and pink glass furniture 13 .
Chantal Thomass manages to make room for the international with the opening of stores in more than 30 countries.
Charities
Chantal Thomass regularly engages in works charity : in 2005, it rose decorates a car Jaguar E Type 14 , creates dolls for UNICEF since 2001 15 , plates for Action against hunger , she dressed Minnie Black 16 , drew a tutu and ballet shoes for Repetto & UNESCO 17 . The money raised is donated to fund charitable activities, such as the integration of children with autism 18 .
Collaborations
Chantal Thomass regularly collaborates with many remote brands in the field of lingerie. Include:
Lampe Berger 19
a washing machine clothes Vedette, 2007 20
the sweetener Canderel in 2008 21
a Barbie in April 2009 to the 50 th anniversary of the doll 22
makeup Nivea in 2009 23
a collection of headboards with Tréca (2011) 24 , 25
decoration of two suites of Hotel Praday, rue Saint-Roch in Paris 2 .
decorating the can of Coca-Cola Light (2014) 26
Please register for a free Genetic Matrix account to access more information about this and all other celebrity pages