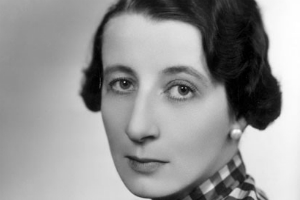 Josephine Tey
Category : Writer
Type : ME
Profile : 1/3 - Investigating / Martyr
Definition : Split - Small (36,40)
Incarnation Cross : RAX Unexpected 2
Biography
Josephine Tey was a pseudonym used by Elizabeth Mackintosh (25 July 1896–13 February 1952) a Scottish author best known for her mystery novels. She also wrote as Gordon Daviot, under which name she wrote plays with an historical theme.
Life and work
Mackintosh was born in Inverness, the daughter of Colin Mackintosh and Josephine (née Horne). She attended Inverness Royal Academy and then Anstey Physical Training College in Erdington, a suburb of Birmingham. She taught physical training at various schools in England and Scotland, but in 1926 she had to return to Inverness to care for her invalid father. There she began her career as a writer.
Mackintosh's best-known books were written under the name of Josephine Tey. Josephine was her mother's first name and Tey the surname of an English grandmother.
In five of the mystery novels she wrote under the name of Tey, the hero is Scotland Yard Inspector Alan Grant. (Grant appears in a sixth, The Franchise Affair, as a minor character.) The most famous of these is The Daughter of Time, in which Grant, laid up in hospital, has friends research reference books and contemporary documents so that he can puzzle out the mystery of whether King Richard III of England murdered his nephews, the Princes in the Tower. Grant comes to the firm conclusion that King Richard was totally innocent of the death of the Princes.
In 1990, The Daughter of Time was selected by the British-based Crime Writers' Association as the greatest mystery novel of all time; The Franchise Affair was eleventh on the same list of 100 books.
The Franchise Affair also has a historical context: although set in the 1940s, it is based on the 18th-century case of Elizabeth Canning. The Daughter of Time was the last of Tey's books published during her lifetime. A further crime novel, The Singing Sands, was found in her papers and published posthumously.
About a dozen one-act plays and another dozen full-length plays were written under the name of Gordon Daviot. How she chose the name of Gordon is unknown, but Daviot was the name of a scenic locale near Inverness where she had spent many happy holidays with her family. Only four of her plays were produced during her lifetime. Richard of Bordeaux was particularly successful, running for fourteen months and making a household name of its young leading man and director, John Gielgud. (Humorously, Tey writes of Inspector Alan Grant that "he had in his youth seen Richard of Bordeaux; four times he had seen it".)
Proceeds from Tey's estate, including royalties from her books, were assigned to the National Trust.
Appearances and adaptations in other works
The heroine of Mary Stewart's The Ivy Tree (1961) uses Brat Farrar as a model when impersonating the missing heir to an estate. She describes the book as "the best of them all".
Tey is mentioned in the Stephen King novella, Apt Pupil (1982).
Tey appears as a main character in a series of novels by Nicola Upson called the "Josephine Tey Mysteries". An Expert in Murder (2008), the first in the series, is a detective story woven around the original production of Richard of Bordeaux.
The Daughter of Time influenced later mystery writers, notably Barbara Mertz. Mertz, writing as Elizabeth Peters, refers explicitly to Tey in "The Murders of Richard the Third," which sets a country house murder mystery among a group who believe that Richard III was innocent.
Reception and legacy
In 2012, Peter Hitchens wrote that, "Josephine Tey's clarity of mind, and her loathing of fakes and of propaganda, are like pure, cold spring water in a weary land", and "what she loves above all is to show that things are very often not what they seem to be, that we are too easily fooled, that ready acceptance of conventional wisdom is not just dangerous, but a result of laziness, incuriosity and of a resistance to reason".
Please register for a free Genetic Matrix account to access more information about this and all other celebrity pages