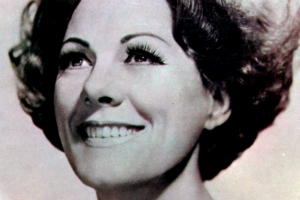 Renata Tebaldi
Category : Singer - Opera
Type : PE
Profile : 5/1 - Heretical / Investigator
Definition : Split - Small (40)
Incarnation Cross : LAX Refinement 2
Biography
Renata Tebaldi (1 February 1922 – 19 December 2004) was an Italian lirico-spinto soprano popular in the post-war period. Acclaimed as one of the most beloved opera singers of all time, she primarily focused on the verismo roles of the lyric and dramatic repertoires.
Early years
Tebaldi was born Renata Ersilia Clotilde Tebaldi in Pesaro on 1 February 1922. She was the daughter of a cellist, Teobaldo Tebaldi, and Giuseppina Barbieri, a nurse. Her parents split up before her birth and Tebaldi grew up with her mother in the home of her maternal grandparents in Langhirano.
Stricken with polio at the age of three, Tebaldi became interested in music and was a member of the church choir in Langhirano. At the age of thirteen her mother sent her to piano lessons with Giuseppina Passani in Parma, who took the initiative that Tebaldi study voice with Italo Brancucci, a singing teacher at the conservatory of Parma. She was admitted to the conservatory at the age of 17, taking lessons with Brancucci and Ettore Campogalliani, and would later transfer to Liceo musicale Rossini in Pesaro taking lessons with Carmen Melis, and on her suggestion with Giuseppe Pais.
Italian career
Tebaldi made her stage debut as Elena in Boito's Mefistofele in Rovigo in 1944, and performed in Parma in La Bohème, L'amico Fritz and Andrea Chénier. She caused a stir when in 1946 she made her debut as Desdemona alongside Francesco Merli as Otello in Trieste.
Her major breakthrough came in 1946, when she auditioned for Arturo Toscanini. Toscanini was favorably impressed, calling her "voce d'angelo" (angel voice). Tebaldi made her La Scala debut that year at the concert which marked the reopening of the theatre after World War II. She sang the "Prayer" ("Dal tuo stellato soglio") from Rossini's biblical opera, Mosè in Egitto, as well as the soprano part in Verdi's Te Deum. She was given the operatic roles of Margherita and Elena in Mefistofele and Elsa in Lohengrin in 1946. The following year, she appeared in La Bohème and as Eva in Die Meistersinger. Toscanini encouraged her to sing the role of Aida and invited her to rehearse the role in his studio. She was of the opinion that the role of Aida was reserved for a dramatic soprano, but Toscanini convinced her and she made her role debut at La Scala in 1950 alongside Mario del Monaco and Fedora Barbieri in a performance conducted by Antonino Votto. This was the greatest success in her still young career and was to launch her international career.
Her voice was used for Sophia Loren's singing in the film version of Aida (1953).
International career
She went on a concert tour with the La Scala ensemble in 1950, first to the Edinburgh Festival and then on to London, where she made her debut as Desdemona in two performances of Otello at Covent Garden and in the Verdi Requiem, both conducted by Victor de Sabata.
Tebaldi and Callas
By the early 1950s, Tebaldi was firmly entrenched at La Scala. But a new star had appeared on the scene – Maria Callas. In 1950 Callas was taken on at La Scala as substitute Aida for an indisposed Tebaldi. Matters came to a head in 1951 when both were with an Italian company touring South America. Perhaps unwisely, the two of them were engaged to appear in the same concert. Afterwards Callas accused Tebaldi of breaking a no-encore agreement, when she delivered not one but two extra arias. The culmination of this rivalry came in an article in Time magazine where Callas was quoted as saying that comparing herself to Tebaldi was like comparing champagne with Coca-Cola. However, witnesses to the interview stated that Callas only said "champagne with cognac" after which a bystander quipped, "No, with Coca-Cola", but the Time reporter attributed the comment to Callas.
Although she had a very powerful voice, Tebaldi always considered herself a lyric soprano. Even though the young Tebaldi successfully performed roles in operas and works by (among others) Rossini, Spontini, Mozart, Handel and Wagner she eventually centered her career on verismo and late Verdi roles, roles not as well suited to Callas' voice. Callas, in contrast, considered herself a dramatic coloratura soprano and started her career in the heaviest roles, but soon after, concentrated on the bel canto repertoire, which were not a good fit for Tebaldi's vocal range and technique. How much of the rivalry was real, and how much whipped up by fans and the press, is open to question. Some also believe that the entire rivalry was instigated by their respective recording companies in order to boost sales, and that they were instructed to play along. According to Time magazine, when Callas quit La Scala, "Tebaldi made a surprising maneuver: she announced that she would not sing at La Scala without Callas. 'I sing only for artistic reasons; it is not my custom to sing against anybody', she said." Nevertheless, Tebaldi apparently felt that the public perception of a rivalry was ultimately good for both their careers, since it aroused so much interest in the two of them.
In the end, however, there was a reconciliation. After Tebaldi had inaugurated the 1968 Met season with Cilea's Adriana Lecouvreur, Callas, who by that time had given her last opera performance, went backstage to congratulate Tebaldi. It was the last time the two sopranos were to meet.
The Met
Tebaldi made her American debut in 1950 as Aïda at the San Francisco Opera; her Metropolitan Opera debut took place on 31 January 1955, as Desdemona opposite Mario del Monaco's Otello. For some twenty years, she made the Met the focus of her activities. For the 1962/1963 season, Tebaldi convinced the director of the Met, Rudolf Bing, to stage a revival of Cilea's Adriana Lecouvreur. The opera had not been staged since the turn of the century, but Bing was convinced that it would be a great success for Tebaldi, and for Franco Corelli, who sang the role of Maurizio. Unfortunately, Tebaldi was not in top vocal form. Alarmed, she took a thirteen-month hiatus from the stage. She later returned as Mimi to great acclaim.
She sang more at the Met and far less elsewhere. She had developed a special rapport with the Met audiences and became known as "Miss Sold Out". She sang there some 270 times in La bohème, Madama Butterfly, Tosca, Manon Lescaut, La Fanciulla del West, Otello, La forza del destino, Simon Boccanegra, Falstaff, Andrea Chénier, La Gioconda and Violetta in a production of La traviata created specially for her. She made her last appearance there as Desdemona on 8 January 1973 in the same role in which she had made her debut eighteen years earlier.
Later years
By the end of her career, Tebaldi had sung in 1,262 performances, 1,048 complete operas, and 214 concerts.
Tebaldi never married and had no children. In a 1995 interview with The Times, she said she had no regrets about her single life. "I was in love many times," she said. "This is very good for a woman." But she added, "How could I have been a wife, a mother and a singer? Who takes care of the piccolini when you go around the world? Your children would not call you Mama, but Renata."
Tebaldi retired from the stage in 1973 and from the concert hall in 1976. She spent the majority of her last days in Milan. She died at age 82 at her home, in San Marino. She is buried in the family chapel at Mattaleto cemetery (Langhirano).
Museum
Since February 2010, the 15th century Castle of Torrechiara – Langhirano – has hosted within its rooms a permanent exhibition dedicated to Renata Tebaldi. This "Castle for a Queen" unveils the many sides of this great "diva", whose artistic and personal life remain on display. The items showcased followed her over the arc of time as she spread the world-class tradition of Italian lyrical art…all the way from the beginning of her career and throughout her artistic achievements. The exhibition is presented by the Renata Tebaldi Committee in collaboration with Superintendence of Environmental Heritage and Landscape of the province of Parma and Piacenza, the Regio Theatre Foundation of Parma and the Municipality of Langhirano and with the patronage of the province of Parma.
Please register for a free Genetic Matrix account to access more information about this and all other celebrity pages