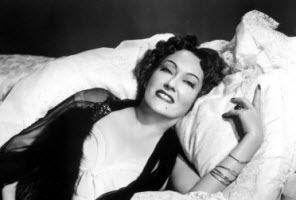 Gloria Swanson
Category : Entertainment-Actor-Actress
Type : GP
Profile : 4/6 - Opportunistic / Role Model
Definition : Split - Small (3,9,57)
Incarnation Cross : RAX Service 1
Biography
Gloria May Josephine Swanson (March 27, 1899 – April 4, 1983) was an American actress, singer and producer, who is best known for her role as Norma Desmond, a faded silent film star, in the critically acclaimed film Sunset Boulevard (1950). She was one of the most prominent stars during the silent film era as both an actress and a fashion icon, especially under the direction of Cecil B. DeMille, making dozens of silent films and being nominated for the first Academy Award in the Best Actress category. She also produced her own films like Sadie Thompson and The Love of Sunya. In 1929, Swanson transitioned to talkies with The Trespasser. However, personal problems and changing tastes saw her popularity wane during the 1930s when she moved into theater and television.
Early life
Gloria May Josephine Swanson was born in a small house in Chicago in 1899 to Adelaide (née Klanowski) and Joseph Theodore Swanson, a soldier. She attended Hawthorne Scholastic Academy. Her father was from a strict Lutheran Swedish American family, and her mother was of German, French, and Polish ancestry.
Born in Chicago, but because of her father's attachment to the Army, the family moved frequently and Swanson ended up spending most of her childhood in Puerto Rico, where she learned Spanish. She also spent time in Key West, Florida. It was not her intention to enter show business, but on a whim one of her aunts took her to a small film company in Chicago called Essanay Studios for a visit and Swanson was asked to come back to work as an extra. After a few months as an extra working with others like Charlie Chaplin, and making $13.50 a week, Swanson left school to work full-time at the studio. Her parents would soon separate and she and her mother moved to California.
Career
Early years
Swanson made her film debut in 1914 as an extra in The Song of Soul for Essanay. She reportedly asked to be in the movie just for fun. Essanay hired her to feature in several movies, including His New Job, directed by and starring Charlie Chaplin. Swanson auditioned for the leading female role in His New Job, but Chaplin did not view her as leading lady material and cast Swanson in the brief role of a stenographer. Swanson moved to California in 1916 to appear in Mack Sennett's Keystone comedies opposite Bobby Vernon, and in 1919 she signed with Paramount Pictures and worked often with Cecil B. DeMille, who turned her into a romantic lead in such films as Don't Change Your Husband (1919), Male and Female (1919) with the famous scene posing as "the Lion's Bride" with a real lion, Why Change Your Wife? (1920), Something to Think About (1920), and The Affairs of Anatol (1921). In the space of two years, Swanson rocketed to stardom and was one of the most sought-after actresses in Hollywood. She later appeared in a series of films directed by Sam Wood. She starred in Beyond the Rocks (1922) with her long-time friend Rudolph Valentino. (Long believed to be a lost film, Beyond the Rocks was rediscovered in 2004 in a private collection in The Netherlands and is now available on DVD.) Swanson continued to make costume drama films for the next few years. So successful were her films for Paramount that the studio was afraid of losing her and gave in to many of her whims and wishes.
During her heyday, audiences went to her films not only for her performances, but also to see her wardrobe. Frequently, ornamented with beads, jewels, peacock and ostrich feathers, and other extravagant pieces haute couture of the day, one would hardly believe Swanson was barely five feet (1.52 m) tall. Her fashion, hair styles, and jewels were copied around the world. She was the screen's first clothes horse and was becoming one of the most famous and photographed women in the world.
In 1925, she starred in the French-American Madame Sans-Gêne, directed by Léonce Perret. Filming was allowed for the first time at many of the historic sites relating to Napoleon. While it was well received at the time, no prints are known to exist, and it is unfortunately considered to be a lost film. During the production of Madame Sans-Gêne, Swanson met her third husband Henri, Marquis de la Falaise, who had been hired to be her translator during the film's production. After a four months residency in France she returned to the United States as European nobility, now known as the Marquise. She got a huge welcome home with parades in both New York and Los Angeles. Swanson appeared in a 1925 short produced by Lee DeForest in his Phonofilm sound-on-film process. She made a number of films for Paramount, among them The Coast of Folly, Stage Struck and Fine Manners.
In 1927, she decided to turn down a million dollar a year contract with Paramount to join the newly-created United Artists, where she was her own boss and could make the films she wanted, with whom she wanted, and when. Her first independent film, The Love of Sunya was directed by Albert Parker, based on the play The Eyes of Youth, by Max Marcin and Charles Guernon. Produced by and starring Swanson, it co-starred John Boles and Pauline Garon. It is the story of a young woman granted the ability to see into her future, including her future with different men. The story had been filmed previously as Eyes of Youth starring Clara Kimball Young (that production was also directed by Albert Parker and was responsible for the discovery of Rudolph Valentino by June Mathis). The production was marred by several problems, mainly a suitable cameraman to deal with the film's intricate double exposures, as Swanson was not used to taking charge, and filming took place in New York. The film premiered at the grand opening of the Roxy Theatre in New York City on March 11, 1927. (Swanson was pictured in the ruins of the Roxy on October 14, 1960, during the demolition of the theater, in a famous photo taken by Time-Life photographer Eliot Elisofon and published in Life magazine.) The production had been a disaster and Swanson felt its success would be mediocre at best. On the advice of Joseph Schenck, Swanson returned to Hollywood, where Schenck begged her to film something more commercial. She agreed but ended up filming the more controversial Sadie Thompson instead.
Sadie Thompson
Feeling she would never have as much artistic freedom and independence as she had at that moment, Swanson decided she "wanted to make my Gold Rush. " Schenck pleaded with her to do a commercially successful film like The Last of Mrs. Cheyney. Swanson felt it was too formulaic, and decided to call on director Raoul Walsh, who was signed with Fox Film Corporation at the time. Walsh had been known for bringing controversial material to film, and at their first meeting suggested the John Colton/Clemence Randolph play Rain (1923), based on a story by W. Somerset Maugham in 1921 titled Miss Thompson. She had seen Jeanne Eagels perform the role twice, and enjoyed it.
Due to its content, producing the film under the tight restrictions of the Hays Code would be almost impossible. The play was on the unofficial blacklist, and had quietly been banned from filmmaking a year earlier. To try to avoid issues with the code, Swanson and Walsh decided to leave out profanity, rename 'Reverend Davidson' 'Mr. Davidson,' and claim it was in the interest of morality to produce the picture as Irving Thalberg had produced The Scarlet Letter (1926) at MGM.
Swanson invited Will Hays for lunch and summarized the plot, naming the author and the sticking points. According to Swanson, Hays made a verbal promise he would have no problem with the making of such a film. Swanson set out to get the rights to the play by having Schenck pretend to buy it in the name of United Artists, never to be used. They were able to obtain the story rights for $60,000 instead of the original $100,000. When news broke concerning just what was intended with the play, the three authors threatened to sue. Swanson later contacted Maugham about rights to a sequel, and he offered to grant them for $25,000. Maugham claimed Fox had asked about a sequel at the same time Swanson had bought the original story's rights. The sequel was to follow the further exploits of Sadie in Australia, but was never made.
Swanson and Walsh set about writing the script, and discreetly placed an ad announcing the film, thinking no one noticed, as Charles Lindbergh had just completed his historic transatlantic flight. However, the press picked up on it and sensationalized the story. United Artists received a threatening two-page telegram from the MPAA signed by all its members, including Fox (Walsh's studio) and Hays himself. In addition, the rest of the signers owned several thousand movie houses, and if they refused to screen the film it could be a financial disaster. This was the first time Swanson had heard the name of Joseph P. Kennedy, with whom she would later have an affair, and who would arrange financing for her next few pictures, including Queen Kelly (1929).
Swanson was angered by the response, as she felt those very studios had produced questionable films themselves, and were jealous at not having the chance to produce Rain. After another threatening telegram, she decided to first appeal to the MPAA, and then the newspapers. She only heard back from Marcus Loew, who promised to appeal on her behalf, and since he owned a chain of theatres this eased some of her concerns. Figuring the silence meant the matter had been dropped, Swanson began filming on Sadie Thompson, which already had a quarter of a million dollars invested in it. Before casting began, the young Douglas Fairbanks, Jr. wanted to audition for the role of Handsome O'Hara. However, Swanson felt he was too young and not right for the role. Lionel Barrymore had been first picked to play Davidson but was thought to be too ill at the time, though he did eventually win the role. Barrymore wore the same outfit for an entire week, aggravating Swanson. She asked some of the crew to tell him to change and wash, which he did indeed do. Aside from this, Swanson was happy with his performance. Walsh had not appeared in front of a camera in 8 years, and feared he would not be able to direct and act at the same time. However, two days into filming, his fears had disappeared.
Much of the filming took place on Santa Catalina Island near Long Beach, California. Swanson took ill shortly after, and met a doctor who started her lifelong love of macrobiotic diets. A week into shooting, Sam Goldwyn called cameraman George Barnes away. Swanson was furious, but the loan contract had allowed Goldwyn to call him away as he pleased. Not wanting to let a hundred extras sit around for days, Swanson and Walsh tried to hire two more cameramen, but both were unsatisfactory. Mary Pickford had offered the services of her favorite cameraman Charles Rosher, who was called in, but despite doing a decent job couldn't match Barnes' work. Swanson, remembering the kindness showed by Marcus Leow during the telegram affair, turned to him again, desperate for help. Although Loew was sick and would soon pass away, he told MGM to give her anyone she wanted. MGM loaned her Oliver Marsh and he completed the picture.
The cameraman fiasco was extremely costly to the production, yet shooting continued. With the picture half finished, it was already well over budget, and Schenck was wary, as Swanson's first picture had also been over budget and underperformed. Swanson talked with her advisors and sold her home in Croton-on-Hudson, New York, and offered to sell her New York City penthouse as well.
Despite reports that "dirty" words can be read on the characters' lips, Swanson claims the censors went over everything with a fine-tooth comb. However, Swanson admitted that one line she was shouting at Davidson went, "You'd rip the wings off of a butterfly, you son of a bitch!" when recounting a conversation with Walsh later in life. If the word rain was used in a title, they asked that it be removed. They also wanted to change Davidson's name to something else, but Swanson and Walsh refused.
The film was a success, and was the only silent independent film of Swanson's to do well at the box office. It was one of her last financially successful films, including the talkies The Trespasser and Sunset Blvd. It went on to make $1,000,000 during its U.S. run. However, at Kennedy's advice, Swanson had sold her distribution rights for the film to Schenck, as Kennedy felt it would be a commercial failure. He also didn't care for the image Swanson portrayed in the film. By this point Queen Kelly had been a disaster, and Swanson regretted it. The film made the top 10 best pictures of the year list as well. It would be Raoul Walsh's final role, as he subsequently lost an eye in an accident. The film was nominated for awards for Best Actress in a Leading Role (Gloria Swanson) and Best Cinematography. Swanson did not attend the ceremony, and always felt it was like "comparing apples to oranges". Contemporary reviews called it racy but excellent, and praised Swanson's performance. At present, the film, save for the final reel (stopping just after Davidson finds Sadie in his room), exists in good condition.
Queen Kelly
One of the most infamous of Hollywood's unfinished films, Queen Kelly (1929), was directed by Erich von Stroheim and produced by Joseph P. Kennedy, Sr., father of the future President John F. Kennedy. Produced in 1928–29, the film starred Swanson in the title role, with Walter Byron and Seena Owen. It is the story of Prince Wolfram, betrothed to the mad Queen Regina V of Kronberg. On maneuvers (as punishment for consorting with other women), he spies Kelly walking with the other students of a convent. Enthralled by her beauty, he kidnaps her that night from the convent, takes her to his room and professes his love for her. When the Queen finds them together the next morning, she whips Kelly and throws her out of the castle. Regina then puts Wolfram in prison for his refusal to marry the Queen. Kelly goes to German East Africa to visit her dying Aunt, and is forced to marry the disgusting Jan. The Aunt dies after the wedding, and Kelly refuses to live with Jan, becoming the head of her aunt's brothel. Her extravagances and style earn her the name Queen Kelly.
Production of the costly film was shut down after complaints by Swanson about von Stroheim and the general direction the film was taking. Though the European scenes were full of innuendo, and featured a philandering prince and a sex-crazed queen, the scenes set in Africa were grim and, Swanson felt, distasteful. In later interviews, Swanson claimed that she had been misled by the script, which referred to her character arriving in, and taking over, a dance hall; looking at the rushes, it was obvious the 'dance hall' was actually a brothel.
Stroheim was fired from the film, and the African storyline was scrapped. Swanson and Kennedy still wanted to salvage the European material, as it had been so costly and time-consuming, and had potential market value. An alternate ending was shot on November 24, 1931. In this ending, directed by Swanson and photographed by Gregg Toland, Prince Wolfram is shown visiting the palace. A nun leads him to the chapel, where Kelly's body lies in state. This has been called the "Swanson ending." The film was not theatrically released in the United States, but it was shown in Europe and South America with the Swanson ending tacked on. This was due to a clause in Stroheim's contract.
A short extract of the film appears in Sunset Boulevard (1950), representing an old silent picture Swanson's character Norma Desmond—herself a silent movie star—had made. Von Stroheim is also a primary character in Sunset Boulevard as her ex-director, ex-husband, and current butler. In the 1960s, it was shown on television with the Swanson ending, along with a taped introduction and conclusion in which Swanson spoke about the history of the project. By 1985, Kino International had acquired the rights to the movie and restored two versions: one that uses still photos and subtitles in an attempt to wrap up the storyline, and the other the European "suicide ending" version.
Sound era
On March 29, 1929, at the bungalow of Mary Pickford at United Artists, Swanson, Pickford, Douglas Fairbanks, Charles Chaplin, Norma Talmadge, John Barrymore, Dolores del Río and D.W. Griffith met to speak on the radio show, The Dodge Brothers Hour, to prove they could meet the challenge of talking movies. To try to recover from the Queen Kelly fiasco, Swanson jumped into making talkies, including The Trespasser (1929), What a Widow! (1930), Indiscreet (1931), Perfect Understanding (1933), and Music in the Air (1934).
The Trespasser tells the story of a "kept woman" who maintains a lavish lifestyle. The film stars Swanson, Robert Ames, Purnell Pratt, Henry B. Walthall, and Wally Albright. The movie was written and directed by Edmund Goulding and released by United Artists, and earned Swanson an Academy Award nomination in her talkie debut. Swanson sang the song "Love, Your Magic Spell Is Everywhere" written by Goulding and Elsie Janis. The Trespasser was filmed simultaneously in a silent and a talking version, and was a smash hit.
The Trespasser was an important film for Swanson, following the disastrous Queen Kelly and the hit Sadie Thompson, and garnered Swanson her second Oscar nomination. Sadly for Swanson, The Trespasser proved to be one of her only two hit talkies, the other being Sunset Boulevard, made over 20 years later. Subsequent follow-ups like What a Widow!, Indiscreet, Tonight or Never, Perfect Understanding, and Music in the Air all proved to be box-office flops. Despite the disappointments following The Trespasser, Swanson was well remembered by Billy Wilder, a writer on Music in the Air, when he was casting the part of Norma Desmond in his masterpiece Sunset Boulevard (1950).
Although she made the transition to talkies, as her film career began to decline, Swanson relocated permanently to New York City in 1938, where she began an inventions and patents company called Multiprizes, which kept her occupied during the years of World War II. This small company had the sole purpose of rescuing Jewish scientists and inventors from war-torn Europe and bringing them to the United States. She helped many escape, and some useful inventions came from the enterprise. Swanson made another film for RKO Radio Pictures in 1941, began appearing in the legitimate theatre, and starred in her own television show in 1948. She threw herself into painting and sculpting, writing a syndicated column, touring in summer stock, engaging in political activism, radio and television work, clothing and accessories design and marketing, and making occasional appearances on the big screen. But, it was not until 1950 when Sunset Boulevard was released (earning her yet another Academy Award nomination), that she achieved mass recognition again.
Sunset Boulevard
After Mae West, Mary Pickford and Pola Negri all declined the role, Swanson starred in 1950's Sunset Boulevard, portraying Norma Desmond, a faded silent movie star who falls in love with the younger screenwriter Joe Gillis, played by William Holden. Desmond lives in the past, assisted by her butler Max, played by Erich von Stroheim. Her dreams of a comeback are subverted as she becomes delusional. There are cameos from actors of the silent era in the film, including Buster Keaton, H. B. Warner and Anna Q. Nilsson. Cecil B. DeMille plays himself in a pivotal scene. Some of the lines from the film have become pop-culture mainstays, including "The Greatest Star of them all"; "I am big; it's the pictures that got small"; "We didn't need dialogue, we had faces"; and "All right, Mr. DeMille, I'm ready for my close-up." She received her third Best Actress Oscar nomination, but lost to Judy Holliday for Born Yesterday.
Swanson received several subsequent acting offers but turned most of them down, saying they tended to be pale imitations of Norma Desmond. Her last major Hollywood motion picture role was the poorly received Three for Bedroom "C" in 1952. In 1956, Swanson made Nero's Mistress, which also starred Alberto Sordi, Vittorio de Sica and Brigitte Bardot. Her final screen appearance was as herself in Airport 1975. Although Swanson only made three films after Sunset Boulevard, she starred in numerous stage and television productions during her remaining years. She was active in various business ventures, traveled extensively, wrote articles, columns, and an autobiography, painted and sculpted, and became a passionate advocate of various health and nutrition topics. The George Eastman House in Rochester, New York honored Swanson in 1966 with a career film retrospective, A Tribute to Gloria Swanson, which screened some of her films over a few days.
Television and theater
Swanson hosted one of the first live television series in 1948, The Gloria Swanson Hour, in which she invited friends and others to be guests. Swanson also later hosted a television anthology series, Crown Theatre with Gloria Swanson, in which she occasionally acted.
Through the 1960s, 1970s, and early 1980s, Swanson appeared on many different talk and variety shows such as The Carol Burnett Show in 1973 and The Tonight Show Starring Johnny Carson to recollect her films and to lampoon them as well. She was twice the "mystery guest" on What's My Line. She acted in "Behind the Locked Door" on The Alfred Hitchcock Hour in 1964, and in the same year was nominated for a Golden Globe award for her performance in Burke's Law. She made a guest appearance on The Dick Cavett Show in the summer of 1970; a guest on the same show as Janis Joplin, who died later that year.
She made a notable appearance in a 1966 episode of The Beverly Hillbillies, called "The Gloria Swanson Story", in which she plays herself. In the episode, the Clampetts mistakenly believe Swanson is destitute, and decide to finance a comeback movie for her – in a silent film. Her last acting role, aside from playing herself in Airport 1975, was in the made-for-TV horror film Killer Bees (1974). After near-retirement from films, Swanson appeared in many plays throughout her later life, beginning in the 1940s. She toured with A Goose for the Gander, Reflected Glory, and Let Us Be Gay. After her success with Sunset Boulevard, she starred on Broadway in a revival of Twentieth Century (1951) with Jose Ferrer, and in Nina with David Niven. Her last major stage role was in the 1971 Broadway production of Butterflies Are Free at the Booth Theatre.
In 1980, Swanson published her autobiography, Swanson on Swanson, which was a commercial success. In the same year Kevin Brownlow and David Gill released the first of their many documentaries on the silent era. This was Hollywood, a 13-part history of the silent era in Hollywood, produced for Thames Television.
Personal life
Swanson became a vegetarian around 1928 and was an early health food advocate who was known for bringing her own meals to public functions in a paper bag. Swanson told actor Dirk Benedict about macrobiotic diets when he was battling prostate cancer at a very early age. He had refused conventional therapies and credited this kind of diet and healthy eating with his recovery. In 1975, Swanson traveled the United States and helped to promote the book Sugar Blues written by her husband, William Dufty.
In early 1980, Swanson's 520-page autobiography, Swanson on Swanson, was published by Random House and became a national best-seller. It was translated into French, Italian and Swedish editions. That same year, she also designed a stamp cachet for the United Nations Postal Administration and chaired the New York chapter of Seniors for Reagan-Bush.
Religion
Swanson was a long-time member of the Lutheran church; her father was of Swedish Lutheran descent. In 1964, Swanson spoke at a "Project Prayer" rally attended by 2,500 at the Shrine Auditorium in Los Angeles. The gathering, which was hosted by Anthony Eisley, a star of ABC's Hawaiian Eye series, sought to flood the United States Congress with letters in support of school prayer, following two decisions in 1962 and 1963 of the United States Supreme Court, which struck down the practice as in conflict with the Establishment Clause of the First Amendment to the United States Constitution. Joining Swanson and Eisley at the Project Prayer rally were Walter Brennan, Lloyd Nolan, Rhonda Fleming, Pat Boone, and Dale Evans. Swanson declared, "Under God we became the freest, strongest, wealthiest nation on earth, should we change that?"
Marriages and relationships
Throughout her life and her many marriages, Swanson was always known as Miss Swanson. Though she legally took the names of her husbands, her own personality and fame always overshadowed them. Her first husband was the actor Wallace Beery, whom she married on her 17th birthday. In her autobiography Swanson on Swanson, Swanson wrote that Beery raped her on their wedding night. He also impregnated her in 1917. Not wanting her to have the child, he reportedly tricked her into drinking a concoction that induced an abortion and although they still worked together at Sennett, they separated and finally divorced two years later.
She married Herbert K. Somborn (1881–1934), then president of Equity Pictures Corporation and later the owner of the Brown Derby restaurant, in 1919. Their daughter, Gloria Swanson Somborn (October 7, 1920 – December 28, 2000), was born in 1920. Their divorce, finalized in January 1925, was sensational and led to Swanson having a "morals clause" added to her studio contract. Somborn accused her of adultery with thirteen men including Cecil B. DeMille, Rudolph Valentino, and Marshall Neilan. During their divorce Swanson wanted another child and in 1923 she adopted a baby boy, Sonny Smith (1922–1975), whom she renamed Joseph Patrick Swanson.
Swanson's third husband was the French aristocrat Henri, Marquis de la Falaise de la Coudraye, whom she married on January 28, 1925 after the Somborn divorce was finalized. Though Henri was a Marquis and the grandson of Richard and Martha Lucy Hennessy from the famous Hennessy Cognac family, he was not rich and had to work for a living. He was originally hired to be her assistant and interpreter in France while she was filming Madame Sans-Gêne (1925). Swanson was the first film star to marry European nobility, and the marriage became a global sensation. She conceived a child with him, but had an abortion, which, in her autobiography, she said she regretted.
Later Henri became a film executive representing Pathé (USA) in France through Joseph P. Kennedy, Sr., who was running the studio. Many now assume he was given the position, which kept him in France for ten months a year, to simply keep him out of the way. This marriage ended in divorce in 1930 Soon after, Henri remarried, to actress Constance Bennett. While still married to Henri, Swanson had an affair with the married Joseph P. Kennedy for a number of years. He became her business partner and their relationship was an open secret in Hollywood. He took over all of her personal and business affairs and was supposed to make her millions. Unfortunately, Kennedy left her after the disastrous Queen Kelly and her finances were in worse shape than when he came into her life. Two books have been written about the affair.
After the marriage to Henri and her affair with Kennedy were over, Swanson married Michael Farmer (1902–1975) in August 1931. Because of the possibility that Swanson's divorce from La Falaise had not been final at the time of the wedding, she was forced to remarry Farmer the following November, by which time she was four months pregnant with Michelle Bridget Farmer, who was born in 1932. Swanson and Farmer divorced in 1934. After her divorce she was overheard to have said, "if I ever have any more children I would name them, Sami, Megan, Jason and Jacob." This was in reference to her favorite book which mirrored her childhood. In 1945, Swanson married William N. Davey and according to her after discovering Davey in a drunken stupor, she and daughter Michelle, believing they were being helpful left a trail of Alcoholics Anonymous literature around the apartment. Davey quickly packed up and left. Swanson-Davy divorce was finalized in 1946. For the next thirty years Swanson would remain unmarried and able to pursue her own interests. She joined the ranks of celebrities to have been stalked and in the early 1950s was pursued by a World War II veteran, Samuel Golden, who claimed the two were destined to be married and would give her 2/3 of his children as well as divulge secrets about the Navy's computer systems if she would run away with him. Recent declassified FBI documents disclose J. Edgar Hoover's obsession with seeing Golden tried for treason, but Golden dropped out of sight, apparently in the Greater Boston area.
Swanson's final marriage occurred in 1976 and lasted until her death. Her sixth husband and widower, writer William Dufty (1916–2002), was the co-author of Billie Holiday's autobiography Lady Sings the Blues, the author of Sugar Blues, a 1975 best-selling health book still in print, and the author of the English version of Georges Ohsawa's You Are All Sanpaku.
Dufty was a book ghost-writer and newspaperman, working for many years at the New York Post, where he was assistant to the editor from 1951 to 1960. He first met Swanson in 1965 and by 1967 the two were living together as a couple. Swanson shared her husband's deep enthusiasm for macrobiotic diets and they traveled widely together to speak about sugar and food. They promoted his book Sugar Blues together in 1975 and also wrote a syndicated column together. It was through Sugar Blues that Dufty and Swanson first got to know John Lennon and Yoko Ono. Swanson testified on his behalf at his immigration hearing in New York to become permanent resident, which he eventually became. Dufty ghost-wrote Swanson's best-selling 1980 autobiography, Swanson on Swanson for her and with her help. They were prominent socialites having many homes living in many places, including New York City, Rome, Portugal, and Palm Springs, California. After Swanson's death Dufty returned to his former home in Birmingham, Michigan. He died of cancer in 2002.
Death
Shortly after returning to New York from her home in Portugal, on April 4, 1983, Swanson died in New York City in New York Hospital from a heart ailment, aged 84. She was cremated and her ashes interred at the Episcopal Church of the Heavenly Rest on Fifth Avenue, in New York City, attended by only a small circle of family.
After Swanson's death, there were a series of auctions from August to September 1983 at William Doyle Galleries in New York of the star's furniture and decorations, jewelry, fashion collection, career and personal memorabilia.
Legacy
Gloria Swanson has two stars on the Hollywood Walk of Fame; one for motion pictures at 6748 Hollywood Boulevard, and another for television at 6301 Hollywood Boulevard.
In 1955 and 1957, Swanson was awarded The George Eastman Award, given by George Eastman House for distinguished contribution to the art of film.
In 1982, a year before her death, Swanson sold her archives of over 600 boxes for an undisclosed sum, including photographs, artwork, copies of films and private papers including correspondence, contracts and financial dealings to the Harry Ransom Center at the University of Texas at Austin. The second-largest collection of Swanson materials is held in the family archives of Timothy A. Rooks. In the last years of her life Swanson professed a desire to see Beyond the Rocks, but the film was unavailable and considered lost. The film was rediscovered and screened in 2005. Swanson was survived by both of her daughters, her son having died in 1975, and several grandchildren and great-grandchildren in the United States and France. As one of the greatest stars of early Hollywood, today Swanson is most remembered for her portrayal of Norma Desmond in 1950's Sunset Boulevard.
A parking lot by Sims Park in downtown New Port Richey, Florida, is named after the star, who is said to have owned a residence along the Cotee River.
Please register for a free Genetic Matrix account to access more information about this and all other celebrity pages