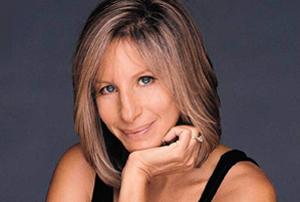 Barbra Streisand
Category : Singer - Popular
Type : PSE
Profile : 2/4 - Hermit / Opportunist
Definition : Single
Incarnation Cross : RAX Unexpected 1
Biography
Barbra Joan Streisand (Born Barbara Joan Streisand April 24, 1942) is an American singer-songwriter, author, actress, writer, film producer, and director. She has won two Academy Awards, eight Grammy Awards, five Emmy Awards including one Daytime Emmy, a Special Tony Award, an American Film Institute award, a Kennedy Center Honors award, a Peabody Award, and is one of the few entertainers who have won an Oscar, Emmy, Grammy, and Tony Award.
She is one of the most commercially and critically successful entertainers in modern entertainment history, with more than 71.5 million albums shipped in the United States and 145 million records sold worldwide. She is the best-selling female artist on the Recording Industry Association of America's (RIAA) Top Selling Album Artists list, the only female recording artist in the top ten, and the only artist outside of the rock and roll genre.
After beginning a successful recording career in the 1960s, by the end of the decade, Streisand ventured into film starring in the critically acclaimed Funny Girl and Hello, Dolly!, the former for which she won the Academy Award and Golden Globe Award for Best Actress. Other notable films include The Owl and the Pussycat, The Way We Were and A Star Is Born for which she received her second Academy Award for composing the music to the picture's main song, Evergreen. By the 1980s, Streisand established herself as one of the film industry's most notable figures by becoming the first woman to direct, produce, script and star in her own picture.
According to the RIAA, Streisand holds the record for the most top-ten albums of any female recording artist – a total of 32 since 1963. Streisand has the widest span (48 years) between first and latest top-ten albums of any female recording artist. With her 2009 album, Love Is the Answer, she became one of the rare artists to achieve number-one albums in five consecutive decades. According to the RIAA, she has released 51 Gold albums, 30 Platinum albums, and 13 Multi-Platinum albums in the United States.
Early life
Barbara Joan Streisand (see name change) was born on April 24, 1942, in Williamsburg, Brooklyn, New York, the daughter of Diana (born Ida Rosen) and Emanuel Streisand. Her mother was at one time a singer but earned her income being a school secretary and her father was a high school teacher. Her family was Jewish; her paternal grandparents immigrated from Galicia (Poland) and her maternal grandparents from Russia. Fifteen months after Streisand's birth in August, 1943, her father died from complications from an epileptic seizure and the family fell into near-poverty. She has an older brother, Sheldon, and a half-sister, the singer Roslyn Kind, from her mother's re-marriage to Louis Kind in 1949. Roslyn Kind is nine years younger than Streisand.
Streisand went to the Jewish Orthodox Yeshiva of Brooklyn, giving a solo performance at the age of seven. She later attended Erasmus Hall High School in Brooklyn and joined the Freshman Chorus and Choral Club. Streisand has recollected, "I'm so glad I came from Brooklyn – it's down to earth."
Streisand became a nightclub singer while in her teens. She wanted to be an actress and appeared in summer stock and in a number of Off-Off-Broadway productions, including Driftwood (1959), with then-unknown Joan Rivers. (In her autobiography, Rivers wrote that she played a lesbian with a crush on Streisand's character, but this was later denied by the play's author.) Driftwood ran for only six weeks.
Her boyfriend, Barry Dennen, helped her create a club act – first performed at The Lion, a popular gay nightclub in Manhattan's Greenwich Village in 1960 – and she achieved success as a singer. While singing at The Lion for several weeks, she changed her name from Barbara to Barbra. Afterward she appeared at other New York nightclubs, including the Bon Soir and the Blue Angel. One early appearance outside of New York City was at Enrico Banducci's hungry i nightclub in San Francisco in 1963. In 1961, Streisand appeared at the Town and Country nightclub in Winnipeg, Manitoba, Canada, but her appearance was cut short; the club owner did not appreciate her singing style. Streisand appeared at Baker's Keyboard Lounge in Detroit in 1961.
Streisand's first television appearance was on The Tonight Show, then hosted by Jack Paar, in 1961, singing Harold Arlen's "A Sleepin' Bee". Orson Bean, who substituted for Paar that night, had seen the singer perform at a gay bar and booked her for the telecast. (Her older brother Sheldon paid NBC for a kinescope film so she could use it in 1961 to promote herself. Decades later the film was preserved through digitizing and is available for viewing on a website.) Later in 1961, Streisand became a semi-regular on PM East/PM West, a talk/variety series. PM East was hosted by Mike Wallace and Joyce Davidson. PM West was hosted by Terrence O'Flaherty. Westinghouse Broadcasting, which aired the television show in a select few cities (Boston, New York, Baltimore, Washington DC, Pittsburgh, Cleveland, Chicago and San Francisco), wiped all the videotapes soon after broadcasting them. Audio segments from some episodes, which were saved by Streisand's fans, are part of the compilation CD Just for the Record, which went platinum in 1991. The singer said on 60 Minutes in 1991 that 30 years earlier Mike Wallace had been "mean, very mean" to her on PM East/PM West. He countered that she had been "totally self-absorbed." (Her response: "You invited me on your show to talk about subjects that interested me, and you dare to call me self-absorbed?") 60 Minutes included the audio of Streisand saying to him in 1961, "I like the fact that you are provoking. But don't provoke me."
In 1962, after several appearances on PM East/PM West, Streisand first appeared on Broadway in the small but star-making role of Miss Marmelstein in the musical I Can Get It for You Wholesale. Her first album, The Barbra Streisand Album, won two Grammy Awards in 1963. Following her success in I Can Get It for You Wholesale, Streisand made several appearances on The Tonight Show in 1962 and 1963. Topics covered in her interviews with host Johnny Carson included the empire-waisted dresses that she bought wholesale and her "crazy" reputation at Erasmus Hall High School. As is the case with Mike Wallace, only audio survives from small portions of her telecast conversations with Carson. It was at about this time that Streisand entered into a long and successful professional relationship with Lee Solters and Sheldon Roskin as her publicists with the firm Solters/Roskin (later Solters/Roskin/Friedman).
Streisand returned to Broadway in 1964 with an acclaimed performance as entertainer Fanny Brice in Funny Girl at the Winter Garden Theatre. The show introduced two of her signature songs, "People" and "Don't Rain on My Parade." Because of the play's overnight success, she appeared on the cover of Time. In 1966, she repeated her success with Funny Girl in London's West End at the Prince of Wales Theatre. From 1965 to 1967 she appeared in her first four solo television specials.
Career
Singing
Streisand has recorded 50 studio albums, almost all with Columbia Records. Her early works in the 1960s (her debut The Barbra Streisand Album, The Second Barbra Streisand Album, The Third Album, My Name Is Barbra, etc.) are considered classic renditions of theater and cabaret standards, including her pensive version of the normally uptempo "Happy Days Are Here Again". She performed this in a duet with Judy Garland on The Judy Garland Show. Garland referred to her on the air as one of the last great belters. They also sang "There's No Business Like Show Business" with Ethel Merman joining them.
Beginning with My Name Is Barbra, her early albums were often medley-filled keepsakes of her television specials. Starting in 1969, she began attempting more contemporary material, but like many talented singers of the day, she found herself out of her element with rock. Her vocal talents prevailed, and she gained newfound success with the pop and ballad-oriented Richard Perry-produced album Stoney End in 1971. The title track, written by Laura Nyro, was a major hit for Streisand.
During the 1970s, she was also highly prominent on the pop charts, with Top 10 recordings such as "The Way We Were" (US No. 1), "Evergreen (Love Theme from A Star Is Born)" (US No. 1), "No More Tears (Enough Is Enough)" (1979, with Donna Summer), which as of 2010 is reportedly still the most commercially successful duet, (US No. 1), "You Don't Bring Me Flowers" (with Neil Diamond) (US No. 1) and "The Main Event" (US No. 3), some of which came from soundtrack recordings of her films. As the 1970s ended, Streisand was named the most successful female singer in the U.S. — only Elvis Presley and The Beatles had sold more albums. In 1980, she released her best-selling effort to date, the Barry Gibb-produced Guilty. The album contained the hits "Woman in Love" (which spent several weeks atop the pop charts in the Fall of 1980), "Guilty", and "What Kind of Fool".
After years of largely ignoring Broadway and traditional pop music in favor of more contemporary material, Streisand returned to her musical-theater roots with 1985's The Broadway Album, which was unexpectedly successful, holding the coveted No. 1 Billboard position for three straight weeks, and being certified quadruple platinum. The album featured tunes by Rodgers and Hammerstein, George Gershwin, Jerome Kern, and Stephen Sondheim, who was persuaded to rework some of his songs especially for this recording. The Broadway Album was met with acclaim, including a Grammy nomination for album of the year and, ultimately, handed Streisand her eighth Grammy as Best Female Vocalist. After releasing the live album One Voice in 1986, Streisand was set to release another album of Broadway songs in 1988. She recorded several cuts for the album under the direction of Rupert Holmes, including "On My Own" (from Les Misérables), a medley of "How Are Things in Glocca Morra?" and "Heather on the Hill" (from Finian's Rainbow and Brigadoon, respectively), "All I Ask of You" (from The Phantom of the Opera), "Warm All Over" (from The Most Happy Fella) and an unusual solo version of "Make Our Garden Grow" (from Candide). Streisand was not happy with the direction of the project and it was ultimately scrapped. Only "Warm All Over" and a reworked, lite FM-friendly version of "All I Ask of You" were ever released, the latter appearing on Streisand's 1988 effort, Till I Loved You. At the beginning of the 1990s, Streisand started focusing on her film directorial efforts and became almost inactive in the recording studio. In 1991, a four-disc box set, Just for the Record, was released. A compilation spanning Streisand's entire career to date, it featured over 70 tracks of live performances, greatest hits, rarities and previously unreleased material.
The following year, Streisand's concert fundraising events helped propel former President Bill Clinton into the spotlight and into office. Streisand later introduced Clinton at his inauguration in 1993. Streisand's music career, however, was largely on hold. A 1992 appearance at an APLA benefit as well as the aforementioned inaugural performance hinted that Streisand was becoming more receptive to the idea of live performances. A tour was suggested, though Streisand would not immediately commit to it, citing her well-known stage fright as well as security concerns. During this time, Streisand finally returned to the recording studio and released Back to Broadway in June 1993. The album was not as universally lauded as its predecessor, but it did debut at No. 1 on the pop charts (a rare feat for an artist of Streisand's age, especially given that it relegated Janet Jackson's Janet to the No. 2 spot). One of the album's highlights was a medley of "I Have A Love" / "One Hand, One Heart", a duet with Johnny Mathis, who Streisand said is one of her favorite singers.
In 1993, New York Times music critic Stephen Holden wrote that Streisand "enjoys a cultural status that only one other American entertainer, Frank Sinatra, has achieved in the last half century." In September 1993, Streisand announced her first public concert appearances in 27 years (if one does not count her Las Vegas nightclub performances between 1969 and 1972). What began as a two-night New Year's event at the MGM Grand Las Vegas in Las Vegas eventually led to a multi-city tour in the summer of 1994. Tickets to the tour were sold out in under one hour. Streisand also appeared on the covers of major magazines in anticipation of what Time magazine named "The Music Event of the Century." The tour was one of the biggest all-media merchandise parlays in history. Ticket prices ranged from US$50 to US$1,500 – making Streisand the highest-paid concert performer in history. Barbra Streisand: The Concert went on to be the top-grossing concert of the year and earned five Emmy Awards and the Peabody Award, while the taped broadcast on HBO is, to date, the highest-rated concert special in HBO's 30-year history. Following the tour's conclusion, Streisand once again kept a low profile musically, instead focusing her efforts on acting and directing duties as well as a burgeoning romance with actor James Brolin.
In 1997, she finally returned to the recording studio, releasing Higher Ground, a collection of songs of a loosely-inspirational nature which also featured a duet with Céline Dion. The album received generally favorable reviews and, remarkably, once again debuted at No. 1 on the pop charts. Following her marriage to Brolin in 1998, Streisand recorded an album of love songs entitled A Love Like Ours the following year. Reviews were mixed, with many critics carping about the somewhat syrupy sentiments and overly-lush arrangements; however, it did produce a modest hit for Streisand in the country-tinged "If You Ever Leave Me", a duet with Vince Gill.
On New Year's Eve 1999, Streisand returned to the concert stage, selling out in the first few hours eight months before. At the end of the millennium, she was the number-one female singer in the U.S., with at least two No. 1 albums in each decade since she began performing. A two-disc live album of the concert entitled Timeless: Live in Concert was released in 2000. Streisand performed versions of the Timeless concert in Sydney and Melbourne, Australia, in early 2000. In advance of four concerts (two each in Los Angeles and New York) in September 2000, Streisand announced she was retiring from paying public concerts. Her performance of the song "People" was broadcast on the Internet via America Online.
Streisand's most-recent albums have been Christmas Memories (2001), a somewhat somber collection of holiday songs (which felt entirely —albeit unintentionally— appropriate in the early post-9/11 days), and The Movie Album (2003), featuring famous film themes and backed by a large symphony orchestra. Guilty Pleasures (called Guilty Too in the UK), a collaboration with Barry Gibb and a sequel to their Guilty, was released worldwide in 2005.
In February 2006, Streisand recorded the song "Smile" alongside Tony Bennett at Streisand's Malibu home. The song is included on Tony Bennett's 80th birthday album, Duets. In September 2006, the pair filmed a live performance of the song for a special directed by Rob Marshall entitled Tony Bennett: An American Classic. The special aired on NBC November 21, 2006, and was released on DVD the same day. Streisand's duet with Bennett opened the special. In 2006, Streisand announced her intent to tour again, in an effort to raise money and awareness for multiple issues. After four days of rehearsal at the Sovereign Bank Arena in Trenton, New Jersey, the tour began on October 4 at the Wachovia Center in Philadelphia, continued with a featured stop in Fort Lauderdale, Florida, (this was the concert Streisand chose to film for a TV special), and concluded at Staples Center in Los Angeles on November 20, 2006. Special guests Il Divo were interwoven throughout the show. The show was known as Streisand: The Tour.
Streisand's 20-concert tour set box-office records. At the age of 64, well past the prime of most performers, she grossed $92,457,062 and set house gross records in 14 of the 16 arenas played on the tour. She set the third-place record for her October 9, 2006, show at Madison Square Garden, the first- and second-place records of which are held by her two shows in September 2000. She set the second-place record at the MGM Grand Garden Arena, with her December 31, 1999, show being the house record and the highest-grossing concert of all time. This led many people to openly criticize Streisand for price gouging, as many tickets sold for upwards of $1,000.
A collection of performances culled from different stops on this tour, Live in Concert 2006, debuted at No. 7 on the Billboard 200, making it Streisand's 29th Top 10 album. In the summer of 2007, Streisand gave concerts for the first time in continental Europe. The first concert took place in Zürich (June 18), then Vienna (June 22), Paris (June 26), Berlin (June 30), Stockholm (July 4, canceled), Manchester (July 10) and Celbridge, near Dublin (July 14), followed by three concerts in London (July 18, 22 and 25), the only European city where Streisand had performed before 2007. Tickets for the London dates cost between £100.00 and £1,500.00 and for the Ireland date between €118 and €500. The Ireland date was marred by problems, with serious parking and seating problems leading to the event's being dubbed a fiasco by Hot Press. The tour included a 58-piece orchestra.
In February 2008, Forbes listed Streisand as the No.-2-earning female musician, between June 2006 and June 2007, with earnings of about $60 million. Although Streisand's range has changed with time and her voice has deepened over the years, her vocal prowess has remained remarkably secure for a singer whose career has endured for nearly half a century. Streisand is a contralto or possibly a mezzo-soprano who has a range consisting of well over two octaves from "low E to a high G and probably a bit more in either direction." On November 17, 2008, Streisand returned to the studio to begin recording what would be her sixty-third album and it was announced that Diana Krall was producing the album. Streisand is one of the recipients of the 2008 Kennedy Center Honors. On December 7, 2008, she visited the White House as part of the ceremonies.
On April 25, 2009, CBS aired Streisand's latest TV special, Streisand: Live in Concert, highlighting the aforementioned featured stop from her 2006 North American tour, in Fort Lauderdale, Florida. On September 26, 2009, Streisand performed a one-night-only show at the Village Vanguard in New York City's Greenwich Village. This performance was later released on DVD as One Night Only: Barbra Streisand and Quartet at The Village Vanguard. On September 29, 2009, Streisand and Columbia Records released her newest studio album, Love is the Answer, produced by Diana Krall. On October 2, 2009, Streisand made her British television performance debut with an interview on Friday Night with Jonathan Ross to promote the album. This album debuted at No. 1 on the Billboard 200 and registered her biggest weekly sales since 1997, making Streisand the only artist in history to achieve No. 1 albums in five different decades.
On February 1, 2010, Streisand joined over eighty other artists in recording a new version of the 1985 charity single "We Are the World". Quincy Jones and Lionel Richie planned to release the new version to mark the 25th anniversary of its original recording. These plans changed, however, in view of the devastating earthquake that hit Haiti on January 12, 2010, and on February 12, the song, now called "We Are the World 25 for Haiti", made its debut as a charity single to support relief aid for the beleaguered island nation.
In 2011, she sang Somewhere from the Broadway musical West Side Story, with child prodigy Jackie Evancho, on Evancho's album Dream with Me.
Streisand was honored as MusiCares Person of the Year on February 11, 2011, two days prior to the 53rd Annual Grammy Awards.
On October 11, 2012, Streisand gave a three-hour concert performance before a crowd of 18,000 as part of the ongoing inaugural events of Barclays Center (and part of her current Barbra Live tour) in her native Brooklyn (her first-ever public performance in her home borough). Streisand was joined onstage by trumpeter Chris Botti, Italian operatic trio Il Volo, and her son Jason Gould. The concert included musical tributes by Streisand to Donna Summer and Marvin Hamlisch, both of whom had died earlier in 2012. Confirmed attendees included Barbara Walters, Jimmy Fallon, Sting, Katie Couric, Woody Allen, Michael Douglas and New York City mayor Michael Bloomberg, as well as designers Calvin Klein, Donna Karan, Ralph Lauren and Michael Kors. In June 2013 she gave 2 concerts in Bloomfield Stadium, Tel Aviv.
Streisand is one of many singers who use teleprompters during their live performances. Streisand has defended her choice in using teleprompters to display lyrics and, sometimes, banter.
Streisand is a mezzo-soprano.
Acting
Her first film was a reprise of her Broadway hit, Funny Girl (1968), an artistic and commercial success directed by Hollywood veteran William Wyler. Streisand won the 1968 Academy Award for Best Actress for the role, sharing it with Katharine Hepburn (The Lion in Winter), the only time there has been a tie in this Oscar category. Her next two movies were also based on musicals, Jerry Herman's Hello, Dolly!, directed by Gene Kelly (1969); and Alan Jay Lerner's and Burton Lane's On a Clear Day You Can See Forever, directed by Vincente Minnelli (1970); while her fourth film was based on the Broadway play The Owl and the Pussycat (1970).
During the 1970s, Streisand starred in several screwball comedies, including What's Up, Doc? (1972) and The Main Event (1979), both co-starring Ryan O'Neal, and For Pete's Sake (1974) with Michael Sarrazin. One of her most famous roles during this period was in the drama The Way We Were (1973) with Robert Redford, for which she received an Academy Award nomination as Best Actress. She earned her second Academy Award for Best Original Song with lyricist Paul Williams) for the song "Evergreen", from A Star Is Born in 1976.
Along with Paul Newman, Sidney Poitier and later Steve McQueen, Streisand formed First Artists Production Company in 1969, so the actors could secure properties and develop movie projects for themselves. Streisand's initial outing with First Artists was Up the Sandbox (1972).
From a period beginning in 1969 and ending in 1980, Streisand appeared in the annual motion picture exhibitors poll of Top 10 Box Office attractions a total of 10 times, often as the only woman on the list. After the commercially disappointing All Night Long in 1981, Streisand's film output decreased considerably. She has acted in only six films since.
Streisand produced a number of her own films, setting up Barwood Films in 1972. For Yentl (1983), she was producer, director, and star, an experience she repeated for The Prince of Tides (1991) and The Mirror Has Two Faces (1996). There was controversy when Yentl received five Academy Award nominations, but none for the major categories of Best Picture, Actress, or Director. The Prince of Tides received even more Oscar nominations, including Best Picture, but the director was not nominated. Streisand also scripted Yentl, something for which she is not always given credit. According to New York Times Editorial Page Editor Andrew Rosenthal in an interview (story begins at minute 16) with Allan Wolper, "the one thing that makes Barbra Streisand crazy is when nobody gives her the credit for having written Yentl."
In 2004, Streisand made a return to film acting, after an eight-year hiatus, in the comedy Meet the Fockers (a sequel to Meet the Parents), playing opposite Dustin Hoffman, Ben Stiller, Blythe Danner and Robert De Niro.
In 2005, Streisand's Barwood Films, Gary Smith, and Sonny Murray purchased the rights to Simon Mawer's book Mendel's Dwarf. In December 2008, she stated that she was considering directing an adaptation of Larry Kramer's play The Normal Heart, a project she has worked on since the mid-1990s In 2009, Andrew Lloyd Webber stated that Streisand was one of several actresses (alongside Meryl Streep and Glenn Close) who was interested in playing the role of Norma Desmond in the film adaptation of Webber's musical version of Sunset Boulevard.
In December 2010, Streisand appeared in Little Fockers, the third film from the Meet the Parents trilogy. She reprised the role of Roz Focker alongside Dustin Hoffman.
On January 4, 2011, the New York Post reported that Ms. Streisand was in negotiations to produce, direct, and star in a new film version of Gypsy. In an interview with the New York Post, Arthur Laurents said: "We've talked about it a lot, and she knows what she's doing. She has my approval." He said that he would not write the screenplay. The following day, The New York Times reported that Arthur Laurents clarified in a telephonic interview that Streisand would not direct the film "but playing Rose is enough to make her happy." Streisand's spokesperson confirmed that "there have been conversations". After Laurents' subsequent death, there was no official word on the status of the film for months, until it was announced on March 13, 2012, that Gypsy would be moving forward, with Julian Fellowes writing the screenplay for the project.
On January 28, 2011, The Hollywood Reporter announced that Paramount Pictures had given the green light to begin shooting the road-trip comedy My Mother's Curse, with Seth Rogen playing Streisand's character's son. Anne Fletcher directed the project with a script by Dan Fogelman, produced by Lorne Michaels, John Goldwyn, and Evan Goldberg. Executive producers included Streisand, Rogen, Fogelman, and David Ellison, whose Skydance Productions co-financed the road movie. Shooting began in spring 2011 and wrapped in July; the film's title was eventually altered to The Guilt Trip, and the movie was released in December 2012.
Personal life
Marriages and family
Streisand has been married twice. Barbra's first husband was actor Elliott Gould, to whom she was married from 1963 until 1971. They had one child, Jason Gould, who appeared as her on-screen son in The Prince of Tides. Her second husband is actor James Brolin, whom she married on July 1, 1998. While they have no children together, Brolin has two children from his first marriage, including Academy Award-nominated actor Josh Brolin, and one child from his second marriage. Both of her husbands starred in the 1970s conspiracy sci-fi thriller Capricorn One. She is the godmother of Jon Peters' daughters, Caleigh Peters and Skye Peters.
In 1969 and 1970 Streisand dated Canadian Prime Minister Pierre Trudeau.
Name
Streisand changed her name from Barbara to Barbra because, she said, "I hated the name, but I refused to change it." Streisand further explained, "Well, I was 18 and I wanted to be unique, but I didn't want to change my name because that was too false. You know, people were saying you could be Joanie Sands, or something like that. (My middle name is Joan.) And I said, 'No, let's see, if I take out the 'a,' it's still 'Barbara,' but it's unique." A 1967 biography with a concert program said, "the spelling of her first name is an instance of partial rebellion: she was advised to change her last name and retaliated by dropping an "a" from the first instead."
Politics
Streisand has long been an active supporter of the Democratic Party and many of their causes.
In 1971, Streisand was one of the celebrities listed on President Richard Nixon's infamous Enemies List.
Streisand is a supporter of gay rights, and in 2007 helped raise funds in an unsuccessful attempt to defeat Proposition 8 in California.
Philanthropy
In 1984, Streisand donated the Emanuel Streisand Building for Jewish Studies to the Hebrew University of Jerusalem, in the Mount Scopus campus, in memory of her father, a Jewish educator and scholar who died when she was young.
Streisand has personally raised $25 million for organizations through her live performances. The Streisand Foundation, established in 1986, has contributed over $16 million through nearly 1,000 grants to "national organizations working on preservation of the environment, voter education, the protection of civil liberties and civil rights, women's issues and nuclear disarmament."
In 2006, Streisand donated $1 million to the William J. Clinton Foundation in support of former President Bill Clinton's climate change initiative.
In 2009, Streisand gifted $5 million to endow the Barbra Streisand Women's Cardiovascular Research and Education Program at Cedars-Sinai Medical Center's Women's Heart Center. In September that year, Parade magazine included Streisand on its Giving Back Fund's second annual Giving Back 30 survey, "a ranking of the celebrities who have made the largest donations to charity in 2007 according to public records", as the third most generous celebrity. The Giving Back Fund claimed Streisand donated $11 million, which The Streisand Foundation distributed. In 2012 she raised $22 million to support her women's cardiovascular center, bringing her own personal contribution to $10 million. The program was officially named the Barbra Streisand Women's Heart Center.
At Julien's Auctions in October 2009, Streisand, a long-time collector of art and furniture, sold 526 items, with all the proceeds going to her foundation. Items included a costume from Funny Lady and a vintage dental cabinet purchased by the performer at 18 years old. The sale's most valuable lot was a painting by Kees van Dongen. In December 2011, she agreed to sing at a fundraising gala for Israel Defense Forces charities.
References in popular culture
In television
On the sketch comedy show Saturday Night Live, in the recurring skit "Coffee Talk", character Linda Richman, played by Mike Myers, hosts a talk show dedicated to, among other things, the adoration of Streisand. Streisand, in turn, made an unannounced guest appearance on the show, surprising Myers and guests, Madonna and Roseanne Barr. Mike Myers also appeared as the Linda Richman character on stage with Streisand at her 1994 MGM Grand concert, as well as a few of the 1994 Streisand tour shows.
Streisand is mentioned in the sitcom Will & Grace, particularly by the character Jack McFarland. Songs made famous by Streisand, such as "Papa, Can You Hear Me?" from Yentl and "Can't Help Lovin' Dat Man" from The Broadway Album are reproduced by characters in the show. Also, in the episode "Fagmalion", Will and Jack who are making over their "gay-in-training" Barry, make him recite "Judy, Liza, Barbra, Bette, these are names I shan't forget", as part of his "gay" affirmations.
At least five episodes of the animated sitcom The Simpsons refer to Streisand. Outside Springfield Elementary School, announcing Lisa's jazz concert and noting tickets have been sold out, is an advertisement for a Streisand concert in the same venue for the following day, with tickets still on sale. In "Fear of Flying", after Marge undergoes therapy, she informs the therapist that whenever she hears the wind blow, she'll hear it saying "Lowenstein", Streisand's therapist character in The Prince of Tides, even though Marge's therapist is named Zweig. (This is actually only one in a series of references to the film in that episode.) Another reference comes in "Sleeping with the Enemy" when Bart exclaims after seeing Lisa make a snow-angel in a cake on the kitchen table, "At least she's not singing Streisand", in reference to Nelson Muntz singing "Papa Can You Hear Me?" from Yentl earlier in the episode. In "Simple Simpson", a patriotic country singer says that Streisand is unpatriotic and could be pleased by spitting on the flag and strangling a bald eagle.
Another enduring satirical reference is in the animated series South Park, most notably in the episode "Mecha-Streisand", where Streisand is portrayed as a self-important, evil, gigantic robotic dinosaur with a terrible singing voice about to conquer the universe before being defeated by Robert Smith of The Cure. On another occasion, the Halloween episode "Spookyfish" is promoted for a week as being done in "Spooky-Vision", which involves Streisand's face seen at times during the episode in the four corners of the screen. At the end of the feature film South Park: Bigger, Longer & Uncut, her name is used as a powerful curse word, a gag repeated in the episode "Osama bin Laden Has Farty Pants". The Mecha-Streisand character made a return in the Season 14 episodes "200" and "201", as one of several celebrities the show had lampooned over the years.
In the Family Guy episode "Mind Over Murder", Lois sings a cabaret act with "Don't Rain on My Parade"—originally sung by Streisand in Funny Girl—only slowed down and jazzier, as an act of defiance to Peter. In "Stewie Kills Lois", Peter receives life insurance after Lois' apparent death, and claims that he has more money than Streisand. This was followed by a cut scene showing Streisand blowing money out of her nose. In "Wasted Talent", Streisand and husband James Brolin are shown sitting together at the dinner table, with Streisand remarking "I'm glad I married a regular person and not a celebrity".
In the DreamWorks Animation CGI series Father of the Pride, in the episode "And The Revolution Continues", Barbera appears as a guest at MGM Mirage hotel in Las Vegas, where Siegfried & Roy are entertaining her and her husband James Brolin. She was about to eat a lobster named Emerson, but was saved by the series main protagonist; Larry the White Lion after he has a confrontation with Barbera.
Streisand is referenced frequently on the Fox TV musical series Glee. The character Rachel (Lea Michele) mentions that Streisand refused to alter her nose in order to become famous in the show's third episode "Acafellas". Also, in the mid-season finale of Glee, Rachel sings the Streisand anthem "Don't Rain on My Parade". In the episode "Hell-O", she says that she will be heartbroken for life, "Like Barbra in The Way We Were." In the same episode, Jesse St. James (Jonathan Groff) criticizes Rachel's performance of "Don't Rain on My Parade" by saying that she "lacked Barbra's emotional depth."
In the episode "Theatricality", Rachel is spying on the opposing team's dance rehearsal when the director, Shelby Corcoran (Idina Menzel), expresses dissatisfaction at the team's routine. She demonstrates how it's done with the title song from Funny Girl, and Rachel, sitting in the audience, whispers to her friend, "Exactly what I would have done—Barbra. I could do it in my sleep." In the episode "Grilled Cheesus" Rachel sings Barbra's famous song from the movie Yentl—Papa, Can You Hear Me?—to help support Kurt's (Chris Colfer) dad Burt after undergoing a heart attack. Rachel sang it in a park with Finn sitting at her side/in Burt Hummel's hospital room. She told Finn that she "wanted nothing to come between her and God, and Yentl sang it outside in the movie." On the episode "Born This Way", Streisand is mentioned when Rachel is debating whether or not to get a nose job, Kurt Hummel and the rest of the glee club set up a "Barbra-vention" of a flashmob to the popular hit "Barbra Streisand" by Duck Sauce.
The characters of Kurt and Rachel also sang the "Get Happy/Happy Days are Here Again" duet originally heard during Streisand's 1963 appearance with Judy Garland on Garland's weekly TV series. In the season three episode "I Am Unicorn," Kurt sings Barbra Streisand's "I'm the Greatest Star" from the musical Funny Girl, stating " has permission from the woman herself," actually meaning Rachel Berry. When Glee won the prize for "Best TV Series-Comedy Or Musical" at the 2010 Golden Globe Awards, creator Ryan Murphy quipped on stage, "Thank you to the Hollywood Foreign Press and Miss Barbra Streisand."
In the sitcom The Nanny, Streisand is viewed as a divine figure by Fran Fine throughout the sitcom's run. When asked by her boss who she would save if her mother and Streisand were drowning, Fran replies "I'd save Ma, Barbra can walk on water," Another example is in "The Passed-Over Story," when Fran hears that Barbra Streisand and James Brolin will be arriving at the airport, Fran runs towards the door yelling "It's the miracle of Passover, the Messiah is coming".
On film
In movies, Streisand is remembered as the favorite of the character Howard Brackett, played by Kevin Kline, who finally admits to being gay while standing at the altar in the 1997 romantic comedy In & Out. His unfortunate bride-to-be, played by Joan Cusack, cries out in frustration to family and friends present, "Does anybody here KNOW how many times I've had to sit through Funny Lady?" In an earlier scene, Howard is taunted by a friend during an argument at a bar with a jeering, "The studio thought that Barbra was too ol-l-ld to play Yentl." The film also mentions the album Color Me Barbra. Barbra's signature tune, "People", is played by a school orchestra in honor of teacher Howard as the story wraps at the end of the credits. This and similar references refer to her popularity among gay men.
In the 1996 comedy "The Associate", Whoopi Goldberg plays a business woman, Laurel Ayers, who creates a business associate, Robert S. Cutty, who is said to have known and dated Streisand. In addition to having an autographed picture of Streisand in her office, Ayers also has a cross-dressing friend who dresses up to resemble Streisand throughout the film.
The characters Carla and Connie, as aspiring song-and-dance acts in the 2004 comedy Connie and Carla, include four Streisand references. They sing "Papa, Can You Hear Me?" and "Memory" at an airport lounge and "Don't Rain on My Parade" onstage in a gay bar, and talk about the plot of Yentl at the climax of the film after they ask how many in their audience have seen the movie (everyone raised their hands).
In music
Sound clips of Streisand's heated exchange with a supporter of former U.S. president George W. Bush were sampled in the 2009 Lucian Piane dance song "Bale Out", making it sound as if she were arguing with actor Christian Bale (whose recorded outbursts during the filming of Terminator Salvation were the centerpiece of the song).
"Barbra Streisand" is a disco house song by American-Canadian DJ duo Duck Sauce (Armand Van Helden & A-Trak). It was released on September 10, 2010. The song peaked at number one in Poland, Belgium, the Netherlands, Finland, Switzerland and Austria. It became a top-ten hit in Australia, the United Kingdom, France, Germany, Ireland, and Italy.
On stage
Daniel Stern's 2003 Off-Broadway play Barbara's Wedding was set against the backdrop of Streisand's 1998 wedding to James Brolin.
The comedy play Buyer & Cellar, written by Jonathan Tolins, is set in Barbra Streisand's cellar. A struggling actor finds a job there and one day meets the star. It is a one-man show starring Michael Urie that premiered at Rattlestick Playwrights Theater in April 2013.
"Streisand effect"
In 2003, Streisand sued aerial photographer Kenneth Adelman for displaying a photograph of her Malibu, California home, along with other photos of the California coastline. Her suit was dismissed under the anti-SLAPP provisions of California law. Mike Masnick of Techdirt coined the term "Streisand effect" in January 2005 to describe the publicity generated by Streisand's efforts to suppress the publication of the photograph.
Awards
In 1984, Streisand was awarded the Women in Film Crystal Award for outstanding women who, through their endurance and the excellence of their work, have helped to expand the role of women within the entertainment industry. She also received the National Medal of Arts in 2000 and the Kennedy Center Honors in 2008. She was inducted as an officer of France's Legion of Honour in 2007. She was accorded An Honorary Doctorate In Arts and Humanities by Brandeis University in 1995 and an Honorary Doctorate of Philosophy by the Hebrew University of Jerusalem in 2013. In that year, she was also recipient of the Charles Chaplin lifetime achievement award by the Film Society Of Lincoln Center as the only female artist who directed, wrote, produced and starred in the same major studio film ("Yentl.")
Please register for a free Genetic Matrix account to access more information about this and all other celebrity pages