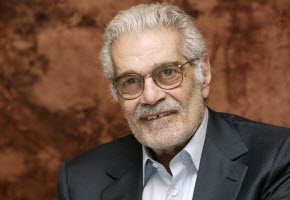 Omar Sharif
Category : Actor
Type : GE
Profile : 6/2 - Role Model / Hermit
Definition : Triple Split
Incarnation Cross : LAX The Clarion 1
Biography
Omar Sharif (born April 10, 1932) is an Academy Award nominated Egyptian actor who has starred in many Hollywood films. He has acted in Arabic, French, and English feature films. Sharif is most famous for his roles in Doctor Zhivago and Lawrence of Arabia.

Sharif was born Michel Demitri Chalhoub on April 10, 1932 in Alexandria, Egypt to Joseph Chalhoub, a Lebanese immigrant and timber merchant, and his wife, Claire Chalhoub who was an Egyptian of Lebanese and Syrian descent. Omar Sharif graduated from Alexandria's Victoria College, then from Cairo University with a mathematics and physics major. Afterwards, he worked with his father in the lumber business. Their business was less than successful following the investment of a large amount of capital in an endeavor to revitalize papyrus as a viable commodity.

Faten Hamama with Sharif in Sayyidat al-QasrIn 1953, he began his acting career with a role in the Egyptian film, Sira` Fi al-Wadi, (English, The Blazing Sun or Struggle in the Valley or Fight in the Valley). Numerous Egyptian productions followed. His first English language film was Lawrence of Arabia in 1962, in which he played the Sherif Ali. This performance earned him a Best Supporting Actor Oscar nomination and worldwide fame. He also played the title role in the 1965 film, Doctor Zhivago by David Lean. After a period in which he made headlines more for being a professional bridge player than an actor, he made a comeback with the film adaptation of the novel Monsieur Ibrahim et les fleurs du Coran.

Raised a Catholic, he converted to Islam to marry renowned Egyptian actress Faten Hamama in 1955 and took the name Omar al-Sharif. The marriage lasted almost 20 years and ended in 1974, producing one child Tarek Sharif (b. 1957), who appeared in Doctor Zhivago as Yuri at the age of 8. Rumours that Sharif would have married actress Sohair Ramzi in 1977, have turned out to be untrue. In fact, he never remarried and his attempt to restore his relationship with ex-wife Faten Hamama after returning to Egypt failed.

Hamama and Sharif starred in several Egyptian movies together as romantic leads, including Sharif's first significant role in Siraa Fil-Wadi (The Blazing Sun, Struggle in the Valley, 1953). Others include Ayyamna el helwa (Our Best Days, 1955), La anam (I Don't Sleep, 1958), Sayedat el kasr (Lady of the Castle, 1959) and the Anna Karenina-adaptation Nahr el hub (The River of Love, 1961),

Omar Sharif is fluent in English, Arabic, Greek, and French. He also speaks some Italian and Turkish.

Sharif and gaming
Sharif, once among the world's best known contract bridge players, co-wrote a syndicated newspaper bridge column for the Chicago Tribune for several years. He is also both author and co-author of several books on bridge and has licensed his name to a bridge computer game; initially released in a DOS version in 1992, Omar Sharif Bridge is still sold in Windows and "mobile platform" versions. For a number of years his partner at international tournaments was Tommy Prothro, football coach (UCLA, Oregon State, LA Rams, San Diego Chargers).

Sharif has also been a regular in casinos in France, where he once assaulted a casino employee after losing thousands of dollars on a single roulette bet.

In 2006 Sharif declared both pastimes as ended when he was asked if he still played bridge: "I've stopped altogether. I decided I didn't want to be a slave to any passion any more except for my work. I had too many passions, bridge, horses, gambling. I want to live a different kind of life, be with my family more because I didn't give them enough time."
Please register for a free Genetic Matrix account to access more information about this and all other celebrity pages