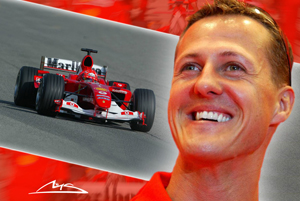 Michael Schumacher
Category : Racing Driver
Type : GP
Profile : 4/6 - Opportunistic / Role Model
Definition : Single
Incarnation Cross : RAX Tension 4
Biography
Michael Schumacher, born January 3, 1969, in Hürth Hermülheim, Germany) is a former Formula One driver, and seven-time world champion.
According to the official Formula One website, he is \"statistically the greatest driver the sport has ever seen\". He is the first German to win the Formula One World championship and is credited with popularising Formula One in Germany.
In a 2006 FIA survey, Michael Schumacher was voted the most popular driver among Formula One fans.

After winning two championships with Benetton, Schumacher moved to the Ferrari in 1996 and won five consecutive drivers\' titles with them. Schumacher currently holds nearly every record in Formula One, including most drivers\' championships, race victories, fastest laps, pole positions, points scored and most races won in a single season.
His driving sometimes created controversy. He has twice been involved in collisions that determined the outcome of the world championship, most notably his disqualification from the 1997 championship for causing a collision with Jacques Villeneuve.

Off the track, Schumacher is an ambassador for UNESCO and a spokesman for driver safety. He has been involved in numerous humanitarian efforts throughout his life. He is the older brother of current Toyota driver Ralf Schumacher.

On September 10, 2006, Schumacher announced his retirement as a driver. Schumacher currently assists Scuderia Ferrari CEO Jean Todt for the 2007 Formula One Season.

Early years

Schumacher\'s title-winning German Formula Three car from 1990.Schumacher was born January 3, 1969, in Hürth Hermülheim, to Rolf, a bricklayer, and Elisabeth. When Schumacher was four, his father modified the young boy\'s pedal kart by adding a small motorcycle engine. After the young Schumacher crashed it into a lamp post in Kerpen, his parents took him to the local karting track at Kerpen-Horrem where he became the youngest member of the karting club. His father soon built him a proper kart from discarded parts and at the age of six Schumacher won his first club championship. To support his son\'s racing, Rolf Schumacher took on a second job renting and repairing karts at the circuit, while his wife worked at the track\'s cafeteria. Despite the extra income, when Schumacher needed a new engine costing DM800 (400 €) his parents were unable to afford it, but their son was able to continue racing through support offered by several local businessmen.

In order to obtain a kart license in Germany the regulations required the driver to be at least 14 years old. Therefore in 1981, to get around this, Schumacher obtained a license in Luxembourg instead. In 1983 he obtained his German license and the year after he won the German Junior Kart Championship. From 1984, Schumacher won numerous German and European kart championships. He joined Eurokart dealer Adolf Neubert in 1985. By 1987 he was the German and European kart champion, at which point he withdrew from school and began working as a mechanic. In 1988 Schumacher made his first step into single-seat car racing by racing in the German Formula Ford and Formula König series, the second of which he won.

In 1989 Michael signed with Willi Weber\'s WTS Formula 3 team. For the next two years, funded by Weber, he competed in the German Formula 3 series, winning the title in 1990. Towards the end of 1990, along with his Formula 3 rivals Heinz-Harald Frentzen and Karl Wendlinger, he joined the Mercedes junior racing programme in the World Sports-Prototype Championship. This was an unusual move for a young driver: most of Schumacher\'s contemporaries would instead compete in Formula 3000 on their way to Formula One. However, Weber advised Schumacher that exposure to professional press conferences and driving powerful cars in long distance races would help his career. He gained victory at the season finale at the Autódromo Hermanos Rodríguez in a Sauber-Mercedes C11 and finishing fifth in the drivers\' championship. He continued with the team in the 1991 season, winning again at the final race of the season at Autopolis in Japan with a Sauber-Mercedes-Benz C291, leading to a ninth place finish in the drivers championship. In 1991 he competed in one race in the Japanese Formula 3000 Championship, finishing second.

Formula One career

Overview
Schumacher was noted throughout his career for his ability to produce fast laps at crucial moments in a race, to push his car to the very limit for sustained periods. Motor sport author Christopher Hilton observed in 2003 that \"A measure of a driver\'s capabilities is his performance in wet races, because the most delicate car control and sensitivity are needed,\" and noted that like other great drivers, Schumacher\'s record in wet conditions shows very few mistakes: up to the end of the 2003 season, Schumacher won 17 of the 30 races in wet conditions he contested. Some of Schumacher\'s best performances occurred in such conditions, earning him the title \"Regenkönig\" (rain king) or \"Regenmeister\" (rain master). He is known as \"the Red Baron\", due to his red Ferrari and in reference to the German Manfred von Richthofen, the famous flying ace of World War I. Schumacher\'s nicknames include \"Schumi\", \"Schuey\" and \"Schu\".

Schumacher is often credited with popularising Formula One in Germany, where it was formerly considered a fringe sport. In 2006, three of the top ten drivers were German, more than any other nationality and more than have ever been present in Formula One history. Younger German drivers, such as Sebastian Vettel, feel Schumacher was key in their becoming Formula One drivers.

In the latter part of his Formula One career, and as one of the senior drivers, Schumacher was the president of the Grand Prix Drivers\' Association.
Please register for a free Genetic Matrix account to access more information about this and all other celebrity pages