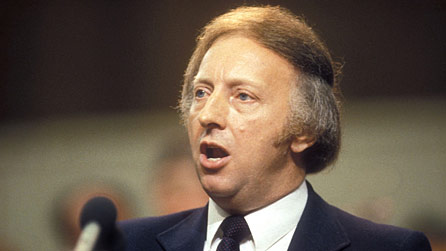 Arthur Scargill
Category : Union Leader
Type : MGP
Profile : 6/3 - Role Model / Martyr
Definition : Single
Incarnation Cross : LAX Cycles 2
Biography
Arthur Scargill (born 11 January 1938) is a British politician and trade unionist who was president of the National Union of Mineworkers (NUM) from 1982 to 2002. Joining the NUM at the age of 19 in 1957, he became one of its leading cadres in the late 1960s.
In 1973, he was instrumental in organising the miners' strike that toppled Sir Edward Heath's Conservative Government in March 1974. A decade later, he led the union through the 1984/85 miners' strike, a key event in British labour and political history.
A former Labour Party member, he is now the leader of the Socialist Labour Party (SLP), which he founded in 1996.
Early life
Scargill was born in Worsbrough Dale, Barnsley, West Riding of Yorkshire. His father, Harold, was a miner and a member of the Communist Party of Great Britain. His mother Alice (née Pickering) was a professional cook. He did not take the Eleven plus exam and went to Worsbrough Dale School (now called the Elmhirst School). He left at 15 to become a coal miner at Woolley Colliery in 1953, where he remained for 19 years.
Early political and trade union activities
Scargill joined the Young Communist League in 1955, becoming its Yorkshire District Chair in 1956 and shortly after a member of its National Executive Committee. In 1957 he was elected NUM Yorkshire Area Youth Delegate, and attended the World Youth Festival in Moscow as a representative of the Yorkshire miners. In 1958, he attended the World Federation of Trade Unions' youth congress in Prague. In a 1975 interview with New Left Review Scargill stated:
"I was in the Young Communist League for about six or seven years and I became a member of its National Executive Committee responsible for industrial work. The secretary at this time was a very good friend of mine called Jimmy Reid, and we're still close friends. A lot of other people on the National Executive at that time went on and became very respectable Labour MP's in Parliament. Many of us started in the 1950's in the Young Communist League. So that was my initial introduction into socialism and into political militancy. My father was a Communist. My mother was strictly non-political. But my father never forced me to be involved in politics at all."
In 1961, he was elected a member of the Woolley NUM Branch Committee.
Scargill joined the Labour Party in 1962.
He regularly attended Workers' Education Association (WEA) classes and Cooperative Party educational programmes, and in 1962, undertook a three-year, part-time course at the University of Leeds, where he studied economics, industrial relations and social history.
In 1965 he was elected Branch Delegate from Woolley to the Yorkshire NUM Area Council, and in 1969 was elected a member of the Yorkshire NUM Area Executive Committee.
In 1970, he was elected a member of the regional committee of the Co-operative Retail Services in Barnsley and a delegate to its national conference. He also represented the Barnsley Co-op at Cooperative congresses.
He joined the Campaign for Nuclear Disarmament, and also actively opposed civil nuclear power.
Scargill became involved in the Yorkshire Left, a group of left-wing activists involved in the Yorkshire region of the NUM, its largest region. He played an important role[citation needed] in the miners' strike of 1972 and was involved in the mass picket at Saltley Gate in Birmingham.
National Union of Mineworkers
In 1973, Scargill was elected to the full-time post of compensation agent in the Yorkshire NUM, a role he held until 1981. During this time he earned the esteem of significant sections of the left and the British working class, who saw him as honest, hard-working and genuinely concerned with their welfare. In 1973, he was instrumental in organising the miners' strike that brought down Edward Heath's Government in March 1974.
In the 1981 election for NUM president, Scargill secured around 70% of the vote. One of the main planks of his platform was to give more power to union conferences than to executive meetings, on the grounds that the former were more democratic. This had great implications for regional relations in the NUM; the executive was described as dominated by "Gormley's rotten boroughs", since every region – even quite small ones – had one delegate, and the larger regions had only a few more (Scotland and south Wales had two delegates each, Yorkshire had three).
Scargill was a very vocal opponent of Margaret Thatcher's Conservative government, frequently appearing on television to attack it. On the appointment of Ian MacGregor as head of the NCB in 1983, Scargill stated, "The policies of this government are clear – to destroy the coal industry and the NUM".
Miners' strike
Scargill led the union in the 1984–1985 miners' strike. Scargill claimed that the government had a long-term strategy to destroy the industry by closing unprofitable pits, and that it listed pits it wanted to close each year. This was denied by the government.
Miners were split between those who supported the strike and those who opposed it (see Union of Democratic Mineworkers). Scargill never balloted NUM members for a strike; this was seen as an erosion of democracy within the union, but the role of ballots in decision-making had been made very unclear after previous leader, Joe Gormley, had ignored two ballots over wage reforms, and his decisions had been upheld after appeals to court were made.
The media characterised the strike as "Scargill's strike" and his critics accused him of looking for an excuse for industrial action since becoming union president. Many people, including the then Labour leader Neil Kinnock, believed Scargill had made a huge mistake in calling the strike in the summer rather than in the winter.
Scargill, along with Labour MP Tony Benn, was actively involved in the campaign to free strikers Russel Shankland and Dean Hancock from prison. The pair had been convicted of the murder of David Wilkie, a taxi driver, by throwing a block of concrete from a bridge onto his car. The first round of their victory was achieved in October 1985, when their life sentences for murder were reduced to eight years for manslaughter on appeal. They were released from prison in November 1989.
Later years
After the miners' strike, he was elected to lifetime presidency of the NUM by an overwhelming national majority, in a controversial election where some of the other candidates claimed that they were given very little time to prepare. He stepped down from leadership of the NUM at the end of July 2002, to become the honorary president. He was succeeded by Ian Lavery.
Legal disputes
On 25 August 2010, it was reported that Scargill had been told that he no longer qualified for full membership of the NUM under union rules he had helped draw up, but was only eligible for "life" or "retired" or "honorary" membership - which did not carry voting rights.
In February 2012, Scargill won £13,000 in a court action against the NUM, primarily for car expenses, and for the earlier temporary denial of membership. Scargill admitted there was 'bad blood' between him and the NUM general secretary Chris Kitchen, who said, "I honestly do believe that Arthur, in his own world, believes that the NUM is here to afford him the lifestyle that he's become accustomed to." However, in December 2012, Scargill lost a similar case concerning rent on his flat in the Barbican, London. For years the NUM had been paying £34,000 annual rent for the flat on Scargill's instructions, without the knowledge of NUM members or many senior officials; Scargill claimed the NUM should continue funding his flat for the rest of his life, and thereafter for any widow who survived him. Chris Kitchen said: "I would say it's time to walk away, Mr Scargill. You've been found out. The NUM is not your personal bank account and never will be again."
Socialist Labour Party
Scargill founded the Socialist Labour Party on 13 January 1996, although the party was launched officially on 4 May 1996, after the Labour Party abandoned the original wording of Clause IV – the nationalisation of key industries and utilities – in its constitution. He has contested two parliamentary elections. In the 1997 general election, he ran against Alan Howarth, a defector from the Conservative Party to Labour, who had been given the safe seat of Newport East to contest. In the 2001 general election, he ran against Peter Mandelson in Hartlepool. He lost on both occasions, winning 2.4% of the vote in the Hartlepool election. In May 2009, he was the number one candidate for the Socialist Labour Party for one of London's seats in the European Parliament.
Scargill has become more politically outspoken since stepping down from the NUM presidency, he is a Communist sympathiser saying that the "ideas of Marx, Engels, Lenin and Stalin explain the real world". Scargill had long criticised Poland's Solidarity trade union for its attacks upon the communist system in Poland, which Scargill saw as deformed but reformable.
Please register for a free Genetic Matrix account to access more information about this and all other celebrity pages