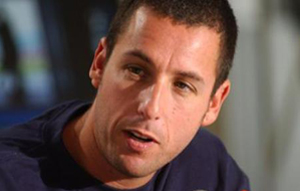 Adam Sandler
Category : Actor
Type : MGP
Profile : 6/2 - Role Model / Hermit
Definition : Split - Small (11,23)
Incarnation Cross : LAX Dominion 2
Biography
Adam Richard Sandler (born September 9, 1966) is an American comedian, actor, musician, screenwriter, and film producer.
After becoming a popular Saturday Night Live cast member, he went on to star in several $100 million Hollywood feature films. Though he is best known for his comedic roles, such as in the films Billy Madison (1995), Happy Gilmore (1996), and Big Daddy (1999), he has also had success in romantic and dramatic roles, such as in the films Punch-Drunk Love (2002), Spanglish (2004), and Reign Over Me (2007). Sandler is also known by his nickname "The Sand Man".

Early life
Sandler was born in Brooklyn, New York to Judy, a nursery school teacher, and Stanley Sandler, an electrical engineer. He had a Jewish upbringing.
His family moved to Manchester, NH when he was five. There, he attended Manchester Central High School. He found he was a natural comic. He nurtured his talent while at New York University (graduating with a Bachelor of Fine Arts degree in 1991 ) by performing regularly in clubs and at universities. Later in his career, he would often draw on his earliest memories in his comedy and movies. The song "Lunchlady Land" is dedicated to the lunchlady at Central High School. In the movie Click, Sandler goes to Lake Winnipesaukee, a lake in New Hampshire where he went to summer camp. He also makes reference to the lake in his song "The Thanksgiving Song."

Acting career
In the mid to late 1980s, Sandler played Theo Huxtable's friend Smitty on The Cosby Show (1987–1988). He was a performer for the MTV game show Remote Control, on which he made appearances as the characters "Trivia Delinquent" or "Stud Boy". Sandler started performing in comedy clubs early on, taking the stage at his brother's urging when he was only 17. He was then discovered by comedian Dennis Miller, who caught Sandler's act in Los Angeles. Miller immediately recommended him to Saturday Night Live producer Lorne Michaels. Sandler was hired as a writer for SNL in 1990 and became a featured player the following year, quickly making a name for himself by performing amusing original songs on the show, including "The Chanukah Song". He left the show in 1995 to focus on his acting career.

Sandler's first successful starring role was in 1989 when he starred in the movie Going Overboard. In 1995 he starred in Billy Madison, in which he plays a grown man repeating grades 1–12 to earn his father's respect back, along with the right to inherit his father's multi-million-dollar hotel empire. He followed this movie up with other financially successful comedies such as Happy Gilmore (1996) and The Wedding Singer (1998). He was initially cast in the bachelor-party-themed comedy/thriller Very Bad Things (1998), but had to back out due to his involvement in The Waterboy (1998), one of his first hits.

Although most of his earlier films were almost universally despised by movie critics, many of his recent films starting with Punch-Drunk Love (2002) have received almost uniformly positive reviews, leading many movie critics to believe that Sandler possesses considerable acting ability that they believed had been previously wasted on poorly written scripts and characters with no development. Audiences have remained faithful to Sandler's slapstick humor to the tune of $100-million-plus grossing movies. Sandler has moved outside the genre of goofball humor to take on more serious parts such as the aforementioned Punch-Drunk Love (for which he was nominated for a Golden Globe), and Spanglish (2004). He also plays a loving father figure in Big Daddy (1999). Ironically, during filming, he met Jacqueline Samantha Titone -- his future wife and mother of his daughter. Jackie was cast as the charming waitress from The Blarney Stone Bar.

At one point, Sandler was considered for the part that went to Jamie Foxx in Collateral (2004). He also was one of the finalists along with Jim Carrey and Johnny Depp for the role of Willy Wonka in Tim Burton's Charlie and the Chocolate Factory (2005), but Depp in the end got the role. He returned to more dramatic fare with Mike Binder's Reign Over Me (2007), a drama about a man who lost his entire family in 9/11 and rekindles a friendship with his old college roommate (played by Don Cheadle). Most recently, he starred in the movie I Now Pronounce You Chuck and Larry (2007), where he stars along side Kevin James as a New York City fireman pretending to be gay keep up an insurance scam, so his best friends children can have benefits. His next comedy will be You Don't Mess with the Zohan (2008) a film written by Sandler, The 40-Year-Old Virgin writer-director Judd Apatow (who was an old roommate of Sandler's when both were starting out), and Triumph, the Insult Comic Dog creator Robert Smigel and being directed by Happy Gilmore director Dennis Dugan about a Mossad agent who fakes his own death and moves to the United States to become a hair stylist,. He will also be working on Bedtime Stories (2008), a fantasy film being directed by Bringing Down the House director Adam Shankman about a stressed real estate developer whose bedtime stories he reads to his niece and nephew begin to come true, which will mark Sandler's first family film and first film under the Walt Disney banner. Sandler has also been long-rumored to costar with Michael Madsen in Quentin Tarantino's upcoming World War II saga Inglorious Bastards.

In June, 2007, it was announced that his production company, Happy Madison, had made a preemptive acquisition for Mitch Albom's screenwriting debut.

Themes in Sandler's films
Cheering at the end - His films sometimes end with a scene in which his character is being cheered on by a large audience for one reason or another which is occasionally followed up with a judge going the opposite direction of the crowd sentiment and ruining the moment (the Billy Madison contest and the trials in Big Daddy and I Now Pronounce You Chuck and Larry being several examples).
Diminutive first names - Sandler's character names in many of his films end with a "y" or an "ie" sound. Examples include his characters in Going Overboard (Schecky), Billy Madison (Billy), Happy Gilmore (Happy), Bulletproof (Archie), The Wedding Singer (Robbie), Waterboy (Bobby), Big Daddy (Sonny), Little Nicky (Nicky), Punch-Drunk Love (Barry), 50 First Dates (Henry), 8 Crazy Nights (Davey), Reign Over Me (Charlie).
V-girls - In many of his movies, the lead female character's name starts with a V (i.e., Veronica Vaughn, Virginia Venit, Valerie Veran, Vicki Vallencourt, Vanessa).
Styx - will often feature their music in his movies.
Repeating players - Sandler often casts Allen Covert, Blake Clark, Steve Buscemi, Kevin Nealon, Peter Dante, Jonathan Loughran, Rob Schneider, and former SNL players in his films.
New York Jets - Click, when he is a young boy wearing a Jets jersey; Mr. Deeds, when the helicopter pilot informs him that he now owns the Jets; Big Daddy, when Sonny and Julian go to a sports bar and the waitress asks Julian which football team he wanted to win and he replies by saying "the goddamn Jets"; Little Nicky, When Dan Marino tries to sell his soul to win the Super Bowl. The Devil refuses, Dan leaves, and the Devil informs Nicky that he's a Jets fan.
Pittsburgh Steelers - former Steeler coach Bill Cowher and former Steelers WR Lynn Swann making cameo appearances in The Waterboy. Sandler's character in The Longest Yard was a quarterback for the Steelers.
"You can do it! - usually said by Rob Schneider, often in a foreign-sounding quasi-Cajunvoice, with the exception of Anger Management where former New York City Mayor Rudy Giuliani says the line.

Elderly Irony - Sandler's movies often include elderly people behaving ironically uncouth ("If peeing your pants is cool, consider me Miles Davis" from Billy Madison, "Now you've had enough... bitch" Bob Barker in Happy Gilmore, "Booooooooobs" the butler in Mr. Deeds, "Fuck yeah" Old Japanese guy in Click, "Only you and my grandfather pee every 30 seconds" from Big Daddy)

Cameos & other work

Sandler made a cameo appearance on an episode of The Price Is Right during the "Happy Gilmore Showcase." Host Bob Barker appeared in the movie Happy Gilmore which featured a famous fight scene with Sandler's character (where Barker wins). He also appeared on Bob Barker's tribute show on May 17, 2007, in which he read a poem to Bob and congratulated him on his retirement from TPIR.

Sandler cameoed as a special audience member in an episode of The Showbiz Show with David Spade and as the feature guest on the final episode of John McEnroe's eponymous CNBC talk show, airing in late 2004. McEnroe had appeared in two of Sandler's movies, both times as himself (Mr. Deeds and Anger Management). In The Animal, starring Rob Schneider, Sandler appears briefly as Schneider's "'You can do it' Guy" from The Waterboy.

On March 20, 2007 Sandler was scheduled to be a guest on The Late Show with David Letterman. However, due to a minor illness, Letterman could not host the show and Sandler filled in as host.

On June 13, 2007, Sandler appeared and won the "Man's Man Award" on the Spike TV Guys' Choice Awards

He appeared on Australian TV show "Rove Live" when it toured America in July 2007. He was on the July 22nd show in New York.

Sandler and Rob Schneider make frequent cameos in each other's movies:

The Hot Chick, where Schneider stars, Sandler plays the spacey drummer
The Animal, where Schneider stars, Sandler played the townie
Deuce Bigalow: European Gigolo, where Schneider stars, Sandler plays one of the deceased gigolos
The Longest Yard, where Sandler stars, Schneider suggests to the prisoners around him that they hug in the showers. Even though he says similar lines as the Townie, he is credited as 'Punky' in this movie.
Little Nicky, where Sandler stars, Schneider is an angry man (Townie) in riot
Big Daddy, where Sandler stars, Schneider plays a delivery man named Nazo.
Mr. Deeds, where Sandler stars, Schneider makes two short appearances as Nazo; Schneider's character in Sandler's movie, Big Daddy.
50 First Dates, where Sandler stars, Schneider plays a Hawaiian friend of Adam's character with one eye and is the presiding minister at his wedding.
The Waterboy, where Sandler stars, Schneider plays the same angry man or Townie from Little Nicky
Eight Crazy Nights, where Sandler stars, Schneider voices a Asian waiter who doesn't like Sandler's character, and also provides the narration
Click, where Sandler stars, Schneider plays Prince Habeeboo, a potential foreign customer for Sandler's architect firm.
I Now Pronounce You Chuck and Larry, where Sandler stars, Schneider plays the rabbi who marries Sandler and James's characters.

Personal life
On June 22, 2003, Sandler married actress Jacqueline Samantha Titone (now Jackie Sandler), and they are the parents of Sadie Madison Sandler, born May 6, 2006 at Cedars-Sinai in Los Angeles. Sandler lives with his family in Los Angeles, though he also has a place in New York.

Sandler is good friends with comedian Norm MacDonald. Sandler subsequently made a cameo appearance in MacDonald's movie Dirty Work. He is a fan of professional wrestling, and most of his self-written films have references to professional wrestling in them. Five professional wrestlers had a role in The Longest Yard due to Sandler's insistence. He was also seen at WWE WrestleMania 21. Kevin Nash and Paul Wight additionally made appearances in Grandma's Boy and The Waterboy respectively. Adam is also good friends with Kevin James. Adam is also very good friends with Allen Covert, Blake Clark, Steve Buscemi, Kevin Nealon, Peter Dante, Jonathan Loughran, Rob Schneider, and former SNL players. Adam is a fan of the New York Yankees. He shows his loyalty to the Yankees by filming some scenes of his movie Anger Management in Yankee Stadium.

Actor Thomas Wilson of Back to the Future fame has stated that Sandler is the "nicest famous guy he knows".

Known for being quiet and moderate in his political views, Sandler supports Rudy Giuliani for President in 2008. On June 2, 2007, he gave $2100 to the Rudy Giuliani Presidential Committee, Inc.
Please register for a free Genetic Matrix account to access more information about this and all other celebrity pages