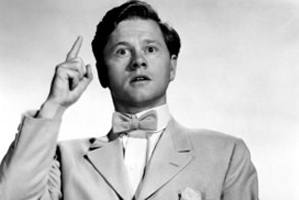 Mickey Rooney
Category : Actor
Type : GP
Profile : 3/5 - Martyr / Heretic
Definition : Single
Incarnation Cross : RAX The Vessel of Love 3
Biography
American 5'2 tall actor who personified the ideal, wholesome all-American teenager in movies seen all around the world in the 1930s. A young boy who worked in Hollywood during the Golden Years, Rooney became a Hollywood legend with his Andy Hardy series for MGM from 1937 to 1946. He was a top male box-office draw from 1939-1941.
Rooney's portrayal of an enthusiastic, innocent young man helped pull in over $111 million in profits for Louis B. Mayer. He was given a special Academy Award in 1938 in appreciation for his talents and box office bonanza. Rooney's life was marked by talent, debts, bankruptcy and dramatic though short-lived marriages.
While Rooney crested at the top with "Boy's Town" in 1939, his career began to take a dive when he became an adult demanding adult roles. The transition from a child and teen star to an adult actor was extremely difficult for the actor. In the '70s, he became more famous for his many marriages than his film career. In 1979, Rooney made his film comeback earning an Oscar nomination for "The Black Stallion." He won an Emmy award for best actor in the TV movie, "Bill" in 1981. In 1979, he opened on Broadway the musical "Sugar Babies" and toured with the company for eight years and in 1998, the 78-year-old actor was touring in the theater musical production of "The Wizard of Oz" as the wizard.
Rooney was born to a pair of vaudevillian performers. As Joe Yule, Jr., the boy first performed onstage at the age of fifteen months. In 1922, his parents divorced and his mother moved to Hollywood with her young son. He made his film debut at six years old playing a midget smoking a cigar. He was cast in 50 Mickey McGuire two-reel kid comedies that competed with the Little Rascals gang for the children's box office. Walt Disney liked his character so much that he named his cartoon mouse "Mickey." The young boy changed his name to Mickey Rooney and at 14 appeared as Puck in "A Midsummer Night's Dream."
He went on to major stardom with the Andy Hardy series. He was nominated for Oscars for his performances in "Babes in Arms," 1939, "The Human Comedy," 1943 and "The Bold and the Brave" in 1956. His career went into decline when he returned to work after his military service in WW II. In 1948, he demanded out of his studio contract to become a free agent in Hollywood. By 1956, he had worked in the entertainment industry for 33 years had made 152 films, earning more than $600 million but managing to save a scant $2,345. He earned less money as the years went by and ended up in the minor film, "How to Stuff a Wild Bikini" in 1965. Rooney worked on the dinner theater circuit in the '70s. He wrote two autobiographies, "i.e.," 1965 and "Life is Too Short" in 1991. He starred in the Family cable channel TV series, "The Adventures of the Black Stallion" in the early '90s. He worked in the Toronto production of "Crazy for You" in 1995. In 1998, he was featured in the sequel, "Babe: Pig in the City."
Rooney met his first wife, newly arrived starlet Ava Gardner on the set of "Babes In Arms." They married on 1/10/1942 in Ballard, CA a town in the foothills of the Santa Ynez Mountains and miscast, divorced a year later, 5/21/1943. While Rooney was serving in the army, he met beauty queen Betty Jane Rase, a Miss Birmingham, Alabama. They married in 1944 and produced two sons, Mickey Jr. and Timothy. Rooney and Betty divorced in 1948 and the following hear he married actress Martha Vickers. He divorced his third wife in 1951 and married the former nude calendar model, Elaine Mahnken, in 1952. He cheated on her with his fifth wife, California beauty queen Barbara Ann Thomason, whom he married in 1958. While he played around, she followed suit, cheating on him with the actor Milo Milosevic. In 1966, Thomason and Milosevic were found dead in a murder-suicide in Rooney's Los Angeles home. He had a hard time recovering; he did drugs for a decade following the trauma.
He married Barbara's best friend, Marge Lane, in 1967 for 100 days. In 1969, he married a newspaper secretary Carolyn Hockett and they divorced in 1974.
Rooney met and married his eighth wife, 39-year-old actress Jan Chamberlin in 1978. By this time he was the father of nine children, all of them good-looking, and he did not raise any of them. Together, he and Jan had 11 kids to support. With the help of his eighth wife, Rooney has been able to kick his dependency in alcohol and gambling on race horses.
They filed Chapter 7 bankruptcy on 7/09/1996, as they owed the IRS about $2 million in back taxes dating back to 1974. His 1996 bankruptcy was his third, he also filed in 1962 and 1965.
Rooney has civic interests as an animal rights advocate and the spokesman for the California Department of Aging. He helped to launch and was once part owner of the TCBY yogurt chain, and he has written a series of novels and scripts.
On 12/20/2000, after having a successful double-bypass surgery, Thousand Oaks, CA, he checked out of the Medical Center on Christmas Day.
Please register for a free Genetic Matrix account to access more information about this and all other celebrity pages