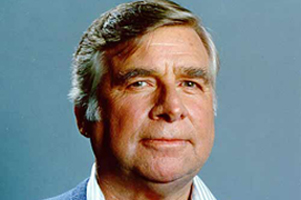 Gene Roddenberry
Category : Film - Producer
Type : GE
Profile : 2/4 - Hermit / Opportunist
Definition : Single
Incarnation Cross : RAX Contagion 3
Biography
Eugene Wesley "Gene" Roddenberry (August 19, 1921 – October 24, 1991) was an American television screenwriter, producer and futurist. He is best known for creating the original Star Trek television series and thus the Star Trek science fiction franchise. Born in El Paso, Texas, Roddenberry grew up in Los Angeles, California where his father worked as a police officer. Roddenberry flew 89 combat missions in the United States Army Air Forces during World War II, and worked as a commercial pilot after the war. Later he followed in his father's footsteps and joined the Los Angeles Police Department to provide for his family, but began to focus on writing scripts for television.
As a freelance writer, Roddenberry wrote scripts for Highway Patrol, Have Gun–Will Travel and other series, before creating and producing his own television series The Lieutenant. In 1964, Roddenberry created Star Trek, which premiered in 1966 and ran for three seasons before being canceled. Syndication of Star Trek led to increasing popularity, and Roddenberry continued to create, produce and consult on the Star Trek films and the television series Star Trek: The Next Generation until his death. In 1985 he became the first TV writer with a star on the Hollywood Walk of Fame:110 and he was later inducted by both the Science Fiction Hall of Fame and the Academy of Television Arts & Sciences Hall of Fame. Years after his death, Roddenberry was one of the first humans to have his ashes "buried" in outer space.
The Star Trek franchise created by Roddenberry has produced story material for almost five decades; resulting in six television series consisting of 726 episodes, and twelve feature films.
Additionally, the popularity of the Star Trek universe and films inspired the parody/homage/cult film Galaxy Quest in 1999, as well as many books, video games and fan films set in the various "eras" of the Star Trek universe.
Early life (1921–1941)
Gene Roddenberry was born on August 19, 1921 in El Paso, Texas. His parents were police officer Eugene Edward Roddenberry and Caroline "Glen" (née Golemon) Roddenberry. He grew up in Los Angeles and attended Berendo Junior High School (now Berendo Middle School), before graduating from Franklin High School in the winter of 1939; he subsequently entered Los Angeles City College that February.
Although Roddenberry ranked at or above the ninetieth percentile in an intelligence test administered as part of his college entrance examination, he elected to " true to his roots" and major in the "solidly blue collar" police science curriculum; as president of the school's Police Club, he liaised with the Federal Bureau of Investigation. He also developed an interest in aeronautical engineering and obtained a pilot's license through the United States Army Air Corps-sponsored Civilian Pilot Training program. He graduated from Los Angeles City College with an Associate of Arts degree in police science in 1941, becoming the first member of his family to earn a college degree.
Military service and civil aviation (1941–1949)
In 1941, he joined the United States Army Air Corps, which in the same year became the United States Army Air Forces. He began training at Goodfellow Field (now Goodfellow Air Force Base) in San Angelo, Texas with other Civilian Pilot Training alums and graduated as a second lieutenant in September 1942, Class G. He flew combat missions in the Pacific Theatre with the "Bomber Barons" of the 394th Bomb Squadron, 5th Bombardment Group of the Thirteenth Air Force and on August 2, 1943, Roddenberry was piloting a B-17E Flying Fortress named the "Yankee Doodle", from Espiritu Santo, New Hebrides, when mechanical failure caused it to crash on take-off. In total, he flew eighty-nine missions for which he was awarded the Distinguished Flying Cross and the Air Medal before being honorably discharged at the rank of captain in July 1945. While working on Star Trek, Roddenberry would spend much of his spare time at California's Monterey Peninsula Airport with a group of aviation enthusiasts who flew World War II fighters.
After the military, Roddenberry worked as a commercial pilot for Pan American World Airways. He received a Civil Aeronautics commendation for his rescue efforts following a June 1947 crash in the Syrian desert while on a flight to Istanbul from Karachi. While based out of Miami, Roddenberry enrolled in three writing classes at the University of Miami, from which he withdrew with passing grades following his transfer to New York City in November 1945. During his New York-area sojourn, the Roddenberrys lived in Jamaica, Queens and River Edge, New Jersey. He briefly continued his education, taking four writing courses offered by the Columbia University School of General Studies in the spring and fall of 1946 before withdrawing due to the demands of his employment in January 1947.
Los Angeles Police Department (1949–1956)
Gene Roddenberry
Los Angeles Police Department
August 19, 1921 – October 24, 1991 (aged 70)
Place of birth El Paso, Texas
Service branch United States
Years of service 1949–1956
Rank Sworn in as an Officer – 1949;
LAPD Police Officer-3.jpg Police Officer III – 1951;
LAPD Sergeant-1.jpg Sergeant I – 1953.
Relations Eileen-Anita Rexroat (wife)
Other work LAPD speechwriter, screenwriter, dramatist, television producer, creator of Star Trek
Pursuing a career in Hollywood, Roddenberry left Pan Am in 1949 and returned to Los Angeles. To provide for his family, he joined the Los Angeles Police Department on February 1, 1949. He became a police officer III in 1951 and was made a Sergeant in 1953. Toward the end of his Law enforcement career as a sergeant he became the speech writer for legendary LAPD Chief William H. Parker. He reputedly based his iconic Star Trek character Mr. Spock on Parker for his very rational and low emotional behavior. On June 7, 1956, he resigned from the police force to concentrate on his writing career. In his brief letter of resignation, Roddenberry wrote:
I find myself unable to support my family at present on anticipated police salary levels in a manner we consider necessary. Having spent slightly more than seven years on this job, during all of which fair treatment and enjoyable working conditions were received, this decision is made with considerable and genuine regret.
Career
Early
While Roddenberry worked for the LAPD, he wrote television scripts under the pseudonym "Robert Wesley" for the series Highway Patrol and both the TV and radio versions of Have Gun–Will Travel. In 1957, he wrote an episode for the Boots and Saddles western series entitled "The Prussian Farmer". In 1960, he wrote four episodes of the British (ITC Entertainment) made Australian western Whiplash.
Eventually, Roddenberry's dissatisfaction with his work as a freelance writer led him to produce his own television program. He came up with many story ideas and other concepts for his new television series that ultimately went unused, among them were Night Stick, Defiance County and The Long Hunt of April Savage; meanwhile, his first attempt, APO 923, was not picked up by the networks, but in 1963, he created and produced The Lieutenant, which lasted for a single season and was set inside the United States Marine Corps with Nichelle Nichols starring in the first episode.
Star Trek
Roddenberry developed Star Trek in 1964, as a combination of the two science-fiction series Buck Rogers and Flash Gordon. He sold the project as a "Wagon Train to the Stars", and it was picked up by Desilu Studios. The first TV pilot went over its budget and garnered only modest approval from NBC. Nevertheless, the network commissioned a second pilot, which was unprecedented. The series premiered on September 8, 1966, and ran for three seasons, but began to receive low ratings. During the final season, Roddenberry left active involvement (retaining his executive producer title in name only) when the network reneged on its promise for a more desirable time slot. In 1970, Paramount agreed to sell him all rights to Star Trek, but Roddenberry could not afford the $150,000 price ($902,000 today).:220
Brannon Braga has said that Roddenberry made it known to the writers of Star Trek and Star Trek: The Next Generation that religion and mystical thinking were not to be included, and that in Roddenberry's vision of Earth's future, everyone was an atheist and better for it. He stubbornly resisted the effort of network execs to put a Christian chaplain on the crew of the Enterprise. It would be ludicrous, he argued, to pretend that all other religions would have become obliterated by this point, or that such a cosmopolitan people would impose one group's religion on all the rest of the crew.
The series went on to gain popularity through syndication.
1970s projects
Following the cancellation of Star Trek, Roddenberry wrote & produced Pretty Maids All in a Row (1971), a sexploitation film adapted from the novel written by Francis Pollini and directed by Roger Vadim, for MGM. The cast included Rock Hudson, Angie Dickinson, Telly Savalas and Roddy McDowall alongside Star Trek regular James Doohan and William Campbell (who appeared as a guest in two Star Trek episodes). It also featured Gretchen Burrell, the wife of country-rock pioneer Gram Parsons. Despite Roddenberry's expectations, the film was not a success. In a 2012 Sight & Sound poll, writer/director Quentin Tarantino ranked Pretty Maids All in a Row among his top twelve favorite films of all time.
In 1973, he produced The Questor Tapes —a collaboration with ailing erstwhile Star Trek showrunner Gene Coon—as a pilot for NBC. Although a thirteen-episode run was purchased and initially scheduled as a Friday night lead-out for The Rockford Files, Roddenberry refused to countenance network attempts to rarefy and reconfigure the show in the procedural vein of The Six Million Dollar Man, leading to the stillborn cancellation of the series. The 100 minute pilot was aired as a television film in 1974. Additionally, Roddenberry produced science fiction-oriented pilots for CBS (Genesis II, also aired as a TV movie in March 1973) and ABC (Planet Earth) set in the milieu of a post-apocalyptic Earth during this period, although neither were purchased. He was not involved in a third television movie, Strange New World, which interpolated some of the concepts and situations from Planet Earth. Spectre, a subsequent foray into the occult detective vogue of the era exemplified by Kolchak: The Night Stalker, was not picked up by NBC in 1977.
Credited as "executive consultant" and paid $2,500 per episode, Roddenberry was granted full creative control of Star Trek: The Animated Series (1973-1974); although he read all scripts and "sometimes touches of his own," he relinquished most of his authority to de facto showrunner/associate producer D.C. Fontana.
After Star Trek, Roddenberry said later, he was "perceived as the guy who made the show that was an expensive flop and I couldn't get work." Faced with a $2,000/month alimony obligation from his 1969 divorce, he began to largely support himself on the college lecture and science fiction convention circuits at the instigation of Arthur C. Clarke, offering a program that included the Star Trek blooper reel (much to the consternation of Leonard Nimoy, who felt that Roddenberry's dissemination of the material amounted to private inurement and constituted a violation of the creative process), a black and white print of the first Star Trek pilot that included scenes excised from "The Menagerie", and his futurological ruminations.
Star Trek revival
Following the rapturous commercial reception of Star Wars, Paramount green-lit Star Trek: Phase II in June 1977, with Roddenberry and most of the original cast set to reprise their respective roles. It was to be the anchor show of a proposed Paramount-owned "fourth network" (thus antedating UPN, which later became part of The CW Television Network), but plans for the network were soon scrapped and the project was reworked into a feature film. The result, Star Trek: The Motion Picture, received a lukewarm critical response, but was a hit at the box office – adjusted for inflation it was the second-highest-grossing of all Star Trek movies, with the 2009 film coming in first.
In 1980, Roddenberry submitted a 60-page treatment for a proposed sequel about the Enterprise crew's contravention of a Klingon attempt to thwart the John F. Kennedy assassination. Following its rejection by Paramount, he was replaced on the project by veteran television producer Harve Bennett; furthermore, the studio "relegated" Roddenberry to the "figurehead position" of executive consultant, in which he was compensated with a producer's fee and a percentage of the net profits of any film projects in exchange for proffering non-binding story notes and liaising with the fan community. Although his story ideas (often variations on the Kennedy-Klingon plot) were repeatedly unheeded by Bennett's production team, he continued in this capacity for the next five sequels (Star Trek II: The Wrath of Khan, Star Trek III: The Search for Spock, Star Trek IV: The Voyage Home, Star Trek V: The Final Frontier and Star Trek VI: The Undiscovered Country).
In addition to his lecture obligations, from 1983 to 1985, Roddenberry shifted his attentions to the manuscript of Report from Earth, a proposed science fiction novel about an alien (Gaan) who takes human form on Earth; it was never completed.
Conversely, Roddenberry was deeply involved in creating Star Trek: The Next Generation. Nevertheless, according to producer Rick Berman, "Gene's hands-on involvement in The Next Generation diminished greatly after the first season," but the nature of his increasingly peripheral role was not disclosed because of the value of his name to fans. Additionally, Berman claims that Roddenberry had "all but stopped writing and rewriting" by the final third of the season. Although commercially successful from its inception, the series was initially marred by Writers Guild grievance claims from longtime franchise writers Fontana and David Gerrold, both of whom left the series under acrimonious circumstances; frequent turnover among the writing staff (24 staff writers left the show during its first three seasons, triple the average attrition rate for analogous series); and allegations that Roddenberry's attorney Leonard Maizlish had become the former's "point man and proxy," ghostwriting memos, sitting in on meetings, and contributing to scripts despite not being on staff. Medical records from this period reveal that Roddenberry was likely afflicted by the first manifestations of cerebral vascular disease and encephalopathy as a result of his longstanding "Valley of the Dolls type" of recreational abuse of legal and illicit drugs, including alcohol, marijuana, Valium, Seconal, Ritalin, Dexamyl, and cocaine (which he had used regularly since the production of Star Trek: The Motion Picture). The effects of these substances were compounded by deleterious interactions with diabetes, high blood pressure, and antidepressant prescriptions.
In addition to his film and television work, Roddenberry wrote the novelization of Star Trek: The Motion Picture. It was the first of hundreds of Star Trek-based novels to be published by the Pocket Books imprint of Simon & Schuster, whose parent company also owned Paramount Pictures Corporation. Previously, Roddenberry worked intermittently on a novel (The God Thing) based on a rejected 1975 screenplay for a proposed low-budget ($3 to $5 million) Star Trek film preceding the development of Phase II through 1976. Attempts to complete the project by Walter Koenig, Susan Sackett & Fred Bronson, Michael Jan Friedman, and Roddenberry biographer David Alexander have proven to be unfeasible for a variety of legal and structural reasons.
Star Trek theme music composer Alexander Courage long harbored resentment of Roddenberry's attachment of lyrics to his composition. By union rules, this resulted in the two men splitting the music royalties payable whenever an episode of Star Trek aired, which otherwise would have gone to Courage in full. (The lyrics were never used on the show, but were performed by Nichelle Nichols on her 1991 album, "Out of this World.") Roddenberry cooperated with Stephen Edward Poe (as Stephen Whitfield) on the 1968 nonfiction book The Making of Star Trek (Ballantine Books). By his demand that Whitfield accepted, they too split the royalties evenly. As Roddenberry explained to Whitfield in 1968, "I had to get some money somewhere. I'm sure not going to get it from the profits of Star Trek." Herbert Solow and Robert H. Justman observe that Whitfield never regretted his fifty-fifty deal with Roddenberry since it gave him "the opportunity to become the first chronicler of television's successful unsuccessful series".
Marriages
In 1942, Roddenberry married Eileen Rexroat. They had two daughters, Darleen and Dawn, but during the 1960s, he had affairs with Nichelle Nichols (said by Nichols to be the reason he wanted her on the show) and Majel Barrett. Twenty-seven years after his first marriage, Roddenberry divorced his first wife and married Barrett in Japan in a traditional Shinto ceremony on August 6, 1969, and they had one child together, Eugene Wesley Roddenberry, Jr.
Religious views
Although Roddenberry was raised as a Southern Baptist, he instead considered himself a humanist and agnostic. He saw religion as the cause of many wars and human suffering.
Death and legacy
Following a September 1989 stroke at a family reunion in Tallahassee, Florida, Roddenberry's health declined, ultimately leaving him confined to a wheelchair by 1991. By the fourth season of The Next Generation, he seldom appeared at the show's offices. He died from cardiopulmonary arrest on October 24, 1991. After his death, Star Trek: The Next Generation aired a two-part episode of season five, called "Unification", which featured a dedication to Roddenberry. In 1992, a portion of Roddenberry's ashes flew and returned to earth on the Space Shuttle Columbia mission STS-52. On April 21, 1997, a Celestis spacecraft — carrying portions of the cremated remains of Roddenberry, of Timothy Leary and of 22 other individuals — was launched into Earth orbit aboard a Pegasus XL rocket from near the Canary Islands. On May 20, 2002, the spacecraft's orbit deteriorated and it disintegrated in the atmosphere. Another flight to launch more of his ashes into deep space along with those of Majel (Barrett) Roddenberry, his widow who died in 2008, is planned for launch in 2014.
After his death, Roddenberry's estate permitted filming Earth: Final Conflict and Andromeda, two television series based on his unused stories. A third story idea was adapted in 1995 as the comic book Gene Roddenberry's Lost Universe (later titled Gene Roddenberry's Xander in Lost Universe). Gene Roddenberry's Starship, was a computer-animated series that was proposed by Majel Barrett and John Semper but was not produced.
Roddenberry and his wife Majel were honored by the Space Foundation in 2002 with the Douglas S. Morrow Public Outreach Award, in recognition of their contributions to awareness of and enthusiasm for space exploration.
The Science Fiction Hall of Fame inducted Roddenberry in 2007, making him its third "Film, Television and Media" contributor after Steven Spielberg and George Lucas. The Television Academy Hall of Fame inducted him in 2010.
Please register for a free Genetic Matrix account to access more information about this and all other celebrity pages