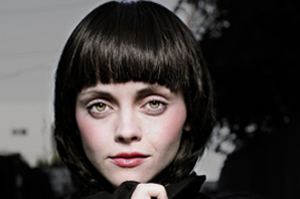 Christina Ricci
Category : Actress
Type : GE
Profile : 5/2 - Heretical / Hermit
Definition : Single
Incarnation Cross : LAX Revolution 1
Biography
Christina Ricci (born February 12, 1980) is a Golden Globe and Emmy Award-nominated American actress.
Ricci made her acting debut at age 10, starring with Cher and Winona Ryder in the 1990 film Mermaids, followed by a small role in 1992's The Hard Way. Her breakout role was as the dark 12-year-old Wednesday Addams in the successful The Addams Family film (1991) and its sequel, Addams Family Values (1993), where she received commercial attention and critical praise.

As an adult, Ricci began appearing in more mature roles after 1997's The Ice Storm, going on to successfully emerge out of her status as a child star, starring in a string of critically acclaimed independent films, such as The Opposite of Sex (1998), for which she received a Golden Globe Award nomination for Best Actress in a Leading Role (Comedy) and Pumpkin (2002). She also starred in major blockbusters such as Sleepy Hollow (1999) and Monster (2004).

Ricci has endured a status as a child star, teenage idol and today has emerged as a mature leading lady, dividing roles between independent films and mainstream blockbusters, and currently holds her own production company, Blaspheme Films, responsible for Pumpkin and Prozac Nation. Ricci has recently appeared in Black Snake Moan (2007) and Penelope (2007), and has a confirmed female lead role in the upcoming The Wachowski Brothers' feature film adaptation of Speed Racer, in 2008.

Early life and education
Ricci was born in Santa Monica, California, the fourth child of Ralph Ricci, a lawyer and psychiatrist, and Sarah Murdoch, a former Ford model and real estate agent. Regarding her ancestry, Ricci has stated that "the Italian blood has been bred out of . There's an Italian four or five generations back who married an Irish woman and they all had sons. So they married more Irish women, there were more sons, and more Irish women. Now I'm basically Scots-Irish."

Her family was reasonably financially comfortable from its inception; her father, before becoming a lawyer, was a psychiatrist who specialized in shrieking therapy. While a child, Christina could hear the therapies through the vents in her room, and would act them out in front of her mother. The family moved to Montclair, New Jersey, where she grew up attending Edgemont Elementary School, Glenfield Middle School, and Montclair High School as well as the Morristown-Beard School . After one year she left the high school for a private school in New York City (the Professional Children's School), which was also attended by various other celebrities such as Sarah Michelle Gellar, Macaulay Culkin, and Jerry O'Connell.. Her siblings are Rafael (born 1971), Dante (born 1974), and Pia (born 1976). When her father and her mother eventually separated in 1993, Ricci stayed with her mother, who took custody of the children. Ricci has not spoken to her father since this took place in 1993. Of her siblings, she is closest to her brother Rafael. After her parents divorce, Ricci experimented with self-mutilation, and began cutting herself as a child to prove she can take risks – Ricci stated that this problem affected her self esteem as a young teenager.

Early career and commercial success, 1990—1997
A critic for the Bergen Record discovered Ricci at age eight in a school play (The Twelve Days of Christmas) at Edgemont School in Montclair, New Jersey. The critic's son was originally cast in the role, but Ricci got him to hit her and told on him; he lost the role to her as part of his punishment. After this, she became involved in the movie business. She did several commercials starting at the age of six, until she finally got her big screen debut in Richard Benjamin's Mermaids in 1990 (alongside Cher, Bob Hoskins, and Winona Ryder) as Cher's younger daughter. Although much critical and commercial attention went to Ryder, who played Ricci's older sister, the young actress made enough of an impression to land more work: the following year, she starred as the morbidly precocious Wednesday Addams in the hit film adaptation of The Addams Family. The role would help to establish Ricci as an actress known for playing dark, unconventional characters — she went on to play Wednesday again in the film's 1993 sequel, Addams Family Values — which became another box office draw, and more screen time was provided for Ricci's performance as Wednesday, due to her success.

After this, her popularity increased dramatically, and she became in high demand by the mid-1990s. Her next project Casper, which received mixed critical reviews, but was a major success at the box office, being the year's seventh highest grossing film. After Casper, she starred in Now and Then, a coming-of-age film about four 12-year-old girls and their friendship during the 1970s to the 1990s. Now and Then was another box office success, and received favourable comparisons to Stand by Me, being called "the female version" of the film, and Christina was becoming a top box office draw. She also starred in a handful of other films with teenage roles such as Golddiggers: The Secret of Bear Mountain and That Darn Cat.

Later films and continued success, 1998—2005
In 1997, Ricci began to appear in more adult roles, beginning with her role as the troubled, sexually curious Wendy Hood in Ang Lee's critically acclaimed The Ice Storm. Ricci subsequently appeared in films like the independent hit Buffalo '66 (in which she played Vincent Gallo's unwitting abductee-turned-girlfriend), John Waters' Pecker, and Don Roos' The Opposite of Sex (as the acid-tongued, manipulative Dede). For her performance as Dede, Ricci was nominated for a Golden Globe and attained the unofficial title of the Sundance Film Festival's 1998 "It" Girl.

Later films included Sleepy Hollow (alongside Johnny Depp), Monster, and Prozac Nation (which featured her first on-screen nude scene). Ricci had to turn down the role of Ronna in Go because of scheduling conflicts; the role eventually went to Sarah Polley. Ricci was turned down four times for the role of Dolores Haze in Lolita, and the role eventually went to Dominique Swain. Ricci was originally slated to play the lead in Ghost World (2001), but by the time it was filmed she was too old for the part and had moved on to other projects. Thora Birch took over the role. Ricci also turned down a role in Loser.

In February 2006, Ricci made a guest appearance as a paramedic in the ABC drama Grey's Anatomy, for which she was nominated for an Emmy award. She was a guest star for seven episodes in the last season of Ally McBeal in 2002 as Debbie 'Liza' Bump, a lawyer who worked at Cage & Fish and married Richard Fish in the last episode. It was initially hoped that Ricci and several other noted guest star appearances would boost Ally McBeal's then declining ratings.

On December 4, 1999, she appeared as the guest host on Saturday Night Live. She performed parodies of Britney Spears and the Olsen Twins. During one of her skits, she accidentally punched actress Ana Gasteyer in the face. The skit was a parody of the Sally Jessy Raphael show, in which she played a 13-year-old run-a-way who sleeps with dogs, and required her to fake-punch Gasteyer, but accidentally ended up really hitting Gasteyer in the eye. Although Gasteyer initially reacted by putting her hands over her mouth in surprise, she quickly fell back into character.

Present, 2006—
In 2006, Ricci stated that she feels that at 5ft 1in she is "too short" to ever be an A-list actress, saying she tends "to look really small on camera". She has also said that she believes that she does not have much control over her career, specifying that she still has to audition for film parts. Her newest film, Black Snake Moan, co-stars Samuel L. Jackson and Justin Timberlake and was released in the US on March 2, 2007, early reviews for the film have been mixed, with the review tallying website rottentomatoes.com reporting that 84 out of the 128 reviews they have tallied thus far have been positive, for an overall score of 66% (a film that scores 60% or higher is certified "fresh"). On the television program Ebert & Roeper, filmmaker Kevin Smith, filling in for Roger Ebert, described the film as the best of the year thus far. Smith praised Ricci and Jackson, saying this was Ricci's best performance and Jackson's best performance since Pulp Fiction (1994). Richard Roeper also gave the film his "thumb up." The film earned $4 million, putting it in eighth place for the highest earnings in its opening weekend. . For her role in Black Snake Moan, Ricci was required to lose several pounds and wore an actual forty-pound (18 kg) chain during filming,. Apart from having to lose weight, Ricci ate only food items without any nutritional value to achieve her unhealthy appearance. Ricci has upcoming roles in Penelope, alongside Reese Witherspoon, a modern day fairytale, and in 2008 , she will play the female lead in The Wachowski Brothers' feature film adaptation of Speed Racer.

In February, along with Samuel L. Jackson, she presented a Grammy Award at the 2007 Grammy's.

Behaviour in press interviews
Christina has been known to say or do things in interviews that are perceived to be odd or quirky, eccentric including saying things that were perceived as being positive about incest, being afraid of swimming in a pool alone in case she is attacked by a shark that might enter via a 'magical door' and showing a more concerning side when she lifted her sleeve to show a reporter multiple burns from a hot cigarette lighter that she had done to herself to impress her close friend Gaby Hoffmann and to test her tolerance to pain. Perhaps only saying these things to be funny or sarcastic, perhaps not, she has nonetheless become known for this. However, Ricci, as an adult actress, has moderatly matured in interviews.

Personal life
Ricci owns her own production company, Blaspheme Films, responsible for Prozac Nation and Pumpkin. Ricci told a magazine in a 2005 interview that she is a Christian. She is on the national board of VOX-Voices for Planned Parenthood. She will also be appearing in national ads for emergency contraception. She supported John Kerry's presidential bid in 2004. Ricci maintains a close friendship with former child star and actress Gaby Hoffmann, with whom she starred in Now and Then. She is also a friend of Black Snake Moan costar Samuel L. Jackson.

After making the top of PETA's worst-dressed list and receiving a letter from the animal rights group, Ricci decided to give up wearing fur. Ricci also owns two dogs (The Sheriff Steve Goldburg and Buzz Goldicci).

In April 2007, Ricci became the national spokesperson for RAINN, the Rape, Abuse and Incest National Network for the United States, which assists victims of these crimes and promotes programs that help prevent them from occurring. She cited some of her research in Black Snake Moan role as educational on the importance of the issues that RAINN deals with.

She has cited Pulp Fiction, Lord of the Rings, Gangs of New York, and My Own Private Idaho as her favorite films. She drives a Porsche Boxster. According to Gerard Way of My Chemical Romance, he used to stalk her. Her favorite music artists are the "Red Hot Chili Peppers", "Tom Petty", "The Ramones", "R.E.M.", "The White Stripes", "Weezer", and "The Pixies".
Ricci also has many tattoos: a lion on her right shoulder blade (a reference to The Lion, the Witch, and the Wardrobe a favorite novel of hers as a child), a fairy on the inside of her right wrist, praying hands on her left hip (this tattoo was originally a bat), a bouquet of sweetpeas on her lower back, the words "Move or Bleed" on the left side of her ribcage, the name "Jack" on her right thigh for a dead pet, a sparrow on her right breast, and a mermaid on her left ankle.
Please register for a free Genetic Matrix account to access more information about this and all other celebrity pages