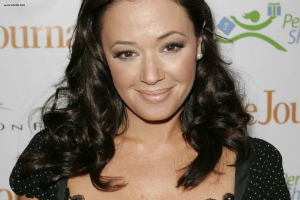 Leah Remini
Category : Actress
Type : MGE
Profile : 2/4 - Hermit / Opportunist
Definition : Single
Incarnation Cross : RAX Eden 2
Biography
Leah Marie Remini (born June 15, 1970) is an American actress. She is best known for her role as Carrie Heffernan on the CBS sitcom The King of Queens and as Stacey Carosi on the NBC sitcom Saved by the Bell. She was also one of the co-hosts on daytime CBS network talk show/series, The Talk, before being released in 2011.
Early life
Leah Remini was born Bensonhurst, Brooklyn, New York City, the daughter of Vicki Marshall, a private school teacher, and George Remini, who owned an asbestos removal company. Her mother is of Austrian Jewish background and her father was Sicilian. Remini has an older sister, Nicole Remini (born 1969), who was her assistant on The King of Queens. She also has four half-sisters, including Christina (born 1969).
Remini moved to Los Angeles at the age of 13 with her mother. When Remini was 14, she left school and worked as a hostess at a restaurant while auditioning for acting jobs.
Television career
One of Remini's early television roles was on Who's The Boss as Charlie Briscoe, which led to a spin-off series entitled Living Dolls where Remini starred with Halle Berry. The show lasted twelve episodes in 1989. Remini also starred on Saved by the Bell, where she played Stacey Carosi. She then appeared in two short-lived series, First Time Out and Fired Up. In 1994, Remini auditioned for the role of Monica Geller in Friends but the role went to Courteney Cox; however, she did appear in the 1995 episode "The One with the Birth". In 1998, Remini landed the role of Carrie Heffernan on the CBS sitcom The King of Queens. During her time on the show, she had a supporting role in the comedy film Old School (2003). Remini also starred in her own reality show which aired on VH1. The King of Queens ran for nine seasons, from September 21, 1998 to May 14, 2007. Since The King of Queens ended, Remini has starred in nine-episode webisodes of In the Motherhood, along with Chelsea Handler and Jenny McCarthy. She has made two guest appearance on Chelsea Lately. On December 15, 2009, Remini appeared as Carrie Heffernan on Lopez Tonight with George Lopez as Doug Heffernan in an episode reuniting the cast of the George Lopez sitcom. Remini and Peete appeared on The Young and the Restless on July 28, 2011.
In October 2011, it was announced that Remini signed a talent development deal at ABC and ABC Studios, which requires the network and the studio to develop a comedy project for Remini to star in and produce. In March 2012, it was announced that Remini will star in the ABC comedy Family Tools, a remake of the UK comedy series White Van Man. The series premieres on May 1, 2013.
The Talk
Remini was a co-host on The Talk, a talk show which premiered October 18, 2010, on CBS. Julie Chen, Sara Gilbert, Holly Robinson Peete, and Sharon Osbourne were her co-hosts. The show is similar to The View and seeks to address motherhood and contemporary issues. Remini drew criticism within the first week of the show's debut, accused of being too loud, brash, and obtrusive. It was stated on one episode that she had received a significant amount of negative Twitter tweets about it. Remini addressed the issue, stating she refused to change who she is and asserted that thousands of fans like her for who she is. Her co-hosts supported her response. After the first season ended, Remini was not asked to return to the show. Just weeks after Remini was let go, her former co-host, Holly Robinson Peete, was also informed that her contract was not being renewed.
Failure to disclose why Remini and Peete were each let go brought on a great deal of criticism of the show and protests from the stars' fans. While there was much speculation that their former Talk co-host, Julie Chen, had involvement in the decision as she's married to the CBS President and CEO, Leslie Moonves, it was Sharon Osbourne, their other former Talk co-host, who explained their dismissals in December 2011 on The Howard Stern Show, stating: "Some people dont really know who they are. And you have to know who you are when you're in something like this. You can't pretend to be something you're not. You have to know your brand. You can't be all things to everyone." Additionally, Osbourne commented on the failure to let Remini and Peete know why they were let go, stating "Why should we call them to discuss?"
In March 2012, a heavily publicized Twitter dispute ignited between Remini and Osbourne when Remini fired back at Osbourne for her comments on The Howard Stern Show. In response to questions from her Twitter followers, Remini tweeted: "Ask Sharon. She had us fired," and "Sharon thought me and Holly were too 'Ghetto'. (her words) we were not funny, awkward and didn't know ourselves. Haters Gon' Hate. True. But, Haters have the balls to say they 'Hate'...not call themselves your friend. she had us fired all the while calling me and holly her friend. heartbreaking. Yes. she had us fired, she told howard stern.,which explains why she never called us back." In response, Osbourne tweeted: "I had absolutely nothing to do with her departure from the show & have no idea why she continues to take to Twitter to spread this false gossip. Leah knows that I have never been in the position to hire or fire anyone on the show. That being said, my only wish is that Leah would just stop all this negative, unprofessional and childish behavior. It's been seven months. . .it's time to move on. Leah is a very talented actress and I only wish her happiness and success. I know that better things are to come if she can just get beyond this negativity." Remini tweeted back that she had no intention of keeping quiet and that Osbourne: "just wants publicity out of this. If someone wants me to stop, they should call a lawyer and tell them what I am not telling the truth about. We can go from there." In an additional tweet on the matter, Remini wrote: "I will not respond to Sharon BUT only to say this, IF she wanted to clear it up she has my number & has had ALL this time and didnt use it. Not even to say she was sorry. So to Sharon I say... Well done Sharon, you won. I will move on now as you suggested. And so should you. Be at Peace."
While co-hosting The Talk, Remini turned down various parts on situation comedies, stating that any new role would make her feel as if she were cheating on Doug Heffernan, her character's husband on The King of Queens. She also stated she needs more time for her daughter, Sofia.
Personal life
On July 19, 2003, Remini married actor Angelo Pagán who also appeared on The King of Queens as Rico and other various characters. They have a daughter, Sofia Bella, born on June 16, 2004.
Remini is a member of The Church of Scientology. In May 2001, she told Howard Stern, "I've been a Scientologist for half my life." In December 2005, she helped promote the gala opening of Church of Scientology's "Psychiatry: An Industry of Death" Museum. Responding to criticism of Scientology during an interview on CNN, Remini said:
If somebody is going to get turned off about something because of what they read or heard, then that person's not smart enough to even enter a church. If you're really against something, then know what you're against.
Please register for a free Genetic Matrix account to access more information about this and all other celebrity pages