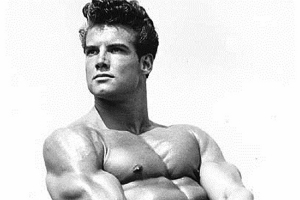 Steve Reeves
Category : Bodybuilder
Type : PE
Profile : 5/1 - Heretical / Investigator
Definition : Split - Large
Incarnation Cross : LAX Distraction 2
Biography
Stephen L. Reeves (January 21, 1926 – May 1, 2000) was an American bodybuilder and actor. At the peak of his career, he was the highest-paid actor in Europe.
Childhood
Born in Glasgow, Montana, Steve Reeves moved to California at age 10 with his mother Goldie Reeves, after his father Lester Dell Reeves died in a farming accident. Reeves developed an interest in bodybuilding in high school and trained at Ed Yarick's gym in Oakland. By the time he was 17, he had developed a Herculean physique, long before the general interest in bodybuilding. After graduating from high school, he enlisted in the Army during World War II, and served in the Philippines.
Acting
After his military service and winning the 1947 AAU Mr. America, Reeves approached for an acting career. He studied acting under Stella Adler but after arguments was refunded his tuition. He was selected by Cecil B. DeMille for the lead role in his Samson and Delilah where he received extensive training but in order to look convincing on camera, he was told to lose 15 pounds as the camera added weight but found he could not compete in weightlifting with the diminshed weight.
In 1949 he filmed a Tarzan type television pilot called Kimbar of the Jungle and in 1950 became Mr. Universe. In 1954 he had a small role in his first major motion picture, the musical Athena playing the boyfriend of Jane Powell's character. The same year Reeves had a small role as a cop in the Ed Wood film Jail Bait. These two films are the only ones Reeves made where his own voice was used — for the remainder of his career, Reeves acted in Italian-made films where all dialogue and sound effects were added in post-production.
On December 17, 1954, Reeves guest starred in the ABC sitcom with a variety show theme, The Ray Bolger Show. Ray Bolger portrayed Raymond Wallace, a song-and-dance man repeatedly barely on time for his performances. Reeves played a well-built office employee whom Wallace sees in the company of Wallace's girlfriend, Susan, played by Marjie Millar. Others on the series were Richard Erdman, Allyn Joslyn, Betty Lynn, Sylvia Lewis, Gloria Winters, and Verna Felton.
In 1957, Reeves went to Italy and played the lead character in Pietro Francisci's Hercules, a relatively low-budget epic based loosely on the tales of Jason and the Argonauts, though inserting Hercules into the lead role. The film was a major box-office success, grossing $5m in the United States alone in 1959. Its commercial success led to a 1959 sequel Hercules Unchained.
From 1959 through 1964, Reeves went on to appear in a string of sword and sandal movies shot on relatively small budgets, and although he is best known for his portrayal of Hercules, he played the character only twice: in the 1957 film (released in the USA in 1959) and its 1959 sequel Hercules Unchained (released in the US in 1960). He played a number of other characters on screen, including Sir Edward Bulwer-Lytton's Glaucus of Pompeii; Goliath, the bane of the barbarians (actually called "Emiliano" in the Italian version); Tatar hero Hadji Murad; Romulus, the legendary founder of Rome (opposite Gordon Scott as his twin brother Remus); Pheidippides, the famous war-time messenger of the Battle of Marathon; pirate and self-proclaimed governor of Jamaica, Captain Henry Morgan; and Karim, the fabled Thief of Baghdad. Twice he played Aeneas of Troy and twice he played Emilio Salgari's Malaysian hero, Sandokan.
After the box office success of Hercules, Reeves turned down the role that finally went to Clint Eastwood in A Fistful of Dollars (1964) because he could not believe that "Italians could make a western". He also claimed to have turned down the James Bond role in Dr. No (1962). Reeves mentioned in an interview that he was offered only $100,000 to play Secret Agent 007, whereas he was earning $250,000 per film in Italy, and as such was tied with Sophia Loren as the highest paid actor in Europe at the time; thus he turned down the role of James Bond to continue making pepla in Italy.
During the filming of The Last Days of Pompeii, Reeves dislocated his shoulder when his chariot slammed into a tree. Swimming in a subsequent underwater escape scene, he re-injured his shoulder. The injury would be aggravated by his stunt work in each successive film, ultimately leading to his retirement from filmmaking and weightlifting.
In 1968 Reeves appeared in his final film, a spaghetti western that imitated the Sergio Leone epics, which he also co-wrote, titled I Live For Your Death! (later released as A Long Ride From Hell). His last screen appearance was in 2000 when he appeared as himself in the made-for-television A&E Biography: Arnold Schwarzenegger - Flex Appeal.
In July 1997, Steve was interviewed by freelance writer, Rod Labbe. Entitled "Demi-god on Horseback," it ran as the cover story in "Films of the Golden Age" magazine #65, dated Summer 2011.
Death
Later in his life, Reeves promoted drug-free bodybuilding and bred horses. The last two decades of his life were spent in Valley Center, California, near Escondido. He bought a ranch with his savings and lived there with his second wife Aline until her death in 1989. On May 1, 2000, Reeves died from complications of lymphoma.
Please register for a free Genetic Matrix account to access more information about this and all other celebrity pages