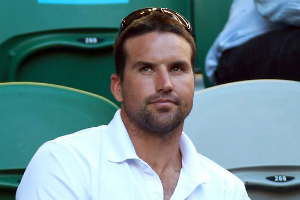 Pat Rafter
Category : Tennis Player
Type : GP
Profile : 3/5 - Martyr / Heretic
Definition : Split - Small (16,20)
Incarnation Cross : RAX Service 4
Biography
Patrick Michael "Pat" Rafter (born 28 December 1972) is an Australian former World No. 1 tennis player. He twice won the Men's Singles title at the US Open and was twice the runner-up at Wimbledon. Rafter was elected to the International Tennis Hall of Fame in 2006. He was known for his natural serve-and-volley style of play. He became the first man in the Open Era to win Montreal/Toronto, Cincinnati and the US Open in the same year (1998); this achievement has been dubbed the American Summer Slam.
Tennis career
1990s
Rafter turned professional in 1991 and won his first career singles title in 1994 in Manchester. Prior to 1997, this was the only ATP singles title he had won.
Rafter's breakthrough came in 1997. At that year's French Open he reached the semifinals, falling in four sets to Sergi Bruguera. Then he surprised many by winning the US Open, defeating Greg Rusedski in a four-set final and Andre Agassi and Michael Chang, among others, in earlier rounds; he was the first non-American to win the title since Stefan Edberg in 1992. This was his first Grand Slam title, and catapulted him ahead of Chang to finish the year ranked #2 in the world, behind only Pete Sampras. The unexpected nature of his U.S. Open title led many, including Hall-of-famer and four-time U.S. Open champion John McEnroe to criticise Rafter as a "one-slam wonder".
1998 was a particularly strong year for Rafter, who won the Canadian Open and Cincinnati in a row (only Andre Agassi, in 1995, and Andy Roddick, in 2003, also have won both these tournaments in the same year). Rafter defeated ninth ranked Richard Krajicek in the Toronto final and second ranked Pete Sampras in the Cincinnati final. When asked about the difference between himself and Rafter following titles) stated "10 grand slams", and that a player has to come back and win a Grand Slam again in order to be considered great.
Following his title at Cincinnati, Rafter won a US Open warm-up tournament in Long Island, New York. Entering the US Open as the defending champion, he reached the final again, defeating Sampras in a five-set semifinal. Rafter pointedly took issue with Sampras' refusal to show him respect in defeat: "That is what really upsets me about him," Rafter said, "and the reason why I try to piss him off as much as I can."
Rafter then defended his U.S. Open title by defeating fellow Australian player Mark Philippoussis in four sets, committing only five unforced errors throughout the match. When asked about Sampras' earlier comments about having to win another Grand Slam in order to be considered great, Rafter replied: "Maybe you can ask him that question, if he thinks that now. For me, I won another Slam, and it hasn't sunk in yet. It's very, very exciting for me, especially to repeat it". Altogether, Rafter won six tournaments in 1998, finishing the year #4 in the world.
At the 1999 French Open, Rafter drew future World No. 1 and 17-time Grand Slam champion Roger Federer in the first round, making him the first ever opponent of Federer in the main draw of a Grand Slam tournament. Rafter defeated him in four sets, after losing the first set. Rafter then reached the Wimbledon semifinals for the first time in 1999, where he lost in straight sets to Agassi, the first of three consecutive years that the two met in the Wimbledon semifinals. July 1999 saw Rafter holding the world No. 1 men's singles ranking for one week, making him the shortest-reigning world No. 1 in ATP tour history. As the two-time defending US Open champion, Rafter lost in the first round of the tournament, retiring in the fifth set against Cédric Pioline after succumbing to shoulder tendinitis. Rafter's shoulder injury wound up being serious enough to necessitate surgery. He won the Australian Open men's doubles title in 1999 (partnering Jonas Björkman), making him one of few players in the modern era to win both a singles and doubles Grand Slam title during their career (fellow countryman Lleyton Hewitt would later achieve this feat in 2001). He and Björkman also won doubles titles at the ATP Masters Series events in Canada (1999) and Indian Wells (1998).
2000s
His ranking had fallen to No. 21 by the time he reached the Wimbledon final in July 2000. In the semifinals, Rafter defeated Agassi 7–5, 4–6, 7–5, 4–6, 6–3. The match was hailed as a classic, particularly because of their contrasting playing styles, with Agassi playing primarily from the baseline and Rafter attacking the net.[4] Rafter faced Sampras in the final, who was gunning for a record-breaking seventh Wimbledon title overall (and seven in the past eight years). While Rafter made a strong start to the match and took the first set, after the match he would claim that he had "choked" part way through the second set, and was then not able to get back into his game. Sampras won in four sets.
In 2001, Rafter reached the semifinals of the Australian Open, but despite holding a two sets to one lead and having the support of the home crowd, Rafter lost the match to Agassi in five sets. Later in the year, Rafter again reached the Wimbledon final. For the third straight year, he faced Agassi in the semifinals and won in yet another five-setter, 2–6, 6–3, 3–6, 6–2, 8–6. Much like the previous year's semifinal, this match also received praise for the quality of play that the two men displayed. In the final, he squared off against Goran Ivaniševi?, who had reached the Wimbledon final three times before but had slid down the rankings to World No. 125 following injury problems. In a five-set struggle that lasted just over three hours, Ivaniševi? prevailed.
Rafter was on the Australian Davis Cup Team that lost in the final in 2000 (to Spain) and 2001 (to France). He was unable to play in the 1999 Davis Cup final – where Australia beat France to win the cup – because of injury (though he won important matches in the earlier rounds to help the team qualify).
Rafter was on the Australian teams that won the World Team Cup in 1999 and 2001.
He retired from the professional tour at the end of 2002 after winning a total of 11 singles titles and 10 doubles titles. He returns to the courts annually to play World Team Tennis for the Philadelphia Freedoms.
On Australia Day 2008, Pat Rafter was inducted into the Australian Open Hall of Fame.
ATP Champions Tour
At the 2009 AEGON Masters Tennis, Rafter lost his opening round robin match against the 1987 Wimbledon Champion Pat Cash 2–6, 6–2, 10–6. In a much anticipated match and reply of the 2001 Wimbledon final, Rafter faced Goran Ivaniševi?. Rafter won the match when Ivanisevic retired while serving for the opening set, 3–5. Despite his performance, the retirement was enough to push Rafter into the final against Stefan Edberg. In what is described as a spell-binding serve-and-volley showdown,[8] Rafter won the match 6–7, 6–4, 11–9. This represented the first time that Rafter was able to defeat Edberg.
Equipment
Rafter, while professional, used Prince Sports racquet and Reebok clothes. Since beginning 2011, he began using Dunlop Sport racquet, continuing with Reebok clothes.
Personal life
Rafter was born in Mount Isa, Queensland, and is third-youngest in a family of nine children. He began playing tennis at the age of five with his father and three older brothers.
In April 2004, Rafter married his girlfriend Lara Feltham (with whom he had a son, Joshua) at a resort in Fiji. Their daughter, India, was born in May 2005.
In 2002, he won the Australian of the Year award. This created some controversy as he had spent much of his career residing in Bermuda for tax purposes.
Rafter donated half of the prize money from his 1997 and 1998 US Open wins to the Starlight Children's Foundation; he attempted to do so anonymously in 1997 but was unsuccessful. He has created his own charity organisation that raises funds for children's causes each year.
He has occasionally played reserve grade Australian rules in the Sydney AFL for the North Shore Bombers.
Since his retirement, Rafter has gone on to become an underwear model for Bonds, and in October 2010 was announced as the next Davis Cup captain for Australia.
Rafter is of Irish descent.
Australian memorial
In honour of Patrick Rafter the 5,500 seat centre court of the Queensland Tennis Centre in Brisbane, Australia was named Pat Rafter Arena.
Please register for a free Genetic Matrix account to access more information about this and all other celebrity pages