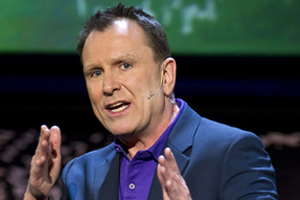 Colin Quinn
Category : TV Host
Type : MEG
Profile : 5/1 - Heretical / Investigator
Definition : Single
Incarnation Cross : LAX Separation 1
Biography
Colin Quinn (born June 6, 1959 in Brooklyn, New York) is an Irish-American comedian, best known for his five years in the cast of Saturday Night Live.

Early years
Colin Quinn was born in Brooklyn to an Irish-American family and was raised in the Park Slope section of the borough. His gravelly Brooklyn accent and idiosyncratic mannerisms are trademarks of his stand-up act, headlining at top comedy clubs across the country, including Caroline's Comedy Club in New York City. Before becoming a comedian, Quinn worked as a bartender. He stopped drinking in the early 1980s after several bad experiences with alcohol, including drunken blackouts and nights spent in jail.

After quitting bartending, Quinn began his stand-up career in 1984. He first achieved fame in 1987 as co-host of the MTV game show Remote Control, which he did for three years. In 1989, he hosted A&E stand-up showcase Caroline's Comedy Hour, and acted in and wrote the comedic short Going Back to Brooklyn along with Ben Stiller. Much of his early comedy career focused on stand-up and writing for shows like In Living Color. He later co-wrote the story and was an associate producer for the movie Celtic Pride, starring Damon Wayans and Dan Aykroyd.

Saturday Night Live
In 1995, Quinn was hired by Saturday Night Live as a writer and featured player until 1997–1998 season, when he became a full cast member. He established himself on the show with characters such as "Lenny the Lion" and "Joe Blow", and did the recurring segment "Colin Quinn Explains the New York Times". Quinn took over as host of the Weekend Update segment in January 1998 after Norm Macdonald's firing, and anchored the segment until departing SNL in 2000. Quinn would often comment on the highly publicized media circuses such as Clinton-Lewinsky Scandal and the Microsoft Anti-Trust Trial. At the end of each Weekend Update segment, he would use the catchphrase, "That's my story and I'm sticking to it," a line from a 1993 hit country song from Collin Raye. During his time on SNL, Quinn often struggled to read from cue cards or a teleprompter. He was not thrilled about his run on the show, declaring on an episode of Tough Crowd, "I don't miss it."

During his SNL years, Quinn made his Broadway debut in his one-man show, Colin Quinn: An Irish Wake co-written with fellow comedian Lou DiMaggio, and was offered the role of Scott Evil in Austin Powers: International Man of Mystery by Mike Myers, which he turned down to make time for his writing projects . The role was taken by Seth Green.

Recurring Characters on SNL
Gene, an ex-convict who does menial jobs.
Joe Blow, a blue-collar worker from Queens who complains about the declining quality of his neighborhood.
Lenny The Lion, a lion, similar to his Joe Blow character, only he talks about trying to better himself.
Rolf, a racist who always has second thoughts about his behavior.

Celebrity Impersonations on SNL
Dale Jarrett
Elvis Costello
Gerry Adams
Leon Panetta
Robert De Niro in the now infamous "Joe Pesci Show" sketch where the real Robert De Niro and Joe Pesci make a surprise appearance.

Post-SNL career
After leaving SNL, Quinn had a sketch comedy show on NBC called The Colin Quinn Show that lasted for only three episodes in 2002, after being canceled due to critical fans, and mediocre ratings.

Quinn became host of Tough Crowd with Colin Quinn on Comedy Central in 2003. The show immediately followed The Daily Show with Jon Stewart, and was one of several attempts to create a companion show for Stewart's program. However, Tough Crowd never managed to keep the majority of its lead-in audience. Although it was renewed through the 2005 television season, Tough Crowd was placed on indefinite hiatus in October 2004, with its "final" episode airing on November 4, 2004. The show featured four comedians (often his friends such as Dave Attell, Jim Norton, and Patrice Oneal) with Quinn as host, discussing various political issues. These conversations often seemed heated and almost violent, but tended to be affectionate at heart. Quinn gave many comedians exposure on the show, which ran for roughly 250 episodes over a two-year period. Quinn often complained on-air about the show's ratings, and made many self-deprecating comments about the state of his career.

Colin performs regularly at the Comedy Cellar in New York City, where many top comedians perform when not on the road. In 2004, he was named #56 on Comedy Central's list of the 100 greatest standups of all time. He was also named to the Irish America Magazine list of the "Top 100 Irish Americans of the Year".

He would later be heard as the "unofficial co-host" on the Nick DiPaolo show on the now-defunct 92.3 Free FM in New York City, airing Monday-Friday from noon to 3pm. Quinn and DiPaolo were originally slated to host the show together on WJFK-FM, but the station decided not to pick up the show. Nick often referred to Quinn as "the joke fairy," due to his propensity for telling a joke and hanging up the phone before getting a response. Colin used to appear on a top ten podcast on MySpace with friend and fellow comedian Robert Kelly but suddenly stopped citing reasons that he thought it resembled too closely of a radioshow. Colin Quinn is also a regular guest on The Opie & Anthony Show. Recently Colin has discussed what he refers to as thousands of pages of "manifestos" that he's written since his departure from Tough Crowd, but never elaborated on the contents.

He's playing the part of Reedy in the 2008 comedy film Harold.
Please register for a free Genetic Matrix account to access more information about this and all other celebrity pages