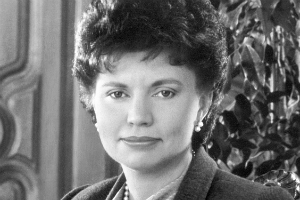 Elizabeth Clare Prophet
Category : Guru
Type : GP
Profile : 3/6 - Martyr / Role Model
Definition : Single
Incarnation Cross : RAX Penetration 1
Biography
Elizabeth Clare Prophet (April 8, 1939 – October 15, 2009) was a controversial American New Age minister and religious figure, self-proclaimed prophet, author, orator, and writer. In 1963 she married Mark L. Prophet, who five years earlier, in 1958, had founded The Summit Lighthouse. Mark and Elizabeth had four children. In their nine years of marriage, they embarked on spiritual pilgrimages to Europe, Ghana and India, where they met Mother Theresa and the Dalai Lama. Elizabeth, just 33 years of age at the time of husband Mark's passing on February 26, 1973, assumed control of The Summit Lighthouse at that time.
In 1975, Prophet founded Church Universal and Triumphant, which became the umbrella organization for the movement, and which she would grow into a worldwide ministry. Prophet controversially called on her members in the late 1980s to prepare for the possibility of nuclear war at the turn of the decade, encouraging them to construct fallout shelters. In 1996, Prophet handed day-to-day operational control of her organization to president and board of directors, maintaining her role as spiritual leader until her retirement due to health reasons in 1999.
During the 1980s and 1990s, Prophet appeared on Larry King Live, Donahue and Nightline, among other television programs. Earlier media appearances included a feature in 1977 in "The Man Who Would Not Die," an episode of NBC's In Search Of... series. She was also featured in 1994 on NBC's Ancient Prophecies.
Early years
Prophet was born Elizabeth Clare Wulf in Red Bank, New Jersey to Hans and Fridy Wulf. She spent her junior year studying French in Switzerland, and graduated from Red Bank Regional High School second in her class. She attended Antioch College in Ohio from September 1957 to March 1959. In fall 1958 she served an internship at the United Nations. She transferred to Boston University in September 1959, from where graduated with a bachelor of arts degree in political science in approximately August 1961.
Mark Prophet
On April 22, 1961, she met Mark L. Prophet who came to speak in Boston; Mark and Elizabeth eventually courted, marrying in 1963.
In 1965, the Prophet family relocated to Fairfax, Virginia, and in 1966 to Colorado Springs, Colorado.
In 1970, the Prophet family founded Montessori International, a school based on the principles of the acclaimed educator Dr. Maria Montessori. Classes were offered for students ranging from preschool age to high school. Montessori information courses were also offered to parents and students. Staff were trained at Montessori organizations such as the Association Montessori Internationale and the Pan-American Montessori Society,
In 1970, the Prophets went to India with their family, and several dozen church members. (Elizabeth traveled again in the early 1980s and established the ASHRAM OF THE WORLD MOTHER in New Delhi, India.) They toured the country, meeting with Indira Gandhi as well as with the Dalai Lama. They also met with Mother Teresa of Calcutta.
Ministry and expansion
In 1974, the headquarters of the Church were moved to Santa Barbara, California, where Elizabeth Prophet founded Summit University, a 12 week program of instruction in her teachings. In 1975, she founded Summit University Press.
The church eventually became the umbrella organization for Prophet's work, with The Summit Lighthouse becoming the publishing arm of the church.
In the summer of 1976, the church's headquarters were again relocated to the campus of Pasadena College, in Pasadena. Summit University, Montessori International, and quarterly church conferences were held there. About 300 staff members were then in residence.
In 1977, the church purchased a former Claretian seminary in Calabasas, a 218-acre (0.88 km2) campus near Los Angeles, and moved its operations there in 1978.
In 1981, the Church Universal and Triumphant purchased the 12,000-acre (49 km2) Forbes Ranch, just outside of Yellowstone Park, near Gardiner, Montana.
Final years in the ministry
In 1986, Prophet relocated her headquarters to Montana near the Yellowstone National Park.
Elizabeth Clare Prophet was diagnosed with Alzheimer's disease in November 1998.
Retirement and death
She retired in 1999. Died, October 15, 2009.
Teachings
Both Mark and Elizabeth taught the Path of Personal Christhood, the way of the soul's one-on-one relationship with God through Christ. Elizabeth Clare Prophet believed that she shared the gift of the word, both written and spoken. She claimed to be in constant communion with God.
The Science of the Spoken word, as Elizabeth and Mark taught it, was thought to be a gift of sound combined with meditation, prayer and visualization, offering one's heart to God in the Service of Life.
They believed that a Divine Gift (The Ascension) of union with God was possible.
"Mother as Messenger"
Some of Prophet's ideas are published in her book Fallen Angels and the Origins of Evil and in Paths of Light and Darkness, the sixth book in her Climb the Highest Mountain series.
Elizabeth Prophet's family
Prophet was survived by her five children.
Please register for a free Genetic Matrix account to access more information about this and all other celebrity pages