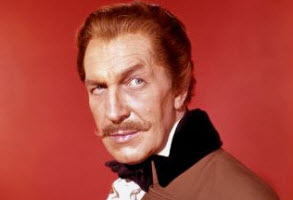 Vincent Price
Category : Actor
Type : MGE
Profile : 6/2 - Role Model / Hermit
Definition : Split - Small (22,35)
Incarnation Cross : LAX Duality 1
Biography
Vincent Leonard Price Jr. (May 27, 1911 – October 25, 1993) was an American film actor, remembered for his distinctive voice and serio-comic attitude in a series of distinctive horror films. His tall 6' 4" (1.93 m) stature and polished, urbane manner made him something of an American counterpart to the older Boris Karloff.
Early life and career

Price was born in St. Louis, Missouri to Vincent Leonard Price and Marguerite Willcox. His father was president of the National Candy Company. His grandfather, Vincent Clarence Price invented "Dr. Price's Baking Powder", the first cream of tartar baking powder, and secured the family's fortune. Vincent Jr. attended St. Louis Country Day School. He was further educated at Yale in art history and fine art. He was a member of Alpha Sigma Phi Fraternity and the Courtauld Institute, London. He became interested in theater in the 1930s, appearing professionally on stage from 1935.

He made his film debut in 1938 with Service de Luxe and established himself as a competent actor, notably in Laura (1944), opposite Gene Tierney, directed by Otto Preminger. He also played Joseph Smith, Jr. in the movie Brigham Young (1940), as well as a pretentious priest in The Keys of the Kingdom (1944). During the 1940s, he appeared in a wide variety of films from straight-forward drama to comedy to horror (he provided the voice of The Invisible Man at the end of Abbott and Costello Meet Frankenstein in 1948).

In 1946 he reunited with Gene Tierney in two notable films Dragonwyck and Leave Her to Heaven. There were also many villainous roles in slick film noir thrillers like The Web (1947), The Long Night (1947), Rogues Regiment (1948) and The Bribe (1949) with Robert Taylor, Ava Gardner and Charles Laughton. He was also active in radio, portraying the Robin Hood-inspired crime-fighter Simon Templar, aka. The Saint, in a series that ran from 1947 to 1951.

In the 1950s, he moved into horror films, with a role in House of Wax (1953), the first 3-D film to land in the year's top ten at the North American box office, and then the monster movie The Fly (1958).

Price also starred in the original House on Haunted Hill (1959) as the eccentric millionaire Fredrick Loren. (Geoffrey Rush, playing the same character in the 1999 remake, was not only made to resemble Price, but was also renamed Steven Price.)

1960s
In the 1960s, Price had a number of low-budget successes with Roger Corman and American International Pictures (AIP) including the Edgar Allan Poe adaptations House of Usher (1960), The Pit and the Pendulum (1961), Tales of Terror (1962), The Raven (1963), The Masque of the Red Death (1964) and The Tomb of Ligeia (1965).

These were followed by numerous other roles throughout the 1960s in which he played characters in horror films who were often closely modeled on the Corman Poe films. In 1968 he played the part of an eccentric artist in the musical Darling of the Day opposite Patricia Routledge, displaying an adequate if untrained singing voice.

He often spoke of his pleasure at playing "Egghead" on the Batman television series. Another of his co-stars, Yvonne Craig (Batgirl), often said Price was her favorite co-star.

In an often-repeated anecdote from the set of Batman, Price, after a take was printed, started throwing eggs at series stars Adam West and Burt Ward, and when asked to stop replied, "With a full artillery? Not a chance!", causing an eggfight to erupt on the soundstage. This incident is reenacted in the behind-the-scenes telefilm Return to the Batcave: The Misadventures of Adam and Burt.

It was also in the 60's that he began his role as a guest on the game show The Hollywood Squares, even becoming a semi-regular in the 70's, including being one of the guest panelists on the finale in 1980. He was known for usually making fun of Rose Marie's age, and using his famous voice to answer maliciously to questions.

Later career
Price accepted a cameo part in the children's television program The Hilarious House of Frightenstein (1971) in Hamilton, Ontario Canada, on the local television station CHCH. In addition to the opening and closing monologues, his role in the show was to recite poems about the show's various characters, sometimes wearing a cloak or other costumes.

He has also appeared in The Abominable Dr. Phibes (1971) and Theatre of Blood (1973), in which he created a series of campy, tongue-in-cheek villains. Price also recorded dramatic readings of Poe's short stories and poems, which were collected together with readings by Basil Rathbone.

He greatly reduced his film work from around 1975, as horror itself suffered a slump, and increased his narrative and voice work, as well as advertising Milton Bradley's Shrunken Head Apple Sculpture. Price's voiceover is heard on Alice Cooper's first solo album, Welcome to My Nightmare from 1975, as well as the TV special entitled Alice Cooper-The Nightmare. He also starred for a year in the early 1970s in a syndicated daily radio program, Tales of the Unexplained. He also made a guest appearance in a 1972 episode of The Brady Bunch, in which he played a deranged archaeologist.

In the summer of 1977, he began performing as Oscar Wilde, in the one man stage play Diversions and Delights. Written by John Gay and directed by Joe Hardy, the play is set in a Parisian theatre on a night about one year before Wilde's death. In an attempt to earn some much-needed money, he speaks to the audience about his life, his works and, in the second act, about his love for Bosie, Lord Alfred Douglas, which led to his downfall.

The original tour of the play was a success in every city that it played, except for New York City. In the summer of 1979, Price performed it at the Tabor Opera House in Leadville, Colorado on the same stage that Wilde had spoken to the miners about art some 96 years before. Price would eventually perform the play worldwide and to many, including his daughter Victoria, it was the best acting that he ever did.

In 1982, Price provided the narrator's voice in Vincent, Tim Burton's six-minute film about a young boy who flashes from reality into a fantasy where he is Vincent Price. That same year, he performed a sinister "rap" on the title track of Michael Jackson's monumental "Thriller" album. In addition to the album being a mega-seller, the video was a huge hit for MTV. It included a stunning sequence in which Jackson transforms into a werewolf and was a major landmark for music videos. One of his last major roles, and one of his favorites, was as the voice of Professor Ratigan in Walt Disney Pictures' The Great Mouse Detective from 1986.

From 1981 to 1989, he hosted the PBS television series Mystery!. Also, in 1985, he was voice talent on the Hanna-Barbera series The 13 Ghosts of Scooby-Doo as the mysterious Vincent Van Ghoul who aided Scooby-Doo and the gang in capturing thirteen evil demons into an ancient chest. During this time (1985-1989), he appeared in horror-themed commercials for Tilex bathroom cleanser. His last significant film work was as the inventor in Tim Burton's Edward Scissorhands (1990).

A witty raconteur, Price was a frequent guest on Johnny Carson's Tonight Show, where he once demonstrated how to poach a fish in a dishwasher. He also was a frequent panelist on Hollywood Squares during its initial run.

Price was also a noted gourmet cook and art collector. From 1962 to 1971, Sears, Roebuck offered the Vincent Price Collection of Fine Art, selling about 50,000 pieces of fine art to the general public. Price selected and commissioned works for the collection, including works by Rembrandt, Pablo Picasso, and Salvador Dalí. He also authored several cookbooks.

Family
Price was married three times and fathered a son, named Vincent Barrett Price, with his first wife, former actress Edith Barrett. Price and his second wife Mary Grant donated hundreds of works of art and a large amount of money to East Los Angeles College in the early 1960s in order to endow the Vincent and Mary Price Gallery there. Their daughter, Victoria, was born in 1962.

Price's last marriage was to the Australian actress Coral Browne, who appeared with him (as one of his victims) in Theatre of Blood (1973). He converted to Catholicism to marry her, and she became a US citizen for him.

Death
Price was a lifelong smoker. He had long suffered from emphysema and Parkinson's disease, which had forced his role in Edward Scissorhands to be much smaller than intended.

His illness also contributed to his retirement from Mystery, as his condition was becoming noticeable on-screen. He died of lung cancer on October 25, 1993. The Arts & Entertainment Network aired an episode of Biography highlighting Price's horror career the next night, but because of its failure to clear copyrights, the show was never aired again. Four years later, A&E produced its updated episode, a show titled Vincent Price: The Versatile Villain, which aired on October 12, 1997; it is often rebroadcast and is available on DVD. The script was by Lucy Chase Williams, author of The Complete Films of Vincent Price (Citadel Press, 1995). In early 1991, Tim Burton was developing a personal documentary with the working title Conversations With Vincent, in which interviews with Price were shot at the Vincent Price Gallery, but the project was never completed and was eventually shelved.

Legacy
Price was an Honorary Board Member and strong supporter of the Witch's Dungeon Movie Museum located in Bristol, Connecticut until his death. The museum features detailed life-size wax replicas of characters from some of Price's films, including The Fly, The Abominable Dr. Phibes and The Masque of the Red Death (see ).
A black box theater at Price's alma mater, St. Louis Country Day School, is named after him.
Vincent Twice was a Price parody on Sesame Street.
He was parodied in an episode of The Simpsons ("Sunday, Cruddy Sunday").
Price even had his own Spitting Image puppet, who was always trying to be "sinister" and lure people into his ghoulish traps, only for his victims to point out all the obvious flaws.
In 1989, Vincent Price was inducted into the St. Louis Walk of Fame.
Director Tim Burton directed a short stop-motion film as a tribute to Vincent Price called Vincent, about a young boy named Vincent Malloy who was obsessed with the grim and macabre. It is narrated by Price.
In 1999, a frank and detailed biography of Vincent Price, written by his daughter Victoria Price, was published by St Martin's Griffin Press.
Starting in November 2005, featured cast member Bill Hader of the NBC sketch comedy/variety show Saturday Night Live has played Price in a recurring sketch where Vincent Price hosts botched holiday specials filled with celebrities of the late 1950s-early 1960s. Other cast members who have played Price on SNL include "Not Ready For Primetime" castmember Dan Aykroyd and one-season castmember Michael McKean (who played Vincent Price when he hosted a season 10 episode and again when he was hired as a castmember for the 1994-1995 season).
The October 2005 Episode of the Channel 101 series Yacht Rock featured comedian James Adomian as Vincent Price during the recording of Thriller.
In 1951, impressed by the spirit of the students and the community's need for the opportunity to experience original art works firsthard, Price donated some 90 pieces from his own collection to East Los Angeles College in Monterey Park, California, thus establishing the first "teaching art collection" owned by a community college in the U.S. Today, the Vincent Price Art Gallery continues to present world-class exhibitions, and remains one of the actor's most enduring legacies. The superb collection contains over 2,000 pieces and has been valued in excess of five million dollars. (On exhibit at The Vincent Price Gallery on the ELAC campus for free. Mon-Thu 12:00pm-3:00pm behind the F-5 Building)
During the early 70's Price hosted BBC Radio's mystery program "The Price of Fear"


Please register for a free Genetic Matrix account to access more information about this and all other celebrity pages