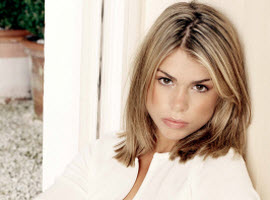 Billie Piper
Category : Actress
Type : MGP
Profile : 1/3 - Investigating / Martyr
Definition : Single
Incarnation Cross : RAX The Vessel of Love 3
Biography
Billie Piper (born 22 September 1982 is an English actress and pop singer. She was originally named Lianne Piper, but her parents decided later that they would choose Billie.

She began her career as a pop singer in her teens and was well known for her marriage to DJ Chris Evans but is now best known for portraying Rose Tyler, companion to the Doctor in the television series Doctor Who from 2005 to 2006, a role she is set to reprise in 2008. In 2007, Broadcast magazine listed Piper at #6 in its "Hot 100" list of influential on-screen performers, the top woman on the list.

Career

Music
Piper's first break in the entertainment world came as a teenager, when she was selected to appear on the Saturday morning kids' television show Scratchy and Co. Piper later landed a role in a television commercial promoting the pop magazine Smash Hits. Her role was to blow a bubble in front of the camera, burst it with her finger and shout "Pop!". A red screen would then come up and the words "Smash hits Magazine. 100% pure pop!" with Piper's voice saying the words. She then had to run up to the camera and dance, then run back. In 1996 she sang on a backing song Nobody's Business. It was a dance track by h20. Soon after she was offered a record deal at the age of fifteen, and in 1998 became the youngest artist ever to debut at number one in the UK singles chart with "Because We Want To", released under the artist name "Billie". Her follow-up single "Girlfriend" also debuted at number one and her first album, Honey to the B (released immediately afterwards) debuted at Number 14 in the UK album charts. She released two further singles off the album, "She Wants You" and "Honey to the B"; both songs debuted at Number 3.

Piper then took a year off to record her second album. She decided to release further records under her full name, Billie Piper. She returned to the Singles Chart in May 2000 with a new, sexier sound. She hit the Number 1 spot with "Day & Night", but her success wasn't to continue. She waited until the following September to release "Something Deep Inside". That reached Number 4 in the UK Singles Chart. In October 2000, Piper released her second album, Walk of Life, which reached Number 14 in the UK Album Chart. The song "Walk of Life", the final single off this album, was released in December 2000 and reached Number 25 in the UK Singles Chart.

In 1999, Piper was nominated for two BRIT Awards and was named Best Female Star at the Smash Hits Poll Winners' party, although at the latter ceremony she was reduced to tears after being viciously booed by jealous fans of Ritchie Neville, member of boyband Five, whom she was dating at the time.

On 15 January 2007, BBC Radio 1 DJ Chris Moyles started a campaign to get "Honey to the Bee" back into the Top 100 on download sales as a way of testing out new chart rules that favour download sales. The campaign was highly successful, with "Honey to the Bee" re-entering the official UK singles chart at #17, eight years after it was first released. She has been asked to write and sing the theme song for the new JAMES BOND film (Quantum Of Solace). Sources aren't saying much about it, but her name is on the list to sing the theme for the franchise.

Film and television
After an extended break, Piper decided to end her pop career in 2003 and return to her original ambition, acting. She took acting lessons while living in London. Piper gained very positive reviews for these appearances, critics seemingly feeling that she was a far better actress than she was a singer.

In 2004, Piper appeared in the films The Calcium Kid, as the romantic interest of Orlando Bloom's character, and Things to do Before You're Thirty. Shortly before starting work on Doctor Who, she filmed a starring role in the horror movie Spirit Trap alongside Russian pop star Alsou, released in the summer of 2005 to generally poor reviews.

In November 2005, Piper starred as Hero in a BBC adaptation of Much Ado About Nothing, updated for the modern day in a similar manner to the Canterbury Tales series in which she featured, with Hero now being a weather presenter in a television station.

Piper has completed work on two stand-alone television productions. In the first, a BBC adaptation of Philip Pullman's historical novel The Ruby in the Smoke broadcast in December 2006, Piper played protagonist Sally Lockhart, a Victorian orphan. The BBC plans to film all four of Pullman's Sally Lockhart novels, with Piper continuing in the role in The Shadow in the North which was shown in December 2007. In 2007 she appeared as the main character, Fanny Price, in an adaptation of Jane Austen's novel Mansfield Park, screened on ITV1. This was her first acting role on television for a broadcaster other than the BBC.

Besides her acting work, Piper has also begun to provide voiceovers for various television commercials, including one for Comfort Fabric Softener airing in June 2007.

Piper also appears in an ITV2 adaptation of Belle de Jour's The Intimate Adventures of a London Call Girl, a book detailing the life of a high-class prostitute entitled Secret Diary of a Call Girl and aired from 27 September 2007. The series saw Piper in several semi-nude scenes including a lesbian romp and one scene featuring her saddling a client and riding him like a horse. The first episode attracted strong viewing figures of 1.8 million and became one of ITV2's biggest ever audiences since the channel's debut in 1998, and the biggest audience since August 2006. It became the top multichannel show during its timeslot and also the highest rated non-terrestrial commission of the year to date. A second series, with Piper in the starring role, has started filming in May 2008. A body double has been hired for scenes in which Piper's pregnancy would be apparent.

Theatre
Piper made her stage debut in a touring production of Christopher Hampton's play Treats, which opened in early 2007 in Windsor. Treats was to have ended its tour in the West End, at the Garrick Theatre, starting on 28 February 2007 with previews from on 20 February. The play officially finished as of 26th May.

Doctor Who
In May 2004, it was announced that Piper was to play the character Rose Tyler, companion to the Doctor, played by Christopher Eccleston, in the long-running BBC television series Doctor Who, beginning in 2005. Piper won the Most Popular Actress category at the 2005 and 2006 National Television Awards for her work on Doctor Who. BBC News named Piper as one of its "Faces of the Year" for 2005, primarily due to her success in Doctor Who. At The South Bank Show Awards on 27 January 2006 Piper was awarded The Times Breakthrough Award for her successful transition from singing to acting. In March 2006, the Television and Radio Industries Club named Piper as best new TV talent at their annual awards ceremony. In September 2006, Piper was named Best Actress at the TV Quick and TV Choice Awards.

After the completion of the very successful first series of the revamped Doctor Who, the British media regularly released conflicting reports about how long Piper would be staying with the programme. In March 2006, she claimed that she would continue on Doctor Who into its third season in 2007. On 10 May 2006, however, she was reported to be considering quitting the series, although she did express an interest in playing a female version of the Doctor in the future (possibly related to a proposed Doctor Who spin-off series about Rose which was later dropped). On 15 June 2006, the BBC announced that she was to depart in the final episode of the second series, "Doomsday". Piper's decision to leave had been taken a year previously, but remained a secret until news of her departure became public.

Both Piper and head writer Russell T. Davies have mentioned that the manner of her departure was intended to leave the door open for the character of Rose Tyler to return to the role at a later date. Rose did not, however, return during the third series of the show. The BBC had briefly planned to produce a Rose Tyler spin-off, starring Piper, which was to follow Rose's life after leaving the Doctor, but Davies ultimately decided to cancel the project, saying it would be one spinoff too many along with Torchwood and The Sarah Jane Adventures. Despite having left the show, Piper has maintained contact with David Tennant and the two remain close friends. Piper commented in a newspaper article that she often asks Tennant for advice when it comes to career choices and roles.

On 27 November 2007, the BBC confirmed that she would reprise her role as Rose Tyler in the fourth series for three episodes. Later, it was confirmed by Russell T Davies in Doctor Who Magazine that this return had been planned since she left. The series began in April 2008, featuring a surprise cameo from Piper in the role of Rose during the final minutes of the first episode (Partners in Crime), in the episode The Poison Sky on the screen in the TARDIS, as well as on a screen behind the Doctor in the Crusader 50 in the episode Midnight. Despite these appearances, it is still unclear how Rose has managed to escape from the parallel universe. Camille Coduri and Noel Clarke are also confirmed to reprise their roles as Rose's mother, Jackie Tyler, and Rose's boyfriend, Mickey Smith, respectively.

Personal life
Piper was born in Swindon, Wiltshire, England to Paul Piper and Mandy Kent. Her parents changed her given name from Lianne to Billie three weeks after registering her birth. Piper has one younger brother, Charlie, two younger sisters, Harley and Ellie and two step-sisters who are unknown.

Piper grew up in Nine Elms, Swindon. She went to Brookfield Primary School in the Shaw, Swindon, and Bradon Forest Secondary School in the village of Purton. She supports Swindon Town Football Club. Later, she attended The Sylvia Young Theatre School. She is 1.65 metres tall. She is quoted as saying: "Weight doesn't matter as long as you're happy with yourself."

Piper married businessman, DJ and television presenter Chris Evans in a secret ceremony on May 2001 in Las Vegas after six months of dating. Their marriage attracted much comment due to the sixteen-year age gap between the two.

A story in The Independent on 27 June 2006 stated that Piper has declared that she does not wish to claim any money from Evans' reported £30m wealth or his £540,000 salary from Radio Two. "I'm not taking a penny from him," she told the Radio Times. "I think that's disgusting." Piper also revealed in her interview with Radio Times that she left her pop star career with very little money. The couple got divorced on 31 May 2007. Evans has admitted that the age gap was a reason in seeking the divorce.

Piper dated and lived with law student Amadu Sowe from 2004 to 2006.

She married actor Laurence Fox, son of James Fox, on 31 December 2007 at St. Marys Church in Eastbourne, East Sussex. They live in their home in Easebourne, Midhurst in West Sussex.

Starting in April 2008, rumours circulated that Billie was pregnant, which she confirmed in June.

Autobiography
Piper signed a six-figure contract with publishers Hodder and Stoughton to write her autobiography Growing Pains, which was released in the autumn of 2006. According to an interview for the BBC's Top Gear programme, Piper only released the autobiography because an unauthorised biography had been announced.

In recent publication, an excerpt of her autobiography has been printed. Piper divulges about her battle with anorexia that developed after a television presenter called her fat when she was a 16-year-old pop star. Piper began to use laxatives as well as starvation to drop weight. During a US promotional tour, she contemplated suicide as a result of low record sales and self doubt. She admits to managing five days without food during which time she subsisted on nothing more than Diet Coke and coffee. She also stated that her relationship with Evans made her ditch her starvation diet and gave her a new zest for life. However, after her split with Evans, Piper returned to anorexia. In the autobiography, Piper said that eating disorders were rife among the girls at her former school, the Sylvia Young Theatre School. Young has since spoken out against Piper calling her claim "rubbish" and stating she feels "bewildered" by the allegation.

Awards and nominations

Awards
1999 - Smash Hits Awards: Best Female
2005 - The National Television Awards: Most Popular Actress
2005 - BBC Face Of The Year
2005 - BBC Drama Awards: Best Actress
2006 - The South Bank Show Awards: The Times Breakthrough Award - Rising British Talent
2006 - TV Choice/TV Quick Awards: Best Actress
2006 - The National Television Awards: Most Popular Actress
2006 - BBC Drama Awards: Best Actress
2006 - Tric Awards: Best New Talent
2006 - GQ Magazine Awards: Woman of the Year
2006 - BBC Drama Awards: Exit of the year

Nominations
2006 - Broadcasting Press Guild Awards: Best Actress
(role in Doctor Who & ShakespeaRe-Told: Much Ado About Nothing)

2006 - BAFTA Cymru Awards: Best Actress
2007 - TV Choice/TV Quick Awards:Best Actress Mansfield Park
2008 - Rose d'Or: Special Award for Best Entertainer (for Secret Diary of a Call Girl).

Filmography

Television
Brit Awards 1997 (ITV, 1997) - herself
Channel 4 Schools (Channel 4, 1997) - herself
Smash Hits Poll Winners Party (BBC1, 1998) - herself
Billie Wants You! (Channel 4, 1999) - herself
Melinda's Big Night In (BBC One, 1999) - herself
Never Mind The Buzzcocks (BBC Two, 1999) - herself
Young Entertainers (BBC Two, 1999) - herself
Dale's All Stars (BBC1, 2000) - herself
Party in the Park 2000 (BBC One, 2000) - Performer
winton's wonderland (Five, 2000) - Performer
Top Of The Pops (BBC Two, 2000) - herself
The Canterbury Tales: The Miller's Tale (BBC One, 2003) - Alison Crosby
Bella and the Boys (BBC Two, 2004) - Bella
Doctor Who (BBC One, 2005-2006, 2008-Present) - Rose Tyler
ShakespeaRe-Told: Much Ado About Nothing (BBC One, 2005) - Hero
The Friday Night Project (Channel 4, 2006) - herself (guest presenter)
Friday Night with Jonathan Ross (BBC One, 2006) - herself
The Paul O'Grady Show (Channel 4, 2006) - herself
The Ruby in the Smoke (BBC One, 2006) - Sally Lockhart
The Charlotte Church Show (Channel 4, 2007) - herself (guest)
Mansfield Park (ITV, 2007) - Fanny Price
Parkinson (TV series) (ITV, 2007) - herself (guest)
Top Gear - Star in a Reasonably-Priced Car posted a time of 1:48.3
The Secret Diary of a Call Girl (ITV2, 2007-2008) - Belle De Jour
The Shadow in the North (BBC One, 2007) - Sally Lockhart
Almost famous (BBC Three, 2008) - Herself at the age of 12

Film
Evita (1996, uncredited bit-part)
The Leading Man (1996, uncredited bit-part)
The Calcium Kid (2004) - Angel
Things To Do Before You're 30 (2005) - Vicky
Spirit Trap (2005) - Jenny

Discography
For a comprehensive listing of all Billie Piper releases, see Billie Piper discography.

Albums
1999: Honey to the B
2000: Walk of Life
2005: The Best of Billie

Singles
Year Single Peak positions
UK IRL Australia SE SW NZ
1998 "Because We Want To"
"Girlfriend"
"She Wants You"
1999 "Honey to the Bee"
"Last Christmas"
"Thank ABBA for the Music"
2000 "Day & Night"
"Something Deep Inside"
"Walk of Life"
2007 "Honey To The Bee"


Please register for a free Genetic Matrix account to access more information about this and all other celebrity pages