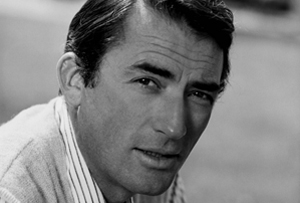 Gregory Peck
Category : Actor
Type : PSE
Profile : 1/3 - Investigating / Martyr
Definition : Single
Incarnation Cross : RAX Penetration 1
Biography
Gregory Peck (April 5, 1916 – June 12, 2003) was an Academy Award-winning American film actor. He was one of 20th Century Fox's most popular film stars, from the 1940s to the 1960s, and played important roles well into the 1990s.
One of his most notable performances was as Atticus Finch in the 1963 film version of To Kill a Mockingbird, for which he won an Academy Award. President Lyndon Johnson honored Peck with the Presidential Medal of Freedom in 1969 for his lifetime humanitarian efforts. In 1999, the American Film Institute named Peck among the Greatest Male Stars of All Time, ranking at No. 12.

Early life
Peck was born Eldred Gregory Peck in San Diego, California's seaside community of La Jolla, the son of Gregory Pearl Peck, a chemist and pharmacist, and Missouri-born Bernice Mae Ayres. Peck's father was a Catholic and his mother converted to Catholicism upon marrying his father. Peck's Irish-born paternal grandmother, Catherine Ashe, was related to the Irish patriot Thomas Ashe, who took part in the Easter Rising less than three weeks after Peck's birth and died while on a hunger strike in 1917. Despite their strict Catholicism, Peck's parents divorced when he was five and he was raised by his grandmother.

Peck was sent to a Roman Catholic military school in Los Angeles at the age of 10 and then to San Diego High School. When he graduated, he enrolled at San Diego State University to improve his grades so that he could earn admission to his first-choice college, the University of California, Berkeley. For a short time, he took a job driving a truck for an oil company. In 1936, he enrolled as a pre-med student at UC Berkeley, majoring in English. Since he was 6'3" and very strong, he also decided to row on the university crew. Because of his great stature, the Berkeley acting coach spotted him and decided he would be perfect for his play. He developed an interest in acting and was recruited by Edwin Duerr, director of the school's Little Theater. He went on to appear in five plays during his senior year. Although his tuition fee was only $26 a year, Peck still struggled to pay, and had to work as a "hasher" (kitchen helper) for the Alpha Gamma Delta sorority in exchange for meals. Peck would later say about Berkeley that, "it was a very special experience for me and three of the greatest years of my life. It woke me up and made me a human being." In 1997, he donated $25,000 to the Berkeley crew team in honor of his coach, Ky Ebright.

After graduating from Berkeley with a BA degree in English, Peck dropped the name "Eldred" and headed to New York City to study at the Neighborhood Playhouse. He was often broke and sometimes slept in Central Park. He worked at the 1939 World's Fair and as a tour guide for NBC's television broadcasting.

He made his Broadway debut as the lead in Emlyn Williams' The Morning Star in 1942. His second Broadway performance that year was in The Willow and I with Edward Pawley. Peck's acting abilities were in high demand during World War II, since he was exempt from military service owing to a back injury suffered while receiving dance and movement lessons from Martha Graham as part of his acting training. Twentieth Century Fox claimed he had injured his back while rowing at university, but in Peck's words, "In Hollywood, they didn't think a dance class was macho enough, I guess. I've been trying to straighten out that story for years."

Career

Peck's first film, Days of Glory, was released in 1944. Though many critics initially dismissed Peck's acting as wooden, he was nominated for the Academy Award for Best Actor five times, four of which came in his first five years of film acting: for The Keys of the Kingdom (1944), The Yearling (1946), Gentleman's Agreement (1947), and Twelve O'Clock High (1949).

Each of these early films introduced an aspect of Peck's persona. The Keys of the Kingdom emphasized his stately presence. As the farmer Penny Barker in The Yearling his good-humored warmth and affection toward the characters playing his son and wife confounded critics who had been insisting he was a lifeless performer. Duel in the Sun (1946) showed his range as an actor in his first "against type" role as a cruel, libidinous gunslinger. Gentleman's Agreement established his power in the "social conscience" genre in a film that took on the deep-seated but subtle anti-Semitism of mid-century corporate America.Twelve O'Clock High was the first of many successful war films in which Peck embodied the brave, effective, yet human fighting man.

Among his other popular films were Moby Dick (1956), On the Beach (1959), which brought to life the terrors of global nuclear war, The Guns of Navarone (1961), and Roman Holiday (1953), with Audrey Hepburn in her Oscar-winning film debut. Peck and Hepburn were close friends until her death; Peck even introduced her to her first husband, Mel Ferrer.

Peck won the Academy award for his fifth nomination, playing Atticus Finch, a Depression-era lawyer and widowed father, in a film adaptation of the Harper Lee novel To Kill a Mockingbird. Released in 1962 during the height of the US civil rights movement in the South, this movie and his role were Peck's favorites. In 2003, Atticus Finch was named the top film hero of the past 100 years by the American Film Institute.

In 1949, Peck founded The La Jolla Playhouse, at his birthplace, along with his friends Jose Ferrer and Dorothy McGuire. This local community theater and landmark (now in a new home at the University of California, San Diego) still thrives today. It has attracted Hollywood film stars on hiatus both as performers and enthusiastic supporters since its inception.

He served as the president of the Academy of Motion Picture Arts and Sciences in 1967, Chairman of the Board of Trustees of the American Film Institute from 1967 to 1969, Chairman of the Motion Picture and Television Relief Fund in 1971, and National Chairman of the American Cancer Society in 1966. He was a member of the National Council on the Arts from 1964 to 1966.

Though so well known, he was not above all criticism. Pauline Kael described him as "competent but always a little boring". Even those greatly admiring him would admit stiffness in certain roles. Yet these qualities may have been a necessary trade-off for the iconic status he reached, and he may have known it. His few attempts at playing villainous characters were not critically acclaimed.

A physically powerful man, he was known to do a majority of his own fight scenes, rarely using body or stunt doubles. In fact, Robert Mitchum, his on-screen opponent in Cape Fear, often said that Peck once accidentally punched him for real during their final fight scene in the movie. He said that he felt the impact of the punch for days afterwards and said "I don't feel sorry for anyone dumb enough who picks a fight with him."

Later work

In the 1980s, Peck moved to television, where he starred in the mini-series The Blue and the Gray, playing Abraham Lincoln. He also starred with Barbara Bouchet in the TV film The Scarlet and The Black, about a real-life Roman Catholic priest in the Vatican who smuggled Jews and other refugees away from the Nazis during World War II.

Peck retired from active film-making in 1991. Like Cary Grant before him, Peck spent the last few years of his life touring the world doing speaking engagements in which he would show clips from his movies, reminisce, and answer questions from the audience.

He came out of retirement to appear in the 1998 remake of one of his most famous films, Moby Dick, portraying "Father Mapple" (played by Orson Welles in the 1956 version), with Patrick Stewart playing Captain Ahab, the role Peck made famous in the 1956 film.

Politics
In 1947, while many Hollywood figures were being blacklisted for similar activities, he signed a letter deploring a House Un-American Activities Committee investigation of alleged communists in the film industry.

President Richard Nixon placed Peck on his enemies list due to his liberal activism. Peck was always proud of this fact, but he lost five movie deals because of Nixon's list.

A lifelong supporter of the Democratic Party, Peck was suggested in 1970 as a possible Democratic candidate to run against Ronald Reagan for the office of Governor of California. Gregory Peck encouraged one of his sons, Carey Peck, to run for political office. Carey was defeated both times he tried for Congress, in 1978 and in 1980, by Republican Congressman Robert K. Dornan, both times by slim margins.

In an interview with the Irish media, Peck revealed that former President Lyndon Johnson had told him that, had he sought re-election, he intended to offer Peck the post of U.S. ambassador to Ireland — a post Peck, due to his Irish ancestry, said he might well have taken, saying "it would have been a great adventure".

He was outspoken against the Vietnam War, while remaining supportive of his son, Stephen, who was fighting there. In 1972, Peck produced the film version of Daniel Berrigan's play The Trial of the Catonsville Nine about the prosecution of a group of Vietnam protesters for civil disobedience. Despite his initial reluctance to portray the controversial General Douglas MacArthur on screen, he did so in 1977 and ended up with a great admiration for the man.

In 1987, Peck led a charge opposing President Ronald Reagan's Supreme Court nomination of Robert Bork.

Personal life
Peck owned the thoroughbred steeplechase racehorse Different Class which raced in England. The horse was the favorite for the 1968 Grand National but finished 3rd. Peck was close friends with French president Jacques Chirac.

In October of 1943, Peck married Greta Kukkonen with whom he had three sons. Greta was awarded the Rose of Finland, equivalent to a Medal of Freedom. They were divorced on December 30, 1955 and maintained a very good relationship as parents. Their sons are Jonathan, Stephen and Carey Peck. Jonathan Peck, a television news reporter, committed suicide in 1975. Stephen Peck is active in support of American veterans from the Vietnam war and Stephen's first wife Kimi Peck is an accomplished screenplay writer. Gregory supported Carey's political ambitions when running for a California Representative. Carey's wife Lita Albuquerque is an outstanding artist.

On December 31, 1955, he married his second wife, Veronique Passani, a Paris news reporter who had interviewed him in 1953 before he went to Italy to film Roman Holiday. He asked her to lunch six months later and they became inseparable. They had a son Anthony Peck, and a daughter Cecelia Peck.

Peck had many grandchildren from both marriages. Stephen has a daughter named Marisa, and a younger son named Ethan. Carey has four children, three daughters Marisa, Isabelle, and Jasmine, and a son Christopher.

Death

In early 2003 Gregory Peck was offered the role of Grandpa Joe in Charlie and the Chocolate Factory. He said he'd seriously consider it. He was looking forward to playing Grandpa Joe, which he considered "the greatest swan song of them all", but he died before he could accept.

On June 12, 2003, Peck died in his sleep from cardiorespiratory arrest, and bronchial pneumonia, at the age of 87 in Los Angeles. His wife of 48 years was at his side. Peck is buried in the mausoleum of the Cathedral of Our Lady of the Angels in Los Angeles, California.

Awards
Peck was nominated for five Academy Awards, winning once. He was nominated in 1946 for The Keys of the Kingdom, in 1947 for The Yearling, in 1948 for Gentleman's Agreement, and in 1950 for Twelve O'Clock High. He won the Oscar in 1963 for To Kill a Mockingbird. In 1948, he was awarded with the Jean Hersholt Humanitarian Award.

Peck received many Golden Globe awards. He won in 1947 for The Yearling, in 1963 for To Kill a Mockingbird, and in 1999 for Moby Dick. He was nominated in 1978 for The Boys from Brazil. He received the Cecil B. DeMille Award in 1969, and was given the Henrietta Award in 1951 and 1955 for World Film Favorite — Male.

In 1969, Lyndon Johnson honored Peck with the Presidential Medal of Freedom, the nation's highest civilian award.

In 1971, the Screen Actors Guild presented Peck with the SAG Life Achievement Award. In 1989, the American Film Institute gave Peck the AFI Life Achievement Award. He received the Crystal Globe award for outstanding artistic contribution to world cinema in 1996.

In 2000, Peck was made a Doctor of Letters by the National University of Ireland. He was a founding patron of the University College Dublin School of Film, where he persuaded Martin Scorsese to become an honorary patron. Peck also became chair of the American Cancer Society for a short time.

For his contribution to the motion picture industry, Gregory Peck has a star on the Hollywood Walk of Fame at 6100 Hollywood Blvd. In November, 2005, the star was stolen. It has since been replaced.
Pele
Edson Arantes do Nascimento, KBE (born October 23th 1940 in Três Corações, Brazil), best known by his nickname Pelé, is a former Brazilian football player. In his native Brazil, Pelé is hailed as a national hero for his accomplishments and contribution to the game, in addition to being officially declared the football ambassador of the world by FIFA and a national treasure by the Brazilian government. He is also acknowledged for his vocal support of policies to improve the social conditions of the poor (when he scored his 1,000th goal he dedicated it to the poor children of Brazil). During his career, he became known as "The King of Football" (O Rei do Futebol) or simply "The King Pelé" (O Rei Pelé). He was given the title of Athlete of the Century by the International Olympic Committee. He is also a member of the National Soccer Hall of Fame.

Spotted by the renowned football star, Medardo 'Lalo' Olea, Pelé began playing for Santos Futebol Clube at just 15, his national team at 16, and won his first World Cup at 17. Despite numerous offers from European clubs, he stayed loyal to his club, remaining with them for two decades until his semi-retirement in 1975. Pelé played as an inside forward, striker, and what later became known as the playmaker position. Pelé's technique and natural athleticism have been universally praised; he was renowned for his unstoppable dribbling and visionary passing, as well as his pace, powerful shot, and an exceptional heading ability, but above all he was an exceptionally prolific goalscorer.

He is the all-time top scorer in the history of the Brazil national team and is the only footballer to be a part of three World Cup-winning teams (it should be noted that though he was named part of the 1962 squad, he was injured and did not receive a winner's medal).

Since his full retirement in 1977 Pelé has been an ambassador for football and has also undertaken various acting roles and commercial ventures. He has also been recently linked to taking up a position of chief scout in South America for English club Manchester United.
Please register for a free Genetic Matrix account to access more information about this and all other celebrity pages