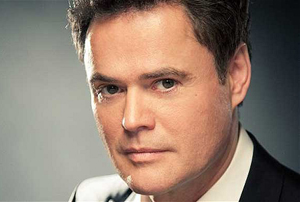 Donny Osmond
Category : Singer - Popular
Type : PSP
Profile : 6/3 - Role Model / Martyr
Definition : Split - Large
Incarnation Cross : LAX Separation 2
Biography
Donald Clark 'Donny' Osmond (born December 9, 1957) is an American entertainer. He is a singer, musician, actor and former teen idol. He has also been a talk show and game show host, record producer, race car driver and author. He is known for being half of the brother-sister singing act Donny & Marie and a member of the "Osmond Brothers" singing group.

Early life
Osmond was born in Ogden, Utah, to Olive May Davis and George Virl Osmond. He is the brother of Alan, Jay, Jimmy, Merrill, Wayne, Marie, Tom, and Virl Osmond. Alan, Jay, Merrill, Wayne, and Donny were members of the popular singing group The Osmonds (also known as The Osmond Brothers).

Osmond recently traced his family ancestry back to Merthyr Tydfil in Wales; his journey was documented by a BBC Wales programme, "Donny Osmond Coming Home".

Career
After seeing the Osmond Brothers (Alan, Wayne, Merrill & Jay) perform at Disneyland as a barbershop quartet the brother of Andy Williams asked the boys to audition for the "Andy Williams Show". They became regulars on the show and popularity gained quickly. Donny made his debut on the show at the age of 4 singing "You Are My Sunshine". The brothers continued to perform on the show throughout the 60's along with their brother Jimmy and sister Marie.

Donny became a teen idol in the early 1970s as a solo singer, in addition to performing with his older brothers. He and David Cassidy were easily the biggest "Cover Boy" pop stars for Tiger Beat magazine in the early 70's. His signature solo song, "Puppy Love" vaulted him into international fame. The fame was further advanced by his appearance on the "Here's Lucy" show, where he sang "Too Young" to Lucille Ball's actress/daughter Lucie Arnaz.

In the mid '70s, he teamed up with his younger sister, Marie. After being seen co-hosting an episode of the "Mike Douglas Show", Donny & Marie were offered a show of their own, "The Donny & Marie Show". The duo recorded several albums together prior to and while starring in their own television variety series which aired on ABC between 1976 and 1979.

His first foray into Broadway musical theatre, playing the title role in Little Johnny Jones in a Broadway revival, ended in dismal failure with the production opening and closing on the same night in March 1982,

Osmond had to work to re-invent himself as a solo artist and get away from the "goodie two shoes" image created by the T.V. series. He spent several years as a performer, before collaborating with Peter Gabriel and returning to the US charts in 1989 with the song "Soldier Of Love" and its follow-up "Sacred Emotion". The campaign to market "Soldier Of Love" received a lot of airplay with the singer being presented as a 'mystery artist', before his identity was later revealed.

Osmond found success in musical theater through much of the 1990s when he starred in Joseph and the Amazing Technicolor Dreamcoat for over 2,000 performances. During this period, he suffered from Social Anxiety Disorder.

Donny co-hosted a talk show with his sister, in 1998, also called Donny And Marie. The show ran for two seasons, and marked the first time the brother and sister had professionally been together in twenty years. Though ratings were high and they were nominated for an award as best talk show, the series was canceled. Donny went on to host Pyramid in two countries -- a syndicated television game show that ran two seasons in the US, from 2002-2004, and a British version of Pyramid on Challenge in 2007.

Within the past few years, he has released a Christmas album, an album of his favorite Broadway songs, and a compilation of popular love songs; his voice can also be heard in the Disney animated film Mulan, in which he sings "I'll Make A Man Out Of You". In 2004, Donny returned to the UK Top 10 for the first time as a solo artist since 1973, with the George Benson-sampling "Breeze On By," co-written with former teen idol Gary Barlow, from the 1990's UK boy band Take That. In the animated television series Johnny Bravo, Osmond voiced himself as a recurring character. He has also done guest spots on numerous other television shows such as "Friends" and "Diagnosis Murder"

Donny can be seen dancing in the music video of "Weird Al" Yankovic's song "White & Nerdy". The song is a parody of Chamillionaire's "Ridin'", and is on Yankovic's 2006 album Straight Outta Lynwood. In the video, Osmond's role is analogous to that of Krayzie Bone to Weird Al's Chamillionaire. Weird Al asked Donny to appear because he was the whitest guy he could think of.

He returned to Broadway on September 19, 2006, in the role of Gaston in Disney's Beauty And The Beast. He was scheduled to perform for nine weeks but due to popular demand he extended his run through December 24th. Liz Smith, of the New York Post wrote "I am here to tell you he is charmingly campy, good-looking and grand as the villain "Gaston," patterned after our old friend Elvis and noting "Donny is divine". On July 29, 2007, Osmond played Gaston again for the final performance of Beauty And The Beast'.

Donny and Marie were part of a Pepsi Twist commercial in 2006 with the Osbournes (Ozzy Osbourne and family).

Osmond returned to ABC as host of The Great American Dream Vote, a prime-time reality/game show that debuted in March, 2007. The return would prove short-lived; after earning lackluster ratings in its first two episodes, the program was canceled.

It was recently announced that Donny Osmond will host the upcoming British version of the game show Identity on BBC Two during the daytime. This will be his second game show hosting stint in the UK; his first is Pyramid Game on Challenge starting in May 2007.

Osmond has also been tapped by CBS to host a revival of Name That Tune in 2007 or 2008.

In early 2007, Osmond released the CD Love Songs of the Seventies, featuring romantic songs from that era. Also,currently his new album Love Songs of the 70's reached the billboard charts at #27.

Osmond also appeared in a cameo role in Weird Al's "White and Nerdy" video.

Personal life
Donny married Debra Glenn on May 8, 1978 at the LDS Temple in Provo, Utah. Together, they have five sons, the eldest being Don Jr., born on July 31, 1979 and the youngest Joshua born on February 16, 1998. In August 2005 Donny became a first-time grandfather. Osmond, like the rest of his family, is a member of The Church of Jesus Christ of Latter-day Saints. He received some criticism from members for not serving a mission as his religion encourages, but most of the furor over this lack of service has died down. In retrospect, he states, "It would have been nice to be able to have served a regular full time mission, but when I was of that age, my career was such that everyone, including my parents and the leaders of the church, thought that I could do a lot of good in the world by continuing being in the public eye, by living an exemplary life and sharing my beliefs in every way that I could." He continues sharing his beliefs in an extensive letters-and-comments portion of his website.
Please register for a free Genetic Matrix account to access more information about this and all other celebrity pages