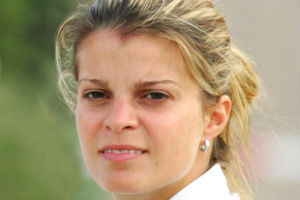 Athina Onassis Roussel
Category : Show Jumper
Type : PSP
Profile : 2/4 - Hermit / Opportunist
Definition : Split - Small (57)
Incarnation Cross : RAX The Four Ways 4
Biography
The extent of her inheritance is the subject of much argument. Sources never seem to agree on whether her collective heritage is worth at least $1 billion, since she is often credited as the "billionaire heiress" throughout the media. There have been several calculations of the assets believed to be part of her inherited portfolio, including a small island off the coast of Greece named "Skorpios", which is still in her possession despite many rumors of its being sold, for example to Giorgio Armani. By some accounts it is doubted that her collective heritage, regardless of calculations, was at least $1 billion, thus not actually making her a legitimate billionaire. One cause for confusion is the media's tendency to blur the line of distinction between what she owns and what the Alexander S. Onassis Foundation owns.
In 1999, at the age of 13, she said in court documents she felt "great aversion to anything Greek", even though her mother was Greek.
Legal entanglements
Christina Onassis never trusted Thierry Roussel completely, which led the family to arrange for a Board of Administrators to control the copyeditsfamily's money until Athina came of age. The trustees Christina selected to manage Athina's estate in the event of Christina's death were Stelio Papadimitriou, Paul Ioannidis, Apostolos Zabelas, Theodore Gabrielides, and Thierry Roussel. The "four Greeks" (the board members other than Roussel) have frequently been dubbed in the media as the "greybeards." During Athina's childhood and adolescence, all expenditures made on her behalf by her father (using money from the Onassis inheritance) had to be approved by the Board in advance (which led her father to threaten constantly to move back to Paris, France, with the family, where income taxes would cost the estate a "small fortune a year", as Roussel put it). In 1999, a Vaduz court ordered the management of Athina's inheritance transferred from the five trustees selected by her mother to the KPMG Fides auditing firm in Lucerne.
On Athina's 18th birthday, she was of legal age to take control of half of her inheritance. Despite massive media interest from across the world, there were a minimum of formalities in Switzerland, and the day passed almost like every other as one half of the Onassis fortune and a part of the Livanos shipping inheritance, handed down via Athina's mother's will, passed to Athina. It was an event for which she had been prepared by her family for a long time, and the 18-year-old heiress knew what would happen at one minute past midnight and what was expected of her.
On her 21st birthday, she did not take control of the other half or become the president of the Onassis Foundation, with assets in excess of US$2.1 billion. The Foundation's Board has made public that they have no interest in turning over control to Athina, who they say has no real qualifications to take on the role. Moreover, the Onassis Foundation officially denies that she ever was an heir to the estate of Aristotle Onassis; they acknowledge her only as heiress to her mother's fortune.
The Board has arranged to modify the Statutes of the Foundation so that Athina would not become head of the Foundation automatically upon turning 21. Her lawyers contested the validity of the changes and unsuccessfully fought for her stated desire to be President of the Foundation as of January 2006, when she turned 21.
Stelios Papadimitriou, President of the Foundation, has remarked: "We are not going to turn the Onassis Foundation over to someone who has no connection with our culture, our religion, our language or our shared experiences, and who never went to college or worked a day in her life. She can do whatever she wants with what she inherited from her mother, but not with Onassis's legacy to the Greek people in memory of [Athina's uncle], Alexander Onassis." Under the terms of Athina's grandfather's will, his fortune was divided in two, with half going to set up a Vaduz-based charitable foundation in memory of his only son, Alexander, who was killed in a plane crash.
Personal life
Since she started dating Brazilian professional showjumper (and two-time Olympic medalist) Alvaro Miranda Neto, more commonly known as "Doda", in March 2003, Athina moved to São Paulo where the couple now live. She paid $8.6 million for a 10,600-square-foot (980 m2) duplex, with space for 15 cars and overlooking Ibirapuera Park.
Neto and Onassis were married on 3 December 2005, after which it is believed that she assumed a hybrid version of the Onassis and Miranda names, thus apparently dropping the Roussel name. The bride's father and stepmother were not at the ceremony, although her half-sister Sandrine Roussel was invited.
Some anecdotes of the wedding refer to the guests' consumption of 1000 bottles of champagne. Most witnesses were Brazilian VIPs or friends of the couple from the equestrian community. Athina and Doda decided not to publish photos of the wedding (as they had planned to do) after a television report some days before the wedding about the death of Athina's mother. The couple reportedly asked for no presents and asked their guests to donate the money intended for presents to charity.
Equestrian career
Onassis-Miranda began her equestrian career as a teenager, when she was still known as Athina Roussel. More recently, in an effort to reattach to her maternal roots, Onassis-Miranda expressed an interest in learning Greek and even renewed her Greek passport. She switched her national affiliation from France to Greece, effective for all of her equestrian competitions.
Athina Onassis and Alvaro de Miranda Neto have a home base in São Paulo, but they travel throughout the year with the Global Champions Tour, of which Onassis-Miranda is official patroness. The Rio de Janeiro leg of the tour is, in fact, named for Onassis; the Athina Onassis International Horse Show, established in 2007, was initially set in São Paulo, but as of 2009, its venue is a newly renovated center in Rio de Janeiro.Onassis and Miranda are joint owners of AD Sport Horses, based in Fleurus.
In November 2012, Athina suffered a spinal injury in a fall from her horse, but was reported to be returning to competition in January 2013.
Please register for a free Genetic Matrix account to access more information about this and all other celebrity pages