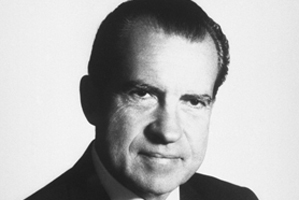 Richard Nixon
Category : Political
Type : MGP
Profile : 5/1 - Heretical / Investigator
Definition : Single
Incarnation Cross : LAX Cycles 2
Biography
American lawyer who entered politics in 1946, became a U.S. Senator in 1950, was elected V.P. under Dwight D. Eisenhower in 1952, and was elected President of the U.S. on 11/05/1968. After the eruption of the Watergate scandal, he resigned his office on 8/09/1974. He is the author of "Six Crises," published in 1962.
His parents Frances Anthony Nixon and Hannah Milhous were married on 6/25/1908. His dad, a strict disciplinarian, was an oil field worker, street car motorman, service station and store owner. The second of five sons, Nixon was named Richard after Richard the Lion-Hearted With his older brother and three younger brothers, he grew up in a prim Quaker household. Nixon did well in school and worked in his father's grocery store. His simple beginnings and innate shyness made him a socially ill-at-ease introvert.
After graduating second in his class from Whittier College on 6/09/1934 he enrolled at Duke Law School where he graduated third in his class. He returned to Whittier to set up a law practice. While auditioning for a part in a play at the Whittier Community Theater, he met Thelma Catherine (Pat) Ryan who eventually consented to marry him in June 1940. They were married on 6/21/1940 in Riverside, CA.
Two years later Nixon began a four-year stint in the Navy during WW II. After the war, he returned to California where he sought and won a seat in Congress, 1946. Once in Washington he quickly gained a reputation for his zealous pursuit of communists working in the federal government. While on the House Un-American Activities Committee he was involved in two of the most famous cases; Whittaker Chambers, a confessed Communist Party courier and the former State Dept. official Alger Hiss, who was accused by Chambers of passing secrets to Soviet agents. Popular back in California, he won the 1950 campaign for the U.S. Senate which brought him into national recognition. In 1952 Nixon worked for Dwight Eisenhower's presidential candidacy and was selected as Eisenhower's vice presidential running mate. He was 39 years old.
Nixon was accused of personally benefiting from a "slush fund" backed by millionaires. Defending himself against the charges he went on nationwide radio and TV on 9/23/1952 to deliver what became known as the "Checkers" speech. He detailed modest personal items belonging to him and his family, including Checkers, a spaniel given to his children by an admirer. He urged the audience to express their views to the Republican National Committee about whether he should be taken off the GOP ticket or not. The public responded with more than two million letters and telegrams by a margin of 350 to 1 urging him to stay. He was elected Vice President on 11/04/1952.
In 1953 he took on an extensive goodwill tour of Asia and in 1955, Central America, followed by South America in 1958. Nominated to run for president on 7/28/1960 against John F. Kennedy, Nixon narrowly lost. His political fortune continued to sink as he lost the gubernatorial race to Brown in 1962. In January of 1963 he joined a New York law firm and kept his hand in politics by campaigning for Barry Goldwater.
Known as an effective fund-raiser, he was nominated on 8/08/1968 as the Republican presidential candidate. He won by a narrow margin in the 11/05/1968 election against Hubert Humphrey. Nixon told his supporters that his goal was to "bring the American people together" under "an open Administration; open to new ideas, open to men and women of both parties, open to the critics as well as those who support us." There were new ideas, the number of women in high posts increased, and even Democrats occasionally were appointed. But at the same time, the Nixon White House reflected the reclusive temperament and industrious work habits of its resident. Access to this Administration was never open and information was tightly controlled and unauthorized new leaks brought reprisals. Nixon's escalation of the U.S. involvement in the Vietnam War ignited a firestorm of domestic protests and the nation was horrified on 5/04/1970 when a confrontation between demonstrating students and Ohio National Guard troops at Kent State University ended with the death of four people. Within a week more than 50,000 students converged on Washington in an unplanned protest. Student groups were invited to talk with presidential aides and Nixon, who met with a group from Kent State.
In May 1972 Nixon visited Moscow and Soviet leaders signed agreements to limit offensive and defensive strategic weapons. One by-product of the trip was a $1 billion deal to sell U.S. grain to Russia that brought election year joy to American wheat farmers. Nixon opened the doors to China with his trip there in February 1972. He returned to China in September 1979 and again in September 1985.
Nominated for a second term on 8/23/1972, Nixon won the election with 61% of the popular vote and 521 electoral votes against George S. McGovern. His downfall began with the break-in at the Democratic headquarters at the Watergate apartment complex on the night of 6/17/1972. Shortly afterwards, links to the White House were made when some of the burglars, who were caught by a security guard, were found to be carrying White House telephone numbers. As public revelations brought responsibility for the cover-up closer and closer to the White House, Nixon's top lieutenants toppled. First John Mitchell resigned as campaign director. Then H.R. Haldeman and John D. Ehrlichman, his closest White House aides, resigned. A Senate committee chaired by Sam J. Ervin Jr. (D-NC) investigated Watergate on national TV in the spring and summer of 1973 and it was learned that a secret taping system had recorded all of Nixon's White House conversations. The evidence from those tapes proved to be some of the most damning. Six days after the break-in, Nixon, on tape, agreed with a suggestion by his chief of staff, Haldeman, that orders should be given to the CIA to impede the FBI's investigation of the Watergate money trail. One tape had a missing segment of 18 minutes and 15 seconds which gave rise to the suspicion that even more damaging statements had been erased. A grand jury indicted John Mitchell, Haldeman, Ehrlichman and four others on charges of covering up the Watergate break-in. Nixon was named as an un-indicted co-conspirator on 6/05/1974. On July 27-30 the House Judiciary Committee approved three articles of impeachment, charging Nixon with obstructing justice, misusing his presidential power and defying committee subpoenas.
On 8/08/1974 Nixon made a televised address announcing his intention to resign, saying he should have set a higher standard for the conduct of the people who participated in his campaigns and Administration. On 8/09/1974 he left the White House. A month after his resignation many were outraged when Nixon's successor, Gerald R. Ford, issued a pardon on 9/18/1974 for all crimes that Nixon "committed or may have committed or taken part in" during his presidency.
Dick and Pat Nixon had two daughters. The elder, Tricia, was born just a few months before he won a seat in Congress, followed by Julie in 1948. After Nixon's resignation, he and Pat retreated to Casa Pacifica, their beachfront home in San Clemente, CA where Nixon kept a low profile. He emerged three years later, in 1977, for five televised conversations with interviewer David Frost. His first public appearance came in July 1978 before a friendly audience at a recreation center named for him in Hyden, KY. In mid-1979 the Nixon's sold Casa Pacifica and moved to a Manhattan, NY townhouse. Later they moved to suburban Saddle River, NJ and then to nearby Park Ridge.
Nixon continued to maintain a low public profile even though he wrote nine books, traveled, advised politicians and world leaders. Pat Nixon suffered from lung disease and in February 1993 when hospitalized for emphysema, cancer was discovered. She died on 6/22/1993 at 5:45 a.m. EDT in Park Ridge, NJ.
After a trip to Egypt it was announced on 6/24/1974 that Nixon suffered from phlebitis. On 10/29/1974 he underwent surgery to prevent a blood clot in his leg from entering his lung. He had a stroke on 4/18/1994 which caused him to fall into a deep coma. Nixon died on 4/22/1994, pronounced dead at 9:08 p.m. at New York Hospital - Cornell Medical Center, ten months after losing his beloved Pat. His daughters, Tricia and Julie were at his bedside.
Please register for a free Genetic Matrix account to access more information about this and all other celebrity pages