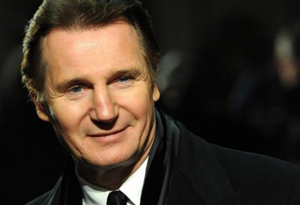 Liam Neeson
Category : Entertainment-Actor-Actress
Type : GE
Profile : 6/2 - Role Model / Hermit
Definition : Triple Split
Incarnation Cross : LAX Separation 1
Biography
William John 'Liam' Neeson OBE (born June 7, 1952 (birth time source: a rectification from http://noeltyl.com/discussion/index.php?topic=558.0)) is an Oscar-nominated Northern Irish actor. He is known for his role as Oskar Schindler in the 1993 film Schindler's List, and has since appeared in several popular film series, including the Star Wars prequel trilogy, The Chronicles of Narnia and Batman Begins. He has also continued to play real-life characters, including Michael Collins and Alfred Kinsey.

Early life
Neeson was born in Ballymena, County Antrim, Northern Ireland to Barnard Neeson, a caretaker at the local Catholic girls' school, and Katherine "Kitty" Brown, a cook. He was called Liam, the Irish equivalent to William, after the local priest. He was the third child in the family and the only boy among four siblings; his sisters are Elizabeth, Bernadette and Rosaline. At age nine, Neeson began boxing lessons at the All Saints Youth Club. It was at age eleven that Neeson first stepped on stage. His English teacher gave him the lead role in a school play, which he accepted because the girl he fancied would be starring. From then on, he kept acting in school productions for the following years.

Still boxing at sixteen, he had been Youth Heavyweight Champion of Ireland for three consecutive years, aided by his height at 6' 4" (1,93 m) and reach, but blackouts made him quit. By then, the same teacher who had cast him in his first lead role, founded a local amateur drama company, the Slemish Players, and Neeson, then seventeen, joined and took his first role, in Philadelphia, Here I Come. It was to be successful and Neeson was later awarded Best Actor at the Larne Drama Festival. At nineteen, Neeson left home for Queen's University of Belfast to study mathematics, computer science and geology but dropped out after two terms.

Career
After leaving university, Neeson returned to Ballymena and worked in a variety of small jobs, from fork-lift operator at Guinness to truck driver. He also worked at a teacher-training college in Newcastle for two years before again returning to his hometown. Neeson would get his first film experience in 1973, playing Jesus Christ in the religious film, Pilgrim's Progress. After a bet from co-workers at the architects' office where he worked, Neeson applied for an audition at the Lyric Players' Theatre in Belfast. After two years there, Neeson moved to Dublin and joined the Abbey Theatre in 1977. In 1980, film-maker John Boorman saw him on stage, acting as Lennie Small in Of Mice and Men, and offered him the part of Sir Gawain in the then-upcoming Arthurian movie, Excalibur. After Excalibur, Neeson moved to London, where he continued working on stage, small budget movies and TV series. He lived with the actress Helen Mirren at this time, who he met working on Excalibur. Between 1982 and 1987, Neeson starred in five films; mostly notably alongside Mel Gibson and Anthony Hopkins in 1984's The Bounty.

In 1987, Neeson made a conscious decision to move to Hollywood in order to star in high-profile roles. That year, he starred alongside Cher and Dennis Quaid in crime thriller, Suspect. The role would bring Neeson the critics' applause but it was in 1990's Darkman that would bring his name to the public attention. Although the film gained success, Neeson's following years would not give him the same recognition. In 1993, he joined Ellis Island co-star, and future wife, Natasha Richardson in the Broadway play, Anna Christie. Director Steven Spielberg, impressed by his performance, offered him the coveted role of Oskar Schindler, in the upcoming film about The Holocaust, Schindler's List. His critically acclaimed performance later earned him an Academy Award nomination for Best Actor; however, the award went to Tom Hanks for his performance in Philadelphia. Neeson also garnered BAFTA and Golden Globes nominations for Schindler's List.

Schindler's List established Neeson as a widely sought after leading actor. He later starred in period pieces Rob Roy (1995) and Michael Collins (1996), the latter earning him another Golden Globes nomination and a win for Best Starring Role at the Venice Film Festival. Neeson went onto star as Jean Valjean in the 1998 adaptation of Victor Hugo's Les Misérables and in The Haunting as Dr. David Marrow. In 1999, Neeson took on the role as Obi-Wan Kenobi's mentor, Jedi Master Qui-Gon Jinn, in George Lucas' much anticipated Star Wars Episode I: The Phantom Menace. His voice would later be used in Episode II: Attack of the Clones. Neeson was to appear in the third prequel, Episode III: Revenge of the Sith as a Force Ghost, but a motorcycle accident prevented this and instead the character was mentioned only. Due to his height (6 ft 4 in), Neeson cost the film-makers an additional $150,000 in set design on The Phantom Menace.

Neeson narrated the 2001 documentaries Journey Into Amazing Caves and The Endurance: Shackleton's Antarctic Adventure. After being nominated for a Tony Award for his role opposite Laura Linney in The Crucible, Neeson teamed up with Harrison Ford in Kathryn Bigelow's submarine thriller K-19: The Widowmaker (2002) as Captain Mikhail Polenin and appeared in Martin Scorsese's Gangs of New York (with Leonardo DiCaprio, Cameron Diaz and Daniel Day-Lewis). He also played a recently widowed writer in Richard Curtis' ensemble comedy Love Actually (2003). His role as Alfred Kinsey in Kinsey again put Neeson up for nomination for a Golden Globe Award but he lost out to Leonardo DiCaprio for The Aviator.

In 2004, Neeson hosted episode of the NBC sketch show Saturday Night Live. He starred as a redneck trucker, Marlon Weaver, in an "Appalachian Emergency Room" sketch and a hippie in a one-off sketch about two stoners (the other played by Amy Poehler) who attempt to borrow a police dog in order to find their lost stash of marijuana. Despite vowing not to play any characters who were Irish stereotypes, Neeson did play a stereotypically Irish man named Lorken McArdle in the home makeover show parody "You Call This A House, Do Ya?" In 2005, Neeson could be seen playing Godfrey of Ibelin, in Ridley Scott's epic adventure Kingdom of Heaven, Henri Ducard in Christopher Nolan's Batman Begins and as Father Bernard in Neil Jordan's adaptation of Patrick McCabe's novel, Breakfast on Pluto. Also in 2005, he voiced the role of a kindly priest on The Simpsons, who converted Bart and Homer to Catholicism. That same year, he gave his voice to the lion Aslan in the blockbuster fantasy film The Chronicles of Narnia: The Lion, the Witch and the Wardrobe.

In 2007, Neeson starred in the American Civil War epic Seraphim Falls alongside Pierce Brosnan and Angelica Huston. He is also set to star as Abraham Lincoln in a film directed by Steven Spielberg. In preparation for the role, Neeson visited Washington, D.C. and read Lincoln's personal letters. He also visited Ford's Theatre, where the President was shot. He will again give his voice to Aslan in The Chronicles of Narnia: Prince Caspian (2008). Neeson's voice will also be featured in the video game, Fallout 3. The executive producer of the game, Todd Howard, said "This role was written with Liam in mind, and provides the dramatic tone for the entire game," This is Neeson's second time voicing a video game character; his first was as Henri Ducard in the 2005 adaption of Batman Begins.

Personal life
Since July 3, 1994, Neeson has been married to actress Natasha Richardson, daughter of the late director Tony Richardson and screen legend Vanessa Redgrave. She is also a sister to Joely Richardson and a member of the theatrical Redgrave family. They have two sons, Micheál Richard Antonio (born June 22, 1995) and Daniel Jack (born August 28, 1996). The family home is in exurban Millbrook, New York. Neeson turned down the 'Freedom of the town of Ballymena' offered to him by Ballymena Borough Council, because of objections made by members of the Democratic Unionist Party about his comments that he had felt like a 'second-class citizen' growing up in the town.

Neeson was named an Officer of the Order of the British Empire by Queen Elizabeth II in her 1999 New Year's Honours List.
Please register for a free Genetic Matrix account to access more information about this and all other celebrity pages