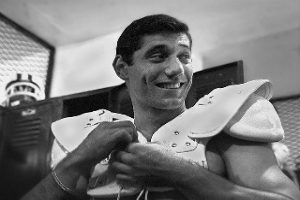 Joe Namath
Category : American Football Player
Type : MGP
Profile : 5/1 - Heretical / Investigator
Definition : Single
Incarnation Cross : LAX Identification 1
Biography
Joseph William "Joe" Namath (born May 31, 1943), nicknamed "Broadway Joe" or "Joe Willie", is a former American football quarterback. He played college football for the University of Alabama under coach Paul "Bear" Bryant and his assistant, Howard Schnellenberger, from 1962–1964, and professional football in the American Football League (AFL) and National Football League (NFL) during the 1960s and 1970s. Namath was an American Football League icon. He played for that league's New York Jets for most of his professional football career, and finished his career with the NFL's Los Angeles Rams. He was elected to the Hall of Fame in 1985.
Namath retired after playing in 143 career games (including play off games) with 68 wins, 71 losses and 4 ties, in his 132 career starts he was 64–64–4, and he was 4–7 coming off the bench in relief. In his career he threw 173 touchdowns, 220 interceptions, and completed 1,886 passes for 27,663 yards. During his thirteen years in the AFL and NFL he played for three division champions (the 1968 and 1969 AFL East Champion Jets and the 1977 NFC West Champion Rams), earned one league championship (1968 AFL Championship), and one Super Bowl victory (Super Bowl III).
In 1999, he was ranked number 96 on The Sporting News' list of the 100 Greatest Football Players. He was the only player on the list to have spent a majority of his career with the Jets.
He is known for once boldly guaranteeing a Jets' victory over Don Shula's NFL Baltimore Colts in Super Bowl III (1969) and then making good on his prediction with a 16-7 win.
Early life and family
Namath's Hungarian-born grandfather, known as "A.J." to his family and friends, came to Ellis Island and worked in the coal and steel industries of the Pittsburgh Metro Area. While growing up, Namath was close to both of his parents, who were divorced. Following his parents' split, he lived with his mother, Rose.
He was born in Beaver Falls in Beaver County, Pennsylvania, thirty miles from Pittsburgh, growing up in the city's Lower End neighborhood. He was a standout in football, basketball and baseball. In an age where dunks were still uncommon in high school basketball, Namath regularly dunked in games. Coached by Larry Bruno at Beaver Falls, Namath's football team won the WPIAL Class AA championship with a 10–0 record in 1960. Coach Bruno would later be his presenter to the Pro Football Hall of Fame in Canton.
Upon graduation, he received offers from several Major League Baseball teams, including the Yankees, Mets, Indians, Reds, Pirates and Phillies[citation needed], but football prevailed. Namath has told interviewers that he wanted to sign with the Pirates and play baseball like his idol, Roberto Clemente, but elected to play football because his mother wanted him to get a college education. Ironically, Namath would not graduate until 2007, when he returned to college in an online program.
Namath had many offers from Division I college football programs, including Penn State, Ohio State, Alabama, and Notre Dame, but initially decided upon the University of Maryland after being heavily recruited by Maryland assistant Roland Arrigoni. He was rejected by Maryland because his college-board scores were just below the school's requirements. After ample recruiting by the University of Alabama's head football coach, Bear Bryant, Namath accepted a full scholarship there. Bryant stated his decision to recruit Namath was "the best coaching decision I ever made."
College football career
Between 1962 and 1964, Namath played for the Alabama Crimson Tide football program under coach Paul "Bear" Bryant. A year after being suspended for the final two games of the season, he led the Crimson Tide to a National Championship in 1964. During his time at Alabama, Namath led the team to a 29–4 record over three seasons.
Bryant would one day call Namath "the greatest athlete I ever coached". While some speculated on what was anticipated to be a stormy relationship between a freedom-loving player and an iron-fisted coach, Namath returned Bryant's praise, often referring to him as "not only the smartest coach I ever knew, but the man who taught me the meaning of integrity". When Namath was inducted into the Pro Football Hall of Fame in 1985, he broke down during his induction speech upon mentioning Bryant, who died from a heart attack in 1983. Namath would not receive his college degree until 2007, having left early to pursue his professional career.
Namath's time at Alabama would be a culture shock for him. With Beaver Falls' Lower End neighborhood having been (and still is as of 2010) predominantly African American, Namath would attend Alabama at the height of the Civil Rights movement in the Southern United States (especially the Deep South) and often got into fights with his white teammates and other white Southerners when defending African Americans.
Despite suffering a serious knee injury in his senior year at Alabama, Namath was drafted by both the National Football League and the upstart American Football League. The two competing leagues held their respective drafts on the same day—November 28, 1964.
The NFL's St. Louis Cardinals selected Namath 12th overall in their draft, while the Jets selected him with the AFL's first overall pick. He elected to sign with the Jets, who were under the direction of Hall of Fame owner Sonny Werblin, for a salary of $427,000 (a pro football record at the time) and never put on a Cardinals uniform.
Namath was the American Football League Rookie of the year in 1965 and became the first professional quarterback to pass for 4,000 yards in a season (1967) when he threw for 4,007 yards in a 14-game season, a record broken by Dan Fouts in 1979 (4,082) in a 16-game season. He was a four-time American Football League All-Star, in 1965, 1967, 1968, and 1969, although he was plagued with knee injuries through much of his career and underwent four pioneering knee operations by Dr. James A. Nicholas. On some occasions, Namath had to have his knee drained at halftime so that he could finish a game. Later in life, long after he left football, he had to have knee replacement surgery on both legs.
In the 1968 AFL title game, Namath threw three touchdown passes to lead New York to a 27–23 win over the defending American Football League Champion Oakland Raiders. His performance in the 1968 season earned him the Hickok Belt as top professional athlete of the year. He was an AFC-NFC Pro Bowler in 1972. Besides having the Hall of Fame distinction, he is a member of the Jets' all-time team and the American Football League All-Time Team.
Super Bowl III
A high point in his career was his performance in the Jets' January 1969 16–7 win over the Baltimore Colts in the third Super Bowl, which was before the AFL-NFL merger. Namath was named MVP of Super Bowl III. This win would make him the first quarterback to ever start and win a national championship game in college, and to start and win a major professional league championship and a Super Bowl. The Colts were touted as "the greatest football team in history". Former NFL star and coach Norm Van Brocklin ridiculed the AFL before the game, saying "This will be Namath's first Professional Football game." Writers from NFL cities insisted it would take the AFL several more years to be truly competitive with the NFL. Much of the hype surrounding the game was related to how it would either prove or disprove the proposition that the AFL teams were truly worthy of being allowed to merge with the NFL; the first two such games had resulted in blowout victories for the NFL champion in the two previous years, the Green Bay Packers, and the Colts were even more favored by media figures and handicappers than the Packers had been.
Three days before the game, an intoxicated Namath responded to a heckler in Miami with the now-famous line: "We're going to win Sunday. I guarantee it." His prediction was initially ignored, but it became legendary after the Jets' upset of the Colts.
In the game, however, Namath backed up his boast and showed that his success against tough American Football League competition had more than prepared him to take on the NFL. The Colts' vaunted defense was unable to contain the Jets' running or passing game, while their ineffective offense gave up four interceptions to the Jets. Namath was the game's MVP, completing eight passes to George Sauer alone, for 133 yards. Namath acquired legendary status for American Football League fans as the symbol of their league's legitimacy. When he was asked by reporters after the game whether the Colts' defense was the "toughest he had ever faced", Namath responded "That would be the Buffalo Bills' defense." The American Football League's Bills had intercepted Namath five times, three for touchdowns, in the Bills' only win that 1968 AFL season.
Bachelors III
After the season, Namath opened a popular Upper East Side bar called "Bachelors III", with plans to open branches in Florida and Boston. To protect the league's reputation, the NFL Commissioner, Pete Rozelle, ordered Namath to divest himself of his interest in the bar. Namath reacted defiantly, retiring from football during a teary news conference. Eventually Namath agreed to divest his interest in the New York location. After missing most of training camp, Namath came out of retirement and reported to the Jets.
Monday Night Football's inaugural game
The head of ABC's televised sports, Roone Arledge, made sure that Monday Night Football's inaugural game (September 21, 1970) would feature Namath and the New York Jets in a game against the Cleveland Browns in Cleveland Municipal Stadium. A record crowd of 85,703 and a huge television audience (but not shown in Cleveland, due to unconditional blackout rules at the time) watched the Jets set a team record for penalties and lose on a late Namath interception.
Injuries
After not missing a single game because of injury in his first five years in the league, Namath played in just 28 of 58 possible games because of various injuries between 1970 and 1973 as the Jets struggled with records of 4–10, 6–8, 7–7, and 4–10. His most memorable moment in those four seasons came on September 24, 1972 in Baltimore, when he and boyhood idol Johnny Unitas combined for 872 passing yards. Namath bombed the Colts for 496 yards and six touchdowns in a 44–34 victory, New York's first victory over Baltimore since Super Bowl III. In that same game, Unitas threw for 376 yards and three touchdowns. This game is considered by many NFL experts to be the finest display of passing in a single game in league history.
Improving the Jets' level of play
When he played, Namath always managed to improve the Jets' level of play. In a 1974 game against city rival New York Giants (played at the Yale Bowl in New Haven, Connecticut as Yankee Stadium was closed for a massive renovation and Giants Stadium was under construction), Namath scored a game-tying touchdown on a five-yard bootleg, and then hit Emerson Boozer with a touchdown pass in overtime to lift the Jets to a 26–20 victory (the first regular season game in NFL history to be decided in overtime), launching New York on a six-game winning streak to end the 1974 season at 7–7.
The Chicago Winds of the World Football League famously made a large overture to Namath prior to the start of the 1975 season in an effort to get Namath to sign with the team. The Winds designed their uniforms identically to that of the Jets and offered Namath $600,000 a year for three year, $100,000 for the next seventeen, a $500,000 signing bonus, and the eventual arrangement for Namath to revive the WFL's New York franchise as the new team's owner. The WFL's television provider, TVS Television Network, insisted on the Winds succeeding in signing Namath in order for the network to continue television broadcasts; Namath, in turn, requested a cut of the league's television revenue. The league refused, and Namath instead returned to the Jets. The Winds, as a result of having bet their entire existence on signing Namath, folded five weeks into the 1975 WFL season.
Los Angeles Rams
In the twilight of his career, Namath was waived by the Jets to facilitate his move to the Los Angeles Rams when a trade could not be worked out. He was signed by the Rams on May 12, 1977. Namath hoped to revitalize his flagging career, but by this point his effectiveness as a quarterback was greatly reduced by his knee injuries, a bad hamstring, and the general ravages of a long period of time playing professional football, as well as his "hard and fast" lifestyle. After playing well in a 2–1 start, Namath took a beating on a cold, windy, and rainy Monday night game in a one-point loss at the Chicago Bears, throwing two interceptions, with another being nullified by a penalty, and was through for the regular season.
He did not play again, but redemption and a Hollywood ending was there for the taking. After a disastrous three quarters of turnovers and only trailing by seven points in the opening round of the play-offs, head coach Chuck Knox seemed ready to pull Pat Haden and insert Namath. Rams assistant coach Kay Stephenson said Namath looked great warming-up in the third quarter and advised Knox to put him in. The television audience was on the edge of their seats as it appeared Namath would replace Pat Haden and save the Rams' season. But Knox hesitated. Haden's problems continued and the Rams lost to the Vikings by a score of 14–7 in a sea of mud at the Los Angeles Memorial Coliseum. Namath retired from the Rams after a single season.
Hall of Fame legacy
Namath is in the Professional Football Hall of Fame. While his career statistics are not exceptional (e.g.: Career passing percentage 50.1, QB rating 65.5, 50 more interceptions than TD's), Namath was the game's first true media superstar, and also the first quarterback to throw for 4,000 yards during the 14-game 1967 season. Nobody achieved this feat again until Dan Fouts in 1979, a year after the NFL adopted a 16-game season format and enacted new rules that gave more protection to quarterbacks and wide receivers. Namath's style of play in the years before his knees limited his mobility helped evolve the quarterback position in the NFL, and also initiated a gradual change in the typical style of an NFL offense from a run-oriented ball control game to a more open passing style. Hall of Fame coach Bill Walsh stated that Namath was "the most beautiful, accurate, stylish passer with the quickest release he'd ever seen." Hall of Fame coach Don Shula stated that Namath was "one of the three smartest quarterbacks of all time."
Movie and television career
Namath went on to a minor career as an actor in several movies, including C.C. and Company with Ann-Margret and William Smith in 1970, and he starred in a brief 1978 television series, The Waverly Wonders. He guest-starred on many television shows, including Married... with Children, Here's Lucy, The Brady Bunch, The Flip Wilson Show, Rowan and Martin's Laugh-In, The Dean Martin Show, The Simpsons, The A-Team, ALF and The John Larroquette Show. He was guest host on The Tonight Show Starring Johnny Carson several times, as well as hosting his own show, the 1969 cult classic The Joe Namath Show (co-hosted by Dick Schaap) with its eclectic guest pairings and open-bar attitude. He appeared as T.J. on The A-Team. OnThe A-Team, his character T.J. Bryant was punched by Mr. T and verbally threatened by former football star Jim Brown in one episode ("Quarterback Sneak") during season 5 of the series.
He also served as a color commentator on broadcasts of NFL games for a while, including the 1985 season of Monday Night Football, but never seemed to be particularly comfortable in this role and was accused of being over-critical of then current players.
Namath also auditioned to host the 1988 revival of the classic game show Family Feud for CBS, but that role ultimately went to Ray Combs.
Joe Namath currently hosts "The Competitive Edge", which, according to the show's publicist, is "an exciting business show designed to utilize his standing as a colorful, American icon to interview business leaders from all over the world, in a wide range of industries. Namath explores the characteristics and strategies that these business owners possess and looks at what gives them the Competitive Edge in their industry." The show is co-hosted by Kristy Villa.
Known as "Broadway Joe", he made his only appearance on Broadway as a cast replacement in a revival of The Caine Mutiny Court Martial. He has also appeared in summerstock productions of Damn Yankees and Fiddler on the Roof.
Family
While taking a voice class in 1983, Namath met Deborah Mays, an aspiring actress. He was 41 while she was 22, and they married in 1984 as Namath said, "She caught my last pass." The couple had two children, Jessica in 1986 and Olivia in 1991, and the longtime bachelor became a family man. Namath and his wife were divorced in 2000.[14] After the divorce the girls lived in Florida with Namath. In May 2007, Olivia gave birth to a daughter, Natalia, his first grandchild.
Alcohol Problems
On December 20, 2003, Namath gained new notoriety, apparently after partaking of too much celebratory champagne during the Jets' announcement of their all-time team. During live ESPN coverage of the Jets' game, Namath was asked about Chad Pennington and his thoughts on the struggles of that year's squad. Namath expressed confidence in Pennington, and then stated to the interviewer, Suzy Kolber, "I want to kiss you. I couldn't care less about the team strugg-a-ling." He later apologized. Several weeks later he publicly admitted to an alcohol problem and entered into an outpatient alcoholism treatment program on January 12, 2004, the 35th anniversary of Super Bowl III. Namath chronicled the episode, including his battle with alcoholism in his book, Namath.
Trivia
In November 2006 the biography Namath by Mark Kriegel was published by Rugged Land Books. Shortly thereafter the book was on the New York Times extended Bestseller List (#23). In conjunction with the release of the book Namath was interviewed for the November 19, 2006 edition of 60 Minutes on CBS television.
In 2006, Namath enrolled in the University of Alabama's External Degree program (he was 15 credits shy of graduating when he left Alabama in 1965). He earned his B.A. degree in interdisciplinary studies on December 15, 2007 from the University of Alabama at the age of 64, fulfilling a promise he had made to his daughter, who also graduated from his alma mater.
A recent documentary about Namath's hometown of Beaver Falls, Pennsylvania, includes a segment on Namath and why the city has celebrated its ties to him. In 2009, he would present the Vince Lombardi Trophy to the winning team of Super Bowl XLIII forty years after winning Super Bowl III. Coincidentally, the team he would present the trophy to was his hometown Pittsburgh Steelers, with NBC Sports (which had the broadcasting rights to Super Bowl XLIII) introducing him as "Hall of Fame quarterback and Pennsylvania native Joe Namath."
Namath currently lives in the village of Tequesta, Florida. He continues to serve as an unofficial spokesman and goodwill ambassador for the Jets.
In summer/fall of 2011, Namath was representing Topps and promoting a "Super Bowl Legends" contest, appearing on its behalf on the Late Show with David Letterman.
On June 2, 2013, Namath was the guest speaker at the Pro Football Hall of Fame, for the unveiling of the Canton, Ohio museum's $27 million expansion and renovation.
Icon and advertisements
Namath's nickname "Broadway Joe" was given to him by Sherman Plunkett, a Jets teammate. The "Joe Willie Namath" moniker, Namath's full given name, was popularized by sportscaster Howard Cosell. He originated the fad of wearing a full-length fur coat on the sidelines, a habit which was adopted by many players after him. The NFL has since banned this, requiring all team personnel (players, coaches, athletic trainers, etc.) to wear league-approved team apparel. Namath stood out from other AFL and NFL players by wearing low-cut white shoes rather than traditional black high-tops (thus the nickname "Joe Willie Whiteshoes"). Today, the NFL often fines players for not wearing shoes that match those of their teammates.
Namath also appeared in television advertisements both during and after his playing career, most notably for Noxzema shaving cream (in which he was shaved by a then-unknown Farrah Fawcett (video clip)) and Hanes Beautymist pantyhose; both commercials contributed to his becoming something of a pop-culture icon. He has appeared in advertising as recently as 2003.
Namath also opened several bars under the name Broadway Joe's in both New York City and in Tuscaloosa, Alabama (location of the University of Alabama). These continue today with moderate success.
Namath spent many years appearing as a booster for golf tournaments and other good causes, such as youth camps, including football camps, and lately for arthritis. He has served as a March of Dimes volunteer for over 40 years. Most recently, he was the March of Dimes' WalkAmerica Honorary Chair from 1998–2007. He also holds a celebrity golf outing annually on Long Island, New York to benefit the March of Dimes.
Namath made many notable remarks during the NFL Films presentation of NFL 75 Seasons. Recounting his 1969 Super Bowl performance, he said "It was such a feeling of elation, joy, tickling explosions inside, the teammates we did it, we were #1." "The same three words keep coming back: 'We did it. WE DID IT.'" Namath's infectious and genuine joy at recounting this made it natural for NFL Films to feature this quote in advertisements for its series.
Talking about the Raiders he said, "You were always playing a tough football team, and some of the guys cheated. Some of the guys kicked and bit and hit ya in the back, some of that kind of stuff, hit ya in the back of the head, and it's on film."
Talking about "The Guarantee," Namath said, "It was not planned, it wasn't premeditated; it was just anger and frustration, and I really believed we were gonna win the game."
Speaking about teamwork, Namath said: "Life isn't always easy, and football isn't always easy. Football convinced me that life is a team game."
Please register for a free Genetic Matrix account to access more information about this and all other celebrity pages