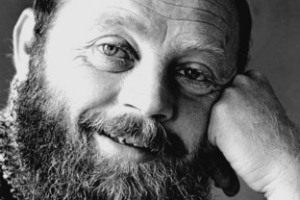 Farley Mowat
Category : Writer
Type : PE
Profile : 3/6 - Martyr / Role Model
Definition : Split - Small (10,13,45)
Incarnation Cross : RAX Explanation 2
Biography
Farley McGill Mowat, OC (born May 12, 1921) is a Canadian author and environmentalist.
His works have been translated into 52 languages and he has sold more than 17 million books. He achieved fame with the publication of his books on the Canadian North, such as People of the Deer (1952) and Never Cry Wolf (1963). The latter, an account of his experiences with wolves in the Arctic, was made into a film, and was released in 1983.
Mowat's advocacy for environmental causes and a writing style that allegedly "never lets the facts get in the way of the truth," have earned him both praise and criticism: "few readers remain neutral." Nevertheless, his influence is undeniable: Never Cry Wolf is credited with shifting the mythology and fear of wolves. His stories are fast-paced, gripping, personal, and conversational. Descriptions of Mowat refer to his "commitment to ideals," "poetic descriptions and vivid images," but also to his strong antipathies, which provoke "ridicule, lampoons and, at times, evangelical condemnation."
Great-grandnephew of Ontario premier Sir Oliver Mowat, Farley McGill Mowat was born on May 12, 1921, in Belleville, Ontario, Canada and grew up in Richmond Hill, Ontario where he attended Richmond Hill High School. His father, Angus Mowat, who fought at the Battle of Vimy Ridge, became a librarian and enjoyed minor success as a novelist. Farley began writing informally while his family lived in Windsor from 1930–1933.
At the height of the Great Depression, the family relocated to Saskatoon, Saskatchewan. As a boy, Mowat was fascinated by nature and animals. With his dog, Mutt (the hero of The Dog Who Wouldn't Be, 1957), Mowat explored the Saskatchewan countryside. He also kept a rattlesnake, a gopher, two owls (Owls in the Family 1962), a Florida alligator, several cats, and hundreds of insects as pets. With some of his friends, Mowat created the Beaver Club of Amateur Naturalists. He kept a museum in the Mowat basement, which included the joined skull of a two-headed calf, some stuffed birds and a bear cub. This museum eventually had to be moved after an invasion by moths and beetles.
At the age of 13, Mowat founded a nature newsletter, Nature Lore, and had a weekly column on birds in the Saskatoon Star-Phoenix. He used the money he gained from his writing to feed ducks and geese, who would have otherwise died because they did not migrate south for the winter. His friends were children at the Dundurn Indian Reserve. In 1936, at age 15, Mowat made his first trip to the Arctic with his great-uncle Frank, an ornithologist with the Royal Ontario Museum.
War service
During the Second World War, Mowat was commissioned as a Second Lieutenant into the Second Battalion, Hastings and Prince Edward Regiment, affectionately known as the Hasty Ps. He went overseas as a reinforcement officer for that regiment, joining the Canadian Army in the United Kingdom. On July 10, 1943, he was a subaltern in command of a rifle platoon and participated in the initial landings of Operation Husky, the Allied invasion of Sicily.
Mowat served throughout the campaign as a platoon commander and moved to Italy in September 1943, seeing further combat until December 1943. During the Moro River Campaign, he suffered from battle stress, heightened after an incident on Christmas Day outside of Ortona, Italy when he was left weeping at the feet of an unconscious friend, Lt. Allan (Moir) Park, who had an enemy bullet in his head. He then accepted a job as Intelligence Officer at battalion headquarters, later moving to Brigade Headquarters. He stayed in Italy in the 1st Canadian Infantry Division for most of the war, eventually being promoted to the rank of captain.
Mowat moved with the Division to Northwest Europe in early 1945. There, he worked as an intelligence agent in the Netherlands and went through enemy lines to start unofficial negotiations about food drops with General Blaskowitz. The food drops, under the codename Operation Manna, saved thousands of Dutch lives.
Mowat also formed the 1st Canadian Army Museum Collection Team, according to his book My Father's Son, and arranged for the transport to Canada of several tons of German military equipment, including a V2 rocket and several armoured vehicles. (It is believed that some of these vehicles are on display today at the Canadian Forces Base Borden tank museum.)
Mowat was discharged at the conclusion of the Second World War in 1945 as a Captain, and was considered for promotion to Major, though he turned down the offer as it was incumbent on him volunteering to stay in the military until "no longer needed", which Mowat assumed to mean duty with the Canadian Army Occupation Force (CAOF) but might also have meant the conclusion of the war with Japan.
Literary career
Returning to Canada after the war, Mowat studied biology at the University of Toronto. During a field trip to Northern Canada, Mowat became outraged at the plight of the Ihalmiut, a Caribou Inuit band, which situation he attributed to misunderstanding by whites. His outrage led him to publish his first novel, People of the Deer (1952). This book made Mowat a literary celebrity and contributed to the shift in the Canadian government's Inuit policy: the government began shipping meat and dry goods to a people they previously denied existed.
This work was followed by a Governor General's Award-winning children's book, Lost in the Barrens (1956), which was about two teenagers — one white, one Cree — lost in the Arctic. The children are able to combine their skills to survive for part of the winter but, ultimately, they almost die before being saved by an Inuit boy whose knowledge of the Arctic supplements their skills.
Mowat followed up these works with a series of personal memoirs. The Regiment (1955) is a skillful and — unusual for military regimental histories of that era — highly readable account of the regiment he had served in during the Second World War. The Dog Who Wouldn't Be (1957) and Owls in the Family (1961) are humorous memoirs about his childhood.
During this period, Mowat also wrote two non-fiction accounts of the exploits of salvage tugs belonging to Foundation Maritime. The first, The Grey Seas Under (1958), chronicles the career of the tug Foundation Franklin, and the second, The Serpent's Coil (1961), chronicles the rescue of the British freighter Leicester in the face of two hurricanes by the tugs Foundation Josephine and Foundation Lillian.
In 1963, Mowat wrote a possibly fictionalised account of his experiences in the Canadian Arctic with Arctic wolves entitled Never Cry Wolf, which is thought to have been instrumental in changing popular attitudes on the canids. The work and its claims have been criticised.
Mowat then went through a phase of being very interested in Viking voyages to Canada, which resulted in the books West-Viking (1965), a controversial and largely debunked analysis of the Norse sagas trying to pin their accounts to specific Canadian geography, and The Curse of the Viking Grave (1968).
Mowat then moved to Burgeo, Newfoundland, where he lived for eight years. He published three books describing his evolving view of his Newfoundland neighbours: in The Rock Within the Sea (1968), he presents Newfoundlanders as a heroic people uncorrupted by modern technology; The Boat Who Wouldn't Float (1969) reflects his disillusionment with a few Newfoundlanders; and, completing his disillusionment, A Whale for the Killing (1972) presents the shooting of a trapped and doomed whale as an inhumane tragedy. He was also co-author for the 1981 film version with Peter Strauss and Richard Widmark.
Mowat published a denunciation of "the destruction of animal life in the north Atlantic" entitled Sea of Slaughter in 1984. In 1985, as a part of the promotional tour for this book, Mowat accepted an invitation to speak at a university in Chico, California. However, U.S. customs officials at Lester B. Pearson International Airport in Toronto denied Mowat entry to the United States. They wouldn't tell him why specifically, but did tell him that it was because of a security file about him that indicated he should be denied entry "for violating any one of 33 statutes." Reportedly, these statutes included being a member of certain groups considered radical at that time by the U.S. government. The result was a media circus, which brought worldwide attention to Mowat. The negative publicity eventually forced the Reagan Administration to decide that Mowat was free to visit the United States but Mowat declined on the basis that he thought to accept it would be undignifying as the allowance was valid for only one visit—his book tour. Mowat documented the reasons why he was refused entry to the United States in his 1985 book, My Discovery of America.
Then, Mowat became very interested in Dian Fossey, the American ethologist who studied gorillas and was brutally murdered in Rwanda in 1985. Mowat published two books about Fossey: Virunga: The Passion of Dian Fossey (1987) and Woman in the Mists (1987) — an allusion to Fossey's book Gorillas in the Mist (1983).
In the 1990s and 2000s, Mowat's works have mainly consisted of recombinations of themes he had previously dealt with. He returns to his World War II military service in My Father's Son (1992), and to his childhood in Born Naked (1993). He returns to the Canadian Arctic in High Latitudes: An Arctic Journey (2002) (an account of a 1966 trek in northern Canada) and No Man's River (2004) (an account of an Arctic adventure he took amongst the Ihalmiut in 1947). In Rescue the Earth: Conversations (1990), Mowat continued his work as an environmental advocate. In The Farfarers (2000), Mowat returned to the theme of pre-Columbian interactions between Europe and North America. In Bay of Spirits: A Love Story (2006) he returns to stories from his travels to St. Pierre and the southwest coast of Newfoundland in the early 1960s. These events have already led to This Rock Within the Sea: A Heritage Lost (1968), The Boat Who Wouldn't Float (1969), and A Whale for the Killing (1972). However, the 2006 effort adds many new personal details as well as fresh accounts of sailing the southwest coast and meeting its inhabitants that were not included in the previous works from that time period in his life.
Criticism
In a 1964 article published in the Canadian Field-Naturalist, Canadian Wildlife Federation official Frank Banfield compared Mowat's 1963 bestseller to Little Red Riding Hood, stating, "I hope that readers of "Never Cry Wolf" will realize that both stories have about the same factual content." L. David Mech, a wolf expert, stated that Mowat is no scientist and that in all his studies, he had never encountered a wolf pack which primarily subsisted on small prey as shown in Mowat's book.
Duncan Pryde, a Hudsons Bay Company trader who pioneered the linguistic study of Inuit languages, attacked Mowat's claim to have picked up the language quickly enough in two months to discuss detailed concepts such as shamanism, pointing out that the language is complex and required a year or more for Europeans to master the basics. Pryde said that when Mowat visited his post at Baker Lake in 1958 he only spoke a single word in the Inuit language.
Awards and honours
In 1952, Mowat won the University of Western Ontario's President's Medal for best short story for "Eskimo Spring. People of the Deer was awarded the Anisfield-Wolfe Book Award by the Anisfield-Wolfe Foundation in 1953. In 1956, Mowat won the Governor General's Award and in 1957, the Book of the Year Award, Canadian Association of Children's Librarians, for Lost in the Barrens.
For his children's and youth books, he won the Canadian Women's Clubs Award for The Dog Who Wouldn't Be, and the Hans Christian Andersen International Award, both in 1958; Boys' Clubs of America Junior Book Award in 1962, for Owls in the Family and the National Association of Independent Schools Award, in 1963, and the Hans Christian Andersen Honours List, in 1965, for juvenile books.
Mowat won the Canadian Centennial Medal in 1967. The Boat Who Wouldn't Float won the Stephen Leacock Memorial Medal for Humour in 1970, and L'Etoile de la Mer Honours List in 1972. He won the Vicky Metcalf Award, 1970; Mark Twain Award, 1971; Curran Award, 1977, for "contributions to understanding wolves"; Queen Elizabeth II Silver Jubilee Medal, 1977; Knight of Mark Twain, 1980;
Mowat was made an Officer of the Order of Canada in 1981. The Sea Shepherd Conservation Society ship RV Farley Mowat was named in honour of him and he frequently visits it to assist its mission, and has also provided financial support to the group. He received the Author's Award, Foundation for the Advancement of Canadian Letters in 1985, for Sea of Slaughter; Book of the Year designation, Foundation for the Advancement of Canadian Letters, and named Author of the Year, Canadian Booksellers Association, in 1988, both for Virunga. In 1989 he won the Gemini Award for best documentary script, for "The New North." In 1991, the Council of Canadians presented him with the Back the Nation Award.
In 2005 Mowat received the first and only "Life-time Achievement Award" from the National Outdoor Book Award.
On June 8, 2010, it was announced that Mowat would receive a star on Canada's Walk of Fame.
Affiliations
Mowat is a strong supporter of the Green Party of Canada and a close friend of leader Elizabeth May. The party sent a direct mail fundraising appeal in his name in June 2007. In 2007, Mowat became a Patron of the Nova Scotia Nature Trust by donating over 200 acres (0.81 km2) of his land in Cape Breton, Nova Scotia to the Nature Trust.He is an Honorary Director of the North American Native Plant Society.
Please register for a free Genetic Matrix account to access more information about this and all other celebrity pages