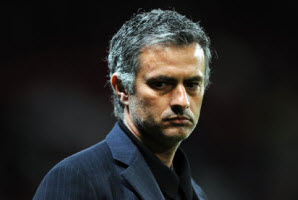 Jose Mourinho
Category : Football Manager
Type : PSP
Profile : 4/6 - Opportunistic / Role Model
Definition : Split - Large
Incarnation Cross : RAX Unexpected 4
Biography
José Mourinho, GOIH (pron. IPA /?u'z? mo'?i?u/) (full name: José Mário dos Santos Mourinho Félix) (born January 26, 1963 in Setúbal) is a Portuguese football manager and the current manager of Premier League club Chelsea. He is the son of Félix Mourinho, a former Portuguese international goalkeeper.

Mourinho is considered to be one of the best coaches in Europe, having won four consecutive league titles (two at Porto and two at Chelsea) and also the UEFA Champions League and the UEFA Cup with Porto. For two consecutive years (2004 and 2005), Mourinho was named the world's best football coach by the International Federation of Football History and Statistics (IFFHS). He is well-known for his self-belief and has at times been a controversial figure.

Career

Early years
Mourinho's playing career consisted of a few generally unsuccessful spells at small clubs. His clear aptitude was his impressive managing and organisational ability and from an early age he prepared match reports and dossiers for his father's teams. He also has a degree in Physical Education, specialising in sports methodology and worked as a high school coach.

After low-key backroom jobs at Estrela da Amadora and his hometown club Vitória de Setúbal in the early 1990s, Mourinho soon earned the nickname Tradutor (translator), when he worked with Sir Bobby Robson as his translator (technically his interpreter) at both Sporting Lisbon and then F.C. Porto.

He then followed Robson to FC Barcelona in 1996 where he learned Catalan. When Robson left for PSV, Mourinho stayed at Barcelona and worked with Robson's replacement, Dutch coach Louis van Gaal. Mourinho's undoubted confidence and personality helped him get beyond his original role, as he began to participate actively in coaching sessions and management meetings. Eventually, Mourinho coached FC Barcelona B.

Sport Lisboa e Benfica and União de Leiria
In 2000 his chance of becoming a manager finally arrived when he was selected to replace Jupp Heynckes at Lisbon side Benfica after the fourth week of the Portuguese Liga. Mourinho picked Carlos Mozer, a retired but still highly respected Benfica defender, to be his assistant.

However, while the duo was popular, especially after a 3-0 win against fierce rivals Sporting, Benfica's election turned against club president João Vale e Azevedo, and the newly-elected Manuel Vilarinho already had another coach waiting on the wings, Toni - a legend for Benfica's fans. Although Vilarinho had no intention of firing him immediately, Mourinho decided to ask for an extension to his contract in the middle of the season. When the president refused, Mourinho quit Benfica (after just nine games in charge). Vilarinho later said in an interview that if Mourinho had won the championship, he would have extended his contract.

The next season, 2001-02, Mourinho worked for unfashionable mid-tablers União de Leiria, where the club climbed as high as the fourth place.

F.C. Porto
He was then hand-picked in January 2002 by FCP to replace Octávio Machado as the manager of the badly-motivated and unhappy team, which was already out of contention for the league title and was on the verge of not qualifying for any European competition. Mourinho guided the team to third place that year after a strong 15-game run (WDL 11-2-2) and gave the promise of "making FCP champions next year".

He quickly identified several key players whom he saw as the backbone of what he believed would be a perfect FCP team: Baía, Ricardo Carvalho, Costinha, Deco, Dmitri Alenichev and Postiga. He recalled captain Jorge Costa after a six-month loan to Charlton Athletic (after a dispute with Machado). The signings from other clubs included Nuno Valente and Derlei from Leiria, Paulo Ferreira from Vitória Setúbal, Pedro Emanuel from Boavista FC, and Edgaras Jankauskas and Maniche who had been out of contract at Benfica, the latter after a season in the reserve.

During the pre-season, Mourinho put on the club website detailed reports on the team training. The reports were filled with formal vocabulary, as, for instance, he referred to a 20km jog as an extended aerobic exercise. While they attracted scorn for the pretentiousness, others praised the innovation and the scientific approach to the old-fashioned training methods practiced in Portugal. One of the key aspects in Mourinho-era FCP was the pressurising play, which started at the offensive line, dubbed "pressão alta" ("high pressure"). The physical and combative abilities of defenders and midfielders such as Derlei, Maniche and Deco allowed FCP to apply pressure from the offensive lines and forced the opponents either to concede the ball or try longer passes.

In 2003, Mourinho won his first Super Liga with a 27-5-2 WDL record, 11 points clear of Benfica, the team he quit two years earlier. The total of 86 points out of the possible maximum of 102 was a Portuguese record since the rule of three points per win was introduced, beating the previous record of 85 points set by FCP in their 1996/97 season. Mourinho also won the Portuguese Cup (against former club Leiria) and the UEFA Cup final against Celtic in Seville, both in May 2003.

The following season witnessed further successes, as while perhaps not playing as impressively, FCP scooped their 20th Super Liga title. The club pulled off a perfect home record, an eight-points advantage, and an unbeaten run that only ended against Gil Vicente FC. They secured the title five weeks before the end of the season, while heavily involved in the Champions League at the same time. FCP lost the Portuguese Cup final to Benfica in May 2004, but two weeks later Mourinho won the ultimate prize: the Champions League, with an emphatic 3-0 win over Monaco in the Arena AufSchalke in Gelsenkirchen, Germany. The club had eliminated Manchester United, Olympique Lyonnais and Deportivo de La Coruña and saw only one defeat against Real Madrid in the group round.

Whilst still at FCP, Mourinho was linked with several top European clubs, including Liverpool and Chelsea. Mourinho publicly stated his preference for the Liverpool job over the Chelsea one. He said: "Liverpool are a team that interests everyone and Chelsea does not interest me so much because it is a new project with lots of money invested in it. I think it is a project which, if the club fail to win everything, then Abramovich could retire and take the money out of the club. It's an uncertain project. It is interesting for a coach to have the money to hire quality players but you never know if a project like this will bring success."

Chelsea
Mourinho moved to Chelsea in June 2004 becoming one of the highest paid managers in football with a salary of £4.2 million a year, subsequently raised in 2005 to £5.2 million.

In a press conference on joining the English side, Mourinho said, "Please don't call me arrogant, but I'm European champion and I think I'm a special one", which resulted in the media dubbing him "The Special One".

Mourinho recruited his backroom staff from Porto, consisting of assistant manager Baltemar Brito, fitness coach Rui Faria, chief scout Andre Villas and goalkeeping coach Silvino Louro. He retained the services of Steve Clarke, a long-serving former player at Chelsea and who had also performed an assistant managerial-type job under previous managers at the club. In terms of spending, Mourinho carried on where his predecessor Claudio Ranieri left off, and spent in excess of £70m on stars such as Tiago Mendes (£10million) from Benfica, Didier Drogba (£24million) from Olympique Marseille, Mateja Kezman (£5.4million) from PSV Eindhoven and FC Porto pair Ricardo Carvalho (£19.8million) and Paulo Ferreira (£13.3million).

Under Mourinho, Chelsea built on the potential developed in the previous season. By early December, they were at the top of the Premiership table and reached the knock-out stages of the Champions League. On 27 February 2005, Mourinho led Chelsea to the League Cup trophy in Cardiff, Wales, beating Liverpool 3-2 after extra time. Towards the end of the match, Mourinho was escorted from the touchline for allegedly inciting Liverpool fans following Chelsea's equaliser. On 30 April 2005, Chelsea secured the club's first top-flight domestic title in 50 years with a 2-0 victory against Bolton. However, he failed to achieve back-to-back Champions League successes when Chelsea were knocked out of the competition by a controversial goal, three days later in the semi-finals by eventual winners Liverpool.

On 31 March 2005 Mourinho was handed a two-match suspension and a fine by UEFA for bringing the game into disrepute after he had criticised referee Anders Frisk following a Champions League tie against FC Barcelona. He argued that a member of his staff saw Frisk talking with Barcelona coach Frank Rijkaard at half-time in breach of the rules and that the apparent bias of the referee prompted him to send Drogba off when Chelsea were leading 1-0.Frisk subsequently retired when he came under threats to his life after the match. As it was later revealed, Rijkaard had tried to converse with Frisk at half-time - the referee's own match report mentioned the incident - but that Frisk sent him away. The episode led the UEFA referee's chief, Volker Roth, to describe the manager as an "enemy of football," although UEFA distanced themselves from the comment.

On 2 June 2005, he was fined £200,000 for his part in the meeting with Arsenal full-back Ashley Cole in January 2005 in breach of the Premier League rules. In August 2005 his fine was reduced to £75,000 after a hearing. In late 2005, Mourinho labelled Arsenal manager Arsène Wenger a 'voyeur' after being irked at what he saw as the latter's apparent obsession with Chelsea. The episode eventually died down and the two have since made peace.

After topping the Premier League for most of the 2005-2006 season, Chelsea beat rivals Manchester United 3-0 on April 29 to win their second consecutive Premiership title and Mourinho's fourth domestic title in a row. After the presentation of his championship medal, Mourinho went to the Matthew Harding end of Stamford Bridge and threw his medal and blazer into the crowd. He was awarded a second medal within minutes and he threw that into the crowd, too. He stated that because the medal was exactly the same as the one he had received a year earlier, he did not need another and wanted to reward the crowd for their support. The items were promptly listed on eBay

After a league match with Everton on December 17th, 2006, Mourinho branded Andrew Johnson "untrustworthy" following a challenge with Chelsea keeper Hilário. Everton issued a statement threatening legal action and calling on Mourinho to apologise, which he has since done.

On 13 January 2006, The Straits Times reported that Mourinho intended to leave Chelsea at the end of the 2006-7 season, due to disappointment with the team's performance and a power struggle with Frank Arnesen. Mourinho recently cleared all doubts regarding his future at Stamford Bridge, stating that there would only be two ways for him to leave Chelsea: if Chelsea do not offer him a new contract in June 2010, and if Chelsea sacks him.

Mourinho won the Carling Cup with Chelsea in February 2007 after defeating Arsenal F.C. in the Football League Cup Final 2007 at the Millenium Stadium in Cardiff. Despite losing the Premiership title to Manchester United, Mourinho had his players line up in a guard of honour to applaud United's triumph during their next fixture at Stamford Bridge, returing the favour which Old Trafford had given to Chelsea back in 2005. On May 19, 2007, Mourinho also led Chelsea to their fourth FA Cup victory after defeating Manchester United in the 2007 FA Cup Final, the first to be played at the new Wembley. Mourinho is currently the most successful manager in Chelsea's history having won 6 trophies for Chelsea in three years.

On 12 August, 2007, Chelsea beat Birmingham 3-2 at Stamford Bridge in their opening match of the 2007-08 season and in the process set a new English record for unbeaten league matches at home. Their 64 consecutive matches beat the record held previously by Liverpool for an unbeaten run between 1978 and 1981.

Portuguese national team
Mourinho has publicly stated that he wishes to run the Portuguese national team at some point in his career. At the match that gave him his second title with Chelsea, Mourinho wore a Portugal scarf and at the press conference said: "It means I am Portuguese. I wouldn't put on the scarf of another country. I can smell, feel in my country, there are still a few rats waiting to celebrate my mistakes. But when I think of the other 10.5 million Portuguese working all over the world I know what I mean to them. I know they are proud of what I am doing."

Personal life
In 1989, he married Matilde, whom he had known since childhood. They have two children: Matilde and José Jr.

Widely known for his strong personality, Mourinho features in advertisement campaigns in Europe for Samsung, American Express, and other corporations. In Portugal, where his official biography was a best-seller, he's a national celebrity, endorsing numerous products and campaigns.

José Mourinho has also been a part of social initiatives in many parts of the world, such as youth projects for Israeli and Palestinian children and those in his native country. On 16 May 2007, Mourinho was arrested on suspicion of obstructing police following attempts by police to place his dog in quarantine.

Quotations
"Please don't call me arrogant, but I'm European champion and I think I'm a special one."
"There are only two ways for me to leave Chelsea. One way is in June 2010 when I finish my contract and if the club doesn't give me a new one. It is the end of my contract and I am out. The second way is for Chelsea to sack me. The way of the manager leaving the club by deciding to walk away, no chance! I will never do this to Chelsea supporters." - when asked if success in the Carling Cup final might mean the last trophy he would win for Chelsea.
"We have top players and, sorry if I'm arrogant, we have a top manager."
"If I wanted to have an easy job...I would have stayed at Porto - beautiful blue chair, the Uefa Champions League trophy, God, and after God, me."
"As we say in Portugal, they brought the bus and they left the bus in front of the goal." - after a 0-0 draw with Tottenham Hotspur
"If he helped me out in training we would be bottom of the league and if I had to work in his world of big business, we would be bankrupt." - on Chelsea F.C. owner Roman Abramovich
"I saw their players and manager go for a lap of honour after losing to us in their last home game. In Portugal if you do this, they throw bottles at you." - on Manchester United
"Pressure? What pressure? Pressure is poor people in the world trying to feed their families. Working from dawn till dust just to feed their young. There is no pressure in football" - speaking in a post-match interview
"Everybody wants Chelsea to lose a game. When they do they should declare a public holiday." - Speaking in a press conference about Chelsea's leading Premiership start in the 2005-06 season
" We are on top at the moment but not because of the club's financial power. We are in contention for a lot of trophies because of my hard work."
" You have to wonder why they did that penalty. Because they have so many penalties in the season, that's why. They have to do something special and different. - on Arsenal's penalty mix-up in October 2005
"I think he is one of these people who is a voyeur. He likes to watch other people. There are some guys who, when they are at home, have a big telescope to see what happens in other families. He speaks, speaks, speaks about Chelsea." - on Arsène Wenger
"I am more scared of bird flu than football. What is football compared with life? I have to buy some masks and stuff - maybe for my team as well." - Speaking soon after H5N1 spread to Britain, and when Chelsea's league lead over Manchester United had slipped to 7 points
"It's not the premiership, it's not the FA cup, it's not the champions league but its still a cup and we must respect it" - speaking about the Carling Cup.Full article.
"Pavel Nedv?d, Paul Scholes, Luís Figo have all retired from international football. With the Czechs, England and Portugal it is ok, but France? They don't have liberty. It is unbelievable. Makélélé is not a footballer, he is a slave. He has no human rights, no right to choice or liberty, so he is a slave. But the rules are there, so what can we do?" - criticizing France coach Raymond Domenech for calling up Claude Makélélé for Euro 2008 qualifiers, after Makélélé announced his retirement from international football after the 2006 FIFA World Cup. However, rules by FIFA state that players who refuse a selection on their national team could be suspended from their professional clubs. The use of "slave" in Mourinho's press release was criticized by Domenech and France captain Patrick Vieira

José Mourinho"Look, we're not entertaining? I don't care; we win." - on Chelsea's performance at the start of the 2006-07 season
"The circumstances are difficult for us with the new football rules that we have to face. It is not possible to have a penalty against Manchester United and it is not possible to have penalties in favour of Chelsea. It is not a conspiracy, it is fact. I speak facts. If not, I need big glasses." - commenting after Chelsea had a penalty appeal turned down during a game against Newcastle, a day after Middlesbrough had a controversial penalty turned down against Manchester United.
"Young players are a little bit like melons. Only when you open and taste the melon are you 100 percent sure that the melon is good.Sometimes you have beautiful melons but they don't taste very good and some other melons are a bit ugly and when you open them, the taste is fantastic." - Mourinho's Melon Metaphor on young players 9 Jun 2007.
Please register for a free Genetic Matrix account to access more information about this and all other celebrity pages