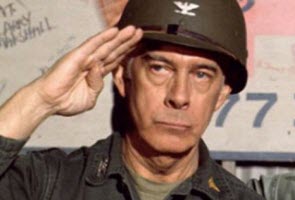 Harry Morgan
Category : Actor
Type : PEG
Profile : 5/2 - Heretical / Hermit
Definition : Single
Incarnation Cross : LAX The Clarion 1
Biography
Harry Morgan (born April 10, 1915) is an Emmy-winning American television actor. Morgan is perhaps best-known as Colonel Sherman T. Potter on M*A*S*H, "Pete" on Pete and Gladys and December Bride, and Detective Bill Gannon on Dragnet.

Early life and career
Morgan was born Harry Bratsberg, in Detroit, Michigan of Norwegian heritage. He was raised in Muskegon, Michigan, and graduated from Muskegon High School in 1933, where he achieved distinction as a statewide debating champion. He originally aspired to a law degree, but began acting while a junior at the University of Chicago in 1935.

Morgan began acting on stage under his birth name, joining the Group Theater in New York City in 1937 and appearing in the original production of the Clifford Odets play Golden Boy, followed by a host of successful Broadway roles alongside such other Group members as Lee J. Cobb, Elia Kazan, Sanford Meisner, and Karl Malden.

Morgan made his screen debut (originally using the name "Henry Morgan") in the 1942 movie To the Shores of Tripoli. His screen name later would become "Henry 'Harry' Morgan" and eventually Harry Morgan, to avoid confusion with the then-popular comedian of the same name on radio and TV.

Morgan continued to play a number of significant roles on the big screen in such films as The Ox-Bow Incident (1943), Dragonwyck (1946), High Noon (1952), The Glenn Miller Story (1953), Inherit the Wind (1960), How the West Was Won (1962), John Goldfarb, Please Come Home (1965), Frankie and Johnny (1966), Support Your Local Sheriff! (1969), Support Your Local Gunfighter! (1971), The Shootist (1976), and The Wild Wild West Revisited (1979). He also made a guest appearance on "The Love Boat." Besides The Glenn Miller Story and How the West Was Won, Morgan was in a number of films with James Stewart, including Bend of the River (1952), Thunder Bay (1953), The Far Country (1955), Strategic Air Command (1955), The Mountain Road (1960), and The Shootist (1976), and also with John Wayne, with whom he shared his scenes in How the West Was Won.

Morgan hosted the NBC radio series Mystery in the Air starring Peter Lorre in 1947. On CBS, he played Pete Porter in Pete and Gladys (1960–62), with Cara Williams as wife Gladys. Pete and Gladys was a spinoff of Morgan's character from December Bride (1954-1959), starring Spring Byington, Dean Miller, Frances Rafferty, and Verna Felton. When Miller and Rafferty died within three months of each other in 2004, Morgan became the last surviving member of the December Bride cast.

In the 1964-1965 season, Morgan co-starred as Seldom Jackson in the 26-week NBC comedy/drama Kentucky Jones, starring Dennis Weaver.

Morgan is even more widely recognized as Officer Bill Gannon, Joe Friday's partner in the revived version of Dragnet (1967–70). Morgan had also appeared with Dragnet star Jack Webb in two film noir movies, Dark City (1950) and Appointment with Danger (1951), and was an early regular member of Jack Webb's stock company of actors on the original Dragnet radio show. Morgan later worked on two other shows for Webb, 1971's The D.A. and the 1972–74 western Hec Ramsey.

M*A*S*H, later years
Then came M*A*S*H. Morgan's first appearance on M*A*S*H was in the show's third season—he played spaced-out Major General Bartford Hamilton Steele ("That's three e's, not all in a row") in The General Flipped at Dawn, which originally aired on September 10, 1974. "Steele" is convinced that the 4077th needs to move closer to the front line, to be near the action.

Morgan's memorable performance as Steele impressed the producers of the show. The following season, Morgan joined the cast of M*A*S*H as the beloved Colonel Sherman T. Potter. Morgan replaced McLean Stevenson, who had left the show at the end of the previous season. Col. Potter was a career Army officer who was tough, yet good-humored and caring—a father figure to the people under his command. The picture of Col. Potter's wife, on the right side of his desk, is actually Mrs. Harry Morgan. He asked if he could use the picture of his wife, and the producers had no objections.

In 1980, Morgan won an Emmy award for his performance on M*A*S*H. After the end of the series, Morgan then reprised the Potter role in a short-lived spinoff series, AfterMASH. In 1986, he costarred with Hal Linden in Blacke's Magic, a show about a magician who doubled as a detective solving unusual crimes. The series lasted only one season.

In 1987, Morgan played Martin Vanderhof on a TV series version of Kaufman & Hart's Pulitzer prize-winning play You Can't Take It With You.

In 1987, Morgan reprised his Bill Gannon character for a supporting role in another film version of Dragnet, a parody of the original series written by and starring Dan Aykroyd and costarring Tom Hanks and Christopher Plummer. On the TV show, Morgan had usually played Gannon fairly light and comedic, in keeping with his general acting style in those days and contrasting well with Jack Webb's no-nonsense portrayal of Joe Friday. Curiously (or perhaps purposely) in the film version, he played Gannon as a brusque, authoritarian captain of police, quite different from his Detective Gannon in the 1967 TV show, and rather closer to his characterization of Col. Potter.

In the 1990s, Morgan played the role of "Judge Stoddard Bell" on the series of The Incident TV movies. He was also on an episode of The Simpsons as Officer Bill Gannon from Dragnet in the 7th season ("Mother Simpson") and had a recurring role on 3rd Rock from the Sun as a university professor (Professor Suter). Morgan also directed episodes for several TV series, including two episodes of The Alfred Hitchcock Hour and eight episodes of M*A*S*H. Morgan also had a guest role on The Jeff Foxworthy Show as Raymond. He also had a guest role on Grace Under Fire as Jean's pot-smoking boyfriend.

In 2006, Morgan was inducted into the Hall of Great Western Performers at the National Cowboy & Western Heritage Museum.

Personal life
Morgan has been married twice: first to Eileen Detchon from 1940 until her death in 1985, and then to Barbara Bushman Quine (granddaughter of silent film star Francis X. Bushman) from December 17, 1986 to the present. He had four sons with his first wife: Christopher, Charles, Paul, and Daniel (who died in 1989). His grandson Spencer Morgan is a columnist at the New York Observer.

In July 1997, spousal abuse charges against Morgan were dropped after he completed a six-month domestic violence counseling program. Morgan was charged with abusing his wife in July 1996 after an argument that left his wife with injuries to her eye, foot, and arm.

During Morgan's tenure on M*A*S*H, a photograph of Eileen Detchon regularly appeared on the desk of his character, Sherman T. Potter, to represent Potter's wife, Mildred. Mildred was also the name of Morgan's character's wife in High Noon. Also, a drawing of a horse, seen on the wall behind Potter's desk, was drawn by Morgan's grandson Jeremy Morgan. Eileen was also the name of the wife of Officer Bill Gannon on Dragnet.
Please register for a free Genetic Matrix account to access more information about this and all other celebrity pages